Plan your holiday cooking baking with these 18 gluten-free Christmas cookie recipes! You'll find everything from classics like cut-outs for decorating and peanut butter blossoms, to gluten-free gingersnaps and sugar cookies. There's also my favorite gluten-free chocolate chip cookie recipe which is a family favorite, and snowy peppermint crinkles! Includes gluten-free baking tips and tricks to make things easy.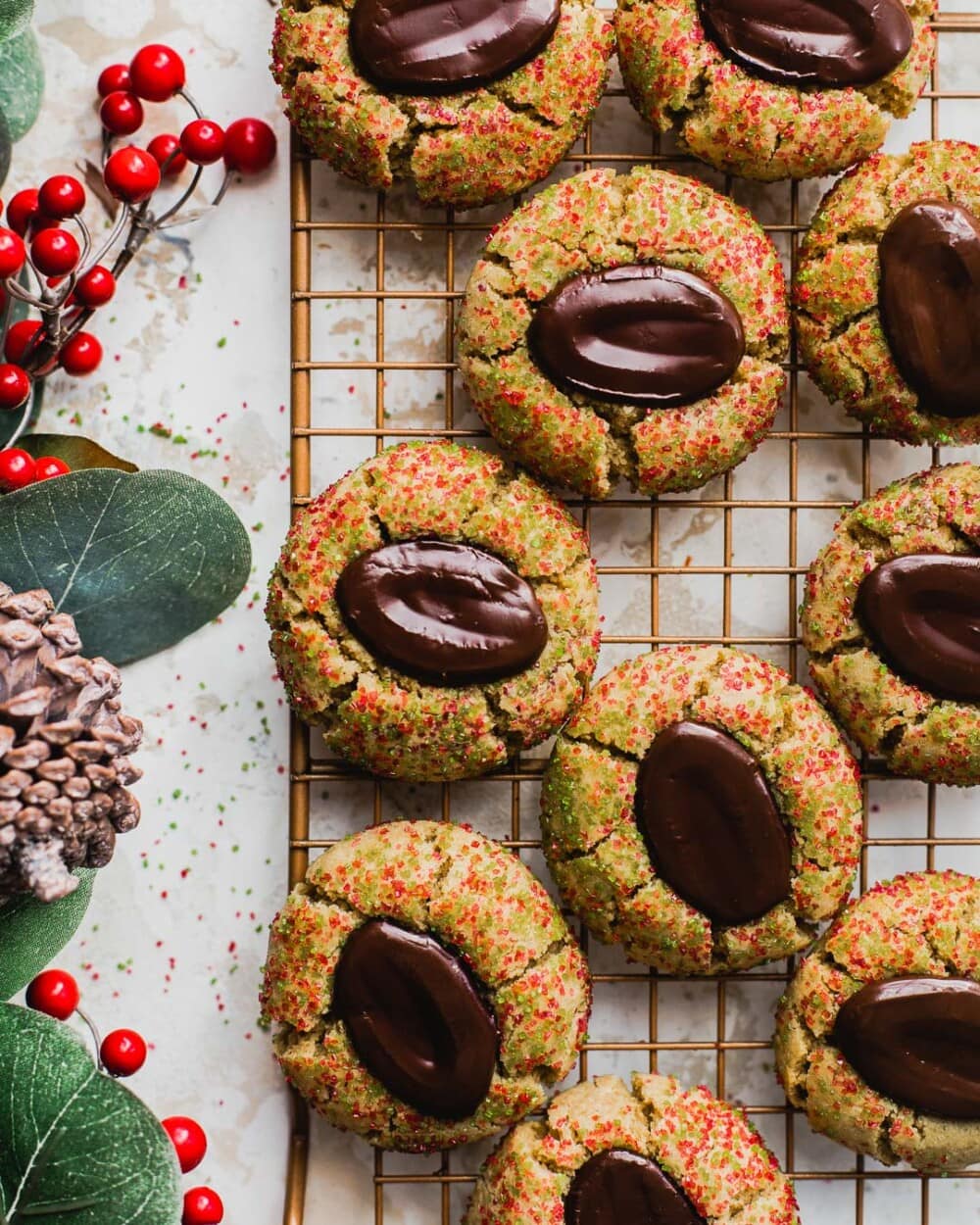 It's holiday baking season! And these are the 18 fabulous gluten-free Christmas cookies that I make each year to build holiday cookie platters and share with friends and family.
From classic cut-out cookies to my favorite peppermint crinkles, chocolate dipped caramels, and gingersnaps, they're proof that gluten-free cookies can be just as delicious as their glutenous counterparts. (Or if you're looking for a cake, pie, or tart check out these 25 gluten-free dessert recipes!)
Gluten-Free Cooking Baking Tips
Don't use an all-purpose gluten-free flour blend that has bean/legume flour in it. Bean flours have a very strong, savory flavor that does not bode well for cookies. I highly recommend Bob's Red Mill 1-1 Gluten-Free Flour in the blue bag, which is very neutral and versatile, and reacts most similarly to all-purpose flour of all the brands I've tried.
Use a kitchen scale to weigh your ingredients rather than measuring cups for the best and most accurate gluten-free cookies. Measuring by volume (can produce varying, disappointing results—a cup of flour (which should weight 4.25 ounces) can vary by an ounce or more depending on how you measure in those classic cups, which can lead to dry cookies, or ones that can't hold their shape.
After adding your dry ingredients, mix the dough well, as it actually helps the dough develop a bit more structure and get rid of any gritty texture from unincorporated ingredients. With gluten-free cookie dough, you don't have to worry about over-mixing your dough because there's no gluten to overwork!
After mixing, let the dough rest. Resting time, preferably in the refrigerator, gives the gluten-free flour enough time to absorb the liquid and set the cookie's structure. This is because gluten-free flours and starches need more time to absorb liquid than regular flour. Chilling also solidifies the fat so that the cookies hold their shape in the oven.
Pantry Ingredients to Have on Hand for Gluten-Free Baking
Packaging Gluten-Free Christmas Cookies for Mailing or Gifting
Preserving moisture is especially important for gluten-free cookies, so when you pack them for gifting, use a sealed container or plastic wrap. I like to put mine in an airtight bag first, and then inside a cute gift box or tin.
If you're shipping Christmas cookies, choose a cookie that last longer naturally, like shortbread or gingerbread. Biscotti is great too, or things like the chocolate dipped caramels.
Use packing peanuts, crumpled newspaper, or bubble wrap to give the containers extra padding inside a heavy duty corrugated cardboard box.