Gluten-Free Cut-Out Sugar Cookies for any occasion, light and soft, just sweet enough.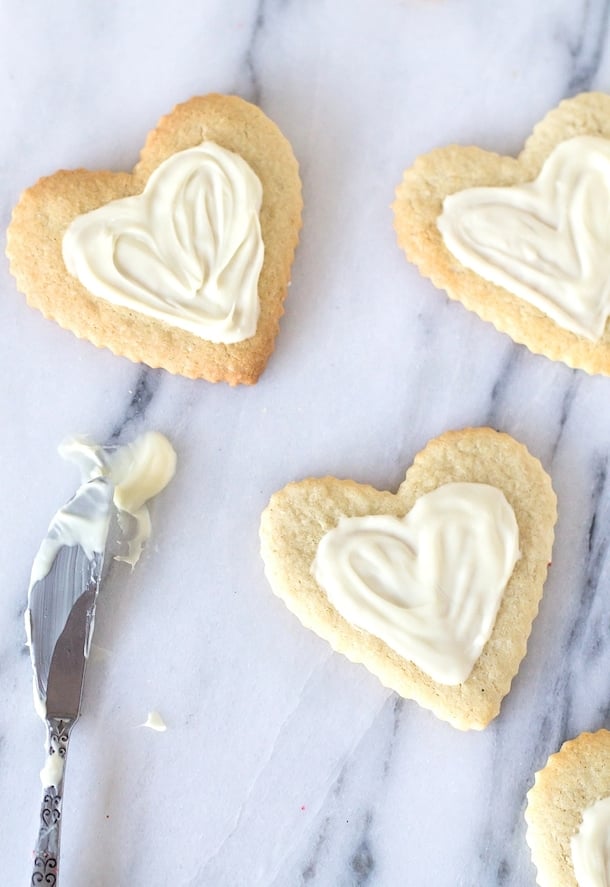 Come Valentine's Day, there's a whole lotta love floating around the entire week. Hugs, kisses, chocolate, roses, sweet notes and homemade treats for the ones you hold near and dear to your heart. I can't help but embrace occasions like this with baking, it's a natural way for me to bring a smile to other's faces and my own.
I learned at a young age that heart shaped cut-out cookies could were a must during the month of February. My mom and I would make them every year (and she still does). Her job was rolling the dough to thin perfection, mine frosting them with reds, pinks and white, then showering them with sanding sugar and dotting a few with red hots.
I loved the simplicity, hints of vanilla and the powdered sugar glaze that would slightly crack when you bit into one.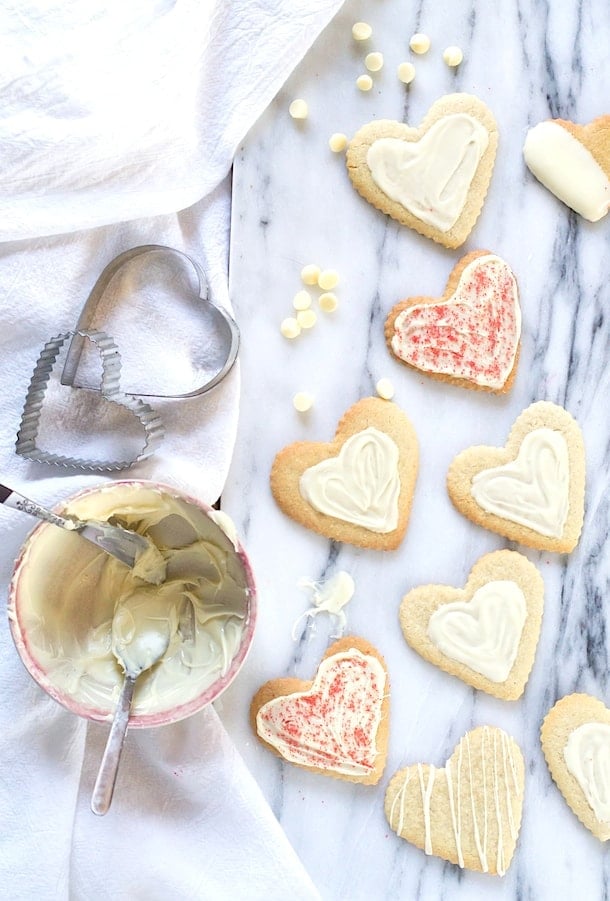 Last week I was out thrifting (my latest obsession) and I stumbled upon a set of five heart shaped cookie cutters, still in their original 1980's William Sonoma tin and a vintage sifter. Immediately memories came flooding back, my mission set on creating gluten-free cut-out sugar cookies so that I could have them once again.
The weekend quickly became filled with flour, butter and happy eggs. Several variations cycled through the oven, until I settled on this recipe. The one that my love said, "why doesn't everybody eat gluten-free if it tastes like this?"
Made with a combination of all purpose gluten-free flour + almond flour, they rolled out with ease and baked up softly, their edges crisping just a bit.
These aren't the puffy "lofthouse" style sugar cookies, they're the kind that are thin and have a soft chew, just like your mom or grandmother probably made. Or if you grew up in a small town like I did, just like the local bakery's, frosted by hand, one by one.
After testing different flour combinations, the right proportion of almond flour (not almond meal) was key in creating the light texture, balancing the sturdier rice flours & starch in the gf blend. The other secret that makes these cookies quite irresistible? The addition of sour cream – not a lot, just 2 tablespoons to keep them from drying out.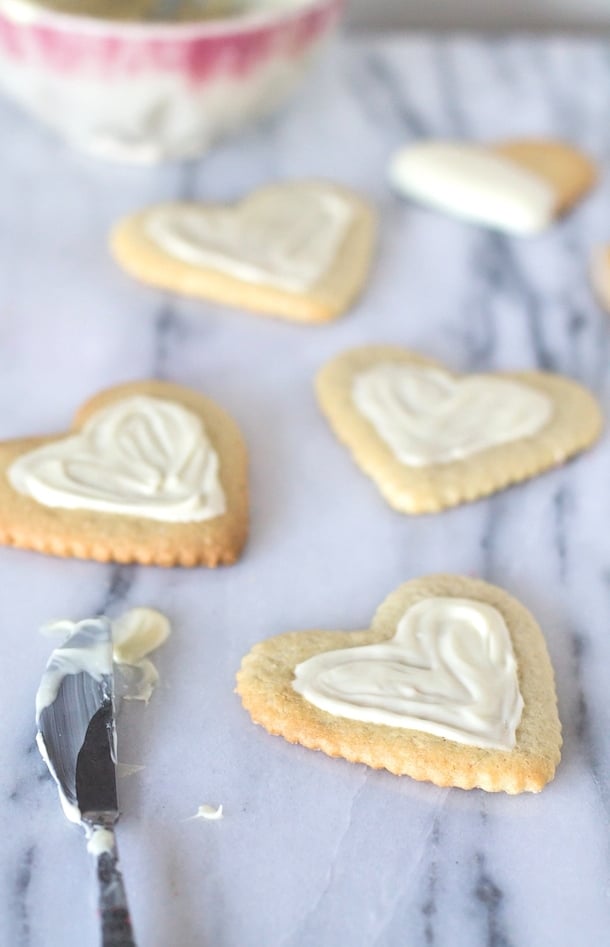 Tips for Making Perfect Gluten-Free Cut Out Cookies
1. Yes, you really should cream the butter and sugar for four minutes. It seems like a lot, but you really need to get the sugar worked into the butter, nearly dissolving it. It will be pale and fluffy.
2. Chill the dough for at least 2 hours, but you don't have to go any longer than that. There was no difference between chilling them for 2 hours versus overnight in taste, texture or workability.
3. After you roll out your dough and create the shapes, don't peel the scraps away. First put them in the freezer for 5 minutes, then peel. The dough gets soft while you're rolling it out so if you try and move the hearts to the baking sheet to soon they won't hold their shape. The scraps will pull away super easy if the dough is a little frozen.
4. The first batch you stick in the oven will be your time gauge. Since every oven is different and a minute or two with sugar cookies can mean a golden cookie or a "shoot, the cookies!" way too brown cookie, you'll need to watch them to figure out the timing for your oven, as temperatures can vary even if you set it to 350 degrees.
Happy Valentine's Day to each of you, sending hugs, happiness and cookies made with love.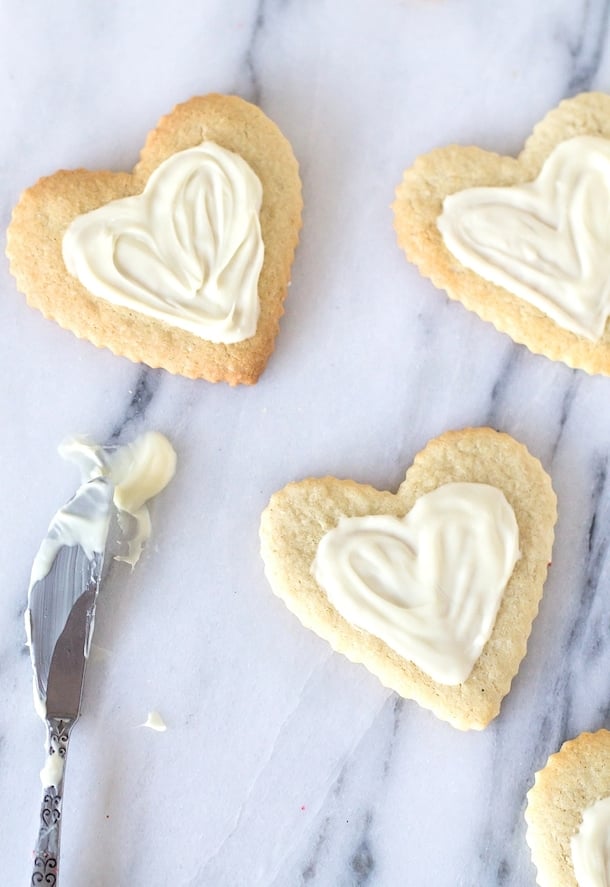 Gluten-Free Cut-Out Sugar Cookies
Made with a combination of all purpose gluten-free flour and almond flour, these cut out cookies roll out with ease and bake up softly, their edges crisping just a bit. They're the kind that are thin and have a soft chew, sturdy enough for your favorite sugar cookie icing.
235

grams

gluten-free flour

with xanthan gum in it, I used Bob's Red Mill 1 to 1 Gluten-Free Flour

60

grams

almond flour

from blanched almonds, I used Bob's Red Mill

1/2

teaspoon

baking soda

¼

teaspoon

salt

¾

cup

organic cane sugar

½

cup

(1 stick) softened butter

1

large egg,

room temperature

½

teaspoon

vanilla extract

2

tablespoons

sour cream

1

cup

white chocolate chips

1

teaspoon

coconut oil
Sift flours, baking soda, and salt into large bowl. Set aside.

In bowl of electric mixer or with a hand mixer, cream butter and sugar until fluffy, about 4 minutes. Add egg and vanilla, mix on low to combine. Continuing on low speed, gradually add flour mixture to mixer bowl, alternating with sour cream, until combined. Pack dough together, wrap in plastic; chill until firm, 2 hours or overnight.

Heat oven to 350 degrees F. Tape a piece of parchment paper on the counter and dust the top of it with flour. Take a large chunk of dough, place it in the middle, cover with a large piece of saran wrap and roll until 1/8 to 1/4 inch. Use cookie cutters to make your shapes, BUT DO NOT PULL AWAY SCRAPS.

Move the piece of parchment to your baking sheet with cookies on it, without tearing away the scraps and put in freezer for five minutes.

Remove from freezer and tear away the scraps, then place evenly on the other baking sheet lined with parchment.

Bake until just golden but not too brown, about 7-8 minutes. Transfer cookies to rack and let fully cool. Continue with dough; reroll scraps and repeat the process with each batch.

Melt white chocolate chips and coconut oil on medium power, stopping to stir every 30 seconds. Decorate cookies with the glaze and whatever embellishments you'd like.