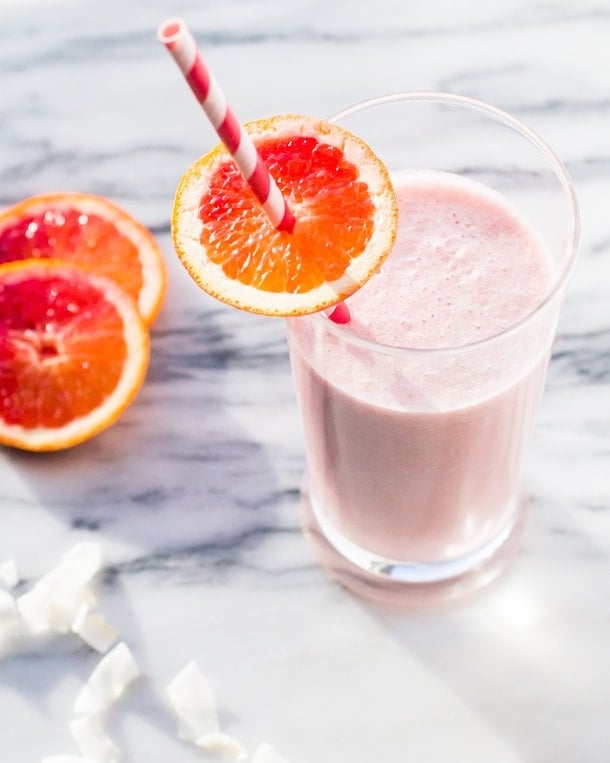 There are TONS of great smoothie recipes out there, but I really wanted to share this Blood Orange-Strawberry Coconut frozen delight with you for a few reasons. First being I've gotten some answers regarding the health issues I talked about here, which are quite complicated so I'll save all the details for another post – but thankfully there is hope for healing through food and functional medicine.
One of the foods that I have to say goodbye to for awhile is bananas….. (sad trombone), which meant my standard smoothie routine was going to need a change. I relied on them for potassium, creaminess, and as a natural sweetener in my frozen blends. Time to go back to the drawing board.
Experimenting wasn't a problem because……. I got a new kitchen toy, a Blendtec Blender. Eek! For someone who loves to be in the kitchen, there is nothing better than a shiny new appliance.
And side note – after investing a lot of time researching and money into buying an oven & dishwasher earlier this year, I realized how many of us are looking for real life experiences (I don't like calling them reviews) on how different brands/products actually bake those cookies, boil that pasta or blend that smoothie. The pros/cons, the things you love but aren't necessary, what you wish you would have known, and if it's worth the money. We've all bought things that didn't live up to the hype or its 5-star Amazon rating. And even if a product has 1000's of reviews, how did you dig through them all?
That being said, you may occasionally see me include my real experiences and thoughts about products to help cut through the clutter. I'll have purchased them on my own or they may be given to me to try, like this blender, the company knowing that I'm going to share my unbiased thoughts. I'm hoping it will be helpful, and if there are certain things you're particularly interested in, let me know anytime.
Now about this creamy, dreamy smoothie. I settled on a combination of juicy fruit, coconut butter, and coconut milk that reminds me of a summer milkshake.
The pops of color bouncing off the mounds of winter citrus at Lakewinds Coop (my favorite!) drew me in hard last week. Organic tangerines, kumquats, grapefruit, meyer lemons….. cutting into them their colors just screamed happiness in the darkness of winter. I used some of the blood oranges for this recipe which bleed a gorgeous magenta hue, and they're less tart than some of the other varieties. Paired with strawberries and coconut, it took my mind to a Caribbean island, sipping a creamy frozen drink on the beach.
Except I was standing in my kitchen with two layers on and my stocking hat….. So if you want to escape into the tropics and boost your nutrition for the day, my Vegan Blood Orange-Strawberry Smoothie recipe and details on the health benefits are HERE!
And special thanks to Lakewinds for supplying all the good-for-you ingredients!
My (Awesome) Experience With The Blendtec Designer 675
I've had a Vitamix for about 3 years after hearing everybody gush about it. There weren't many options in the name of a high speed blender, so I figured I was buying the best, especially with the price tag. But after using it for quite some time, a few things started to bother me. Like it's tall size that doesn't store well, difficulty scraping anything out of it because of its narrow sides and big blades, and the fact that my food processor did a better job of blending nut butters than it. Now that's not to say it didn't chop, blitz and puree really well, but I guess I was expecting more. So did Blendtec live up to my expectations? Yes! And here's how —
PowerHOUSE!: I knew this thing had a lot of vroom after reading about it's 3.1 horsepower (wow, that sounds geeky) but until I put ice in it for the first time I didn't know what that would result in. In one word – WHOA. It demolished the ice, into tiny smithereens without any hesitation super, super fast. After pitting the 2.0 horsepower Vitamix against that, the speed was the biggest difference.
Texture of Finished Recipes: My smoothies and a sauce recipe (that I'll share soon) came out uber creamy, no lumps or bits of food to be found. And I absolutely love the buttons that let you choose what you are making. The power ramps up and down as needed, along with an automatic shutoff.
Space Saver & Weight: Living in a small space, I'm always looking to save on real estate with any product I add to my kitchen. Exactly why I still don't own a Kitchenaid Stand Mixer. The Blendtec is shorter and stout compared to the Vitamix so it actually fits in my pantry cabinet. And it weighs 4 pounds vs. Vitamix's 11 pounds – which lessens the chance I will drop it on my foot. :)
Noise: It's really loud. No way around that when you have that powerful of a motor. But with the results it produces, I don't mind.
Easy to Clean and Get Every Inch of Deliciousness out of It: Because it has 2 prongs instead of 4 like the Vitamix and has a more square shape instead of rectangle, I find it to be much easier to scrape soups, smoothies, or pestos out of. Your spatula slides against the walls much easier. Nothing irritates me more than when I've used expensive ingredients and know that I have to wash 1/4 of them away.
In a Nutshell – Both the Vitamix and Blendtec are high quality, high power blenders. They'll both make great smoothies, soups and sauces. However, the numberous benefits and effectiveness of the Blendtec beats the Vitamix hands down in my kitchen.