This warm, satisfying winter grain bowl combines millet, kale, and butternut squash together with a fresh citrus curry dressing. Naturally gluten-free.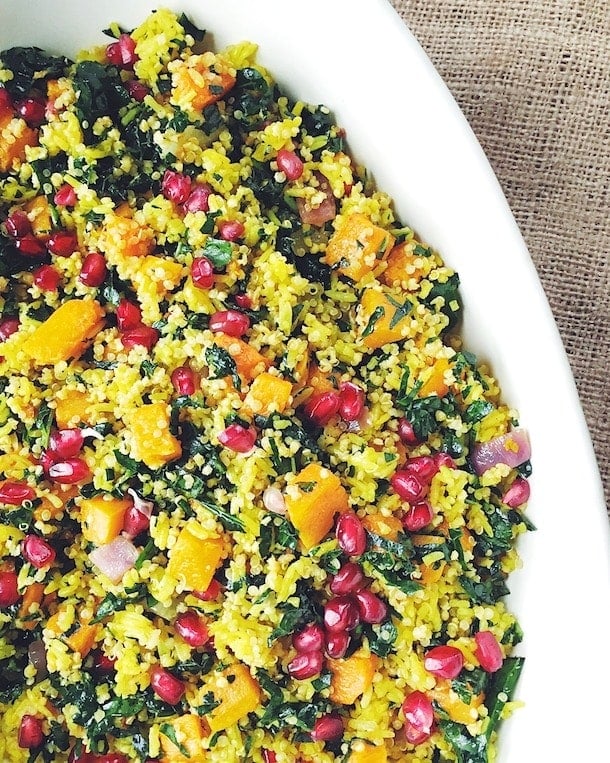 After savoring the leftovers for a few days and each time the salad just getting more flavorful, I realized this recipe was a keeper. I owe all of my inspiration to Laurie's fabulous Wild Rice, Roasted Squash & Kale Salad.
Using what I had on hand, this Warm Winter Curry Grain Bowl is a combination of rice and millet, kale, roasted vegetables and pomegranate seeds dressed in a citrus curry dressing.
It's nourishing and colorful, hearty yet fresh, and celebrates in-season eating.
Although I prefer kabocha and buttercup squash for baking and sturdy red kuri for braising, butternut is a great choice for roasting. Since it has more moisture (and less starch) than other varieties, the high heat dries it out, resulting in more concentrated flavor and helps to sweeten this relatively vegetal tasting squash.
I particularly love adding pomegranate seeds to salads and bowls for their contrasting tartness and crunch. Their garnet color and pretty shape reminds me of jewels.
And this Citrus Curry Dressing…. It's zesty and light, and amps up the flavor. The grains soak up the dressing, and taking them from average to excellent.
Now that you have a gorgeous salad to put on your menu for next week, whether that be a healthy main dish or leftovers for breakfast with a poached egg, there's something I feel like I need to talk about.
I haven't mentioned it to many people, but the last few months have been trying in terms of my health. I've been gluten-free for 4 years, after a long time coming. My past includes several autoimmune issues that show in my nervous system and skin issues. Things like severe chicken pox, shingles for the first time when I was in 8th grade and subsequent times thereafter, solar dermatitis, hives if I exercise outside, rashes on my legs & inflammation. I finally figured out the gluten issue when I began to have severe occipital nerve pain (the two large nerves that run on top of your brain) & painful sores all over my scalp. Yuck, I know. And ouch ouch ouch. It was horrible and no one could figure out what was going on. I saw 7 doctors over the course of a year and finally one of them suggested the correlation between gluten/autoimmunity/inflammation.
Cutting out gluten made me feel a lot better, but in the last six months, worsening heartburn, intense headaches and a "I just celebrated my 21st birthday hangover" are what I wake up to nearly every day. It comes with a dull throbbing in my right ear along with inflammation around my forehead and eyes happens frequently. It intensifies immediately after drinking even a sip of alcohol, eating any type of soy, beans or cured meats. Little did I know they have something in common – high levels of histamine.
I was always curious why the hives and solar dermatitis didn't stop when I cut out gluten, but the occurrences were less. Not fun, but I've felt like I could just live with it. However with all of the other symptoms, signs now point to a leaky gut + a histamine intolerance. I'm doing lots of testing with a doctor who specializes in auto-immunity and thyroid issues, hoping to come up with the answer so I can try to start healing.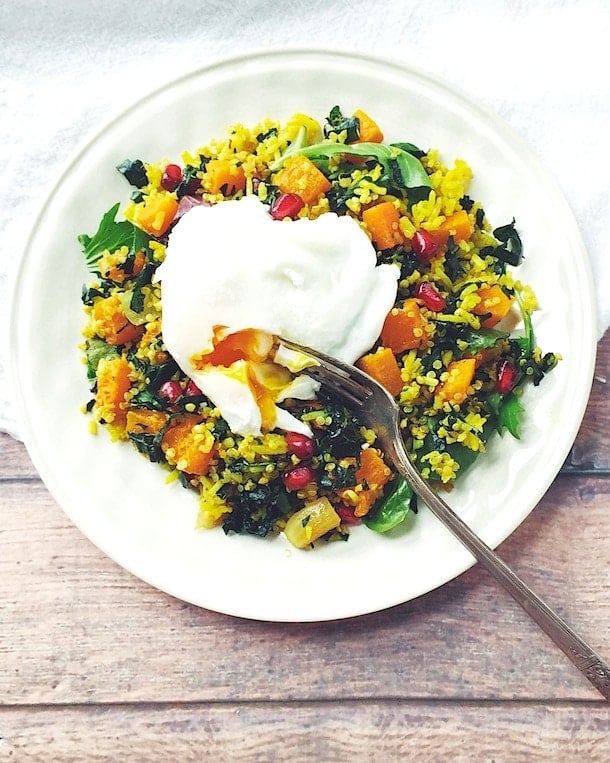 Low-histamine and mast cell disorders have not been studied as much here as in the UK. Chris Kesser explains it best by saying, "Histamine is a biogenic amine that triggers the immune response. A primary cause of histamine intolerance is an overgrowth of certain types of bacteria that make histamine from undigested food, leading to a buildup of histamine in the gut and overwhelming the body's ability to catabolize the excess histamine. This causes a heightened sensitivity to histamine-containing foods and an increase in symptoms that are commonly associated with allergies."
So why am I just feeling the effects now? Well, basically our gut & its lining keeps degrading over time if there is an underlying issue. We keep filling "the bucket" and at some point it will overflow, which is what I imagine is happening now. Because there is so little information on it and some of the symptoms can mask themselves as other things, I'm waiting for the test results and doctor's recommendation.
If it happens to be this, healing of my gut will have to be done through food, because truly food is the best medicine. The low-histamine protocol is similar to AIP, but different because of the high levels of histamine in such things like fermented foods. And in the end, everyone's triggers are different so it will be a matter of experimenting.
1

2 pound, medium size butternut squash, peeled and cubed into 1/2 inch pieces

½

of a medium red onion

chopped into 1/2 inch pieces

3

tablespoons

olive oil

divided


1

teaspoon

kosher salt

divided


1

cup

long-grain white rice

thoroughly rinsed


1 1/2

cups

cooked millet

(about 3/4 cup dry) using this method

1

medium bunch of lacinato kale

leaves removed from stems and cut into very fine, thin strips

½

cup

of pomegranate seeds
To make dressing: In a small saucepan, simmer the orange juice until slightly reduced, you should have about 1/3 cup juice. Let cool, then add all ingredients to a tall glass jar and use an immersion blender to puree. It should be creamy and completely uniform. You could do the same with a regular blender too. Will keep in refrigerator for one week.

Preheat oven to 400 degrees F. Toss the squash with 1 1/2 tablespoons of olive oil and 1/2 teaspoon salt, then spread onto a large baking sheet. Toss the red onion with remaining olive oil and salt, then spread onto another baking sheet.

Place both in oven, and check on onions after about 8 minutes. Take them out when they are browned and have shrunk. Stir the squash at this time and roasting squash for another 25 minutes, until it can easily be pierced with a fork, but not mushy.

While vegetables are roasting, add the rice to a medium saucepan and cover with 4 cups of water. Bring to a boil, then reduce heat to a simmer. And cook for about 35 minutes, or until rice is tender, but not mushy. Taste to be sure. Drain rice and return to empty pot. Set on stove and cover, letting steam for 5 minutes. Fluff with a fork and keep warm.

Add roasted vegetables, kale and cooked millet to a large bowl. Pour hot rice over the top of it and mix all together. Cover with a cloth so that the warmth stays inside and the kale will wilt slightly from the heat.

After 5 minutes, stir again and add dressing along with 1/2 of the pomegranate seeds, stirring to combine. Pour into bowl for serving and top with remaining pomegranate seeds.

*Can be made one day ahead of time, will last for 4 days in refrigerator.