This cozy buttercup squash soup is full of smoky, delicious flavor and easy to make! You can identify buttercup squash soup by the bubble knob on the bottom of its round shape. It has wonderfully creamy and sweet flesh. Roasting the squash gives it caramelization before being combined with smoked paprika and roasted red peppers. A warming soup with smoky sweet comfort.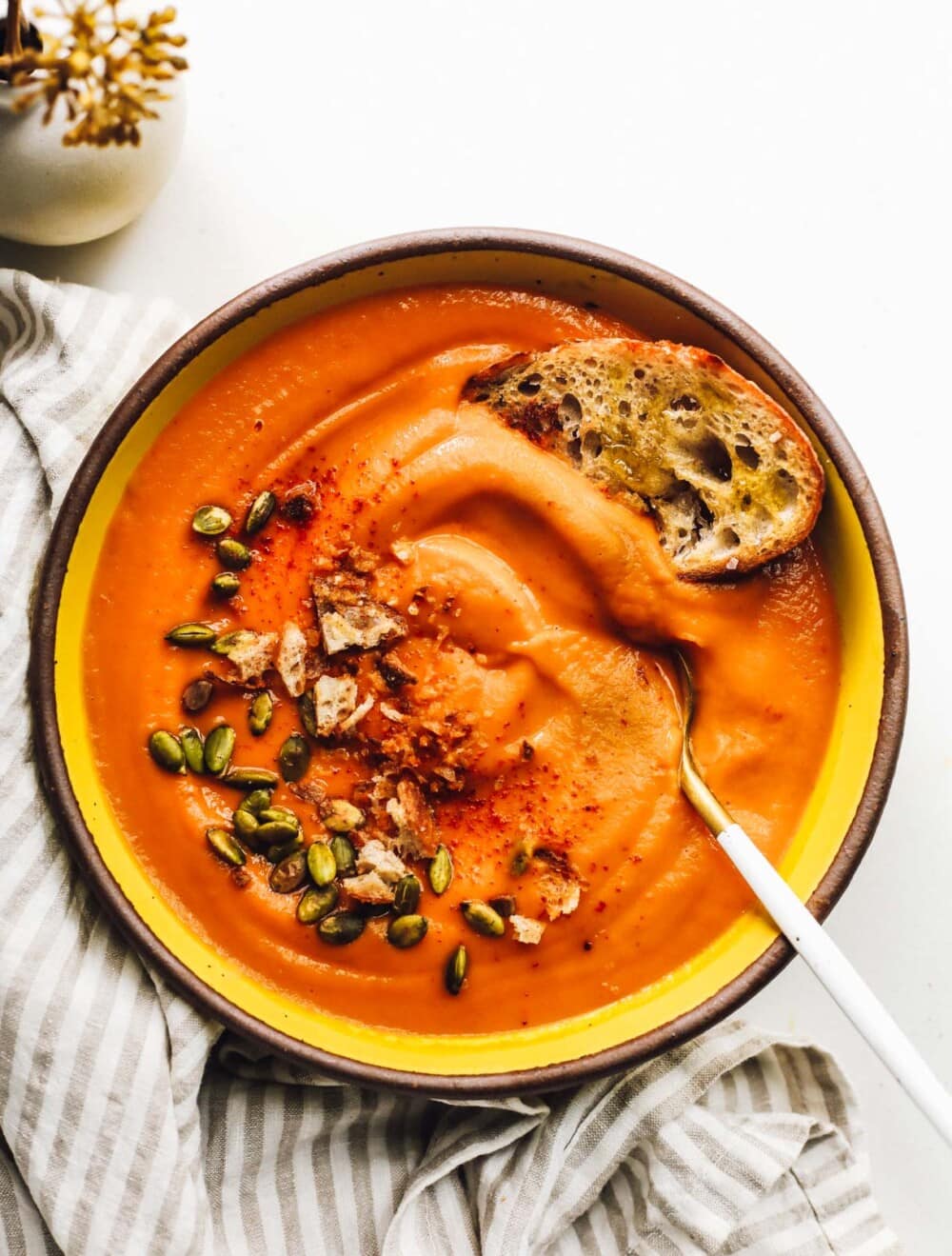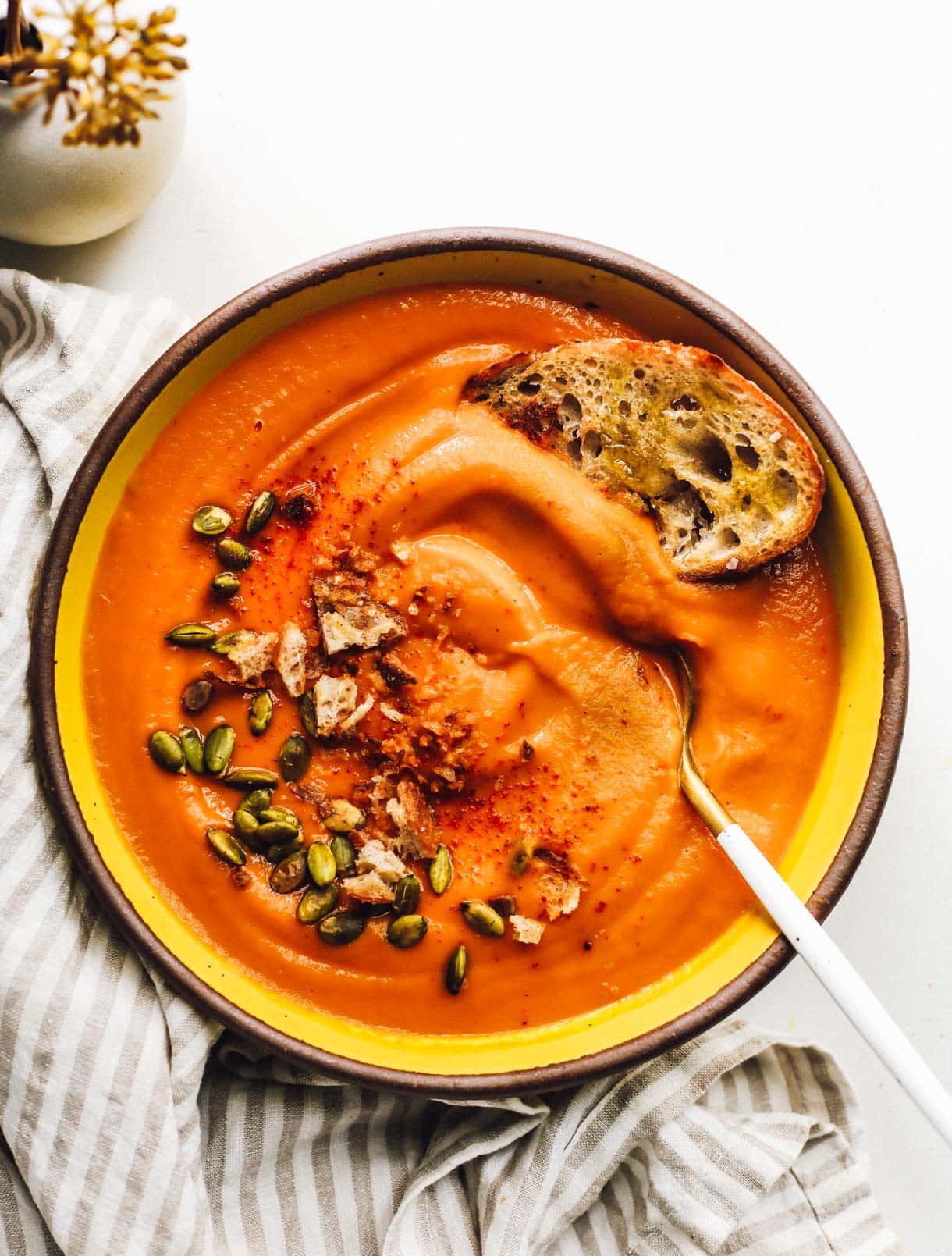 If you've been a reader of Heartbeet Kitchen since the beginning, you might remember that I published a cookbook on squash in 2014 – yes, the entire thing is squash recipes, 80 of them!
What does buttercup squash taste like?
When writing the book, I discovered buttercup squash from a local farmer and fell in love with its rich, sweet flavor and smooth, creamy flesh. It's absolutely delicious, and a welcomed difference from the ever popular butternut squash. Its thin skin makes it edible, and one of the easiest winter squashes to cut, too!
This warming soup is one of our cool weather favorites (along with a slew of other gluten-free soup recipes), deeply flavored with store-bought roasted red peppers and smoked paprika meeting sweet, garlic roasted buttercup squash. This stellar combination is smoky, sweet, and so tasty with a piece of sourdough bread.
After roasting the squash, you'll blend the ingredients into a thick, creamy soup without the need for any cream. Top it with salty pepita seeds for a lovely crunch, and if you have them, butter-toasted breadcrumbs.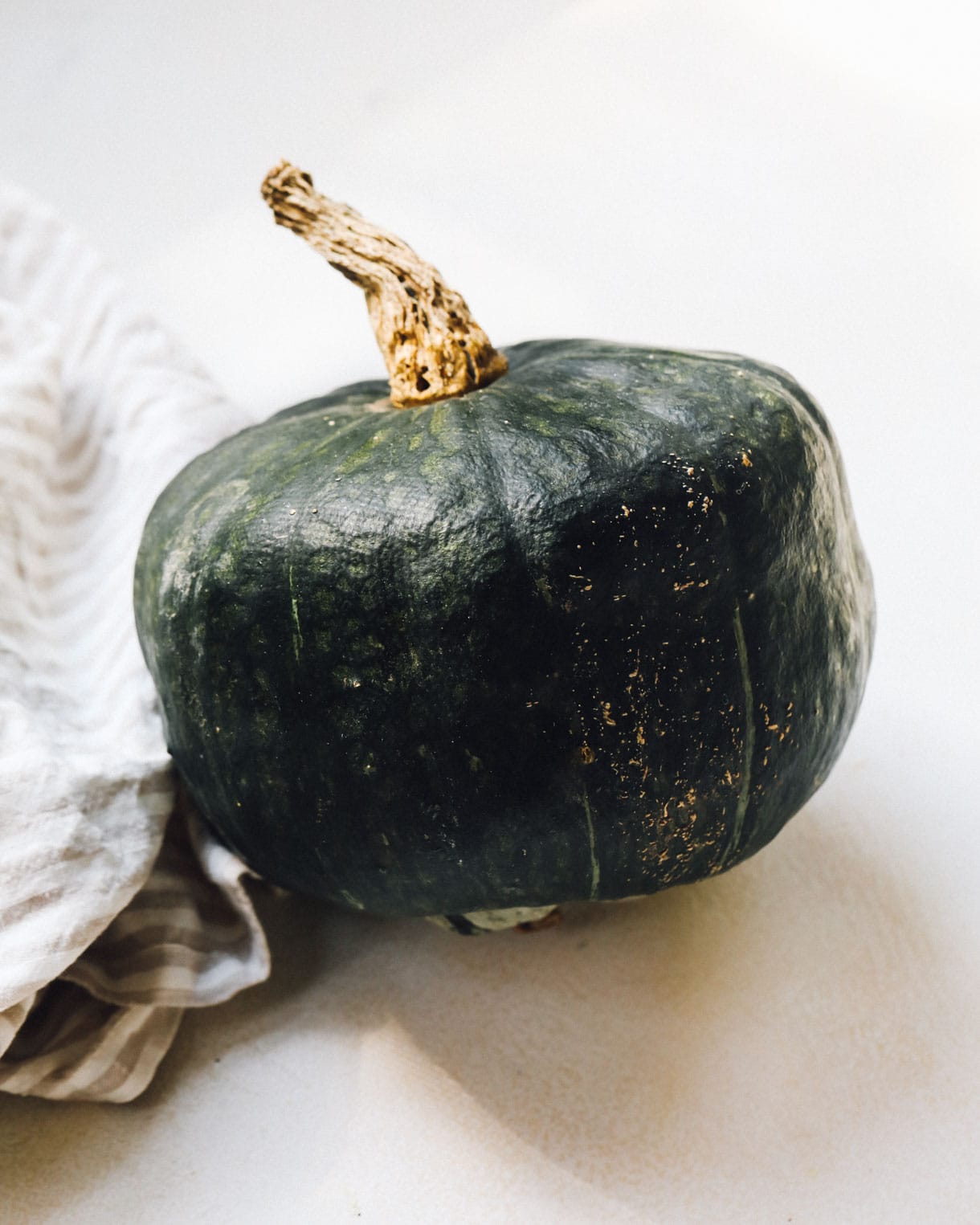 How to Tell The Difference Between Buttercup Squash and Kabocha Squash
Kabocha and buttercup squash are both round-ish and dark green with faint stripes, but it's the bottom of the squash that really sets them apart visually. Whereas kabocha squash has a simple blossom end with dried knob, the bottom (blossom end) of a buttercup squash has a distinct, protruding bubble-like knob (almost like a belly button!).
The outer skin of buttercup squash is always dark green, whereas you can find both green and orange kabocha squash. Fully ripened, a buttercup squash will have a dry, cork-like stem and when you cut it open, you'll find blazing orange flesh.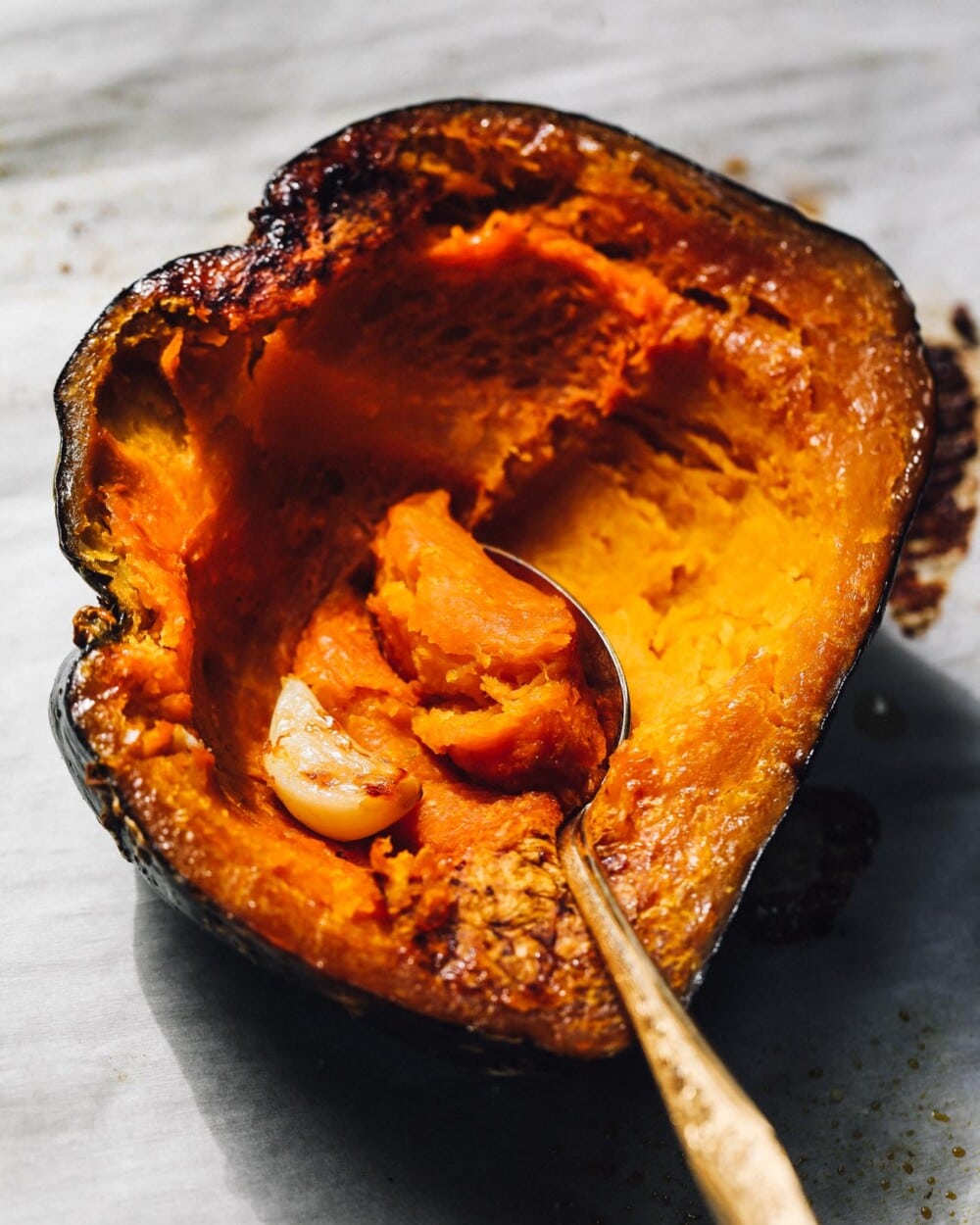 Ingredients in Buttercup Squash Soup:
buttercup squash
jarred roasted red peppers
onion
garlic
smoked paprika
chicken or vegetable stock
apple cider vinegar
How to Make Buttercup Squash Soup:
Halve and de-seed your buttercup squash. Rub with olive oil and salt. Place on a baking sheet with a garlic clove in its well. Turn it over so that the cut side is down on the parchment paper. Roast for 30-40 minutes, until squash is completely tender and fork runs through the flesh without resistance.
Saute onion and additional garlic on stovetop, then add roasted red peppers, squash flesh, smoked paprika, and stock. Simmer for 15 minutes.
Put soup into blender and blend until completely smooth. Stir in vinegar and taste. Adjust salt if needed. Serve soup with crushed nuts or toasted breadcrumbs on top.
Storing Leftover Soup:
This soup makes great leftovers for easy meals throughout the week. You can keep it in the fridge for up to 4 days, or transfer it to plastic or glass containers for freezing. I like to leave a 1/2 inch of room at the top of the container so it has a little room to expand, but not a lot of room for freezer air. You can de-thaw it in the microwave or in the refrigerator.
More Squash Recipes: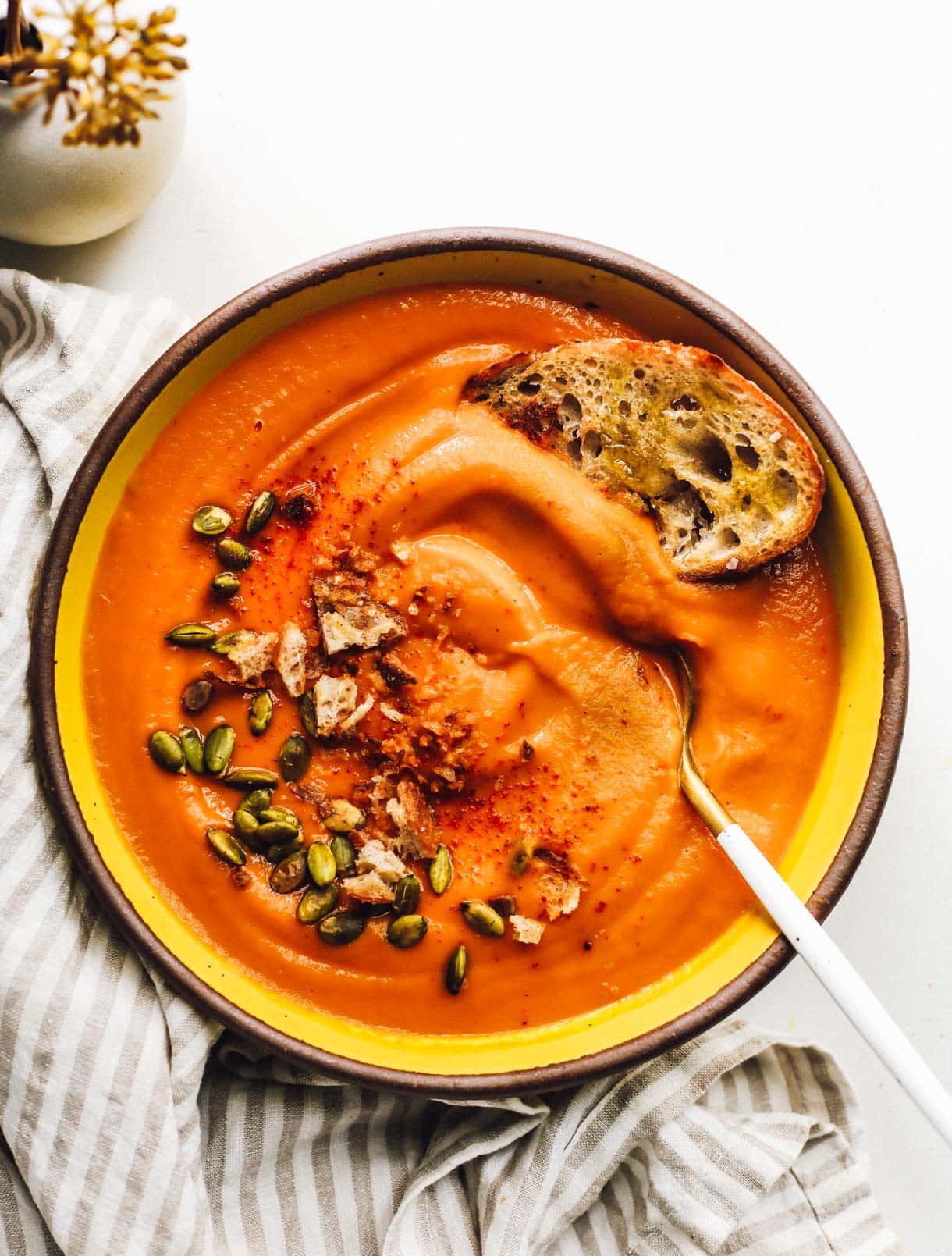 1

(3 pound) buttercup squash, halved or quartered and seeds removed

3

tablespoons

olive oil,

divided

6

cloves

garlic,

divided

1

medium onion,

diced

1 1/4

teaspoons

fine sea salt

2

teaspoons

smoked paprika

3 to 4

cups

low-sodium chicken broth

2 1/2

teaspoons

apple cider vinegar

toasted pepita seeds for garnish
Preheat the oven to 375 degrees F. Line a baking sheet with parchment. Rub the outside and inside of squash and 2 or 3 whole garlic cloves with olive oil, and sprinkle inside of squash with salt. Mince remaining 3 garlic cloves and set aside.

Put a clove of garlic in each half and place squash cut side down on the parchment lined baking sheet, with the clove of garlic in the well of each squash.

Roast for 35-40 minutes, until squash is very tender and fork slides through the flesh without any resistance. Let cool a bit before scooping out flesh from the skin. Compost the skin.

Meanwhile, heat 1 tablespoon olive oil in a saucepan over medium heat. Add onion and sprinkle with 1/4 teaspoon salt, and saute 7-8 minutes, until translucent. Add minced garlic and smoked paprika, stirring to coat the onion. Cook for 1 minute, then add roasted red peppers, 3 1/2 cups stock, and roasted squash. Simmer for 15 minutes.

Remove from heat and stir in apple cider vinegar. Blend soup in a blender until completely smooth. If you'd like it thinner, add the remaining 1/2 cup stock. Taste and add 1/4 teaspoon additional salt at a time if needed, so you're able to taste the smokiness and deliciousness of a well seasoned soup.