Acorn squash halves are roasted with garlic for great flavor, then mashed until creamy and delicious! The mash is topped with crunchy maple walnuts and fresh rosemary. It's definitely a contender for best Thanksgiving side dish and a lovely alternative to mashed potatoes.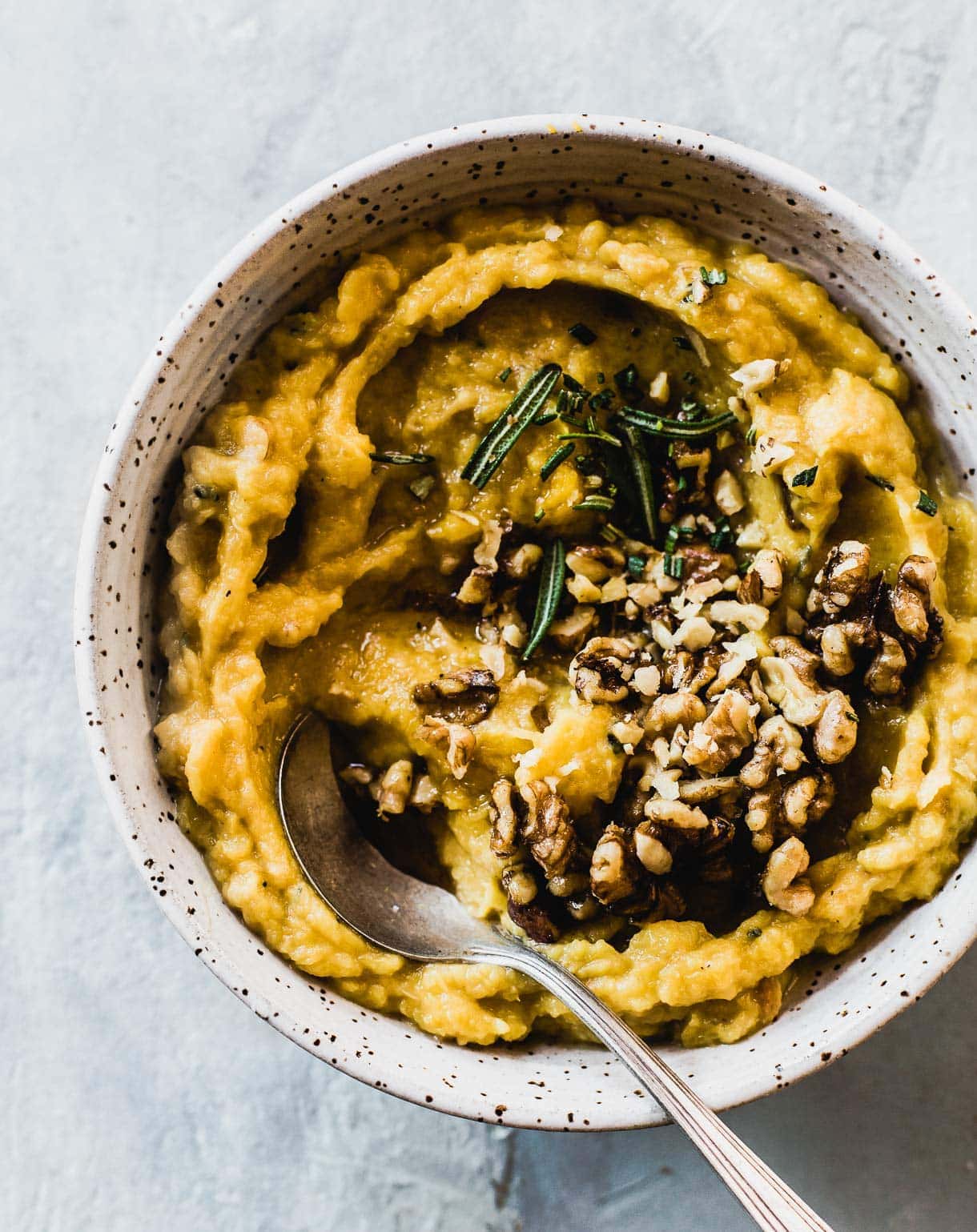 Roasting Acorn Squash to Make it Extra Delicious
Acorn squash is best known for its popular preparation of being halved and baked, stuffed with savory fillings or sweet brown sugar and butter. Both are good options, don't get me wrong. But there's more to be explored with this creamy fleshed, mild winter squash variety!
This rustic, mashed acorn squash dish is one of my favorite things to serve – roasted with garlic, then whipped with a little butter and cream. Topped with toasted rosemary maple walnuts, this dish has that creamy/crunchy contrasting texture thing going on that totally elevates it.
One of the reasons I love this recipe is because it's not overly sweet, like mashed sweet potatoes can be. The roasted garlic and rosemary add so much savory depth! And it's creamy, but not in a gluey way.
You can make this ahead of time, up to two days in advance. Just wait to top it with the toasted walnuts until serving so they don't lose their crunch.
With Thanksgiving right around the corner, I wanted to share this easy recipe with you as a contender for best side dish to your turkey or even rotisserie chicken on the grill, because everyone knows that's the best part of Thanksgiving anyways, right?
Do I have to remove the seeds before roasting squash?
You'll notice I didn't scoop out the seeds before roasting. There's no need to! That's to make things easier – they slide right out with a spoon after coming out of the oven, rather than struggling to dig them out and fly all over the kitchen.
And did you know that roasting the squash with the seeds allows the flavorful oils they have to carry into the flesh? Major bonus.
More Winter Squash Recipes:
Now for the house (!!) news!!
written in 2018
Well, it's been a whirlwind. Knee deep in a kitchen remodel creating my dream space to work and cook in, we found the home we'd been dreaming of for over two years. And not only did we find it, but our offer was accepted in a turbulent, competitive housing market, and it's ours!
This old house, built in 1908…. is now ours. 🏠❤️. It happened fast, and it happened unexpectedly. When you find something that feels like the both of you in every way, that says home and not a house, that gives you visions of growing together into another phase of your life —you don't let it pass by. You sleep on it for a night, have knots in your stomach because change feels scary, but you jump anyways and make an offer the next morning because if you don't, it'll be gone. And when it's accepted, you hug each other tight, and say, "Really? It's ours? It's ours."
Walking into this blue American charmer in a small river town that we love, we knew it was the one. So with that, we're moving to Hudson, Wisconsin, about 30 minutes from where are now in Minnesota. Things are a bit unsettled, finishing the kitchen remodel and all the other normal things that happen when moving. We will be selling our home here in St Paul, and someone will have the kitchen that would be my everything.
Bittersweet. We've spent our entire relationship here together, nearly 9 years of memories in these walls. But it's time to close one chapter and begin another.
xo,
Amanda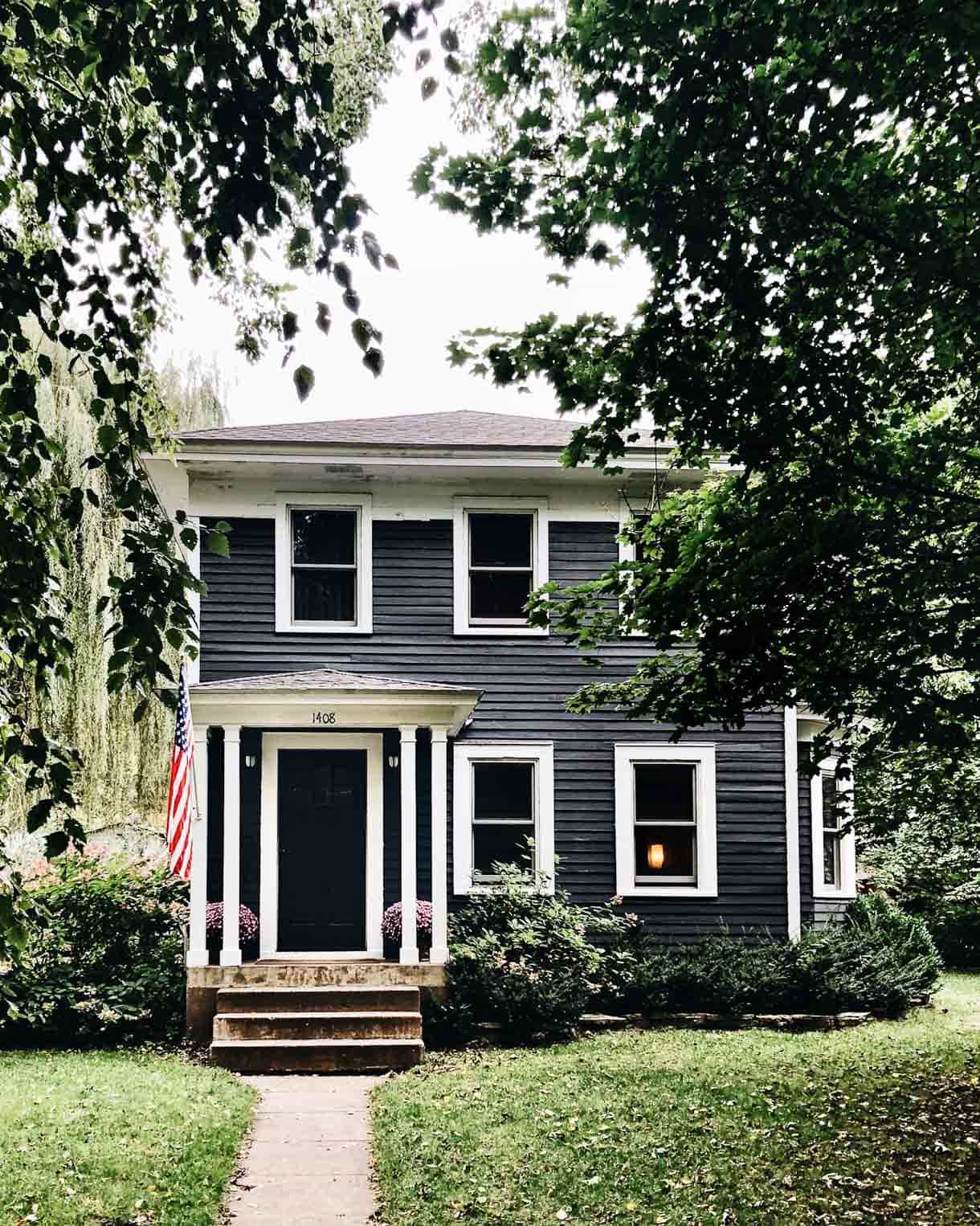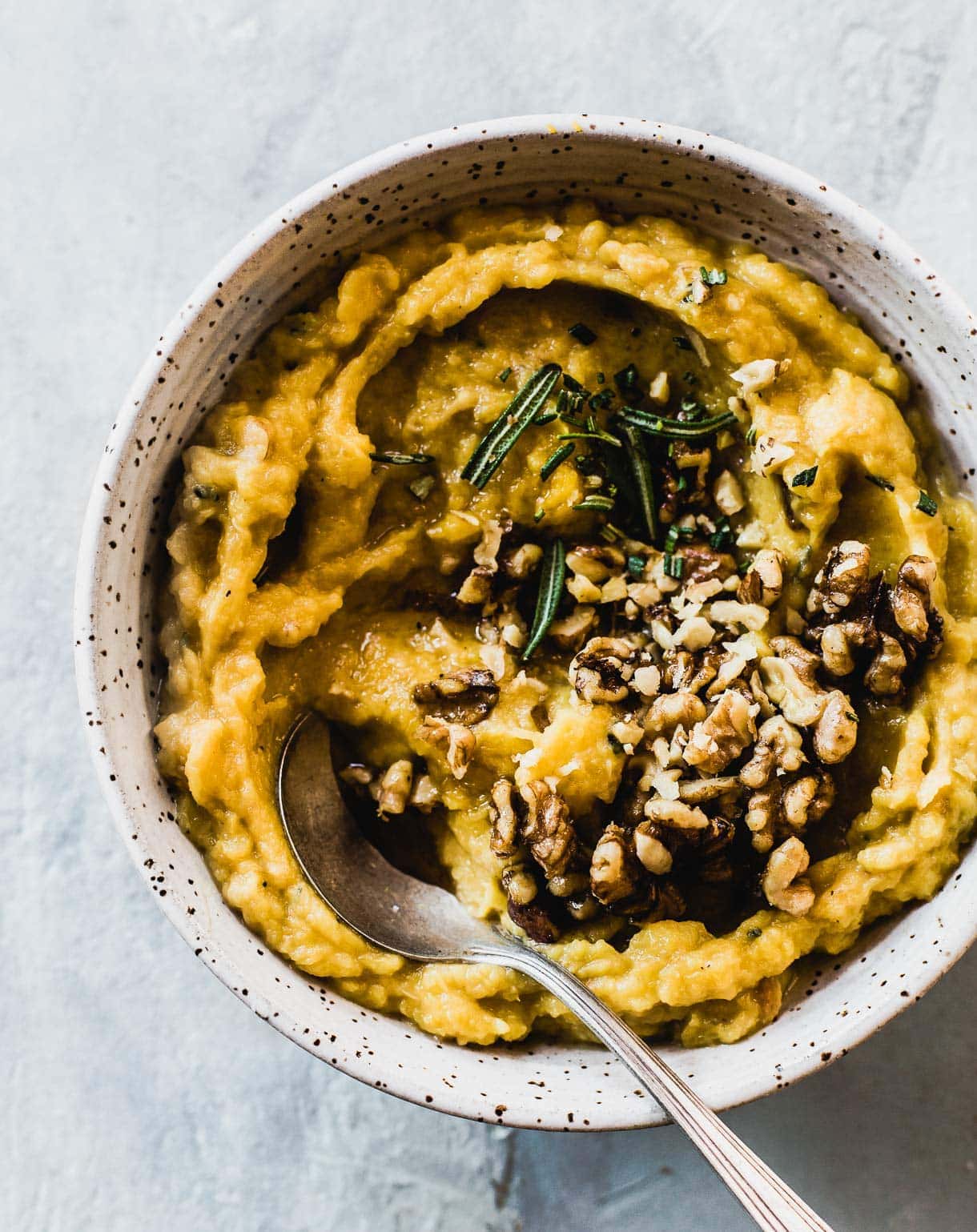 Maple Rosemary Walnuts
1

tablespoon

olive oil

3/4

cup

walnuts

1

tablespoon

butter

1 1/2

tablespoons

maple syrup

1

sprig fresh rosemary

1/4

teaspoon

kosher salt
Roasted Acorn Squash Mash
2

medium acorn squash,

halved

1

head of garlic,

cut off at top to open cloves

2

tablespoons

olive oil

2

tablespoons

butter

1/3

cup

half and half or heavy cream

1

teaspoon

kosher salt

1/4

teaspoon

cracked black pepper

2

teaspoons

apple cider vinegar

1/2

tablespoon

chopped fresh rosemary

Maple walnuts for topping
To make walnuts, add olive oil to a skillet and warm over medium heat. Add walnuts and stir, then cook for 5 minutes. Add butter, maple syrup, rosemary, and salt. Continue cooking for another 3-4 minutes, until you can smell the nuts giving off a toasty smell. Remove them from pan and set aside.

Preheat oven to 375 degrees F.

Place squash halves and garlic on a large baking sheet lined with parchment paper. Drizzle with olive oil. Flip squash halves cut side down.

Bake for 40 minutes, or until squash is soft and can be pierced through with a fork. Slide seeds out with a spoon and set aside. Scrape flesh out of squash, and squeeze garlic out of it's roasted skin. Place together in a large bowl. Add butter, half and half, salt, pepper, apple cider vinegar, rosemary, and maple walnuts. Mash with a fork and stir together, until smooth.

Top with chopped walnuts, a drizzle of maple syrup, and more chopped rosemary. Serve warm. Leftovers will stay good in refrigerator for up to three days.