This is a sponsored post written by me on behalf of Italian Trade Commission. All opinions are 100% mine.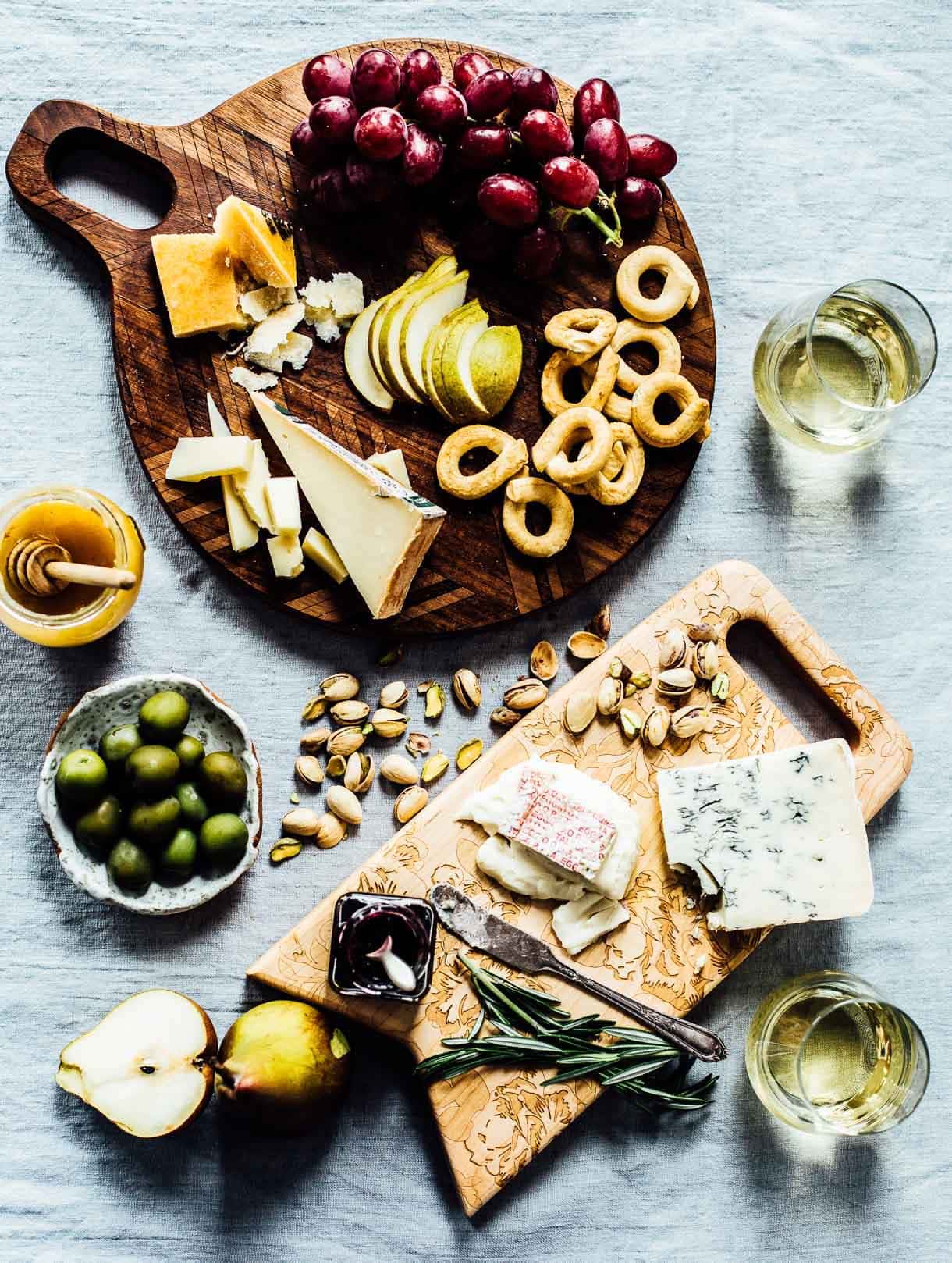 When I was just beginning to develop a preference for wine, I was often overwhelmed by the methodology to pairing which varietal would go with what we were with going to be eating. I struggled to understand what all the elaborate tasting notes of the wine meant, let alone calculate what food it would marry with best.
At the time, I was working at a wine bar and shop, and while talking with one of the distributors who often visited us, she mentioned just one thing that made food and wine pairing 100x easier for me.
"If it grows together, it goes together."
Yep, that's it. Think of the area where the wine is made, and then think of the food that comes from there. And that's exactly how I created these Italian cheese plates, paired with wines of Italy.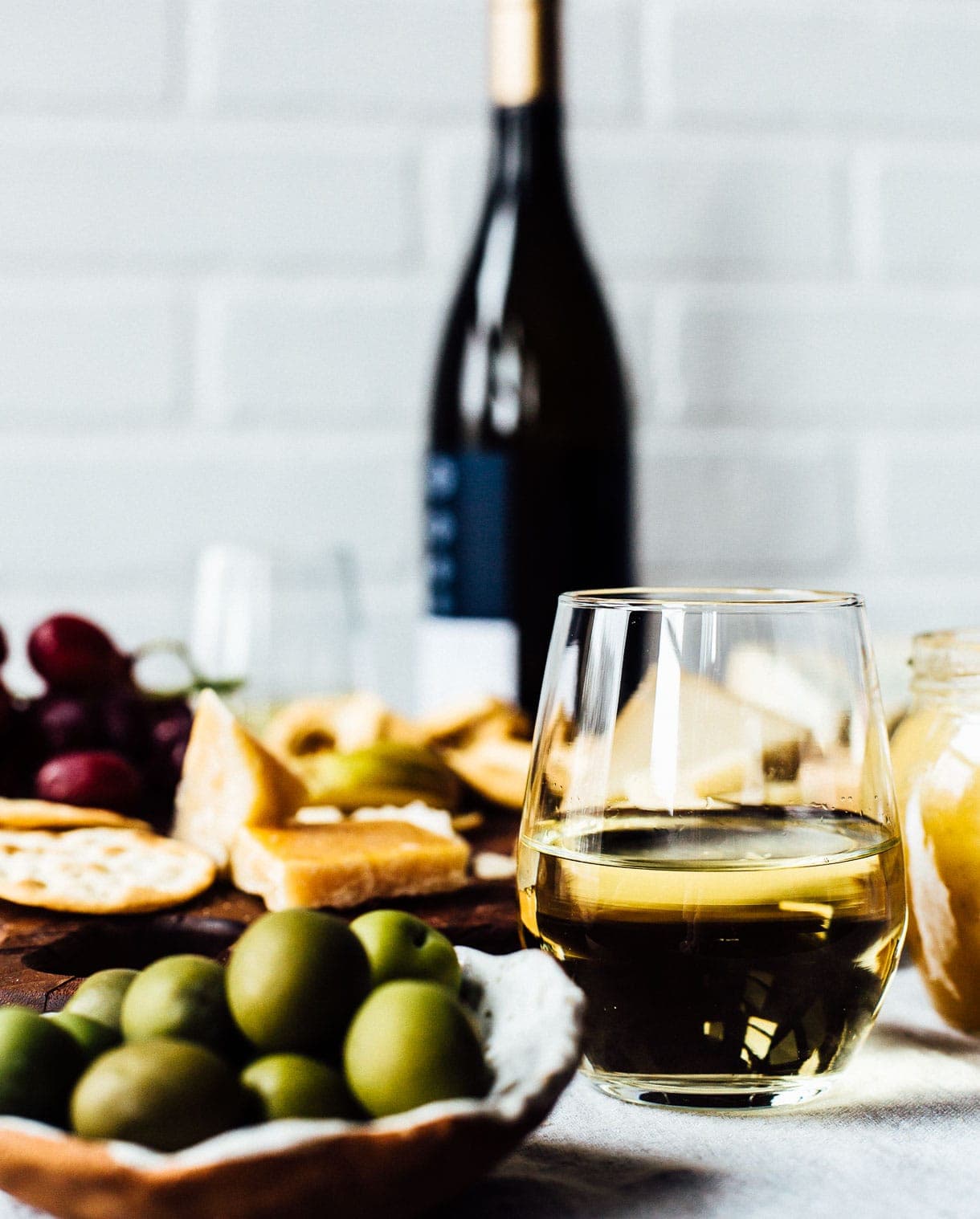 The same nutrients and minerals go into everything that's grown in a region, both food and grapes, and it's all exposed to the same weather, soil, topographical patterns, and even techniques.
So if you think about cheese and wine — the food that the animals are eating are affected by the climate, soil, and nutrients, as are the grapes growing on the vines. Therefore, they have some symmetry that makes them great partners.
To show you an example of this fundamental food and wine pairing technique, let's take a look at these two cheese plates compromised of authentic, high-quality Italian cheeses joined by boutique Italian wines (learn more here).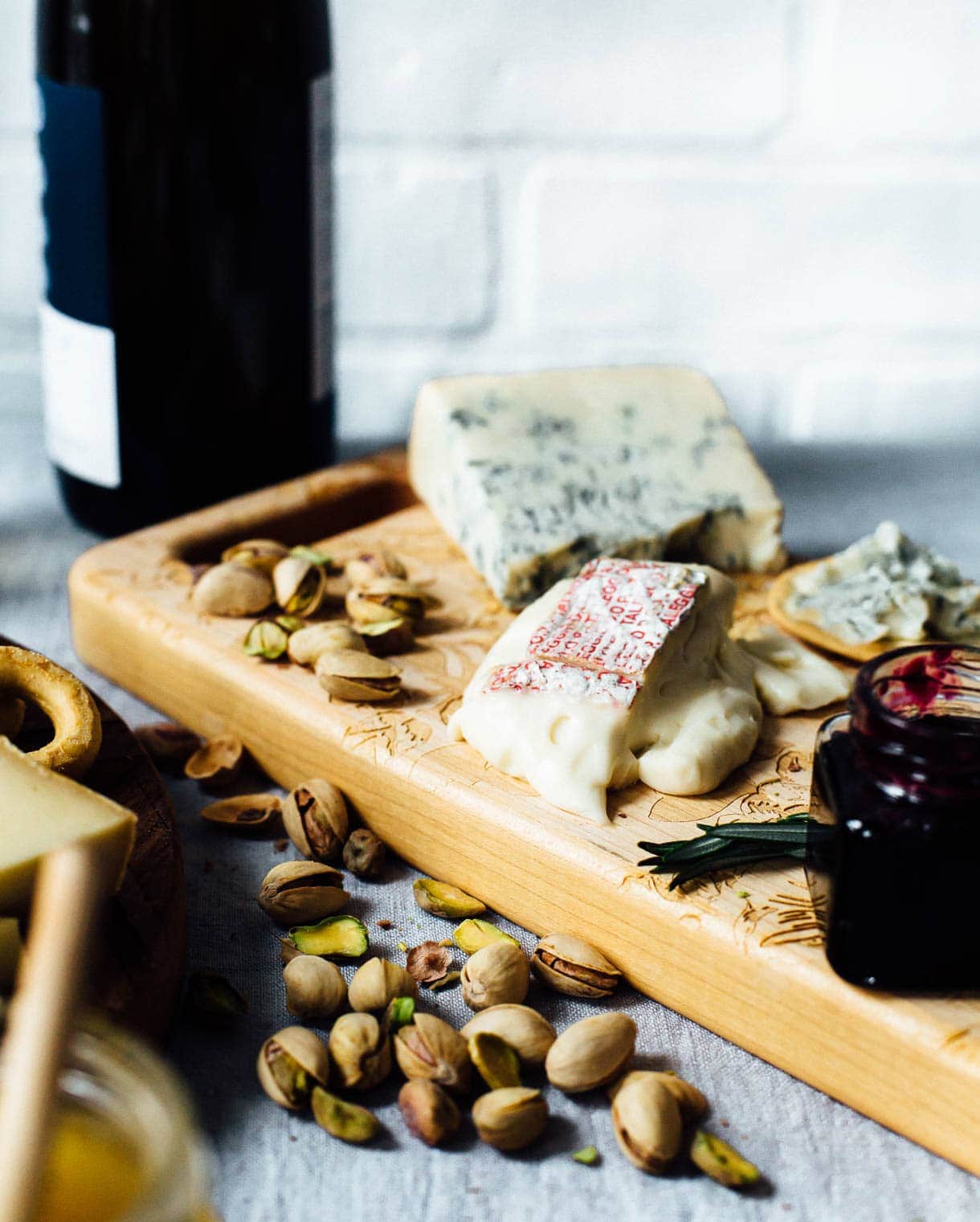 Taleggio PDO: a semi-soft Italian cheese produced with whole cow's milk. Its origins date back to the 10th century or even before, when farmers created this cheese to use their extra milk and make a food they could conserve and eat in the future. The cheese is aged for about 40 days in traditional caves or aging rooms with similar temperature and humidity.
It is white-or straw-colored with tiny holes. Its flavor is sweet, slightly acidic, and aromatic with an aftertaste of truffle, which is the odor that develops during aging. When it gets to room temperature, Taleggio will slowly seep out of the rind. It pairs extremely well with fruit (grapes, pears, apples) and honey, both of which I've added to the cheese plate.
Paired with: I really love this cheese with an Italian Pinot Grigio from the Alto Adige region. Aromas of ripe fruit led the way, with a creamy palate. It finished very clean and crisp, with some fresh acidity that helped balance the Taleggio. Other recommendations would be Nebbiolo from the Valtellina or Alto Piemonte, or whites such as Timorasso, Arneis, or Erbaluce.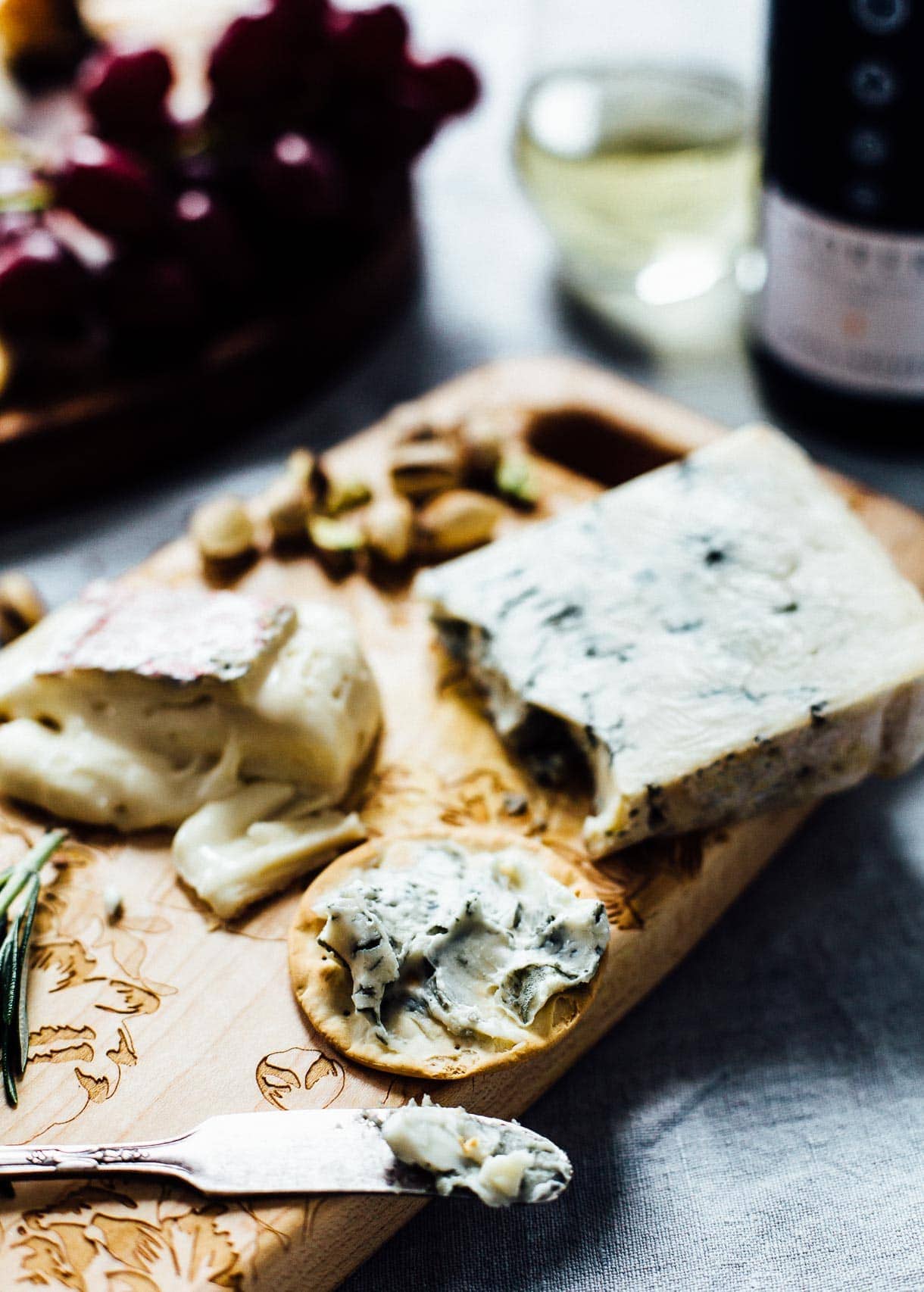 Gorgonzola PDO: Is a soft cheese, made with exclusively pasteurized whole cow's milk. The maturation period lasts for a minimum of 50 days for the large forms of Gorgonzola PDO, 60 days for the small form, and 80 days for the medium one. After 3 weeks of maturation, the process of drilling with a large metal needle takes place, so that air can penetrate the cheese to develop the unmistakable Gorgonzola PDO blue or green veins.
There are different flavor profiles of Gorgonzola, depending on which you choose. These range from sweet, mild and delicate, or slightly piquant. I prefer the sweeter one for cheese plates, as they are a little less forward and more people tend to like it. It has a nutty, hazelnut taste that is just beautiful, and a little sharpness at the end.
Paired with: Soave Classico, made from Garganega grapes from the Veneto region, with a straw yellow color with gold-green reflections. This wine is intense and fragrant on the nose, fresh white flowers, tropical fruit and white peach. Racy acidity, and lightly spiced finish. It was a match made in heaven with the sweet Gorgonzola.
Fontina PDO: This is a semi-soft cheese that's mild on the palate, with a sweet and delicate flavor. It's produced with raw unskimmed milk, processed as quick as possible after the milking. Although made throughout the year, the best cheese is obtained during the summer when the cows are moved to an altitude of 550 to 700 meters (1,800 to 2,300 feet) and fed only with rich grass to give it a distinctive aroma.
Fontina is a great table cheese, but also a great ingredient for regional specialties like fondue and polenta. For people who don't like strong cheeses, this is good option because it's nice and subtle.
Paired with: Trebbiano d'Abruzzo, made from 100% Trebbiano grapes in the Abruzzo region (the red grape here is Montepulciano). This wine is one of the rare and pure expression of the historical and original Trebbiano Abruzzese authentic clone.
Made with no press, just using the free run juice, this wine has very fresh aromas of apricot, grapefruit, jasmine and orange blossom, and anise. Crisp and clean on the first sip, it then finishes with noteworthy balance and length. It's an excellent complement to seafood and vegetable appetizers, and the saltiness of Parmigiano Reggiano. This wine let's the true beauty of the cheese shine through.
Since Fontina PDO comes from the Aosta region, I would also recommend a white such as Prie Blanc, a dry Moscato di Chambave, or an excellent Chardonnay since they are all produced in the same region of Aosta.
And I just had to include the "King of Cheeses". ☺️
Parmigiano Reggiano PDO: Made from raw cow's milk, a cooked and un-pressed hard cheese known as the "King of Cheeses". In the United States we often overlook this cheese as being suitable for cheese plates, and think of it only for pasta or pizza, when in fact, it's a great addition to a cheese board! Parmigiano Reggiano has a rich, salty, savory profile, with a minutely grainy and flaky texture. It's very important to have a harder cheese like this when you have softer cheeses on the plate, for contrast.
I kept the other accompaniments of the board relatively simple, as that's typically the style of how Italians serve their cheese. Included were:
roasted pistachios
assortment of crackers
wild blueberry jam
honey
Seckel pears
Castelvetrano olives
Italian wines and cheeses are definitely in a league of their own. Made with such high-quality craftsmanship and tradition, I hope you have a chance to try them soon!