Chewy, flourless peanut butter cookies made with chocolate chips, coconut, crushed Chex cereal & pecans. Use up those bits & pieces hiding in your pantry!
Being held captive indoors on super cold days does it have its benefits, like knowing there's nothing else to do besides the chores you've been putting off. For me that includes cleaning out the pantry, rustling up the shrunken vegetables in the refrigerator, and tossing out half-used bottles of condiments that "just weren't that good".
As I was digging through the baking drawer I found little bits of this and that. Coconut flakes, a handful of chopped pecans, crushed corn Chex in a mason jar (that I had used for gluten-free breadcrumbs), a near empty bag of chocolate chips and some cacao nibs.
And then there were three different jars of peanut butter, all opened. Seriously Amanda.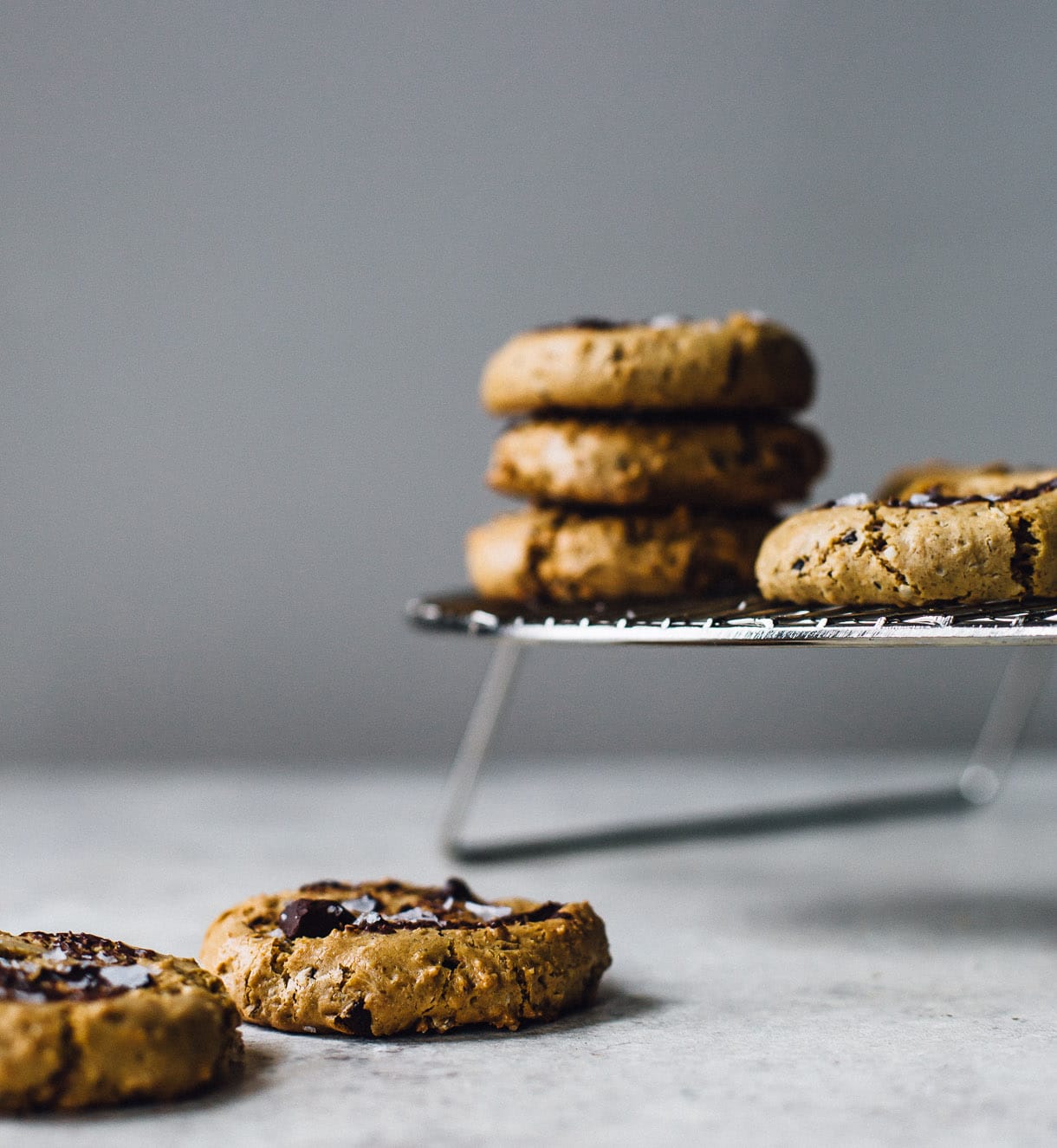 Lots of sweet components…. I couldn't let them go to waste, so I convinced myself that making treats from them was being resourceful. I'm calling it "green baking".
Certainly all good on their own but completely irresistible when put together in the form of these chewy Peanut Butter Compost Cookies.
They resemble a "grown-up" version of my mom's monster cookies she'd make for an after-school snack- super peanut buttery and packed with oats, chocolate chips, and M &M's.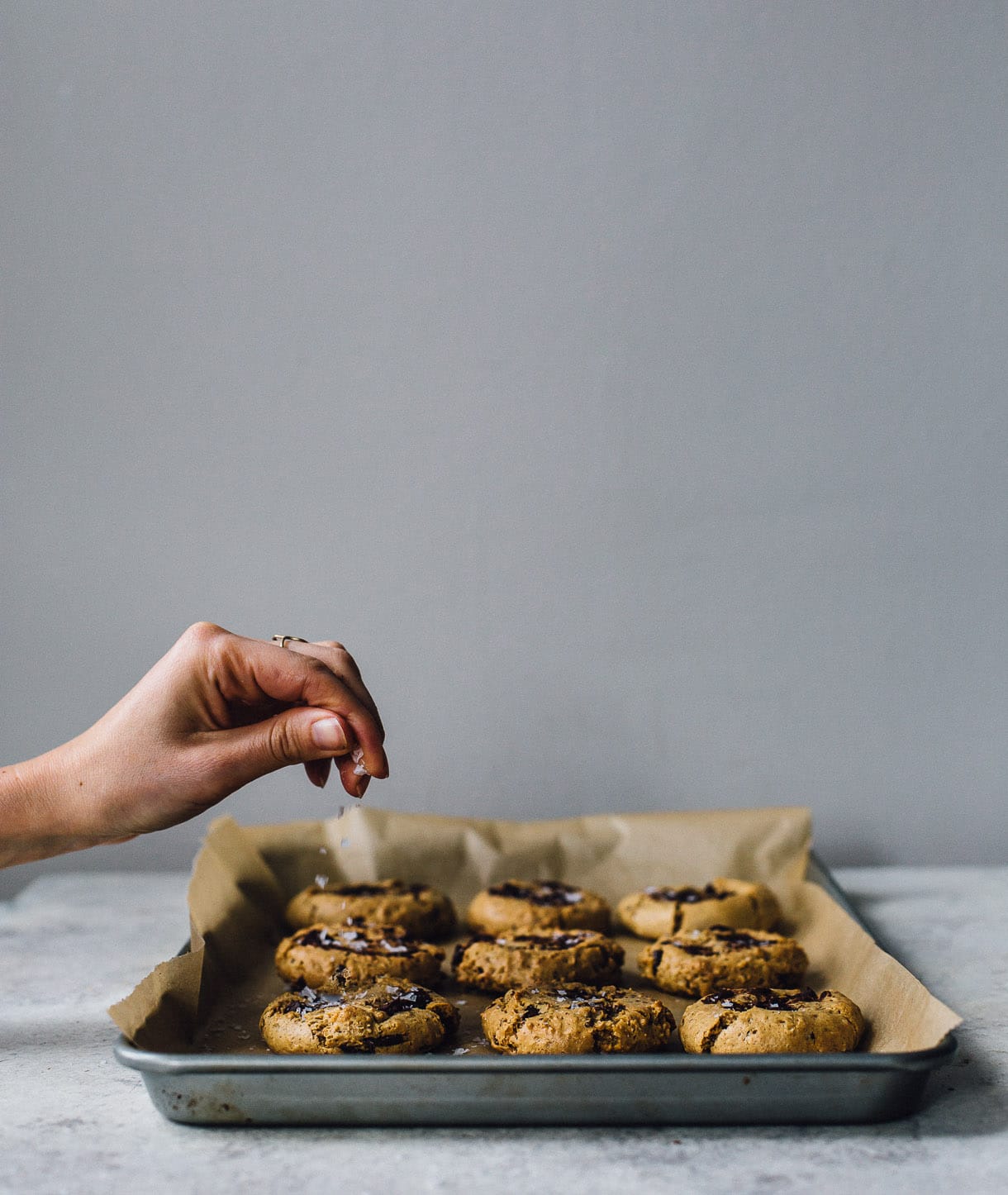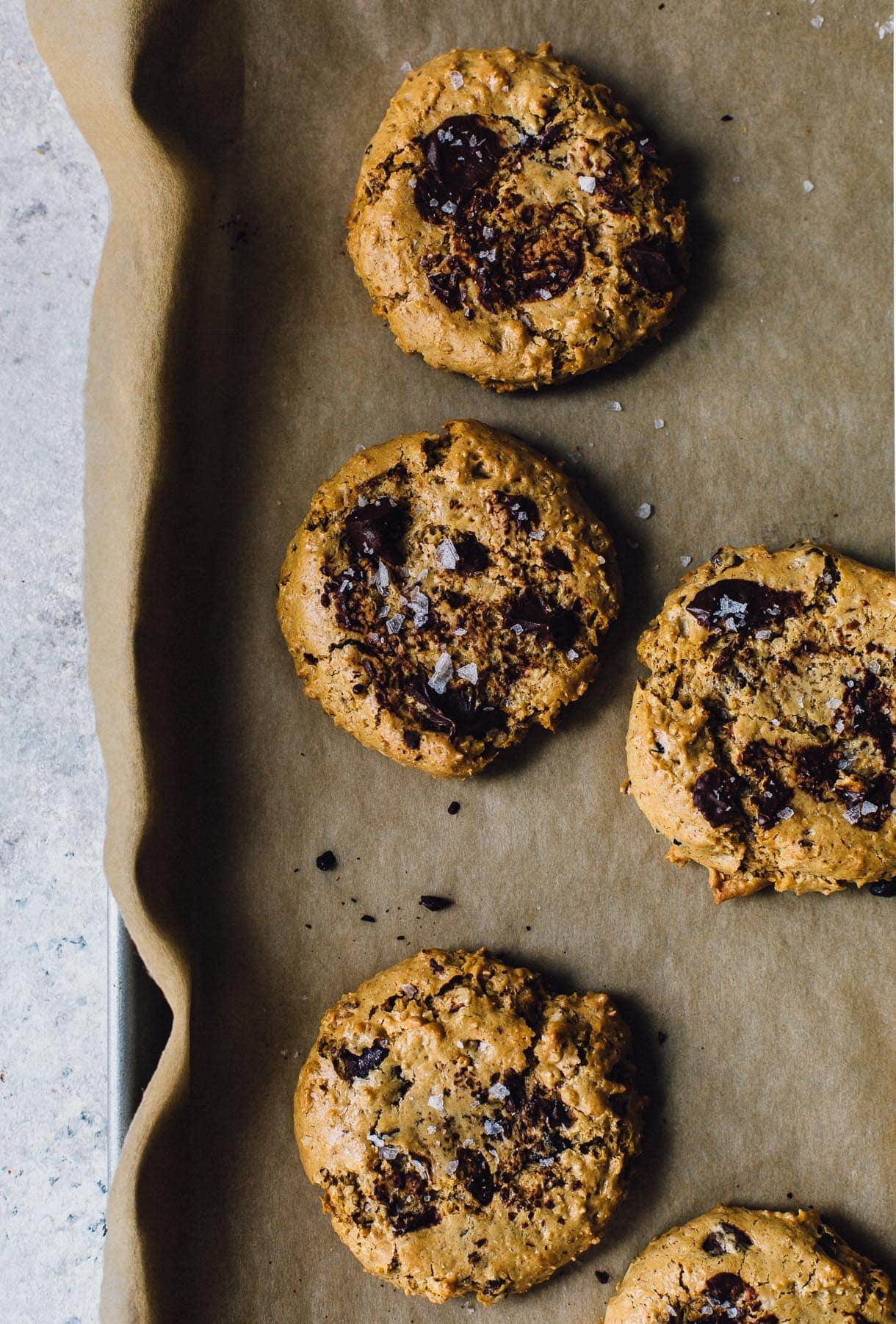 This one bowl recipe comes together so quickly! True to their name, they can be adapted to whatever nuts, chocolate and cereal you have hiding in your pantry, just be sure to keep the amounts equal. These kitchen sink cookies are basically flourless, just 1 tablespoon of starch/flour is needed. Its job is simply to keep them from spreading too much. I used tapioca starch, but oat flour, millet flour and regular all-purpose flour worked the same when I tested them.
Every cookie and every bite will be a little bit different, which definitely makes it hard to eat just one. I have to say, the coffee notes from the cacao nibs, chunky chocolate chips & nutty pecans in one bite was the best, but really how can you go wrong?
If you make these flourless peanut butter cookies, be sure to tag me on Instagram with hashtag #heartbeetkitchen or @heartbeetkitchen!
photos updated: 03/ 05/ 2017
1/2

cup

natural peanut butter

1/3

cup

+ 1 tablespoon firmly packed dark brown sugar

do not skip on the amount! this is already a low amount of sugar, and i've tried with less and they don't taste right. note: light brown sugar works, but cookies won't be as brown.

1

large egg

room temperature

3/4

teaspoon

pure vanilla extract

1

tablespoon

tapioca starch

or cornstarch, or regular all-purpose flour

3/4

teaspoon

baking soda

1/4

teaspoon

table salt + extra flaky salt for sprinkling on top

1/2

cup

chocolate chips

1/4

cup

unsweetened shredded coconut

3

tablespoons

finely chopped pecans

1/4

cup

finely crushed Corn or Rice Chex

or similar cereal

2

tablespoons

cacao nibs

if you don't have these, add 2 more tablespoons of chopped nuts
Preheat oven to 350 degrees. Add peanut butter, brown sugar, and egg to a large glass mixing bowl and mix for 1 1/2 minutes on medium speed (I use a hand mixer).

Add vanilla extract, starch/flour, baking soda and salt, mix on low for 30 seconds. Stir in remaining ingredients.

Using hands or a cookie scoop, make heaping 1-inch dough balls and place on parchment paper. Press down lightly and bake for 5 minutes, then open oven and lightly press cookies down with the back of a spoon.

Bake for another 4-5 minutes, until edges are lightly browned. Remove and let cool on baking sheet for 4-5 minutes, then set on cooling rack.
ingredients: