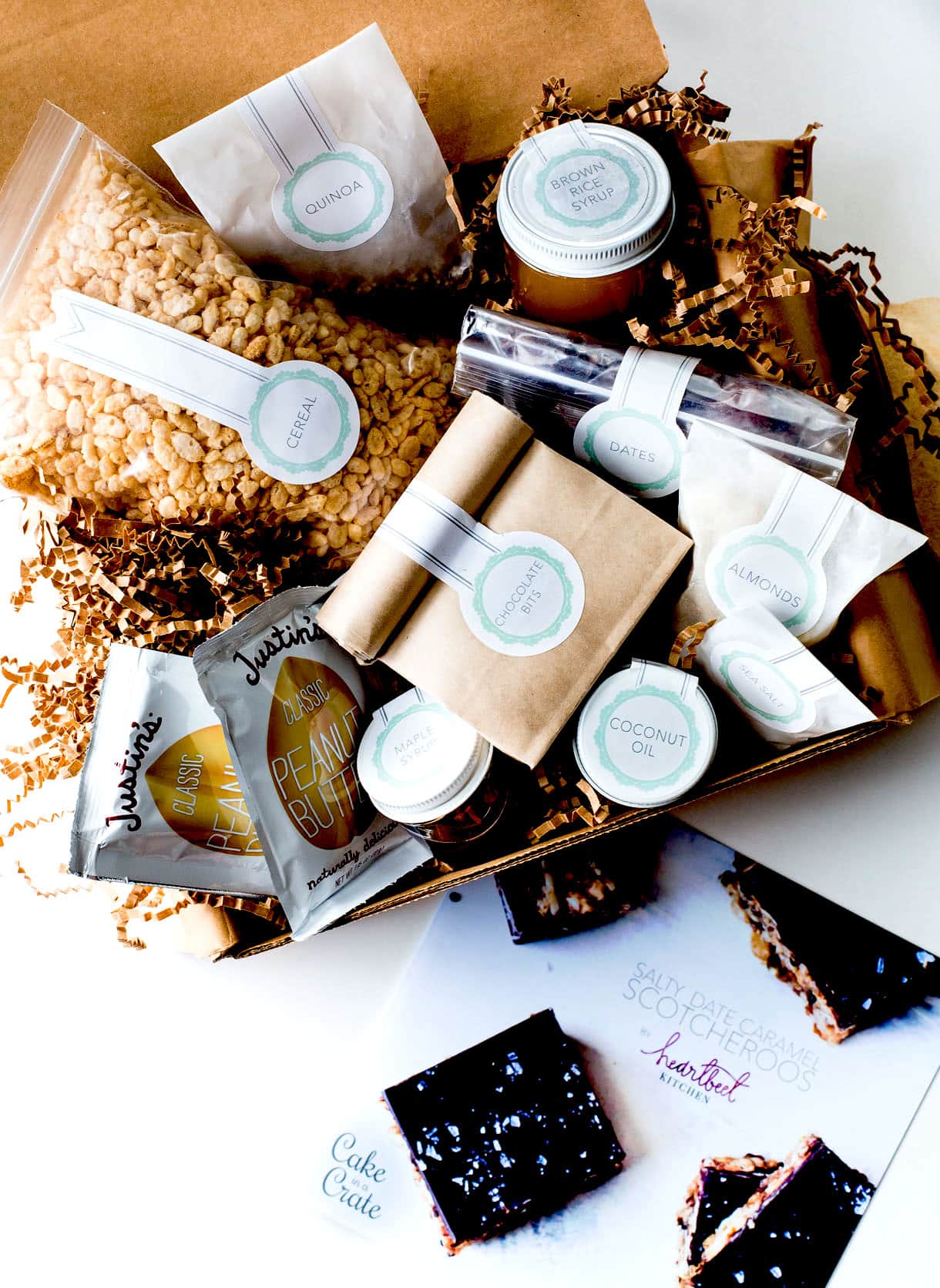 Months of testing, hours of photographing and editing, years of wanting to sell my own product, and a whole lot of love poured into this project…. And it's finally ready. You may have seen a few sneak peeks on Instagram, but I'm so excited to finally share my Salty Date Caramel Scotcheroos that you can BUY and have shipped right to your door! Part of my collaboration with Cake In a Crate (not just cakes), a plant based baking kit delivered in modern sustainable packaging with the recipe and pre-measured ingredients, ready to become these incredible, wholesome bars that have my heart.
A decadent pan of bars in the Midwest is like a homemade peach pie in the south. I grew up sneaking squares of my Mom's Scotcheroo bars without hesitation, their presence being the food highlight of any backyard cookout, birthday celebration, or graduation party. She'd stir up Rice Krispies and a gooey, sticky combination of Skippy peanut butter and karo syrup, then douse them in a melted medley of chocolate and butterscotch chips. You betcha (hello from Minnesota), they were amazing, but could use a little work in the ingredient department.
I have a deep love for taking recipes I grew up with and spinning them into less processed, allergy friendly, simple, and delicious versions. I felt like part of my purpose was finding an easy way for people to have everything they needed to make a wholesome, smashing dessert, that also tasted so incredible that nobody would know it was different in any way (even though it's gluten-free, vegan, and naturally sweetened). And they could say goodbye to having to run to 3 different grocery stores to do it. With that in mind, the collaboration with Cake in a Crate began, who have the exact same passion.
Inspired by my popular Salty Chocolate Date Caramels, this insanely good rendition of Mom's Scotcheroos came to life after pans and pans of testing. These peanut buttery squares of heaven are comprised of puffed brown rice cereal, flaked almonds, and quinoa, bound together with brown rice syrup, maple syrup, natural peanut butter, and pureed dates to mimic that magical gooey texture of the original recipe, with a wonderful caramel flavor. Topped with melted dark chocolate and a dusting of flaky salt, it's a match made in heaven. I can't wait for you to take your first bite, and welcome a delicious slice of the Midwest into your kitchen.
I wanted to develop this Crate for a few reasons, but mostly with YOU in mind!
If you love Scotcheroos, you will love these. If you've never had a Scotcheroo, prepare for your world to be changed. THE BEST. THE BEST. THE BEST.
Every single ingredient is gluten-free, vegan, refined sugar-free and sourced from family-run and artisan makers committed to healthy people and a healthy earth.
Including shipping, the crate is $25, which is such a great deal considering the carefully sourced ingredients, time saved driving from grocery store to grocery store, beautiful packaging, and a bakery case worthy pan of bars that YOU can take credit for.
Instead of having to buy ingredients you don't use all that often (like that $8 jar of brown rice syrup), everything comes in the box with the exact amount you need.
The recipe is simple and straightforward, just 6 easy steps so that literally anyone can make it.
The Crate is perfect for an anytime dessert, sending as a gift to your favorite baker, or having one on hand in the pantry ready for when you're entertaining.
So here's to wholesome desserts, a little Midwest tradition, and kitchen fun. You're going to become a baking hero in no time. Thanks so much for supporting my endeavors, always. You inspire me to do new and exciting things. xo!