I *may* have broken some rules with this two egg omelette. It's no French classic, but it is an Amanda classic, meaning cook with what you have even if it's unusual, and improvise as you go.
When we returned home from our mini getaway deep in the southern Minnesota woods, I opened the refrigerator the next morning, starving, and in that "hurry up, you've got a to-do list that's a mile long" situation. There was no milk or yogurt, no fruit, no cheese, no gluten-free bread, no meat. But there was a carton of eggs with two soldiers standing, and one lone sweet potato hanging out in the pantry.
So into omelette territory I went, straying from my poached or over-hard ways. As with many minimal ingredient staples, an omelette looks much more difficult than it actually is. Basically a couple of eggs and a pinch of salt that whisks itself into a light, yet satisfying, ultimately frugal thing of beauty. I prefer the diner style, folded-in-half, lightly browned way technique over its fussy French cousin, the super tender, pale-yellow variety, gently rolled like a cigar.
My first thought was to cube and roast the sweet potato for the filling, but the growling tummy did not have time for that. My spiralizer always saves the day when that's an issue. Within 2 minutes I had a gorgeous tangle of noodles that simply needed a 5 minute saute on the stovetop. Tossed with tahini and za'atar, YUM. I could have eaten just the zoodles, but they also begged to be tucked into this unconventional omelette.
I also whisked some Vital Proteins Marine Collagen Peptides into the eggs for a superboost, a little trick I've been using as of late to help get more nutrients without even knowing. (Collagen provides the infrastructure of the musculoskeletal system, essential for mobility. Peptides are short chain amino acids naturally derived from collagen protein, but how cool is it that Vital Proteins figured out that the scales of wild-caught snapper are also an excellent source of this, not just beef!
So why collagen? Well, it ensures the cohesion, elasticity and regeneration of skin, hair, tendon, cartilage, bones, and joints. It is the most abundant protein in the body and is a key constituent of all connective tissues. Conveniently, these natural peptides are digestible and soluble in cold water, so with the omelette, they dissolved in a few tablespoons of water, which science says makes a difference in the fluffiness of the omelette.
"Though it would seem that the addition of water would dilute the egg mixture, what happens with much of the water is that it becomes steam upon hitting the pan. This steam rises through the omelette and acts as a leavening agent of sorts, thus making the omelette fluffier."
I guess not having cream or milk on hand was actually a good thing.
Topped with some fresh Thai basil, drizzles of tahini, and and even more za'tar, the combination is dynamite. And as I spun the bright orange noodles around the fork, I was reminded that creativity often spurs from having what you think is nothing. Which is one of the reasons I love to share these little discoveries with you so much, knowing that not all of us have the time, or desire, to experiment. Yet all of us love good food.
Have a great weekend everyone, and thank you for the amazing support of my Cake in a Crate – I'm grateful beyond words. xo
This post is sponsored by Vital Proteins, one of my year-long partners that I use in my kitchen nearly every day!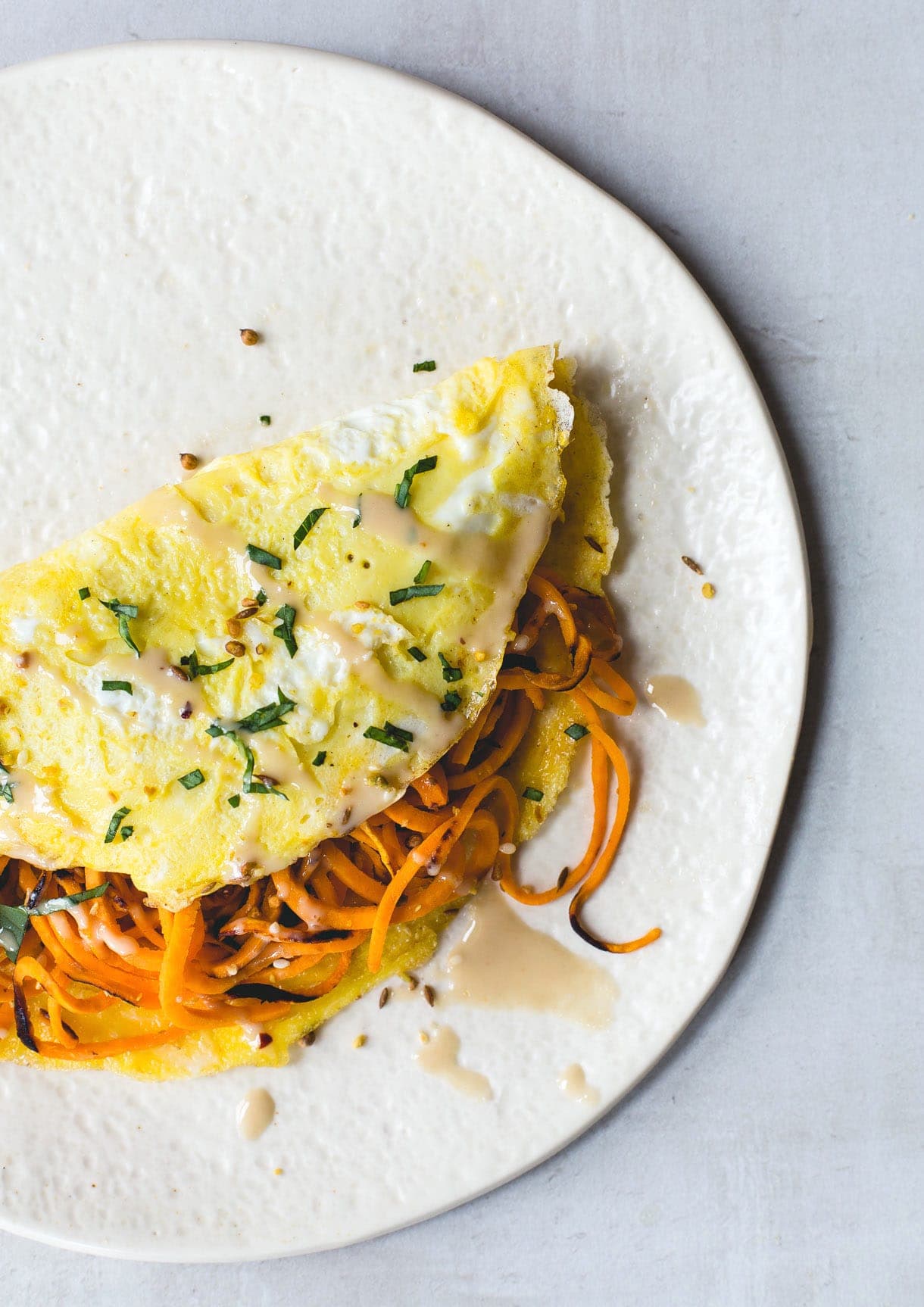 1

medium sweet potato

peeled and spiralized using the C blade

1

tablespoon

olive oil

1

teaspoon

za'atar + more for garnish

2 1/2

tablespoons

water

1

tablespoon

Vital Proteins Marine Collagen

2

large eggs

1/2

teaspoon

salt

divided

pinch

of black pepper

1

tablespoon

butter or olive oil

1 1/2

tablespoons

tahini

2

teaspoons

chopped basil

Thai basil, adds a bright, but not spicy, pepper flavor
Heat a medium saute pan with the olive oil in it, to medium high heat. Add the sweet potato noodles and salt, stirring to coat. Cook on medium heat for about 6-7 minutes, lightly covering in between stirring the noodles. When they have an al dente bite, but are cooked through, they are done.

Remove pan from heat and toss with 1 teaspoon za'atar, and a little more salt to taste if needed. Set aside

For the omelette, whisk the peptides into the water, then whisk this into the eggs, with 1/4 teaspoon salt plus a pinch of pepper, beating the eggs until smooth and you see a few air bubbles. In an 8 inch skillet, melt the butter or olive oil on medium-high heat. When hot, pour in the egg mixture and swirl the pan. Shake the pan to distribute the eggs evenly, then leave for 20 seconds until they begin to bubble.

Using a spatula or fork, draw in the sides of the eggs to the centre while shaking the pan to redistribute the liquid to the edges. The omelette is done when still slightly runny in the middle.

While omelette is still in pan, add sweet potato noodles to one side, drizzle with 1 tablespoon tahini, then fold the other half over the top. Slide out onto plate and top with remaining tahini, basil and more za'atar.
This post has Amazon affiliate links, which I may make a small commission from if you decide to purchase.