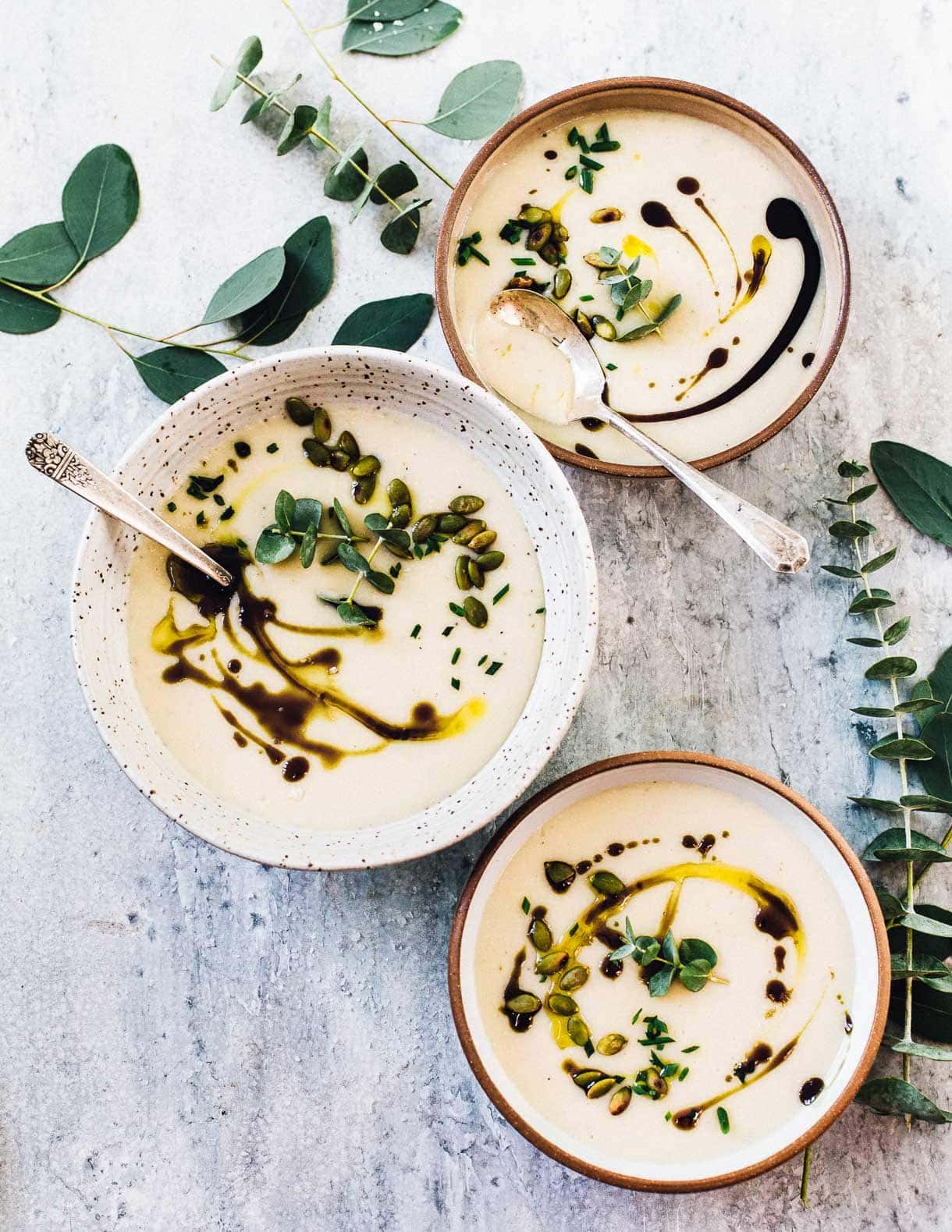 This dairy free potato soup recipe is sponsored by La Tourangelle, a year long partner of Hearbeet Kitchen. Here I've used their Extra Virgin Olive and Toasted Pumpkin Seed Oil.
I love dairy just as much as anybody. But I'm also particularly fascinated by the magic of using just vegetables to create that same creaminess, especially when it's in the form of a simple, comforting soup.
A dairy free potato soup probably sounds plain, but there are parsnips too! Which have a sweet and nutty flavor. They're balanced by the soft, delicate flavor of the potatoes, making for a great match. For those of you who've never tried, parsnips, this would be a fabulous introduction!
The ingredient list is short for this healthy soup, and it comes together in 30 minutes. And let it be known that the toppings – chives, toasted pepita seeds, and oils – are just as important as the main event.
The broth component is chicken stock, which I used for depth, but you could use vegetable stock instead to make this vegetarian.
There are two oils used, for different purposes:
La Tourangelle Organic Extra Virgin Olive Oil: For sautéing the onions and garlic, to bring out their best qualities, and finishing. This Extra Virgin Olive Oil is cold pressed from olives that are harvested early in the season in Andalucía, Spain. Processing shortly after harvest preserves the naturally high antioxidant levels and yields a well-balanced, extra fresh oil, that is bright, peppery, and ideal for daily cooking.
La Tourangelle Toasted Pumpkin Seed Oil: For finishing the soup, and making every bite true bliss! This oil is so unique and special – I've actually never tasted anything like it. You'll notice that the color is a deep brown, and it has a thick texture, almost like a balsamic glaze. Slowly roasted to perfection and lightly filtered, this oil adds a rich nutty taste to salad dressing, drizzled in pasta, and on top of soup.
And there's one more secret to this soup!
I add 1/3 cup raw cashews to the simmering soup, which soften before blending, resulting in the creamiest non-dairy soup evaaaaaa. I encourage you to use this trick in other soups or sauces too!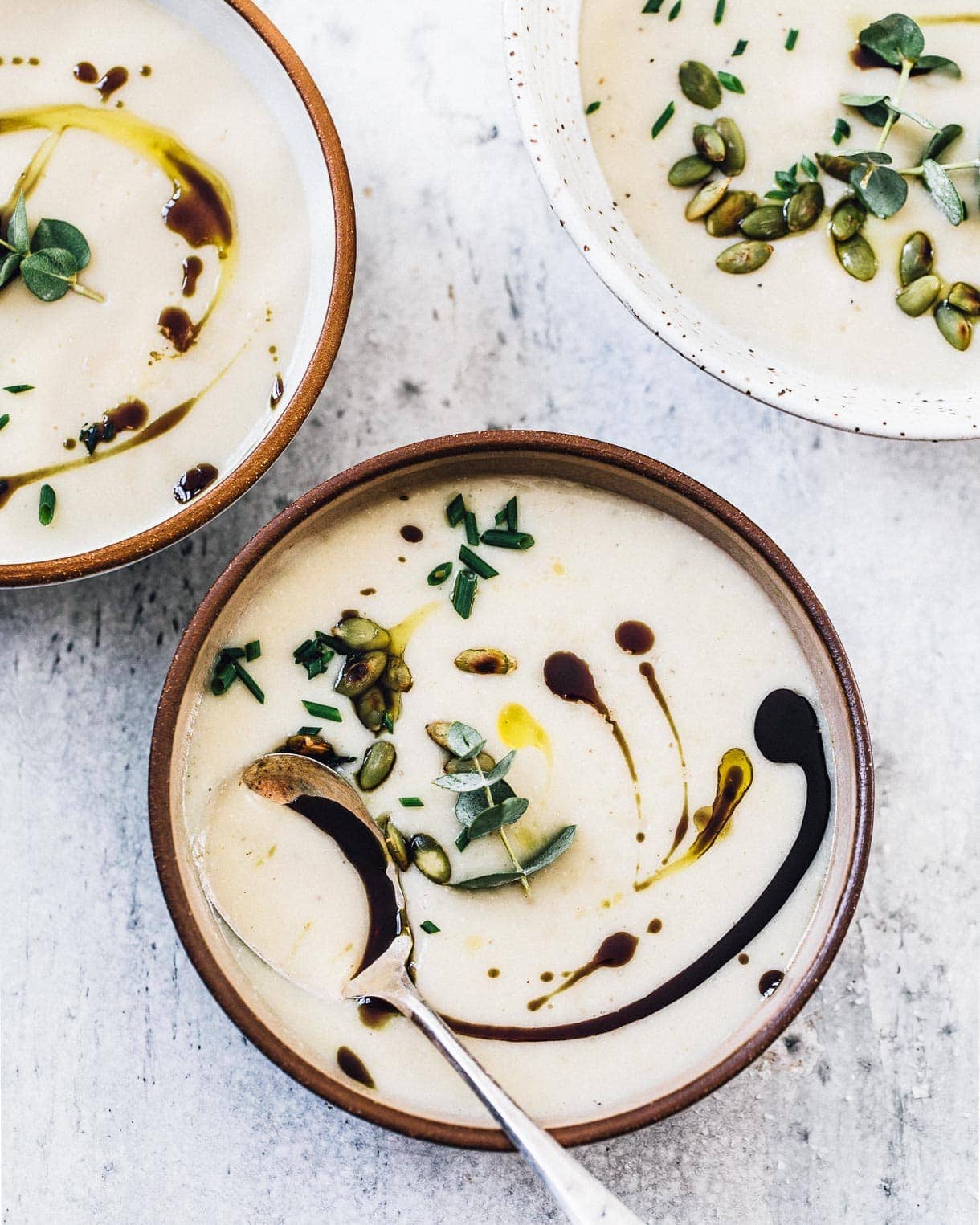 Can you freeze potato soup?
Yes! This soup freezes well, and the texture does not change one bit after reheating. Use glass jars for freezing, leaving an inch or so at the top for expansion from the cold.
Is this potato soup gluten free?
Yes! It is in fact both dairy free and gluten free. But you won't miss any flavor.
What should I serve with potato soup?
Sourdough focaccia would be delicious with it, especially for dunking! I also like a bright and fresh green salad.
If you make this dairy free potato soup, be sure to tag me on instagram with hashtag #heartbeetkitchen or @heartbeetkitchen!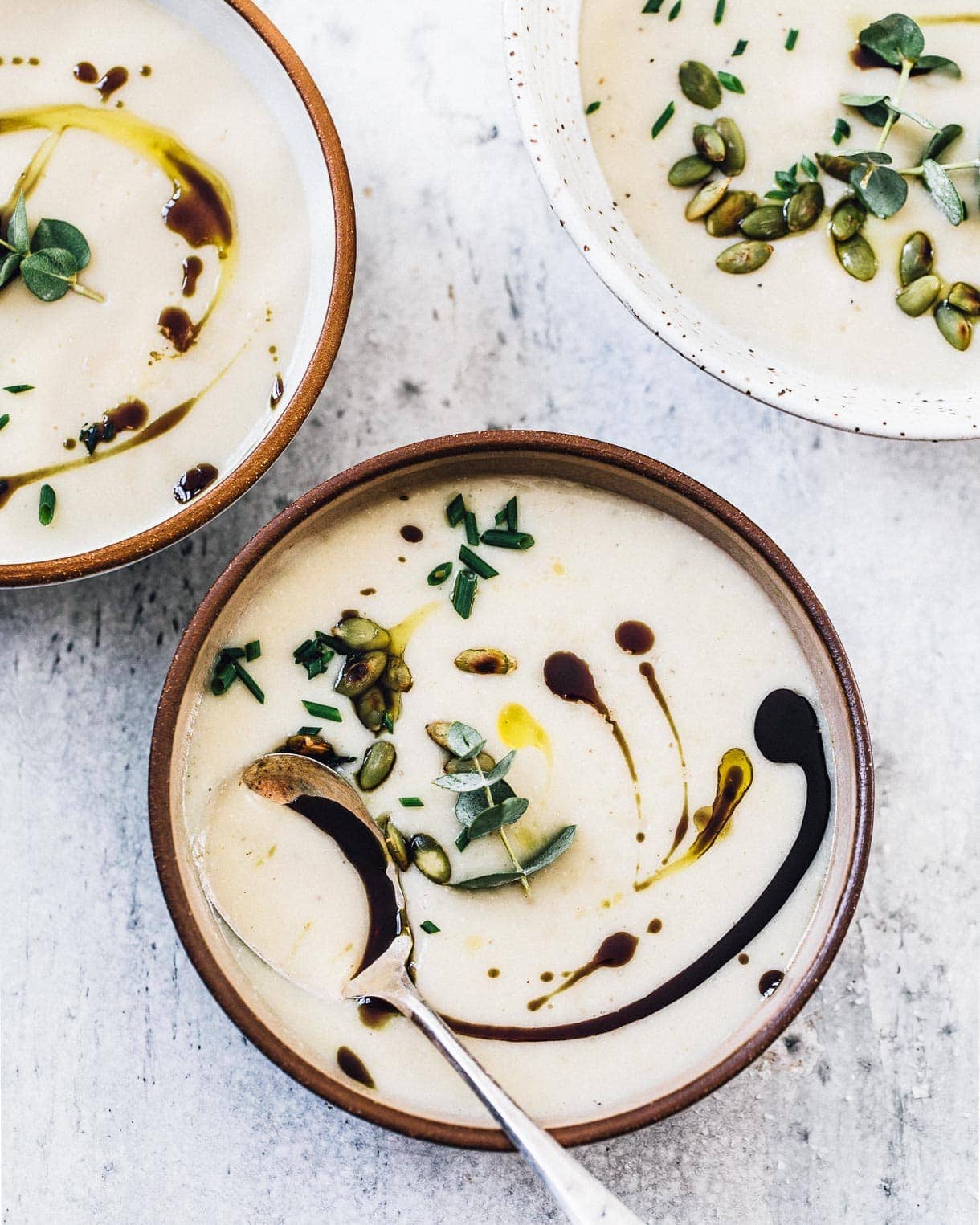 2

tablespoons

La Tourangelle extra virgin olive oil (plus more

for serving

1

large white onion

240 grams, diced

3

cloves

garlic

minced

1

large russet potato

380 gram, peeled and chopped into cubes

3

parsnips

200 grams, peeled and chopped into small cubes

2

bay leaves

1/4

teaspoon

ground black pepper

1/3

cup

raw cashews

4

cups

chicken stock

2

tablespoons

balsamic vinegar

salt

garnishes:

minced chives

toasted pepita seeds

La Tourangelle Toasted Pumpkin Seed Oil
Heat olive oil in large stock pot, over medium high heat. Add onions, stirring to coat. Saute for 5 minutes until translucent.

Add garlic and 1/4 teaspoon salt, stirring. Cook for another 4 minutes.

Add parsnips and potatoes, and stir to coat. Cook for 2 minutes. Then add cashews, pepper, bay leaves, and stock.

Cover and simmer for 15 minutes. Remove from heat.

Remove bay leaves. Stir in balsamic vinegar.

In two batches, puree in blender, and add salt to taste. This will depend on how much sodium your chicken stock has.

Pour into bowls and now the important part: garnishing! For this soup to shine and taste as it was tested, you must drizzle with extra virgin olive oil, pumpkin seed oil, and a little balsamic vinegar. Then sprinkle with chives and pepita seeds. Serve.