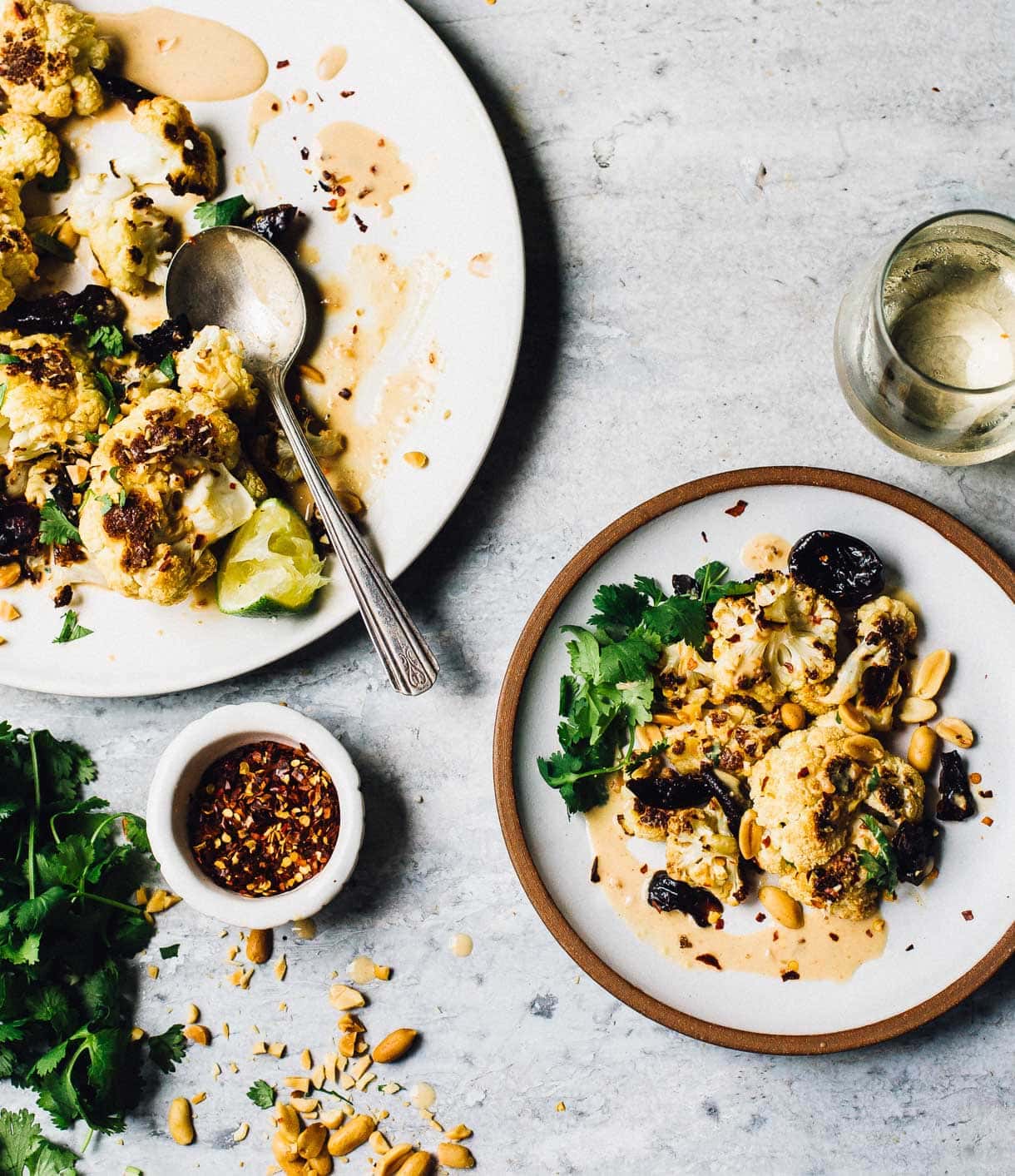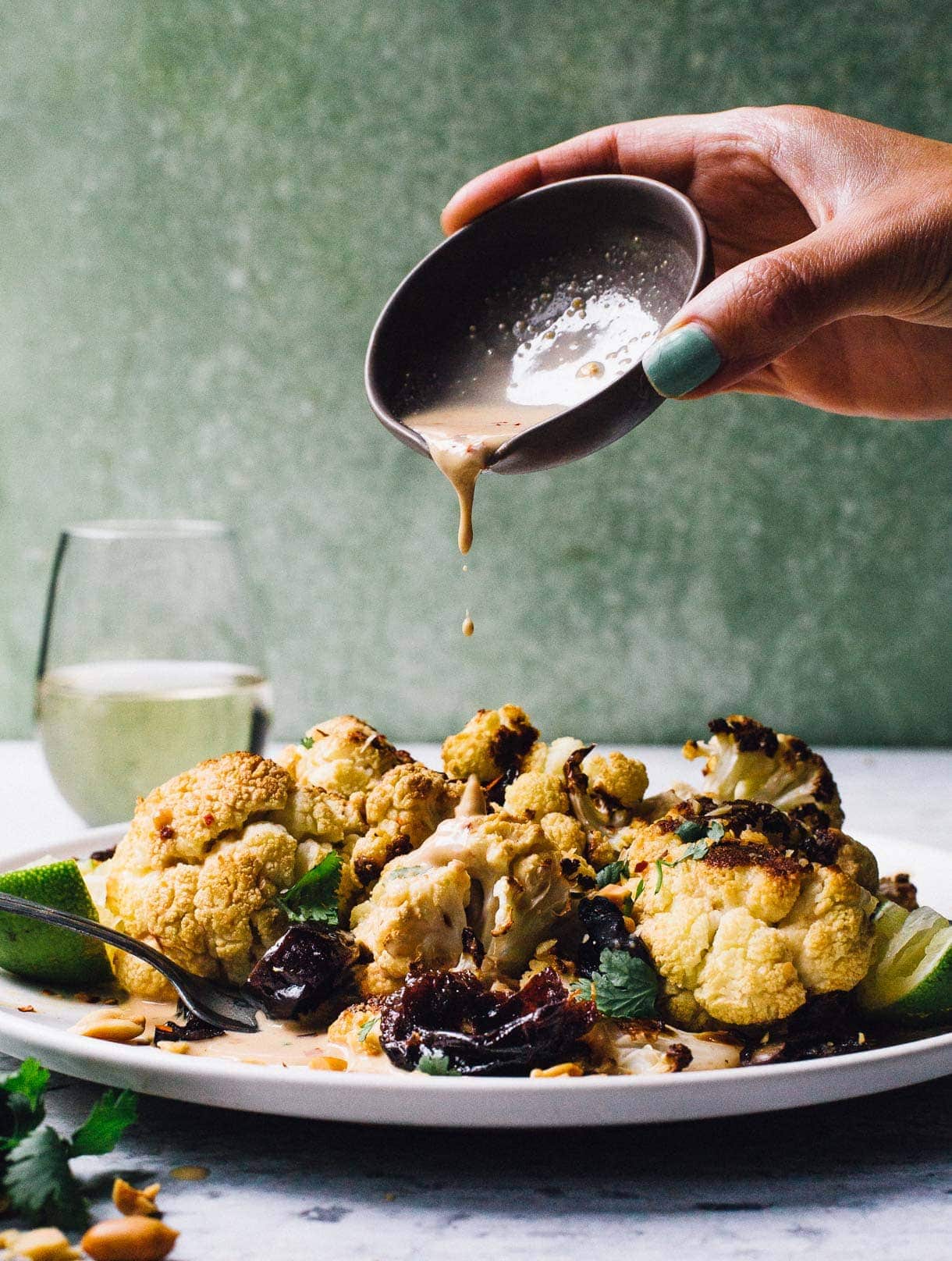 There is no shortage of cauliflower recipes on this blog, yet I keep creating more. Because I love this cruciferous vegetable, like really love it!
Today we're making an easy, Thai inspired side dish that hits all the right notes: spicy, sweet, and salty. Even my cauliflower-skeptical family member loved it. Winning.
Cauliflower serves as the perfect vehicle for a savory peanut sauce because it absorbs all the flavors, yet retains its crispy edges – such a team player! Paired with the brightness of the cilantro and lime, plus rich prunes (or dates!), the balance of sweet and spicy is just perfect. Better than I even imagined they would be.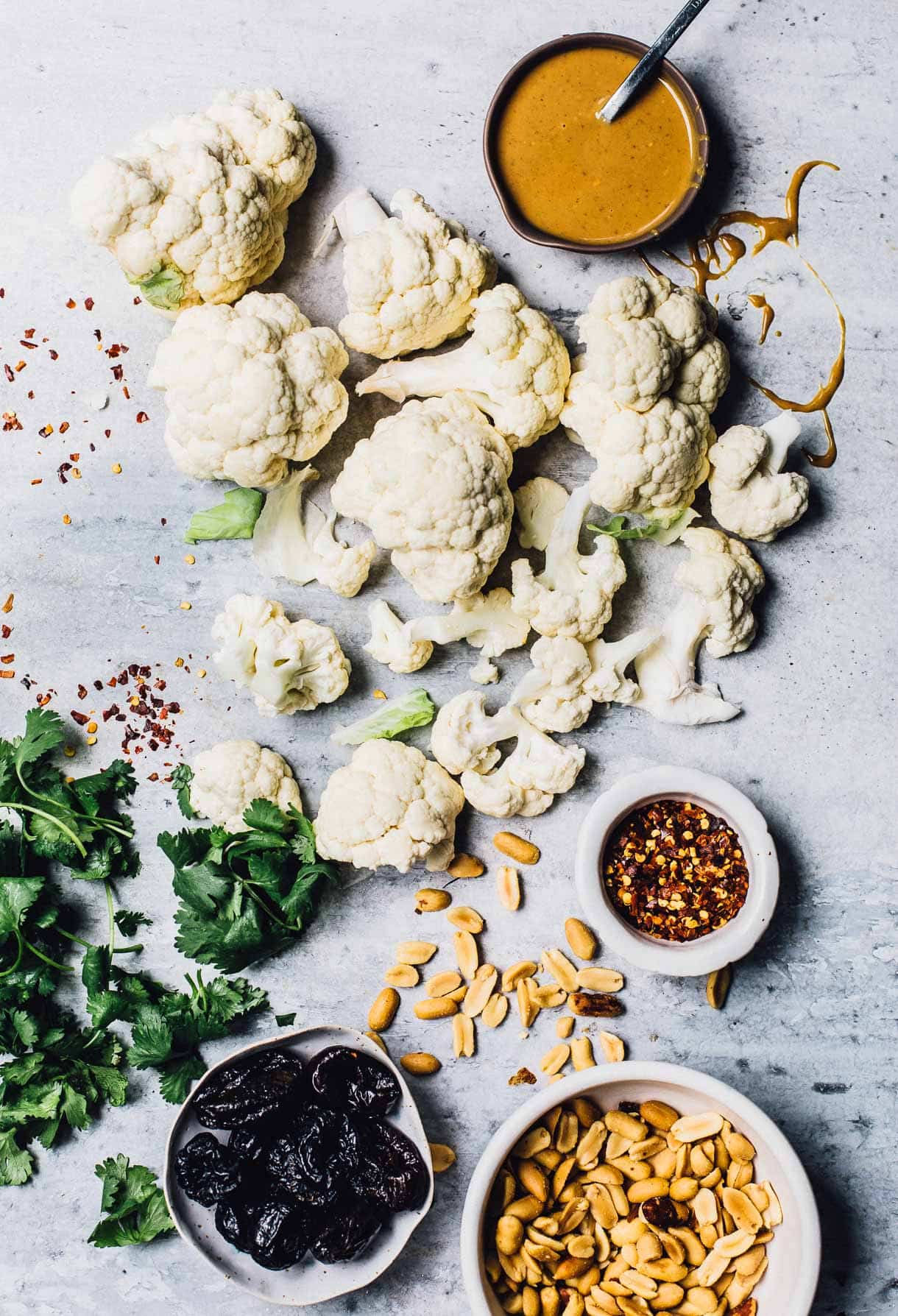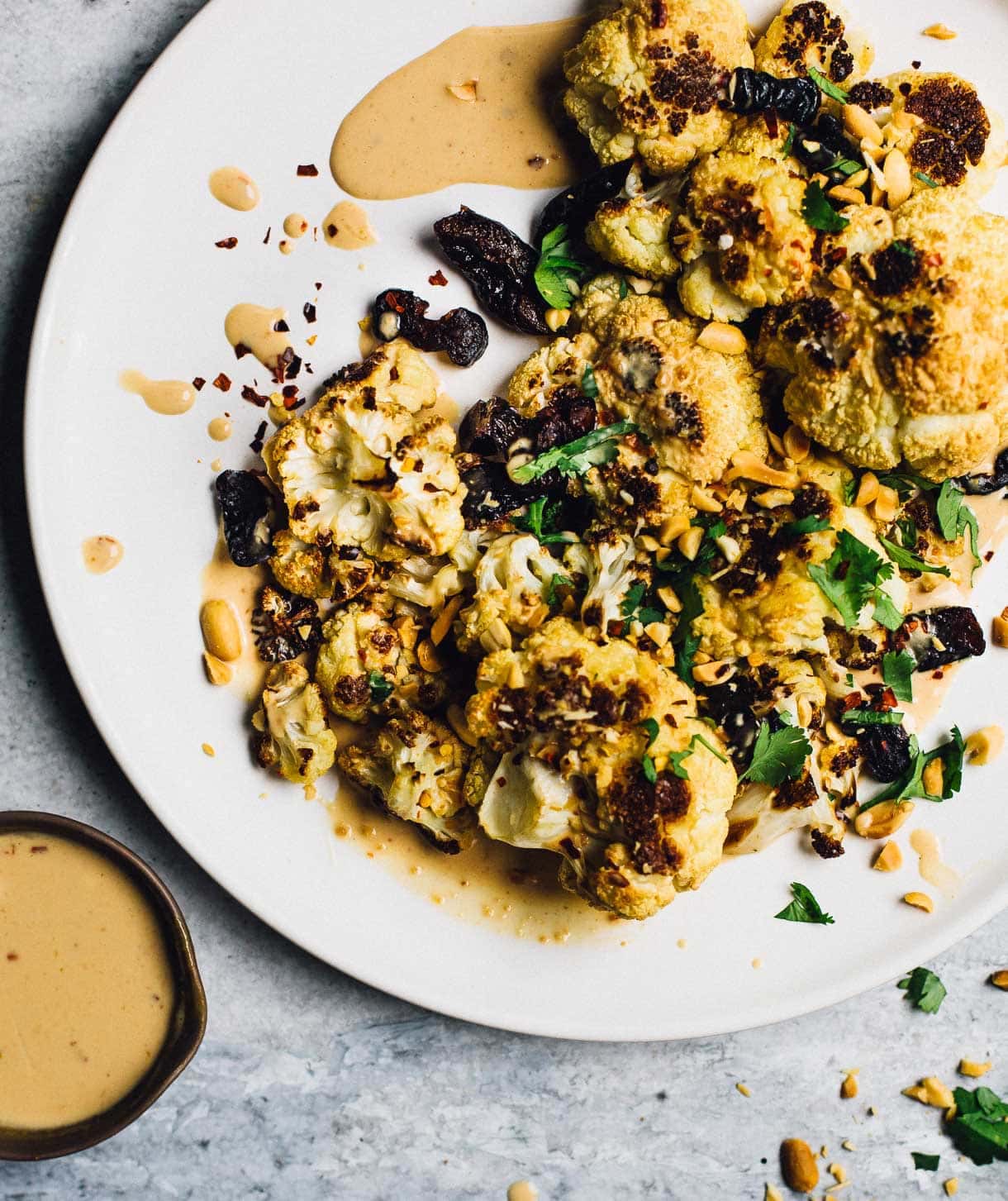 How to Roast Cauliflower:
Roasting cauliflower is a delicious and simple way to bring out its natural flavors and create a crispy, caramelized texture. Here are some tips to help you roast cauliflower to perfection:
Preheat your oven: Set your oven to a high temperature, around 425°F to ensure a nice browning and crispiness.
Prep the cauliflower: Start by removing the outer leaves and cutting the cauliflower head into florets of similar size. This will ensure even cooking.
Toss with oil and seasonings: Place the cauliflower florets in a large bowl and drizzle with olive oil, or your preferred oil, to coat them evenly. Season with salt, pepper, and any other desired spices or herbs. Toss the florets gently to ensure they are well coated.
Arrange on a baking sheet: Spread the cauliflower florets in a single layer on a baking sheet. Crowding the pan can cause steaming instead of roasting, so if needed, use multiple sheets or bake in batches.
Roast to perfection: Place the baking sheet in the preheated oven and roast for about 30-35 minutes, or until the cauliflower is tender and nicely browned. For extra crispiness, you can give them a toss halfway through cooking.
Check for doneness: The cauliflower should be fork-tender with a golden-brown color. You can taste a piece to ensure it's cooked to your desired level of tenderness.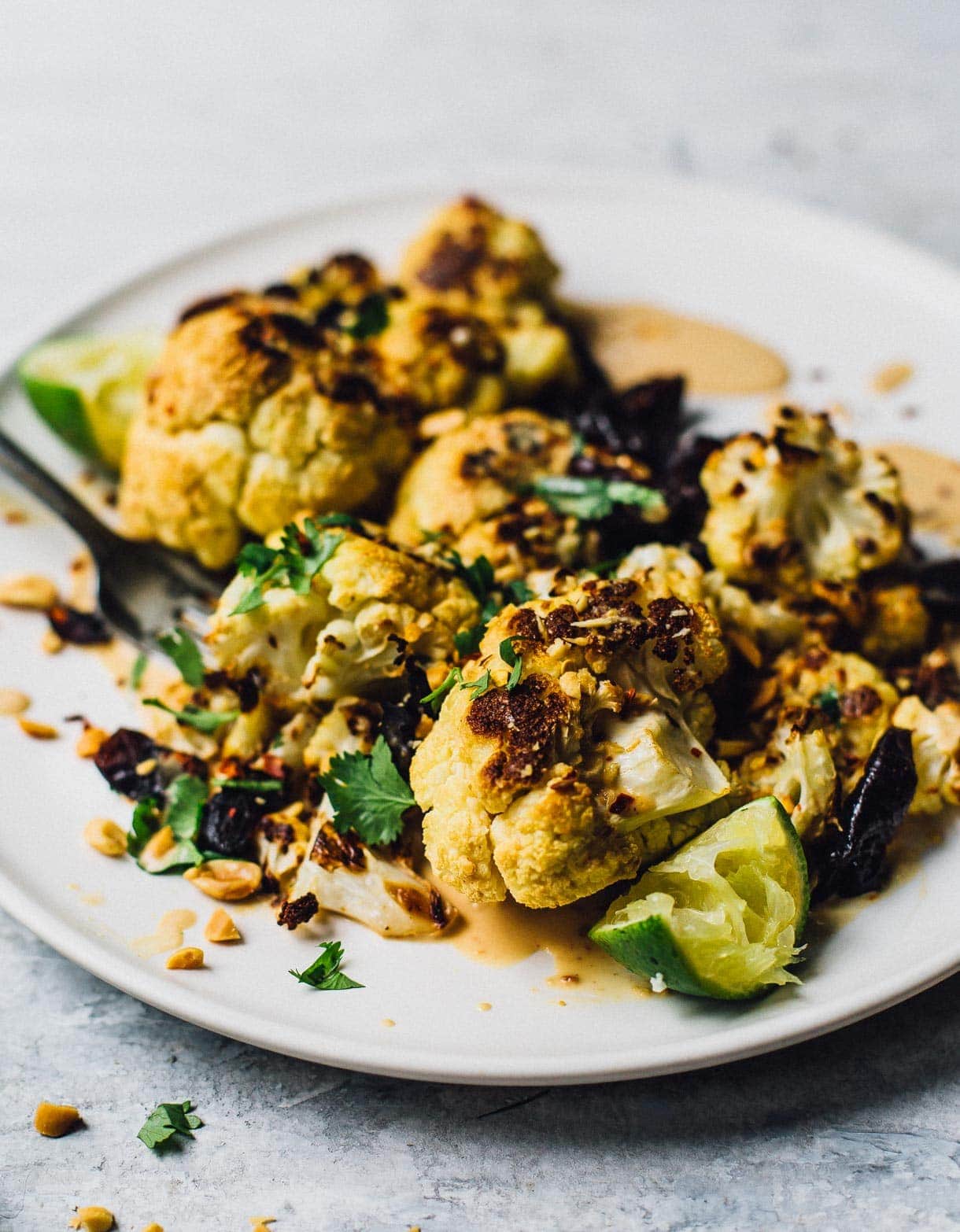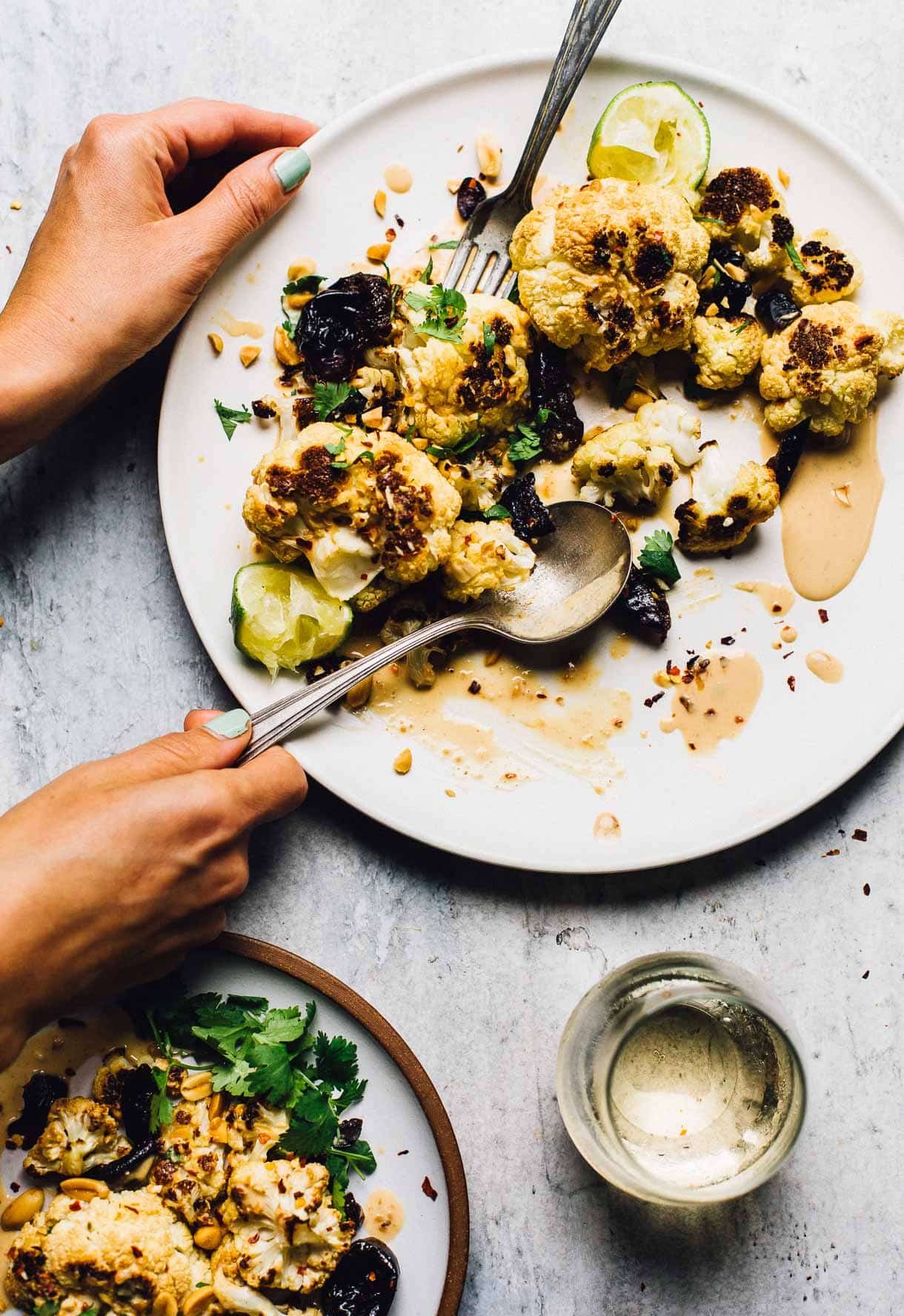 More Cauliflower Recipes: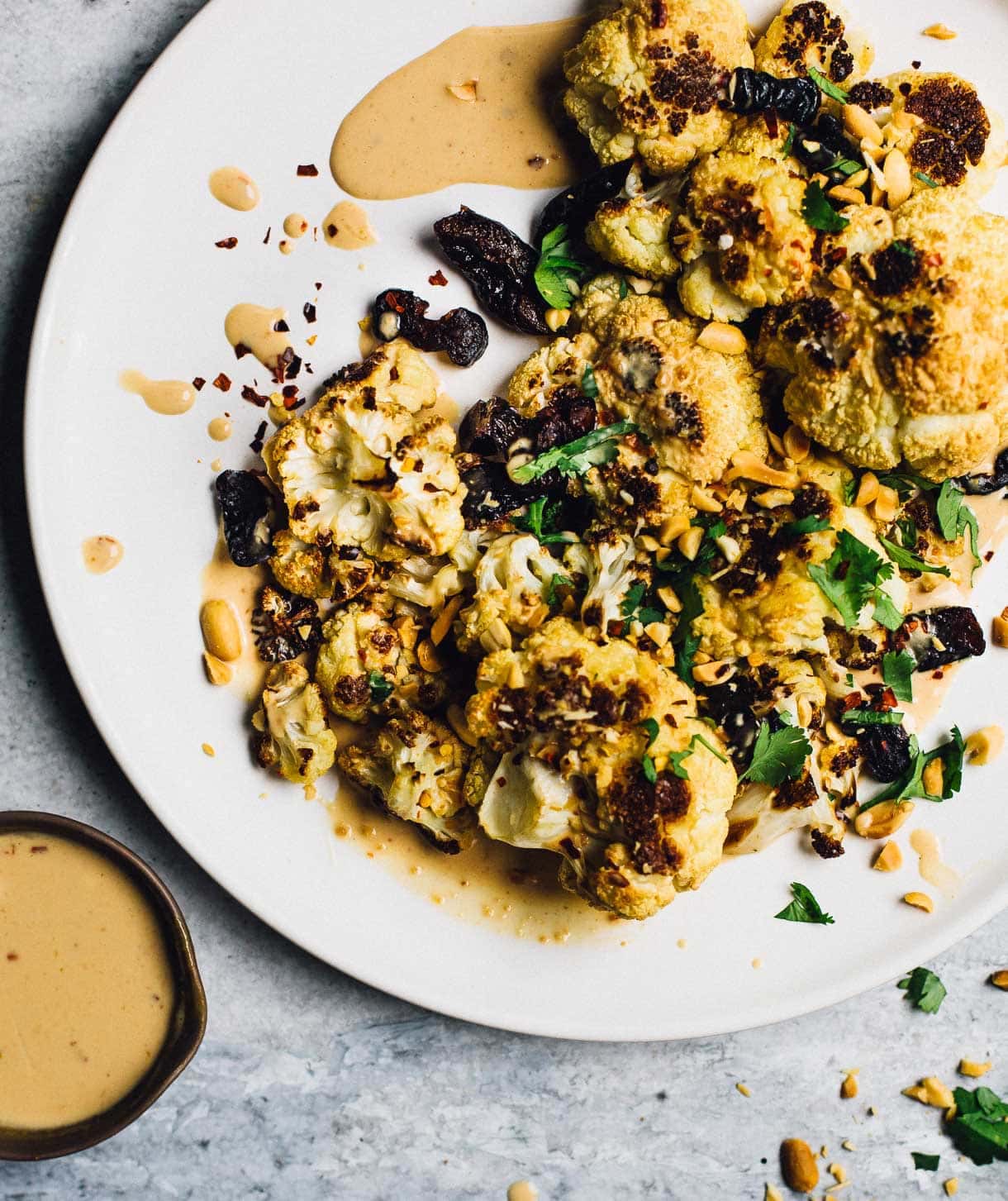 Preheat oven to 425 degrees F.

Toss cauliflower with olive oil and salt. Spread on large baking sheet, being sure not too crowd.

Roast for 25-35 minutes, stirring once, until cauliflower is tender when a fork pierces through it and golden brown.

While cauliflower is roasting, whisk together peanut butter, water, vinegar, lime juice, red pepper flakes, and 1/4 teaspoon salt.

Remove cauliflower from oven, and put on a platter. Sprinkle with prunes, cilantro, and crushed peanuts. Drizzle with peanut sauce. Give entire dish a big squeeze of lime juice all over top. Serve.