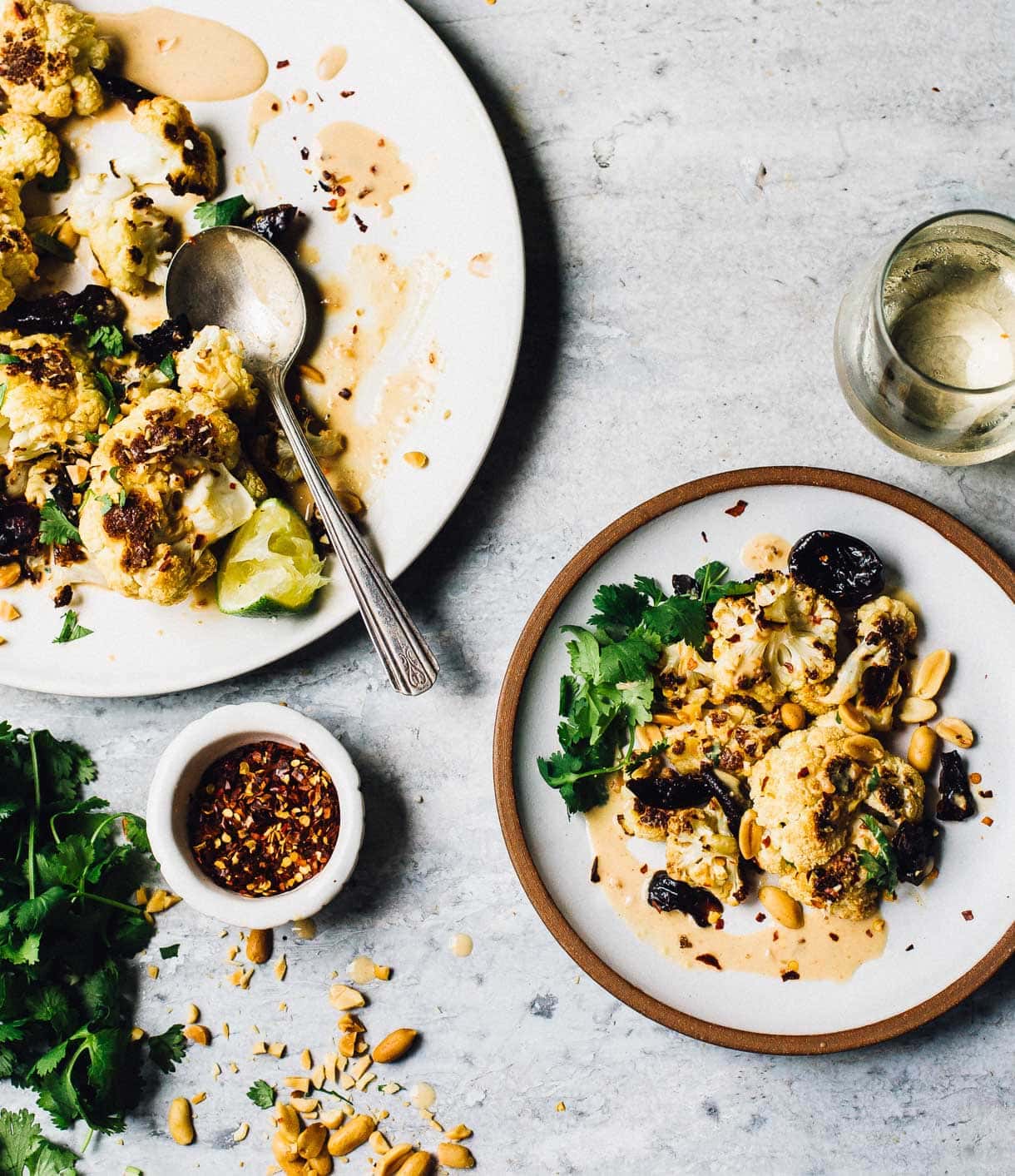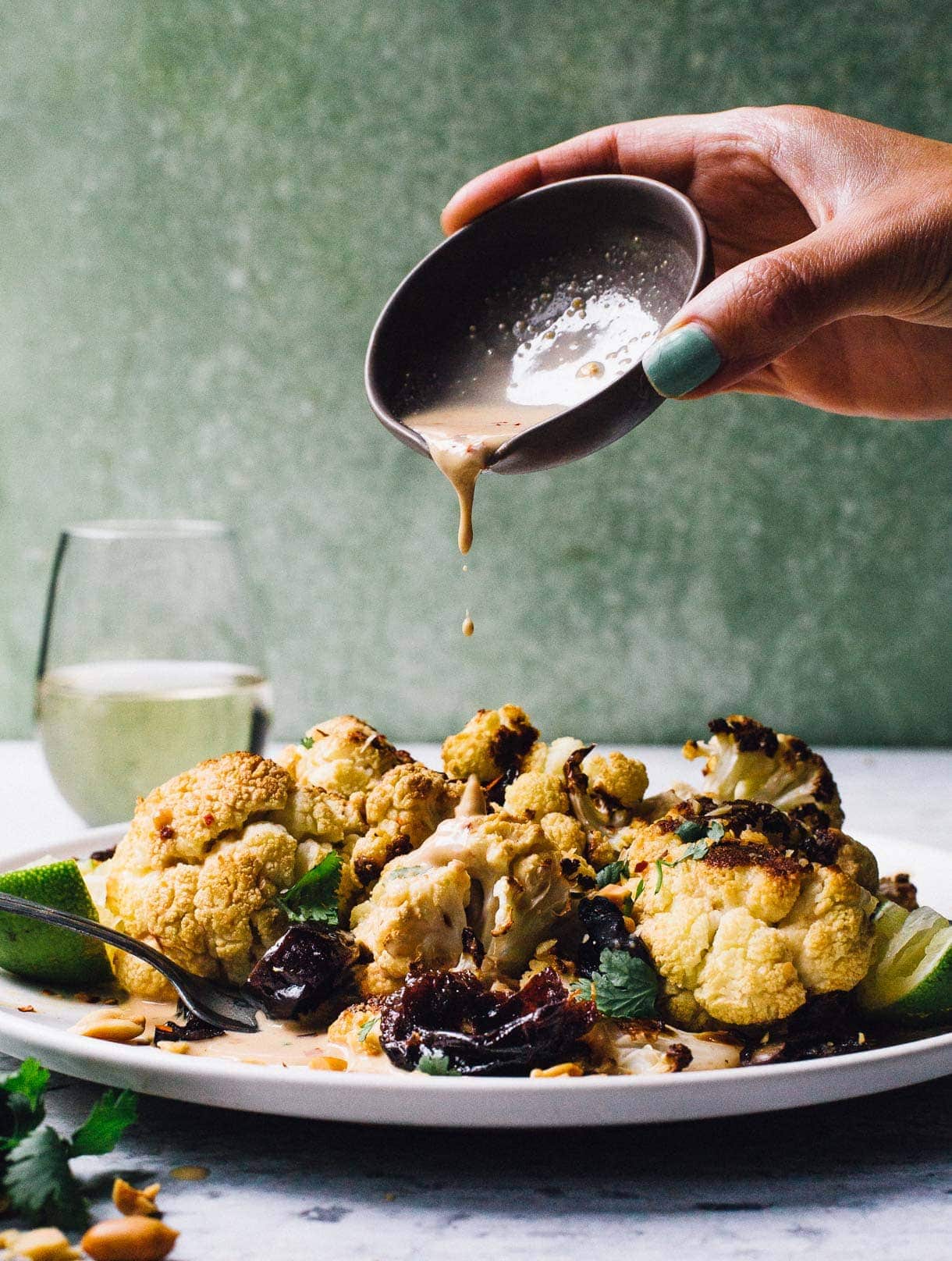 This prunes recipe is sponsored by the California Prune Board, a continued partner of Heartbeet Kitchen.
There is no shortage of cauliflower recipes on this blog, yet I keep creating more. Because I love this cruciferous vegetable, like really love it. But you probably looked at the blog title, saw prunes recipe, and thought – really? REALLY.
Rich and smooth, with an ability to enhance both sweet and savory flavors, California prunes have a solid spot in my pantry, right next to the jars of nuts and seeds.
Today we're making an easy, Thai inspired side dish that hits all the right notes: spicy, sweet, and salty. Even my cauliflower-skeptical family member loved it. Winning.
Cauliflower serves as the perfect vehicle for a savory peanut sauce because it absorbs all the flavors, yet retains its crispy edges – such a team player! Paired with the brightness of the cilantro and lime, plus rich prunes, the balance of sweet and spicy is just perfect. Better than I even imagined they would be.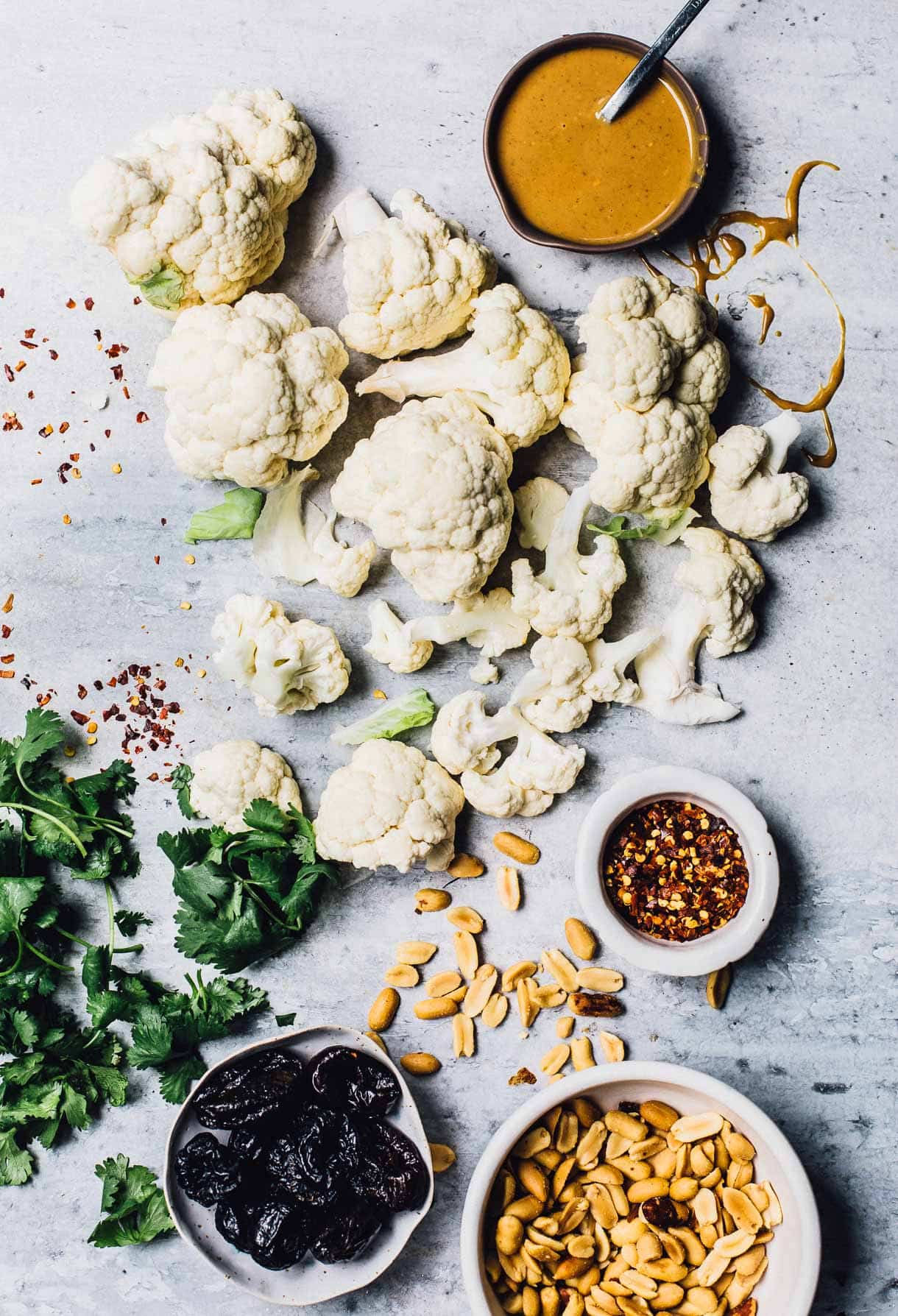 But, let's talk a little more about prunes!
A few weeks ago, I was in Sonoma to witness the California Prune harvest. California's lush valleys are nourished by ancient soils and an endless sun, making it the ultimate place to grow prune plums. California Prune growers have perfected their craft over the last 150 years, and now nearly 800 growers cultivate the crop.
Besides being the orchards being incredibly beautiful, filled with violet fruit, I was able to see the drying process that turns them into prunes, and learn a few more things on the nutrition side.
Dried at 186 degrees F in a chamber, all of the nutrition is naturally preserved, making them a wonderful snack that doesn't need to be refrigerated or stored in a particular way.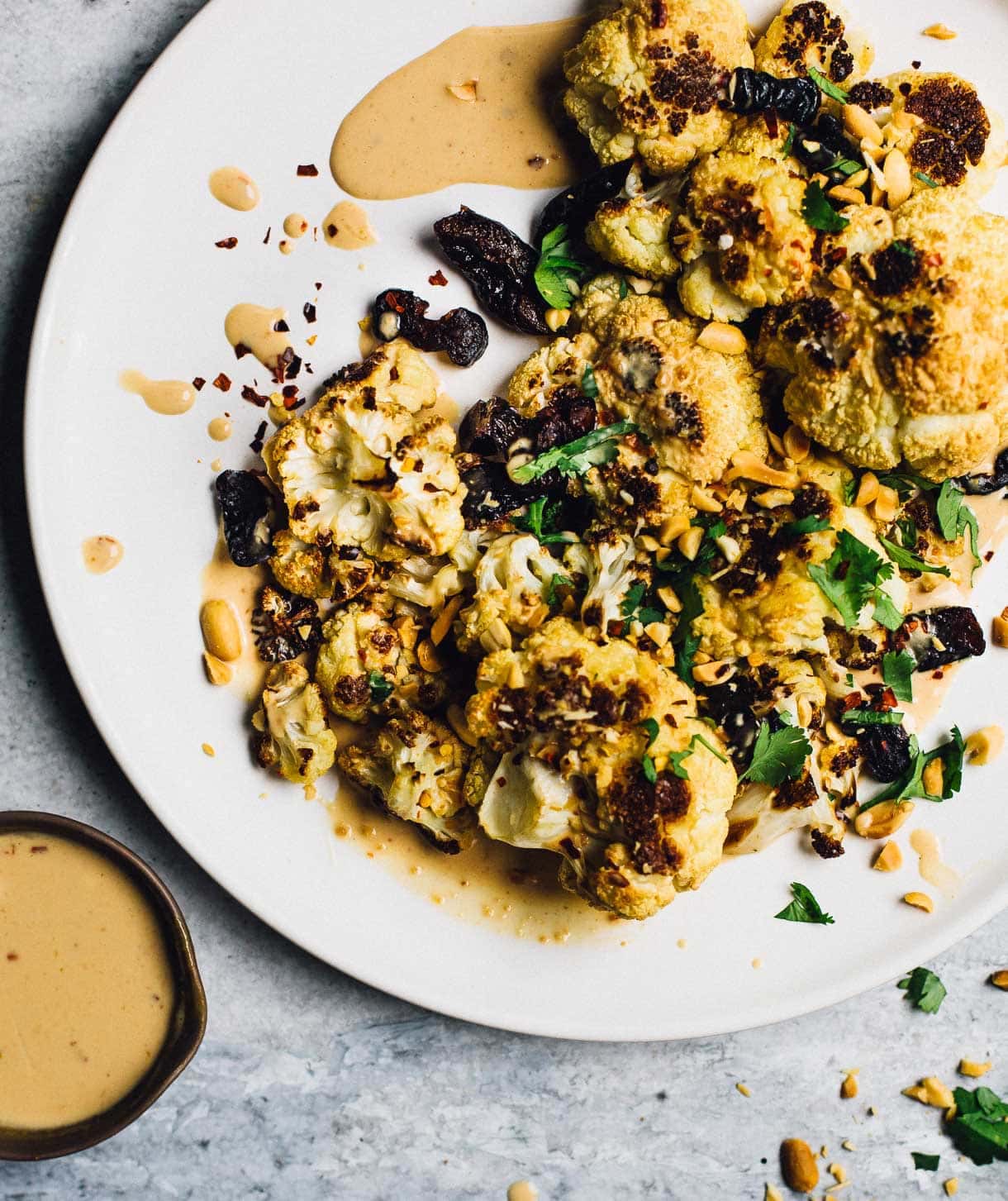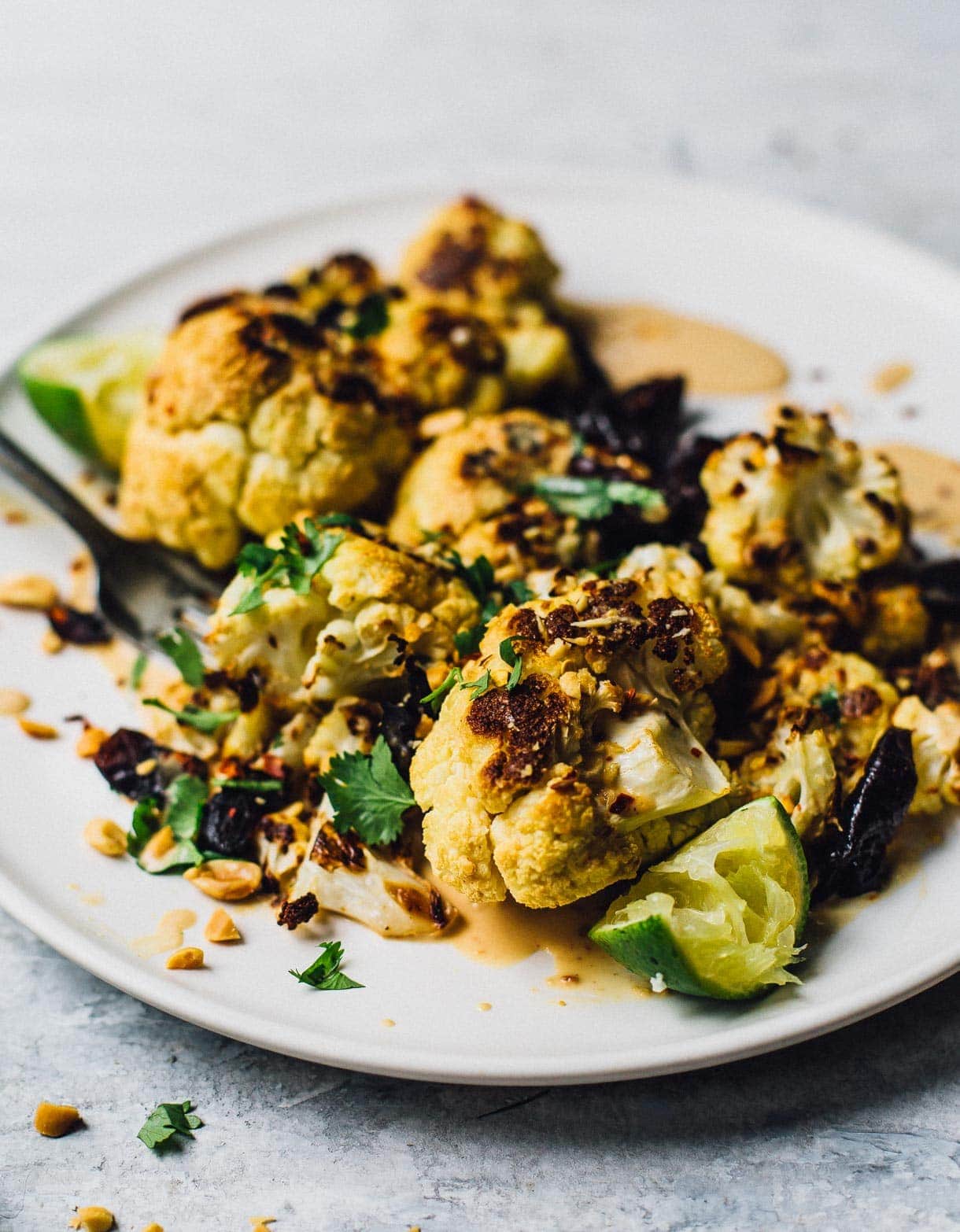 And what about their health benefits?
One of the facts that surprised me most was their glycemic index, which is a pretty hot topic right now. If you've had a prune, you'll know that they are chewy and sweet, and a little sticky – much like a date. But California Prunes are much much lower on the glycemic index than dates, and help maintain blood sugar levels instead of making them spike.
The Glycemic Index (GI) is a measure of how a food will raise one's blood sugar level; effectively, it represents how 'sugary' the food is. The Glycemic Index uses a scale from 0 to 100, where 100 is pure glucose. A food which has a high GI will cause a large increase in blood sugar, while a food with a lower GI will not have much impact at all.
Also, bone health! Nutrients that influence bone health, including boron, potassium and Vitamin K, can be found in prunes. Prunes are also rich in phenolic compounds, which may inhibit bone resorption and stimulate bone formation. In a clinical trial with post-menopausal women, researchers found that prunes may help prevent bone loss and preserve bone structure, reducing the risk of osteoporotic fracture. That's huge.
And they're a polyphenol -antioxidant- powerhouse, much like olive oil.
Okay, so something that is super versatile, tastes delicious, is wonderful to cook with, and packs a healthy punch… you want that in your kitchen, right? Go grab those prunes. :)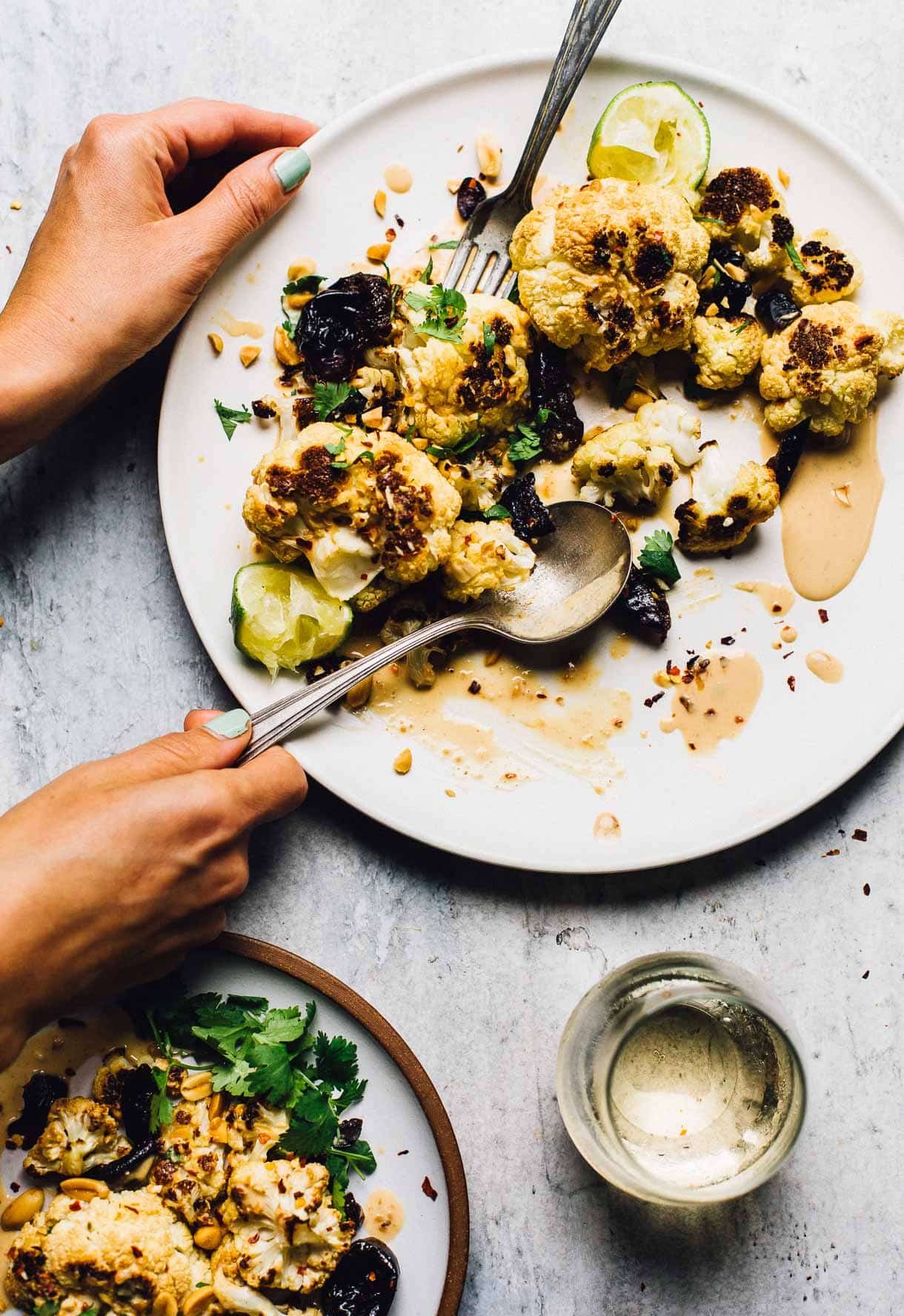 If you make this prunes recipe, be sure to tag me on Instagram with hashtag #heartbeetkitchen or @heartbeetkitchen!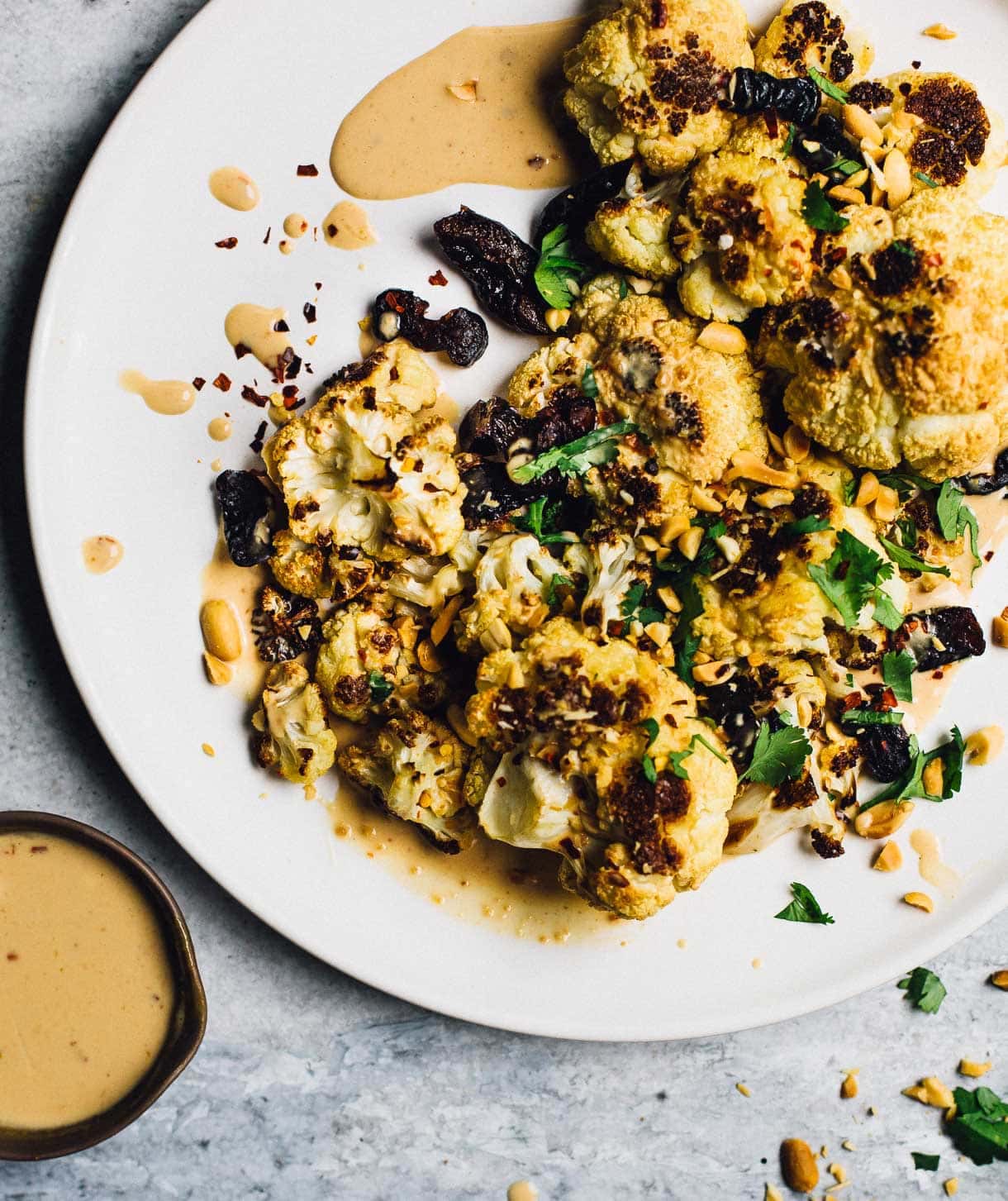 Preheat oven to 400 degrees F.

Toss cauliflower with olive oil and salt. Spread on large baking sheet, being sure not too crowd.

Roast for 35 minutes, stirring once, until cauliflower is golden brown.

While cauliflower is roasting, whisk together peanut butter, water, vinegar, lime juice, red pepper flakes, and 1/4 teaspoon salt.

Remove cauliflower from oven, and put on a platter. Sprinkle with prunes, cilantro, and crushed peanuts. Drizzle with peanut sauce. Give entire dish a big squeeze of lime juice all over top. Serve.