How to make artisan gluten-free bread at home that's as good as regular bread! All with one easy master recipe that takes 5 minutes of prep.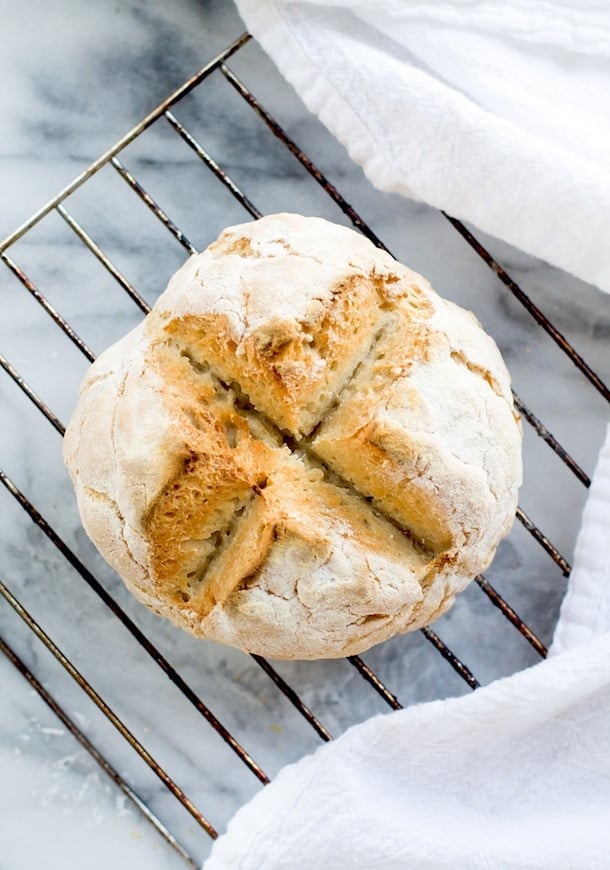 When you learn that gluten is not your body's favorite, the first thing that brings tears is the thought of giving up bread. Missing french baguettes or artisan boules – the kind with a textured look and crunch to its exterior, the inside revealing a soft crumb and spring to its "step". Your single lady dinner of crostini with good cheese, olives and a glass of wine is gone. And the simple egg sandwich that saved you many times from hangry outbursts – well, people better watch out.
I'm very thankful to have figured out years of autoimmune issues were related to gluten. I was forced to explore many "new to me" foods and nourish myself the natural way – with whole grains, vegetables, fruit, lean protein, legumes, nuts, and real dairy.
But sometimes you just want a piece of really good bread! Or tall and moist gluten-free blueberry muffins. A golden, chewy gluten-free chocolate chip cookie. And crispy chicken wings.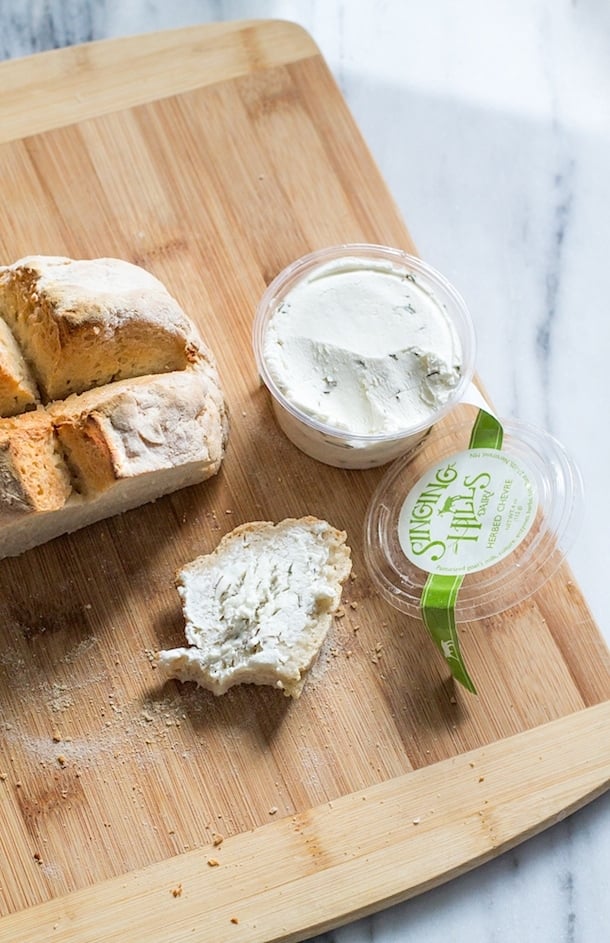 Knowing what brilliance came from Zoë and Jeff'gluten-free pizza dough, I had anxiously been awaiting their Gluten-Free Artisan Bread in Five Minutes a Day book. Living in the same city as this duo and writing a book at the same time, we chatted a little during the process. They put in so many long hours, loaf after loaf tested and retested to bring this brilliant bread technique to those of us who have to avoid gluten.
My first loaf (which is the book's master dough recipe pictured in the two photos above. The pictures following this paragraph are the Whole Grain Loaf.) It was a special experience for me, as it was my first time making any kind of homemade bread.
I had watched my grandmother do it, and my mom made the best homemade buns, but I was nervous about getting the process just right.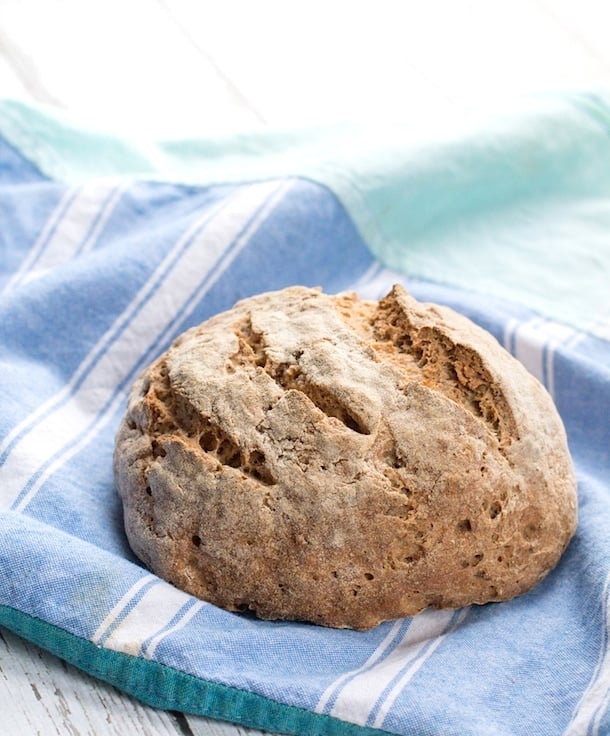 That was my Type A personality coming out in full force, which truth be told was why I didn't do a ton of cooking before this blog was born. Little did I know that being in the kitchen gave me the freedom to embrace creativity and break away from too much self-judgement.
The wonderful thing about Gluten-Free Bread in Five is that it truly simplifies the process. You literally mix the flours & dry yeast, stir in warm water and let the dough do its thing in a warm spot. After that you keep it in the fridge and when you feel like baking a fresh loaf, soft pretzels or a puffy & blistered piece of naan, you get your oven & baking stone smoking hot, no kneading required.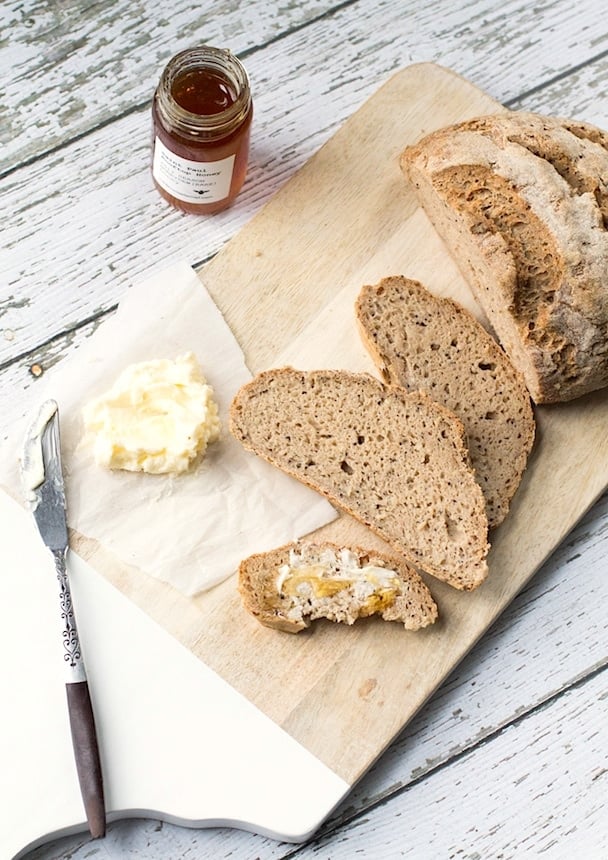 Are you pinching yourself hearing these favorites you never thought you'd be able to have again? I've made all of those I mentioned above and with each bite I felt like I died and went to heaven.
The taste & texture is far better than any gluten-free bread product at the super market.
Jeff and Zoë provide all the insight to achieve bread baking success the easy way. You'll learn about things like why it's important to have an oven thermometer, the 3 different ways to produce the steam that gives your loaves that beautiful, crusty top, and what different flours do in gluten-free baking (they did the science experimenting for you!).
I've used a lot of their gluten-free baking tips in recipe development since, as you'll see here with my gluten-free Christmas cookie recipes!
And as they discuss in the book, the brand of flour you use does matter. Bob's Red Mill is their choice when using individual flours to make a gluten-free blend, and mine as well, each one finely ground to produce the lightest loaf and consistency.
They have every flour you could ever need and are an amazing resource for all things baking. I'm grateful for their passion in making gluten-free flours accessible and affordable.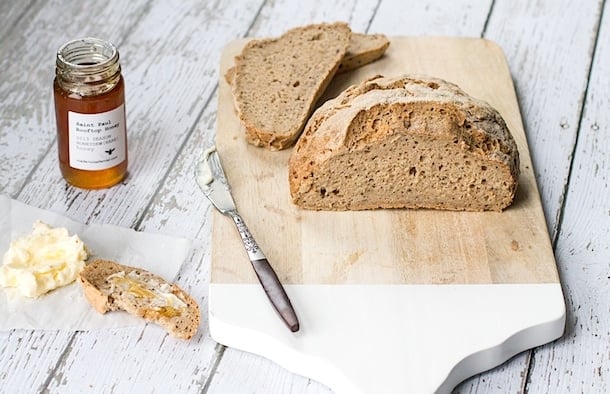 Whole Grain Gluten-Free Bread with Poppy & Hemp Seeds
(No eggs, 50% Whole Grains)
You'll find this recipe on page 99 of Gluten-Free Artisan Bread in Five Minutes a Day (which you can buy here) and I added the two seeds for texture and appearance. It is shown as pictures 3-6 in this post.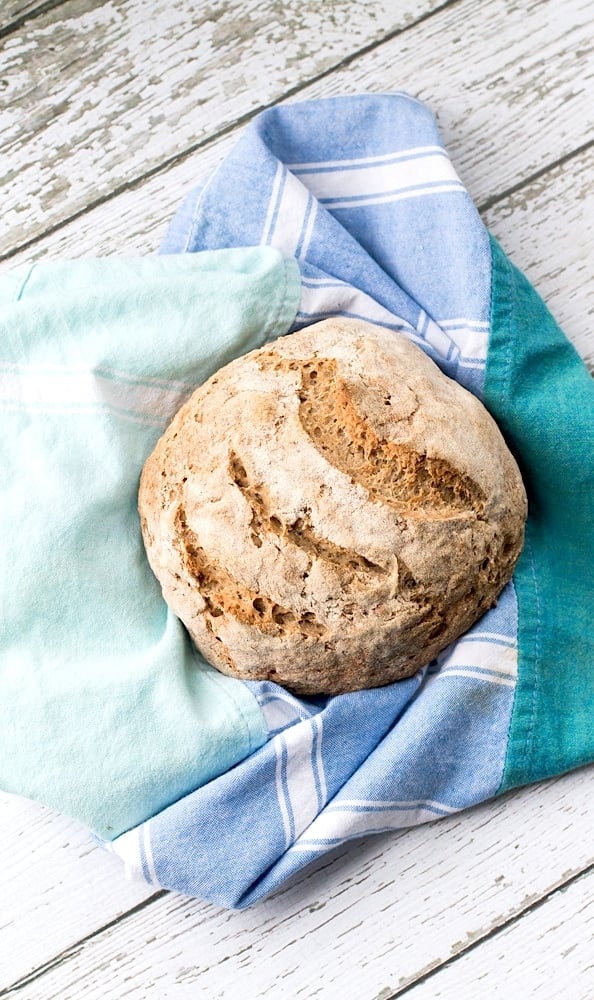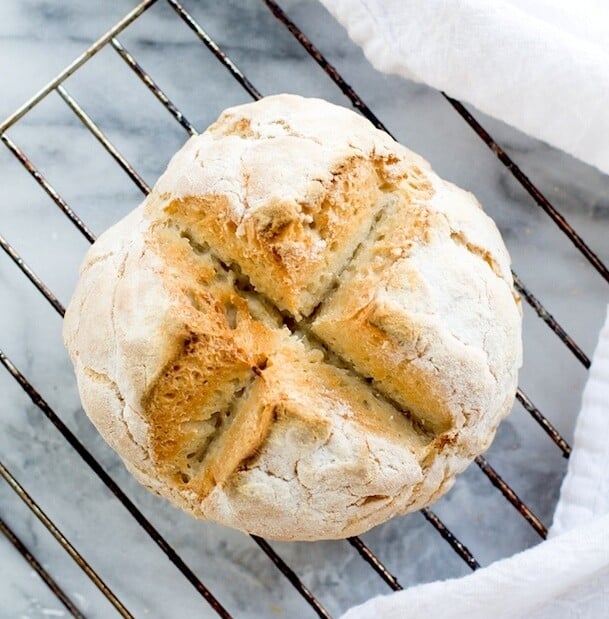 3 1/2

cups

(540 grams) Gluten-Free All Purpose Blend, referred to as Mixture #1 in book*

(see notes below)

3 1/2

cups

(540 grams) 100% Whole-Grain Gluten-Free Flour, referred to as Mixture #2 in book

(see notes below)

1

tablespoon

(10 grams) granulated yeast

1 1/4

(20 grams) tablespoons kosher salt

2

tablespoons

(30 grams) raw cane sugar

4 3/4

cups

(1,080 grams) lukewarm water, 100 F or below

1

tablespoon

poppy seeds

1

tablespoon

raw hemp seeds

cornmeal or parchment paper for the pizza peel
Whisk together the flours, seeds, yeast, salt and sugar in a 5-to-6 quart bowl, or a 5 quart dutch oven, which is what I used.

Add the water and mix with a spoon. Cover (not airtight), and allow to rest at room temperature until the dough rises, approximately 2 hours. Don't be surprised that it doesn't rise much. This is normal.

The dough can be used immediately after the initial rise, though it is easier to handle when cold. Refrigerate it in a lidded (not airtight) container and use over the next 10 days. Or freeze for up to 4 weeks in 1-pound portions and thaw in the refrigerator overnight before using.
On Baking Day
Pull off a 1-pound (grapefruit size) piece of dough. Place it on a pizza peel prepared with a good amount of cornmeal or rice flour. Quickly shape it into a ball and smooth the surface pressing and smoothing with wet fingers. Cover loosely with plastic wrap and allow to rest for 60 minutes.

About 20 minutes into the resting period, preheat a baking stone near the middle of the oven to 450°F, with an empty metal broiler tray on any shelf that won't interfere with the rising bread.

After the bread is rested, make 1/2-inch-deep slashes with a wet serrated bread knife, in a pattern that you like, a cross or crescents. Shimmy loaf onto the hot stone, then quickly pour 1 cup of hot tap water into the boiler tray, and immediately close the oven door.

Bake for 45 minutes, or until richly browned and firm. Smaller or larger loaves will require adjustments in resting and baking time. Allow loaf to fully cool on a rack before eating – this is so hard! But it's essential in getting the best texture.
Each of these blends should be mixed and stored in a large container for each. Keep stored in refrigerator or freezer for freshness.
#1) gluten-free all-purpose flour mixture
makes 4 1/4 pounds
White Rice Flour: 6 cups, or 36 ounces, or 1,020 grams
Sorghum flour: 3 1/4 cups, or 1 pound, or 455 grams
Tapioca Flour or Starch: 1 3/4 cups, or 8 ounces, or 225 grams
Potato Starch*: 1 1/4 cups, or 8 ounces, or 225 grams
Xanthan Gum: 1/4 cup, or 1.4 ounces, or 40 grams
*Don't substitute potato flour
#2) gluten-free whole-grain flour mixture
make 4 pounds
Brown Rice Flour: 3 cups, or 1 pound, or 455 grams
Teff Flour: 2 1/2 cups, or 1 pound, or 455 grams
Sorghum Flour: 3 1/4 cups, or 1 pound, or 455 grams
Oat Flour: 3 1/2 cups, or 1 pound, or 455 grams
Xanthan Gum: 1/4 cup, or 1.4 ounces, or 40 grams