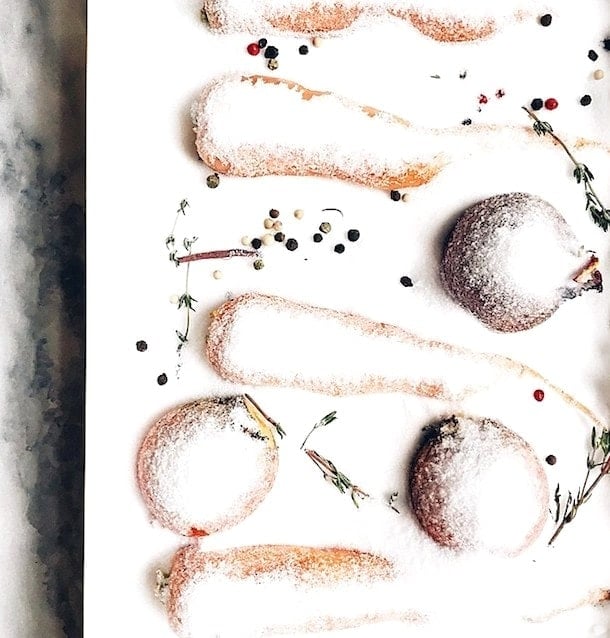 After having a brown Christmas (quite unusual for Minnesota), we received a blast of bright white snow that's now snuggled on the branches of big pines and house canopies, much like these Salt-Roasted Beets and Carrots. And to tell you the truth, they look mighty cozy, don't they? Kind of how I feel on a cold day covered in blankets with a good book and a cup of joe.
And here we are, at the end of another year! Filled with both joy and sadness, trials and tribulations and so much to be grateful for.
Sometimes I get overwhelmed with all the talk about about diets to start the new year, everything classified as good or bad, with no in-between. Instead I like to focus on it being a clean slate, so fresh and ready to painted with more rich experiences. With new people that will come into our lives and change it for the better, and new opportunities we may have never dreamed of.
You won't find me talking about a detox or cleanse like you'll see in every magazine or plastered all over Pinterest. I'll be eating and writing as I always do, striving for healthy balance. That is nourishing myself with real food, mostly plant-based and baking sweet treats in moderation.
Even throughout the holidays, when the buzz is all about warding off extra calories at parties and gatherings, I try and honor my body's want for a little indulgence and the need for rest, a way of mindful living. I try and shut out the negative noise, and look forward to the time with others, the reasons for gathering, and the food, all of which nourish the body and soul.
And that's one of the things I'm going to try and do more throughout the entire year – to be in the present. And be glad. Sometimes I get caught up thinking about the things I need to do in the next few days and all of a sudden I've missed part of a conversation. Or I'm trying to multi-task as I eat, send an email, check my voicemail, etc.
Things like taking the time to enjoy your meals without distraction can be so satisfying. I've started putting away the computer and phone, just focusing on eating as an experience. It allowed me to really taste the nuances of the herbs and the sweetness in these beautiful salt-roasted beets and carrots, a technique I've been wanting to try since Laurie posted about it.
Yes, it's a lot of salt, but don't let that turn you away. They don't taste too briny, in fact they're perfectly seasoned from the outside in without any work.
The sugars caramelize inside their skins as they roast, and they cook evenly, becoming soft enough to pierce with a fork and moist. Interestingly they don't leach any color like when you roast them in aluminum foil; the snowy salt stays perfectly white.
Some recipes suggest mixing the salt with egg whites to make the crust, but I was out of eggs so I did a dry-roast as Leite's Culinaria suggests, barely adapting the recipe. As you can see, the salt creates a thick layer around the vegetables and eventually starts to crack. It feels like the end of science project when you break open that outer shell, a nerdy food-lovers heaven.
More than ever, thank you all for being here, for reading, for listening and enriching my life. Cheers to another great year for all of us, xo.
(p.s. – These pictures were taken with my iphone and at the time I didn't plan on posting about it, but after tasting the vegetables I just had to share! Hope you don't mind.)
Recipe barely adapted from Leite's Culinaria

1

pound

kosher salt

2

tablespoons

mixed

whole peppercorns

2

sprigs fresh thyme

2

springs fresh rosemary

3/4

pound

carrots

cleaned and trimmed

4-5

beets

cleaned and trimmed
Preheat the oven to 350 degrees F. In a large shallow pan, add half the kosher salt, peppercorns, rosemary, and thyme, mixing them thoroughly. Nestle the carrots and beets in the salt mixture, then cover with remaining salt. It's okay if they mostly covered, but completely.

Bake until the veggies are tender throughout, 35-40 minutes, depending on the size of the vegetables.

Remove the pan from the oven and let cool slightly. Take out the beets and carrots, then peel the skin off, using a knife to get a start.

You can run them under water and use your fingers to rub the skins off if you are having trouble. They are amazing when they're hot, and they make great leftover salads when served at room temperature.
This is more of a loose recipe, depending on the size of pan and amount of vegetables you use. Beets and carrots work well because they have an outer skin that works very well for the outside-in seasoning technique. I used a shallow 9 x 13 pan and about 3/4 pound carrots and 4 beets, both red and golden. We ate them straight out of the oven as we peeled away their hot skins, but they were so delicious served upon a bed of brown lentils & quinoa (here's a recipe for a similar pilaf), with some mashed avocado as shown in the pictures above.