An incredibly delicious gluten-free and vegan Peanut Butter Cup Tart with a rich chocolate ganache and easy press in crust. This is a no-bake dessert that everyone loves!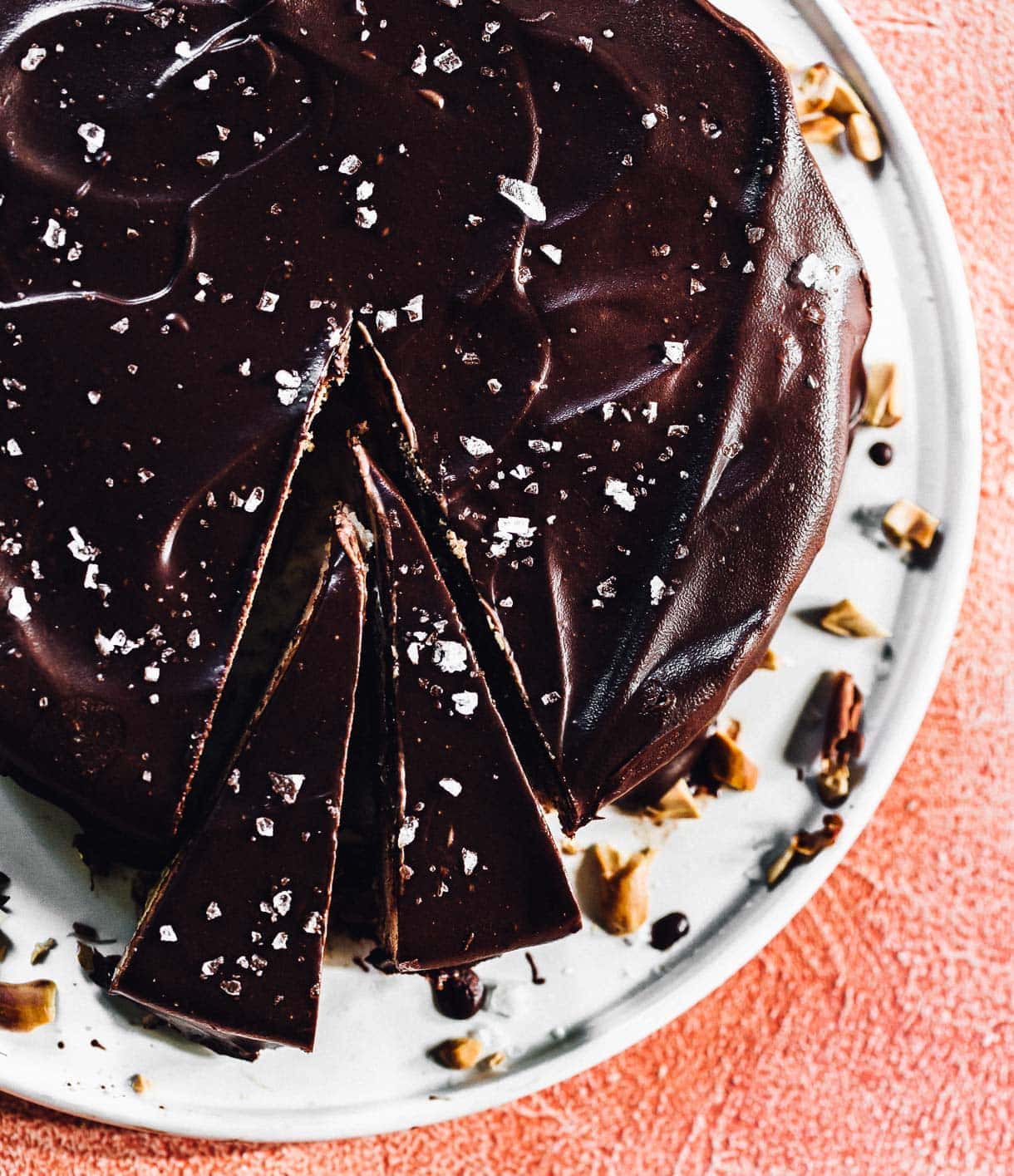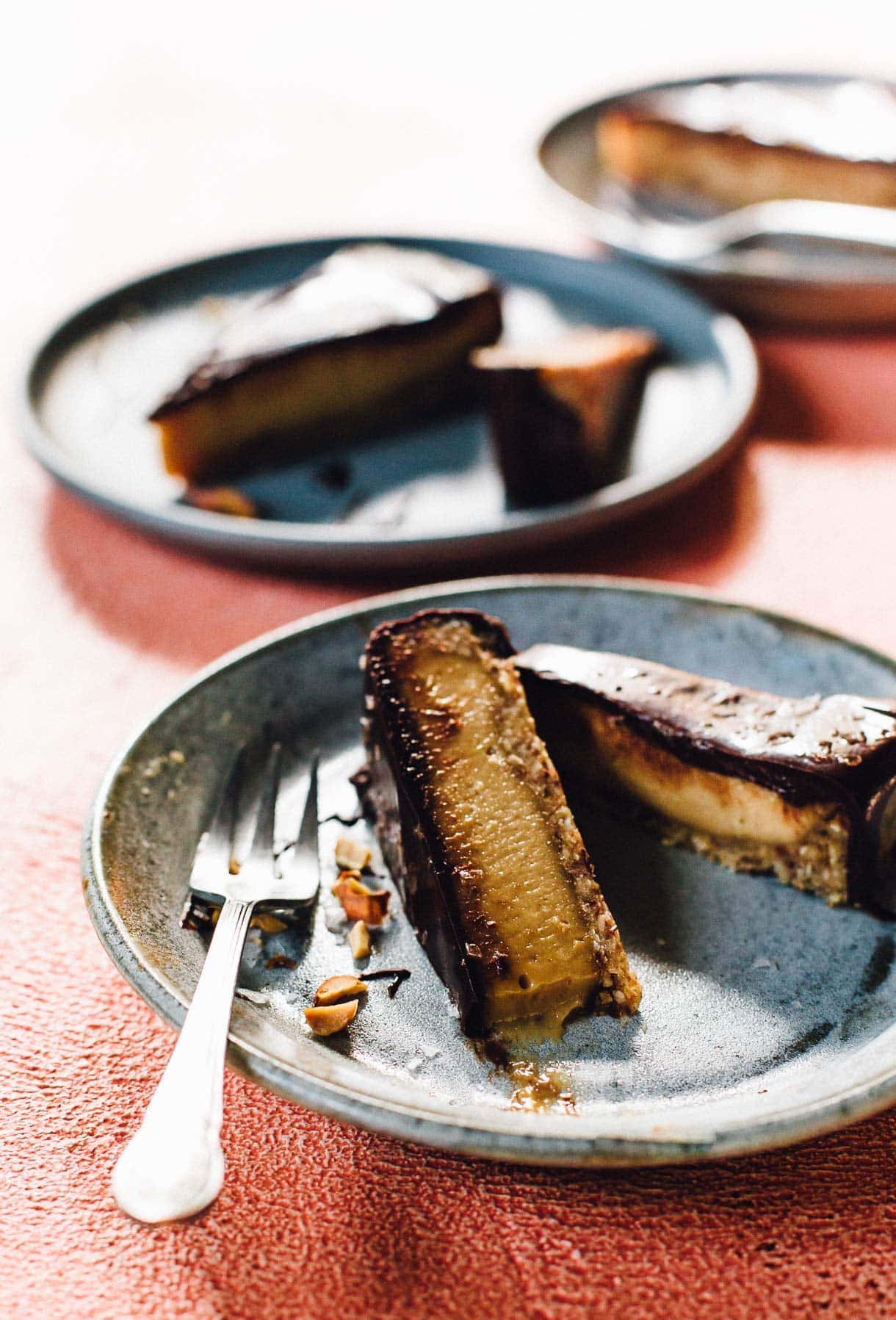 Ingredients for Vegan Peanut Butter Cup Tart:
You see that rich, glossy robe of dark chocolate ganache?
It's covering the creamiest, maple sweetened peanut butter filling.
Also known as the power couple, peanut butter and chocolate.
Atop an an easy press-in crust of oats, almond flour, and dates.
And it's not a dream. Nope. Just one of the best desserts I've ever made, and you can too. A no-bake, vegan Peanut Butter Cup Tart that's made with real ingredients, and tastes even better than the Reese's candy that is admittedly one of my weaknesses.
This recipe has a small ingredient list, and big everything else: flavor, texture, and wow factor.
To make both the dreamy filling and luxurious ganache, I used oat milk!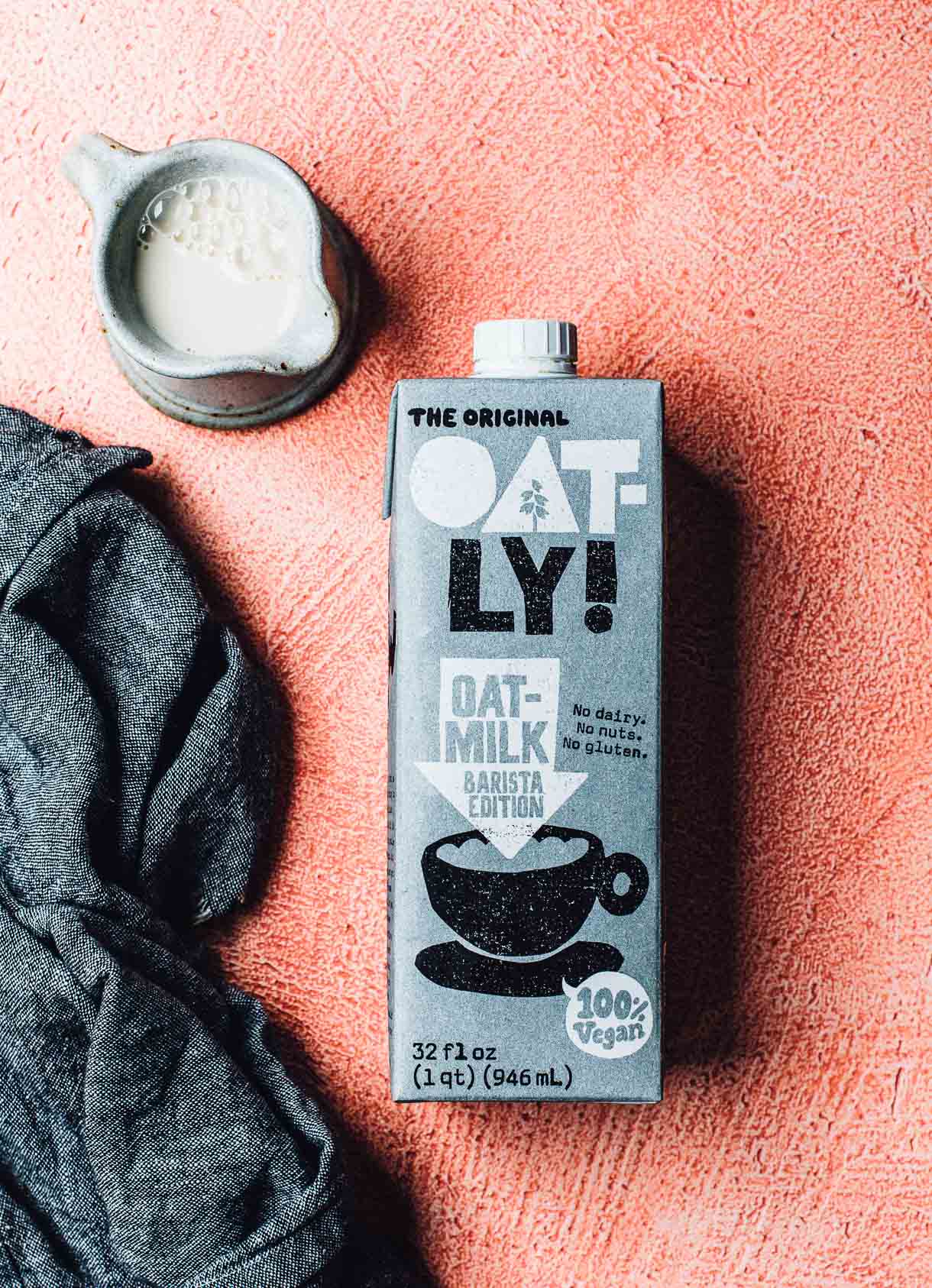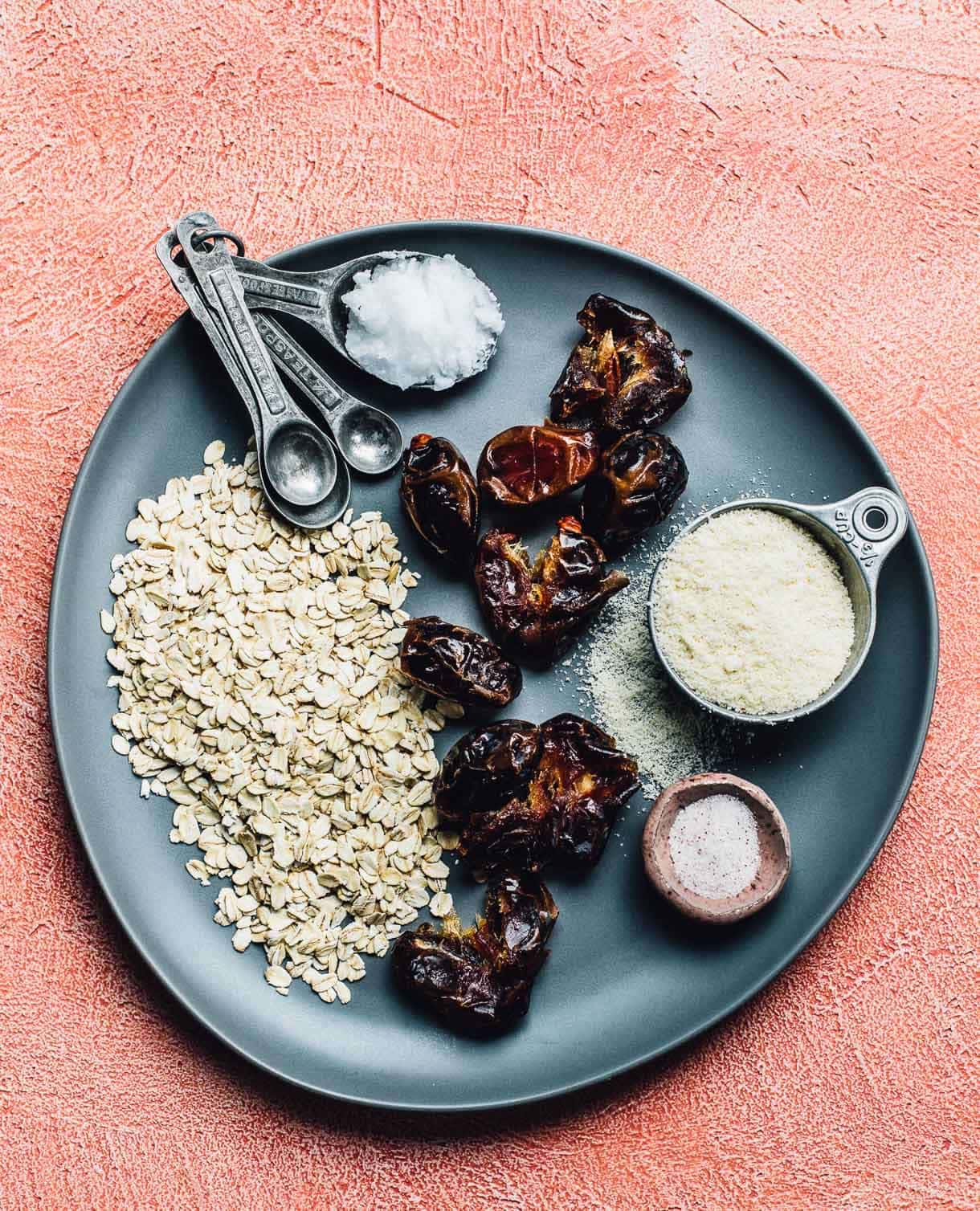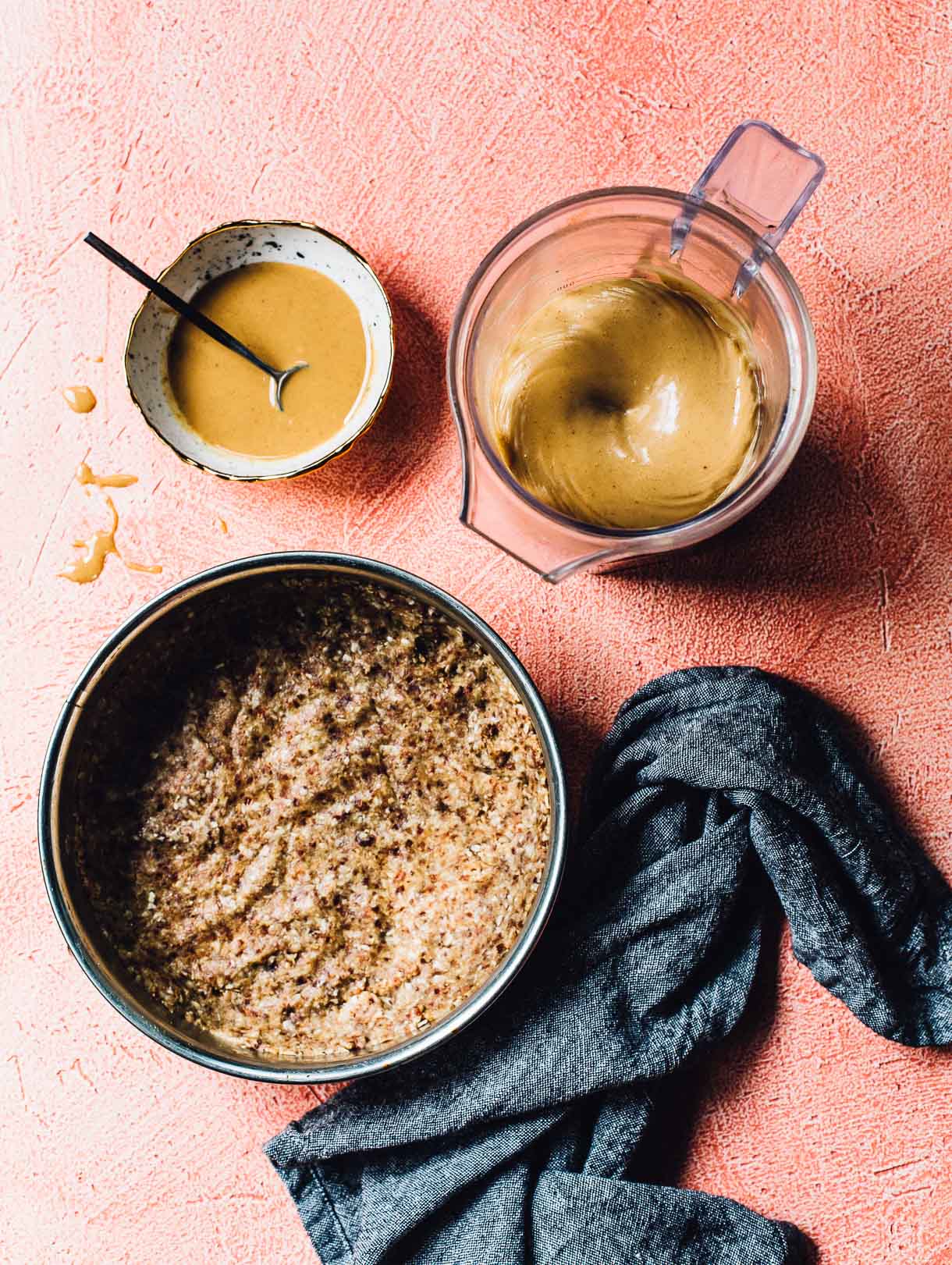 Date and Oat Crust:
The raw, no-bake crust comes together quickly in a food processor, and is then pressed into a 7-inch springform pan. By using this type of pan, you can easily release the sides, and your beautiful tart is ready to slice without mangling each slice while trying to remove it (which can easily happen with a pie tin).
The filling is a little bit of science magic, using fats and the right liquids to create a smooth filling that sets up beautifully as it chills in the refrigerator.
Using oat milk in desserts:
I like using Oatly Oat Milk for baking applications when I'm not using regular dairy, because it has a higher fat content than other non-dairy milks, that's similar to regular dairy. In this recipe, it works with coconut oil, and a touch of water, so the peanut butter won't seize, and instead is lusciously creamy. The filling is more like that of a true peanut butter cup than mousse!
It's also the key to silky vegan ganache!
Finish it off with flaky sea salt, and get ready to indulge.
Sweet and salty, creamy and crunchy, rich and nutty…
this tart is EVERYTHING.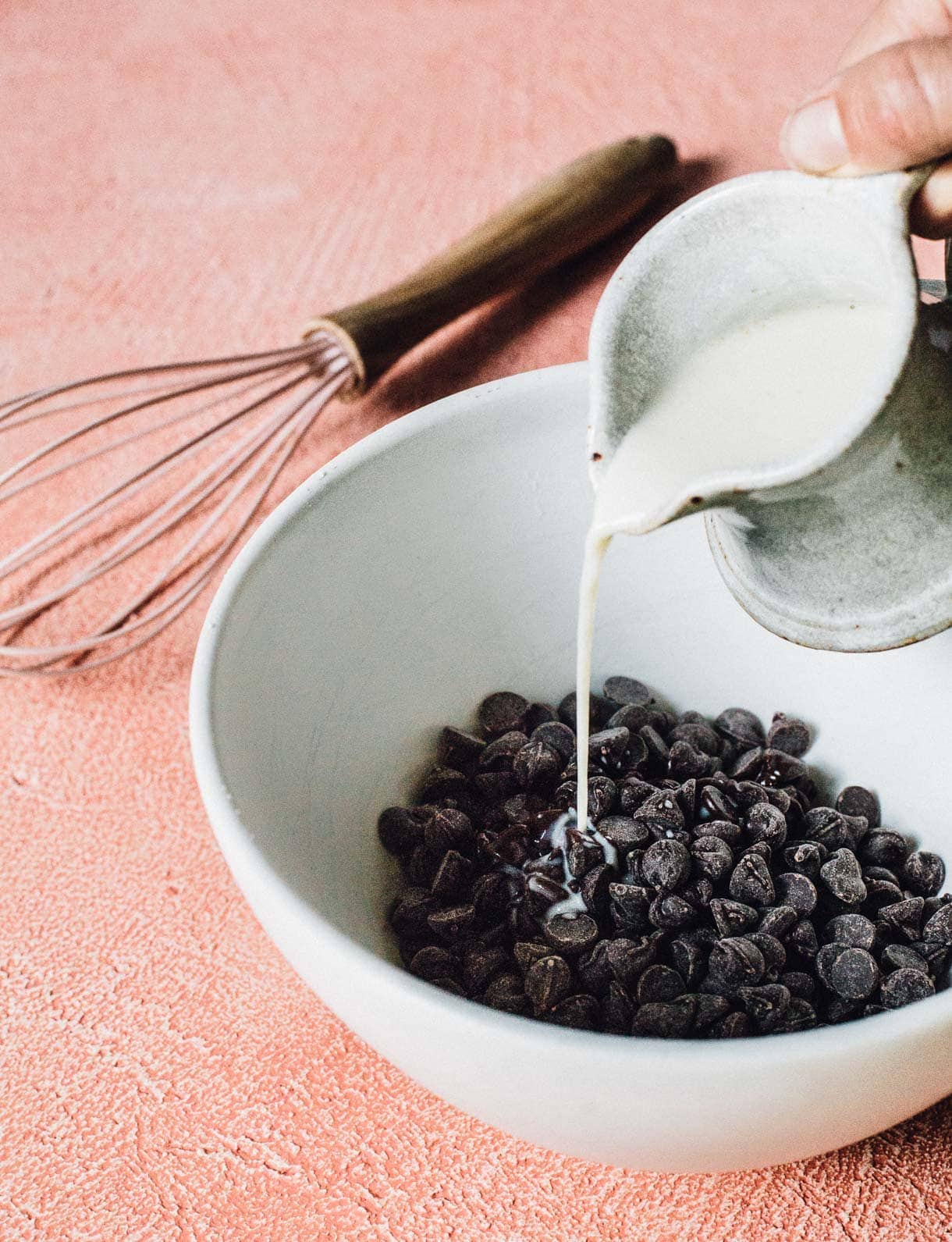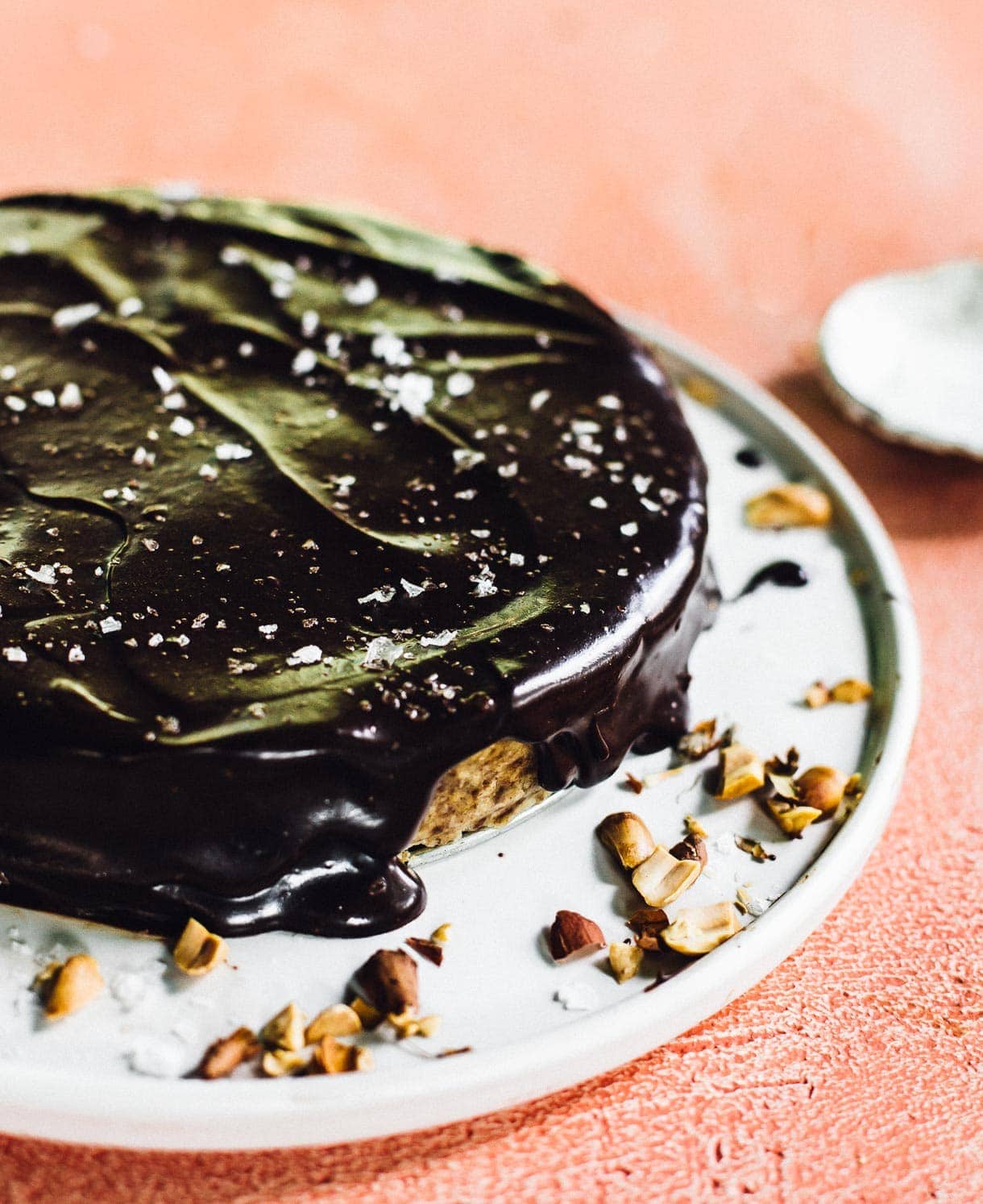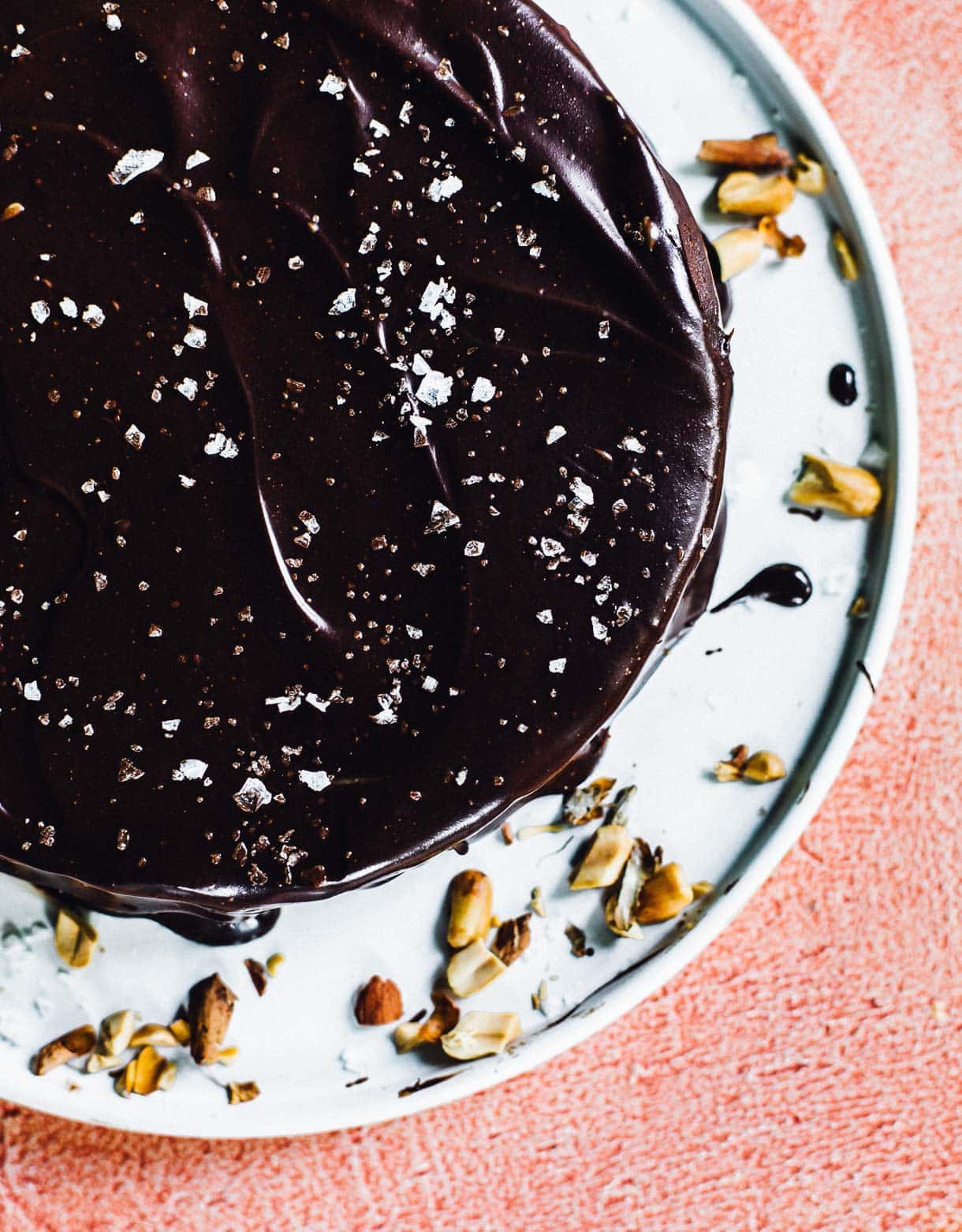 More Peanut Butter Recipes: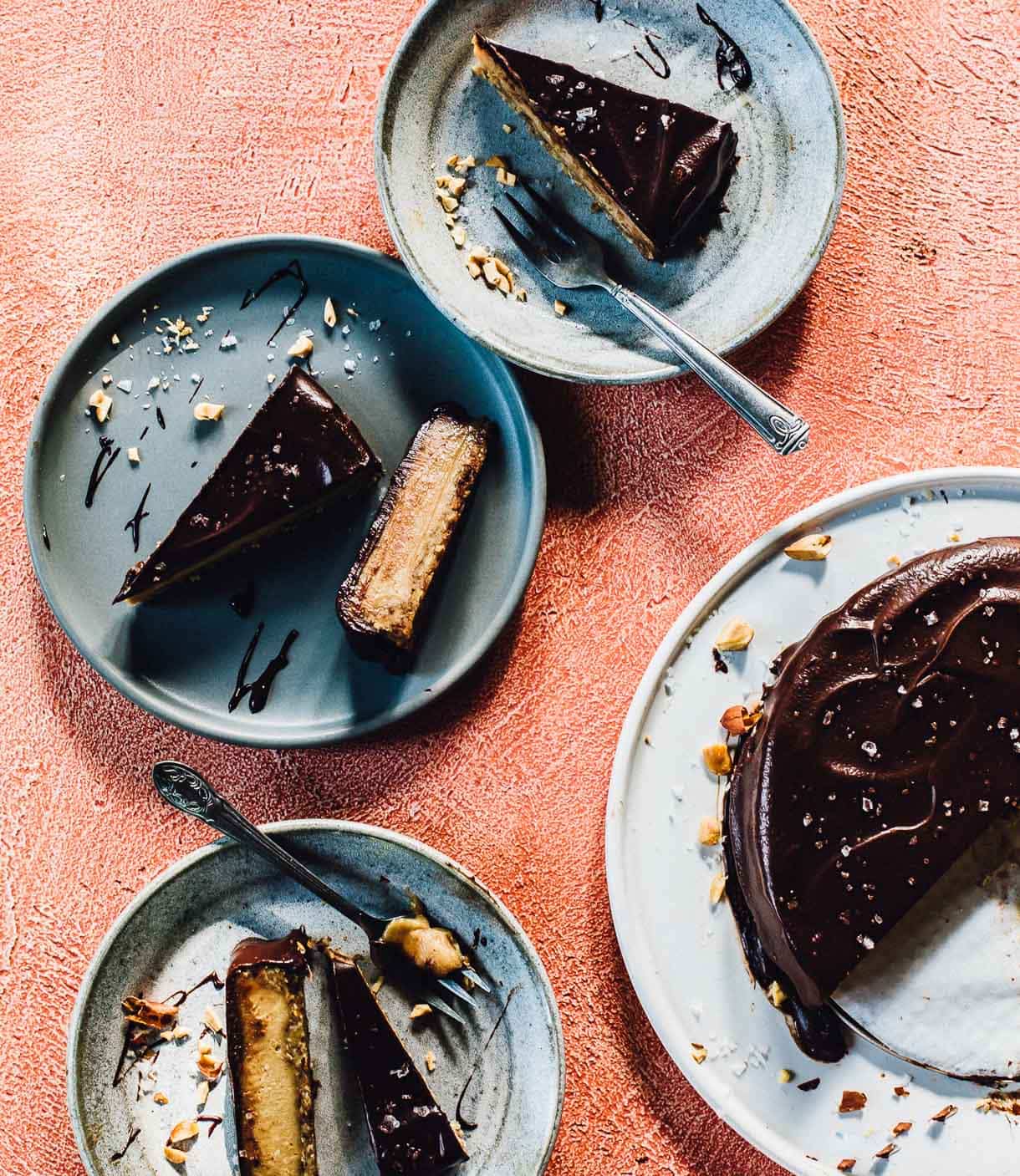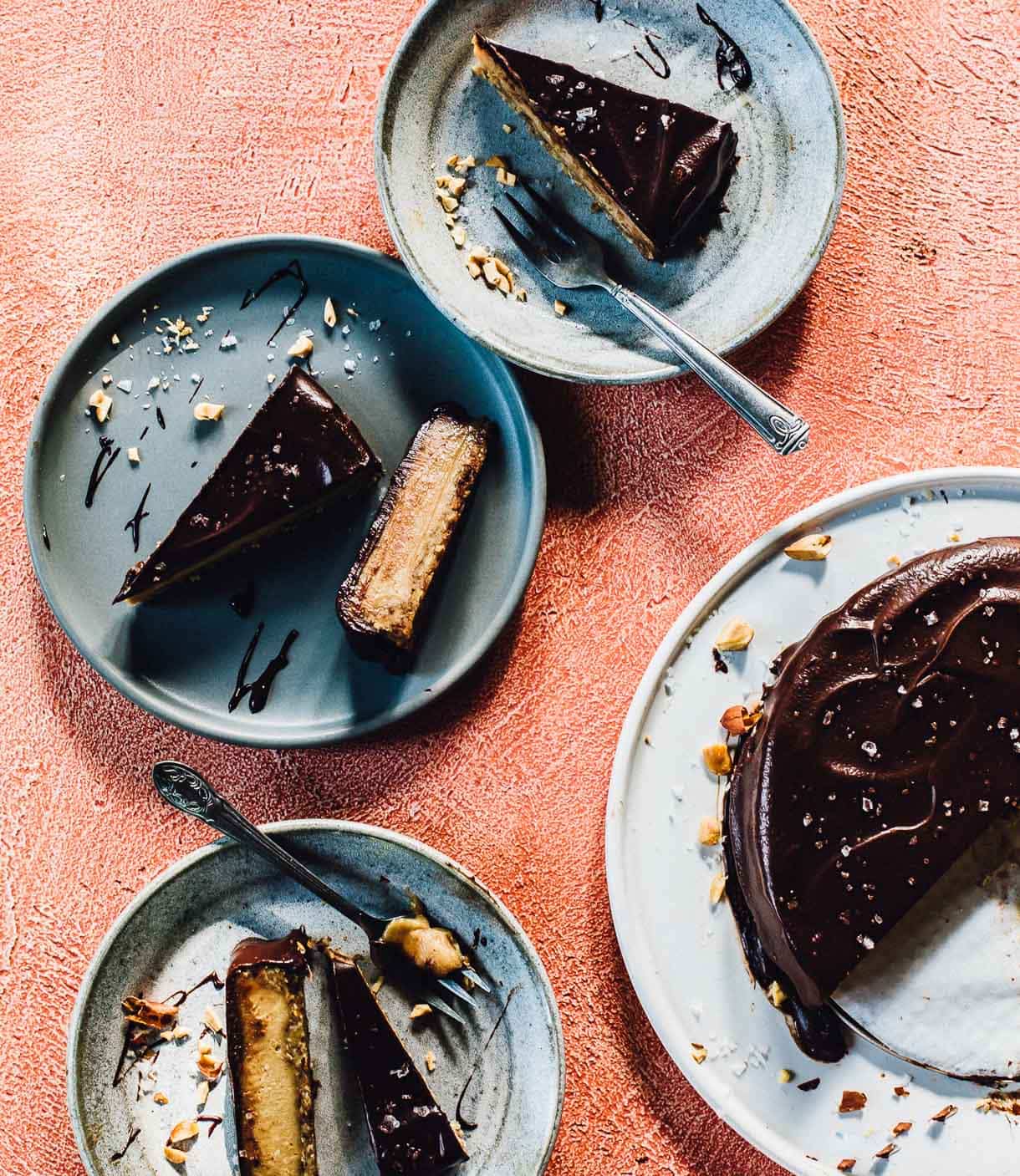 Cut out a circle of parchment paper that will fit in the bottom of a 7-inch springform pan. Spray the springform pan with non-stick spray, and put paper into bottom of it.

In a food processor, pulse dates, almond flour, and oats until starting to clump together. Add coconut oil and salt, and pulse to combine.

Using your fingers and the back of a spoon, press the crust mixture evenly into the pan, and about 3/4 inch up the sides. Refrigerate while you are making the filling.

Add peanut butter, oat milk, coconut oil, water, salt, and blend for 15 seconds to combine. Add maple syrup and stir by hand to incorporate.

Pour filling into crust and smooth. Refrigerate, covered for at least 4 hours, preferably 8 hours.

To make ganache, bring oat milk to medium heat, steaming but not simmering. Pour over chocolate, and stir to melt. Add coconut oil, and stir to make shiny.

Remove tart from refrigerator, and release from pan.

Pour ganache over filling, and chill for an hour set to set. (Or 20 minutes ins the freezer if you are in a hurry.)

When ready to eat, slice and serve. Then put back in the refrigerator.
quick note: This dessert needs to be kept chilled until ready to slice and serve. The filling is perfect after about 15 to 20 minutes at room temperature; much more than that and it starts to get too soft. And the filling will collapse with the weight of the ganache.