Delicious caramel corn made with maple syrup instead of cane sugar or corn syrup! It's sweet and salty, the perfect snacking combination. With just 6 ingredients, this easy recipe is a family favorite. You can add peanuts or walnuts if you'd like for a little toasty crunch, too.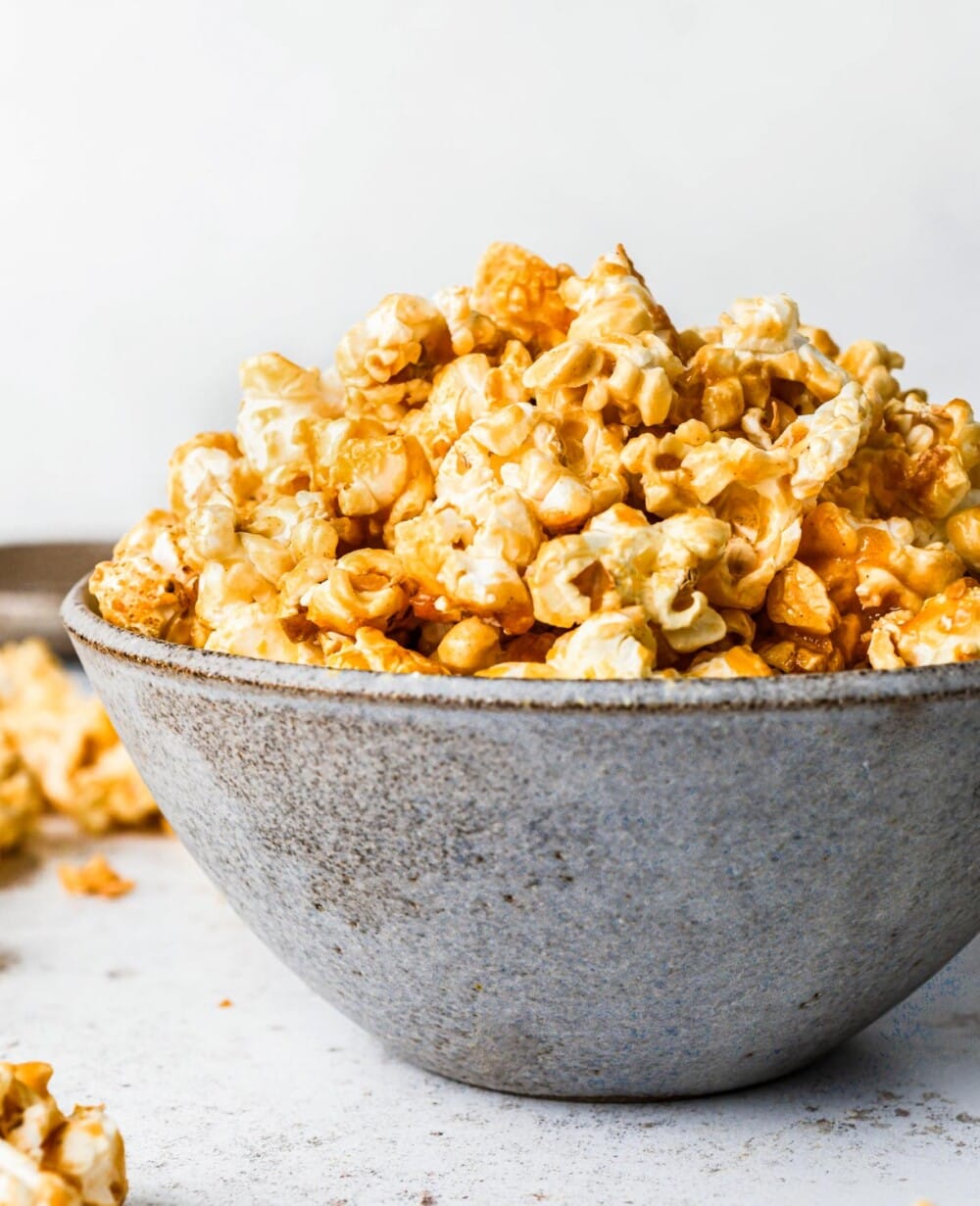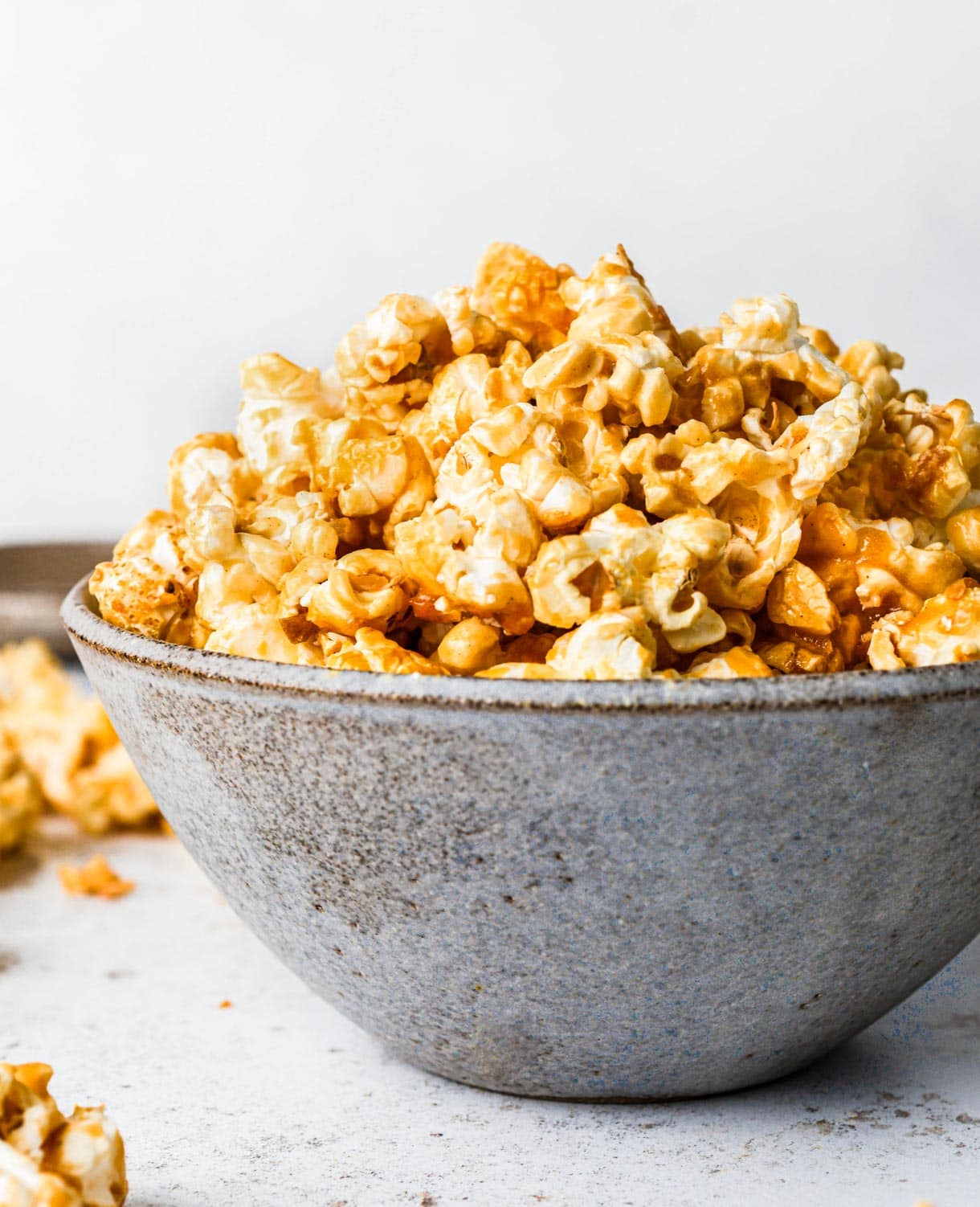 Caramel Corn with Maple Syrup
I particularly love this recipe because you'll need just six ingredients, it's easy to make, and has just the right amount of of buttery, salty, sweetness. This maple caramel corn has all the nostalgia of your favorite ooey-gooey treat without using corn syrup or white sugar!
The maple syrup adds such incredible flavor, and peanuts or walnuts bring a toasty, savory crunch. And even a healthy does of good fats. Nuts take well to the low temperature, slow baking alongside the popcorn which really brings out their true flavor. But totally option to add nuts!
Yes, you'll need a candy thermometer to make this caramel corn, but it has a lot of forgiveness, trust me. Just look for an amber color and a 225ish degree F temperature and you're golden. Literally. ☺️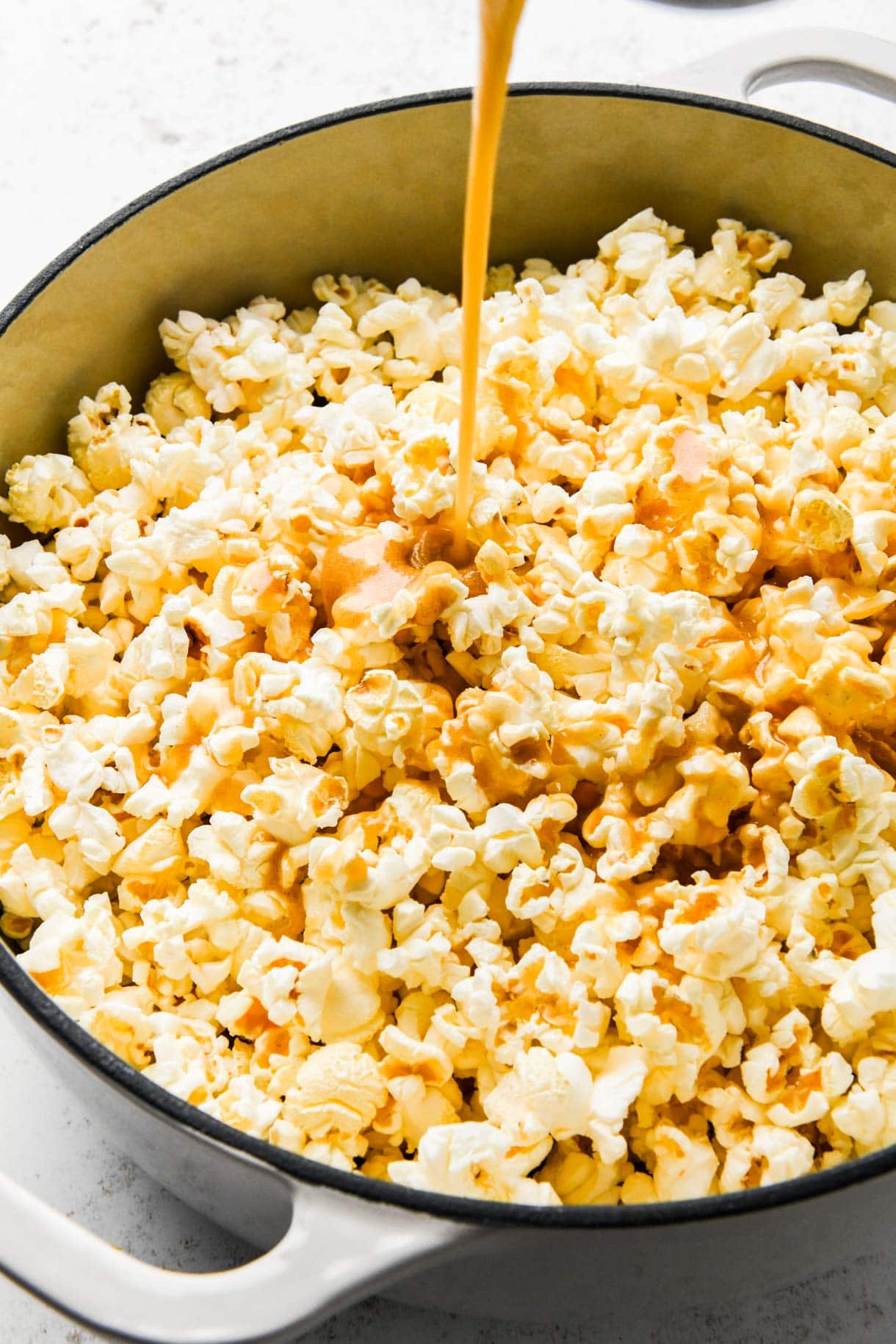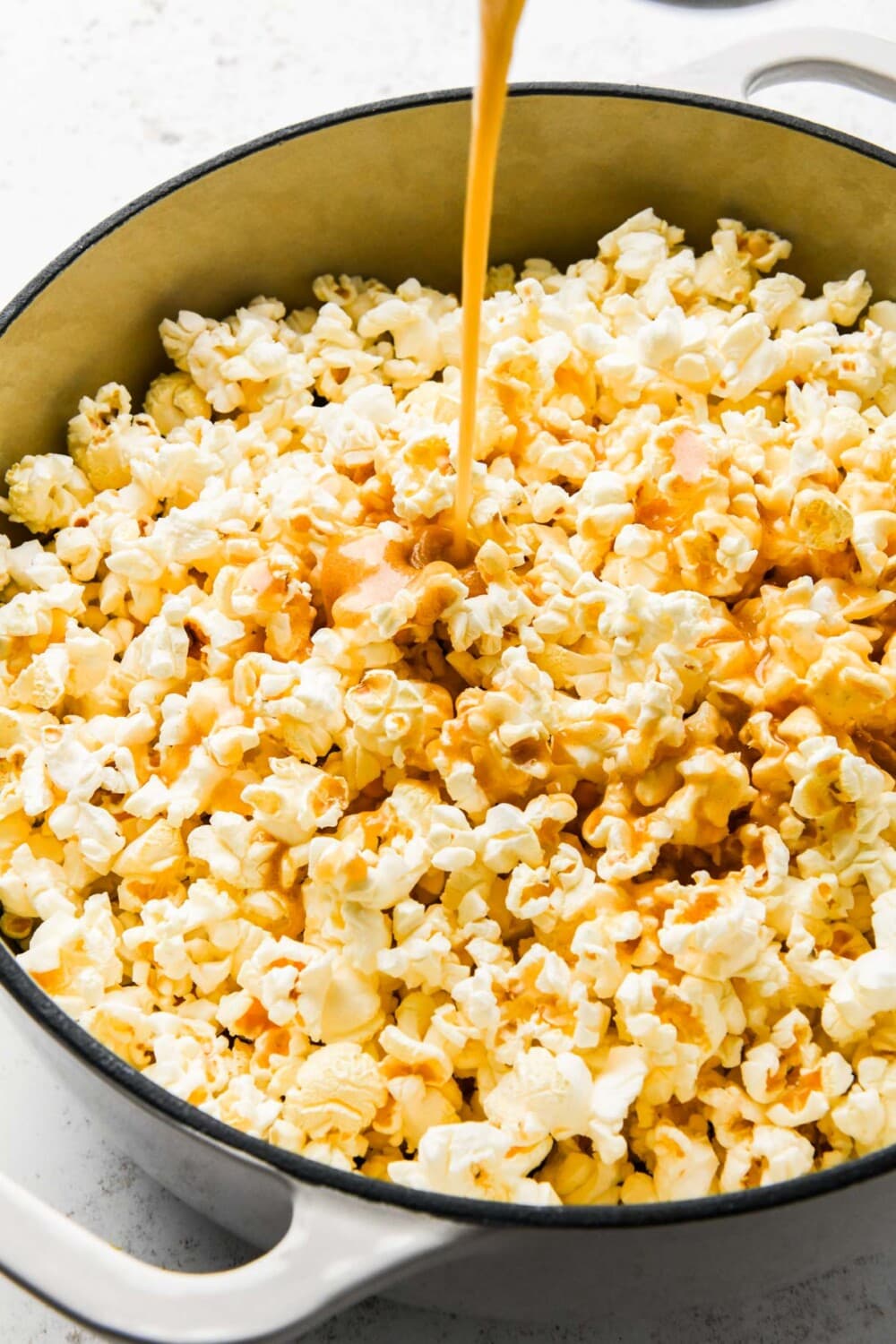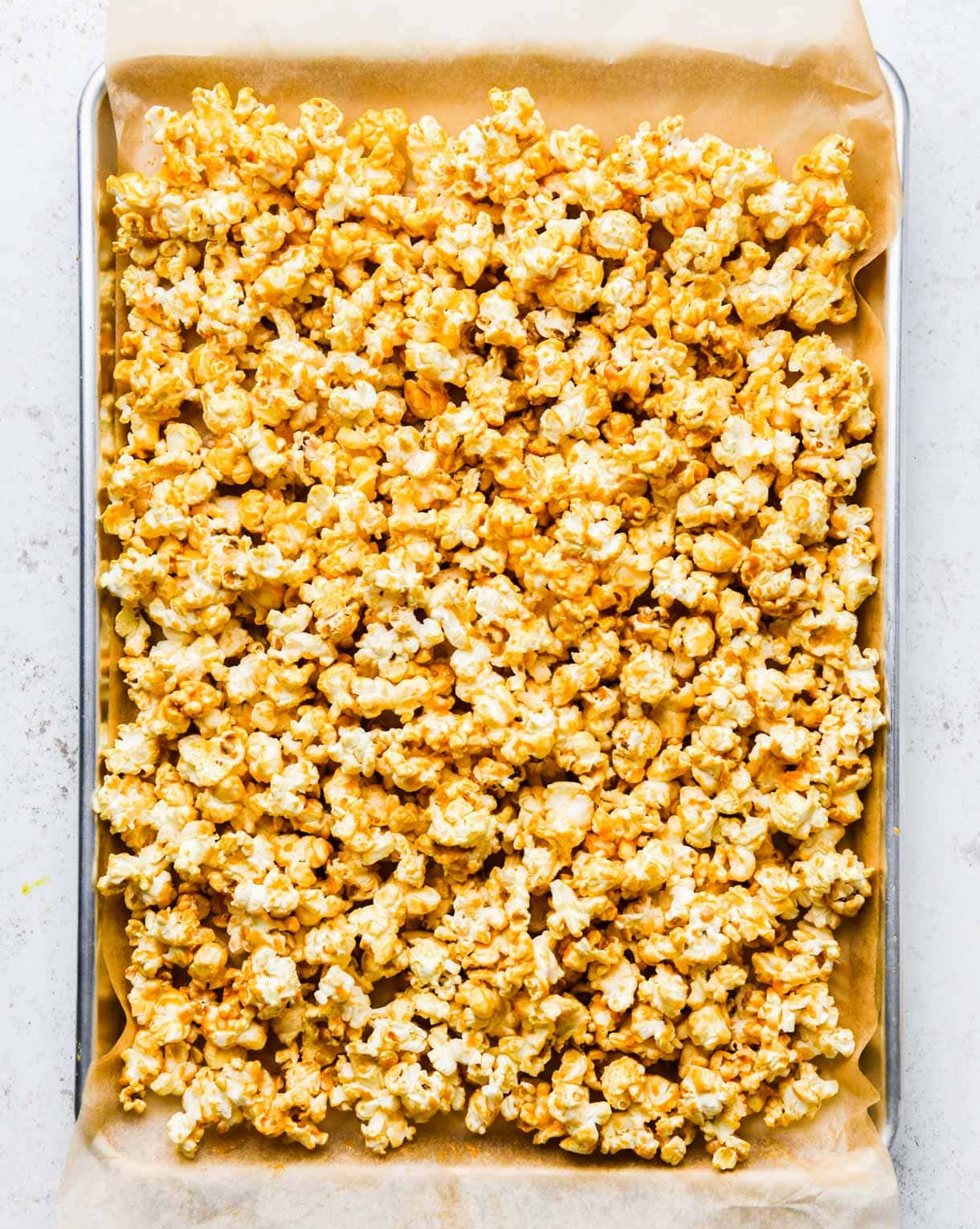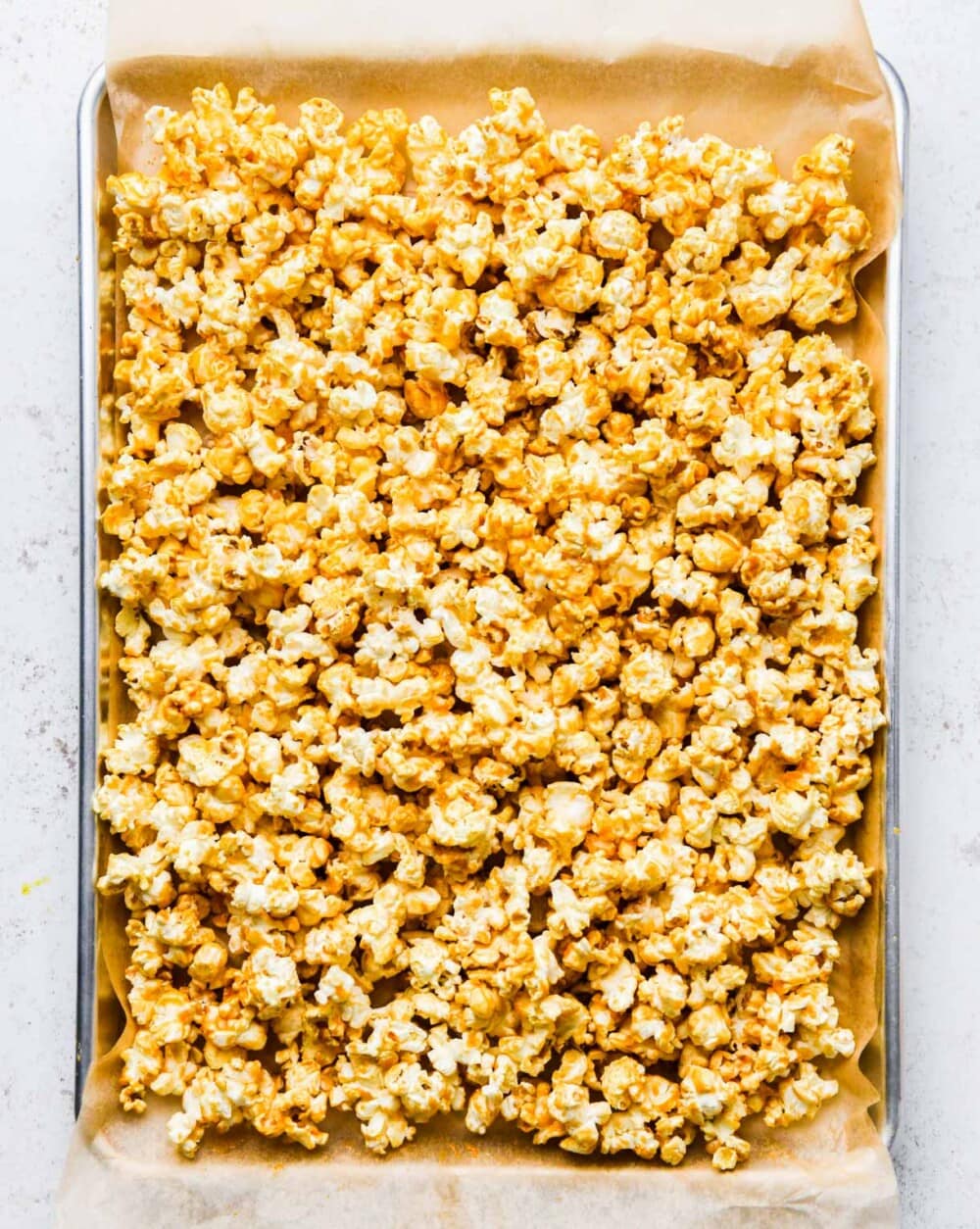 Ensuring Your Caramel Corn Isn't Grainy or Chewy
This recipe is nearly foolproof. I've both cooked caramel too far and undercooked it, and because of the maple syrup, it doesn't crystalize like cane sugar and still turns out!. The addition of baking soda also helps to break up the molecules.
Storing Maple Caramel Corn:
This caramel corn will stay fresh for up to 3 weeks if stored properly, in a sealed container. You can use anything from a metal tin, glass jar, to a ziploc bag. I love gifting it in jars with festive ribbon tied around the top.
Thoughts on Gifting
My love language is acts of service, likely why I love to cook for people so darn much. Seeing them enjoy something that I created with my own two hands, that will nourish them from the inside out. I seek to please by serving, expressing my love by doing. It fills me with so much joy.
Probably the reason I've made four batches of this homemade maple caramel corn to give to friends, and what I'll be bringing along to a few holiday celebrations. It's a nice addition to my favorite peppermint crinkle cookies and cheese plates.
Last night I stood in a local store, struggling to come up with gifts for several people, last minute per usual. I'm not good at gift giving, especially when forced. Why do we do this? Gifting. To each other as adults, once a year. Spending hundreds of dollars even when you try to keep things modest.
I just believe there are so many other ways to show love and appreciation as adults. Like time together. Meals together. Experiences together. And giving to organizations that need the support much more than I need a bottle of wine or new shirt.
But. That's me. And what I force myself to read every year around this time is the love language of gifts, and remember that this is why we spend money and energy during this time of year, finding things for others. It is how they absorb love, and that is so important to remember.
Don't mistake this love language for materialism; the receiver of gifts thrives on the love, thoughtfulness, and effort behind the gift. If you speak this language, the perfect gift or gesture shows that you are known, you are cared for, and you are prized above whatever was sacrificed to bring the gift to you. Gifts are visual representations of love and are treasured greatly.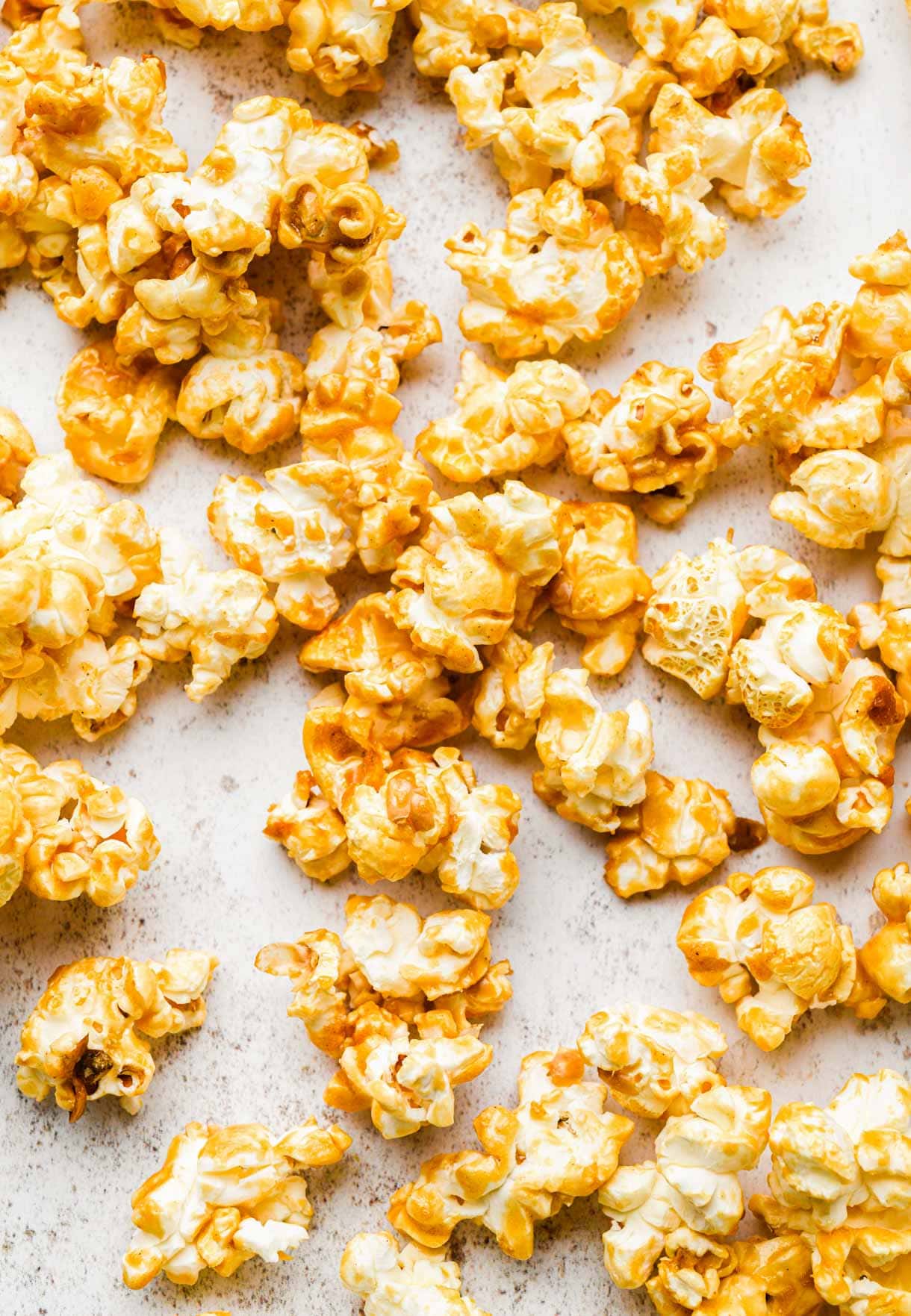 More Holiday Snack Recipes: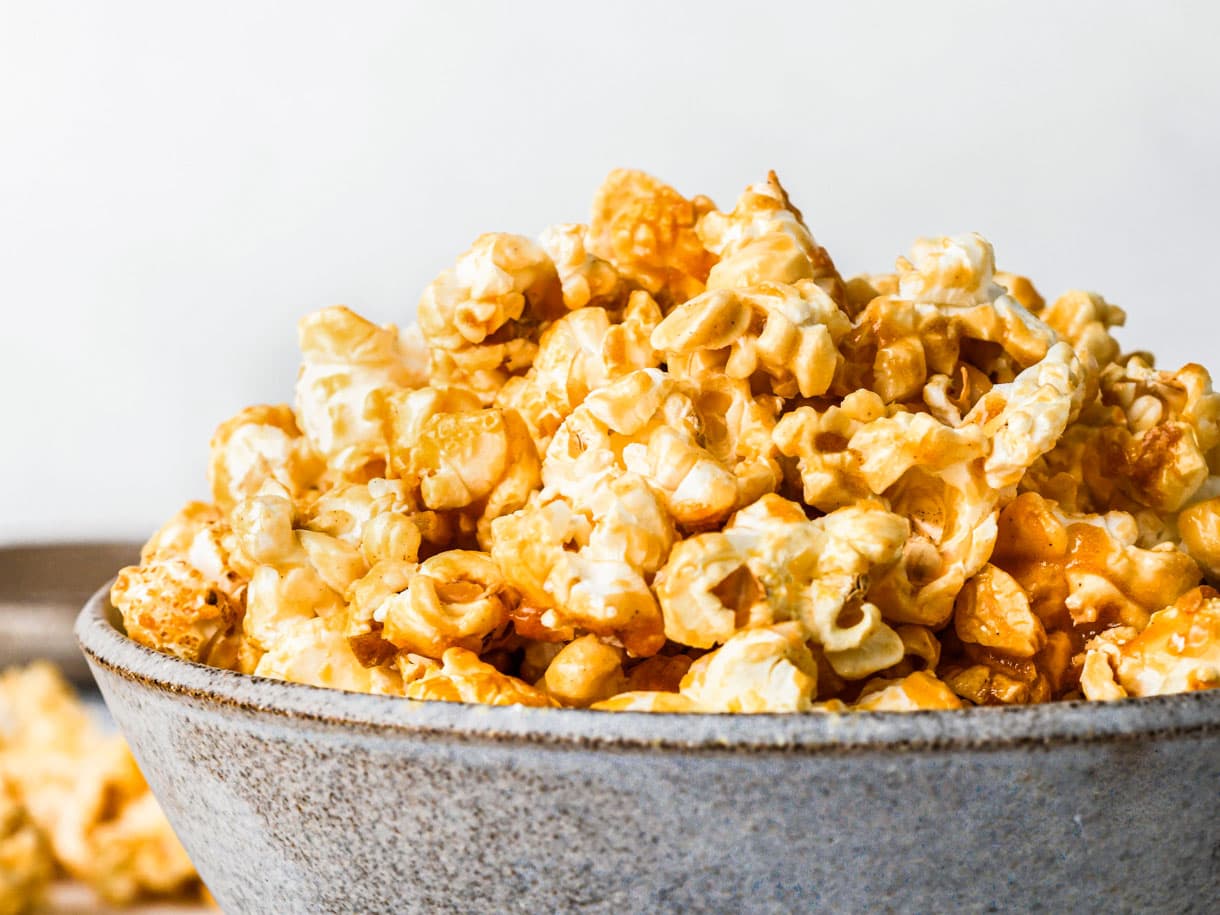 2

tablespoons

coconut oil

scant 1/2

cup

organic popcorn kernels

4

tablespoons

butter

1/2

cup

pure maple syrup

1/2

teaspoon

kosher salt

pinch

of cinnamon

1/4

teaspoon

baking soda

1/2

cup

raw peanuts or walnuts

(optional)
In a dutch oven, heat coconut oil until hot. (Test by putting one kernel in, and should bubble around the edges.) Add popcorn and swirl to coat.

Cover and cook, shaking pot, until all popcorn is popped. While doing this, occasionally let a little peep of air out so that popcorn doesn't steam. You can also use an air popper to make the popcorn if you'd like!

Set aside, and remove any unpopped kernels. Add nuts, if using.

In a high sided saucepan, add maple syrup and butter. Boil until mixture reaches 225 degrees F on a thermometer. Remove and add salt, cinnamon, and baking soda, stirring. Quickly pour mixture on popcorn and stir to fully coat.

Bake at 245 degrees F for 40 minutes, stirring once in the middle of baking, until dry. Store in a covered box or ziploc bag.