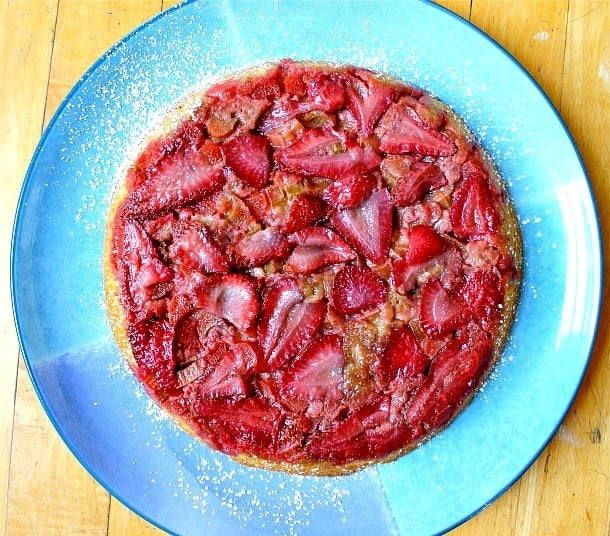 I have to confess…. I may be hoarding rhubarb right now. Not only am I using it every possible way while I've got it fresh, I'm freezing it too so that come dead of winter I can make myself this fab rhubarb cake.
Waiting 10 minutes after it comes out of the oven is perhaps the hardest part, anticipating that flip of the cake that unveils the luscious fruit topping. The smell that will envelope your house is quite nostalgic, for me anyways. It brought me back to all the rhubarb desserts my mom used to make when I was young.
Isn't it pretty with the strawberries showing through, roasted together with the rhubarb and butter to create an awesome caramelization? I loved the texture it acquired, which I think comes from the use of corn flour, light with a delicate crumb. It also adds that slightly sweet yet salty flavor you get from a damn good cornbread. The addition of lemon zest plays perfectly with this and gives it some added zip.
Oh, and one of the best things about this cake -it's rather thin and light, so go ahead – top it with a scoop of vanilla bean ice cream and eat it in bed like I did! :)
Strawberry Rhubarb Upside Down Cake
*If you aren't gluten free, the weight of these flours combined is equal to 1 1/3c all purpose flour so you can easily make it that way and omit the xanthum gum.
-1 cup sliced rhubarb
-1 cup sliced strawberries
-1 1/2 T butter
-1/8 c brown sugar
-50 g sorghum flour
-40 g sweet rice flour
-67 g corn flour
-1/4 t salt
-1 t baking powder
-1/4 t baking soda
-3/4 t xanthum gum
-7 T softened butter, unsalted
-2/3 c brown sugar
-1 t vanilla
-zest of one lemon
-1 egg
-2/3 c nonfat greek yogurt
Preheat oven to 350 degrees. In a 9 inch cake or pie pan, melt 1 1/2 T butter in the oven. Remove from oven and swirl around plates bottom and sides. Then sprinkle 1/8 c brown sugar over butter. Arrange strawberries in one layer on bottom of pan, then create a layer of rhubarb on top of that.
To make batter, sift together all flours, salt, baking powder, baking soda, and xanthum gum. Set aside. In a mixer, cream together butter and 2/3 c brown sugar until creamy and fluffy, about 2 minutes. Add in egg and vanilla and beat for 30 more seconds. Add in dry mixture, 1/3 at a time. Stop mixer, scrape down sides and add in yogurt and lemon zest on low speed until just combined. Stop mixer and give it one last stir to incorporate any ingredients that may have stuck to side or bottom of bowl. Batter will be thick – do not fret! Spread mixture on top of fruit with back of wet spoon. (This will give you a nice smooth finish). Bake for 30 minutes in oven or until toothpick comes out clean. WAIT 10 minutes for it to cool, then invert onto a pretty plate. Will keep up to 3 days stored in refrigerator.
Adapted from Eat Make Read