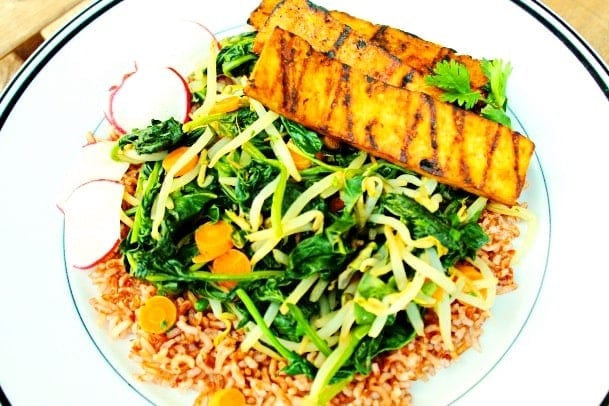 I don't know what it is about grilling but it's intimidating to me. I'm getting better, but still – it's not my best cooking technique. Regardless, it was time to try grilling tofu for a meatless summertime barbecue.
As I was picking up fantastic spring veggies as the farmer's market, I started bringing together a recipe in my head. Fresh spinach, a boatload of just harvested bean sprouts (for only $2 people!), thai basil, cilantro, and some spunky
I found a new type of rice at Mississippi Market in the bulk bins so obviously I had to try that. I don't remember exactly what type of red rice this is (shame on me!) but it was a long grain version.
So I'm intimidated by grilling, you might be intimidated by tofu. I get it, trust me. But really, it's less difficult to make than most types of meat. I'm going to give you a few tips about preparing tofu that will hopefully make you feel more comfortable with it. The most important thing to making perfect tofu is to get as much water out of it as possible so that it doesn't crumble AND absorbs all the flavors you are cooking it with! You can buy a fancy tofu press to do this or use this method that I find just as good:
1. Remove tofu from package and dry off with paper towels.
2. Wrap tofu in about 3 or 4 paper towels and place in a clean 9×13 in. pan.
3. Place one of the cookbooks that you never use :) on top of the wrapped tofu and then place something super heavy, like a gallon of milk or cast iron skillet on it.
4. Let the weight of the object press as much water out of the tofu as possible for at least 10 minutes.
5. Take the weight off the tofu, discard paper towels and rewrap. Flip tofu and repeat process.
This meal was perfect for Meatless Monday. I marinated the tofu in a sesame/tamari mixture for about 20 minutes and then it was ready for the grill. The spinach and bean sprouts get their flavor from the leftover marinade and fresh herbs. This is a hearty, filling meal that is a lot of fun to create!
One last thing – I know sesame oil might not be one of those things you usually have in your cupboard, but I highly suggest buying some at your local Asian market. It is fantastically nutty and such a wonderful addition to any kitchen.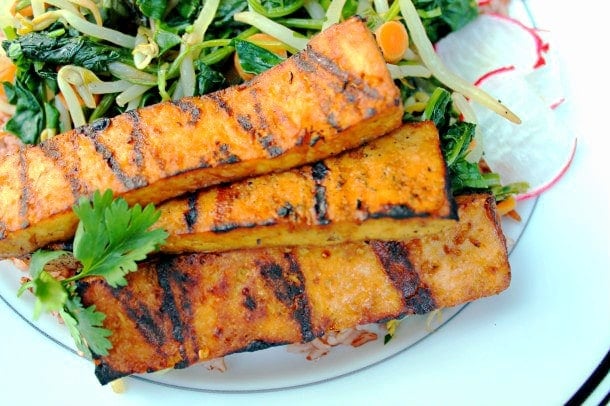 Grilled Sesame Tofu with Sauteed Spinach & Bean Sprouts
For the tofu:
1 block extra firm tofu, pressed to remove water
1/8 c tamari (or soy sauce)
1 T brown sugar
1 garlic clove, pressed
2 T rice vinegar
1/2 t Siracha
2 T sesame oil
For Spinach & Bean Sprouts:
4 heaping cups of spinach, lightly chopped
2 1/2 heaping cups fresh bean sprouts
1/2 c thinly sliced carrots, coin shaped
1/4 c chopped cilantro
1/2. c slightly torn basil
1/2 t Siracha
1 T sesame oil
Leftover marinade
1/2 t salt
Cooked Rice
Cut tofu block into 5 horizontal slices. I start with a cut in the center and then another cut in the center of those 2 halves. This method makes slices fairly consistent in thickness. Wrap in a towel, and using something heavy like cookbooks or a cast iron pan, set on top of towel and press tofu for at least 30 minutes to remove excess liquid. Place all pieces in a large ziploc bag. Whisk marinade ingredients together, then pour over tofu in bag. With bag closed, lightly move marinade around so it coats all pieces. Let marinade for 20 minutes, mixing around two or three times. After 20 minutes, empty tofu marinade from bag into a large saute pan and set tofu aside. Add 1 tablespoon sesame oil and 1/2 teaspoon sriracha to saute pan and bring to medium high heat. Add in half of spinach, stirring to coat. Let wilt slightly, then add in remaining spinach, carrots, bean sprouts, and salt. Cook for 5 minutes, lightly stirring throughout. Remove from heat, then stir in cilantro and basil. Keep at room temperature.
To grill the tofu, grease the grates lightly with vegetable oil, then turn on grill to medium high heat. Once heated, place tofu sideways onto grates over direct heat and grill about 5 minutes per each side. Try to keep from lifting up the tofu while it is cooking, otherwise you won't achieve grill marks. Serve by building bowls in the following order: rice, spinach mixture and tofu. Top with additional sriracha if desired. Leftovers will keep 3-4 days in refrigerator.