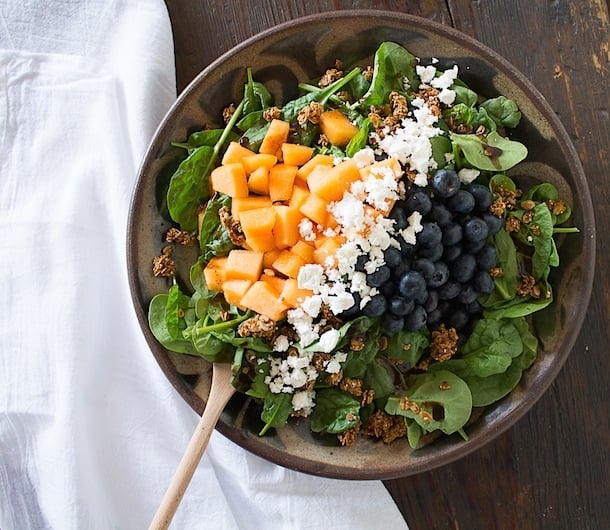 With my new cross-city commute each day, hour long traffic jams that evoke a bit of rage are unfortunately the norm. Not that I didn't know that was going to happen when I accepted the job, but it stings a little when you're in the midst of it. Hands tightly gripped to the steering wheel, I'm usually thinking about the fun I could be having in the kitchen.
But alas, life changes and ironically, it spurs new inspiration, like quicker, yet just as satisfying meals like this Summer Fruit and Feta Cheese Salad with Granola Croutons.
Although it looks like a restaurant worthy salad, this colorful beauty takes a mere 8 minutes to make – yes, I timed it. It would have been a 10 minute situation, but I went a little "semi homemade" and drizzled it with my favorite store-bought dressing, Whole Foods Fig Balsamic.
The contrast of the indigo blueberries, peachy cantaloupe, grassy green spinach and bright white feta cheese is pure mother nature, painting the prettiest picture for the eyes to see.
But what I'm really head over heels about is the granola crouton crunch. It's such an easy and delicious solution to gluten-free croutons!
In essence it's similar to topping a salad with something fruity and nutty, like cashews and dried cherries.
It hits you when you take that perfect bite – your teeth sink into the plump berries and soft cantaloupe, the salty feta and punchy vinaigrette sneak in, then you finish with the crunchy, sweet and savory granola.
The team from Purely Elizabeth was kind enough to send me a few packages of their Ancient Grain Granola earlier this year and I was hooked once I swirled it into creamy greek yogurt.
There are plenty of great granola options out there, but what I love about Purely Elizabeth is that it's made from a myriad of good-for-you, natural and gluten free ingredients.
Quinoa, chia & sunflower seeds, amaranth, whole grain oats, and coconut oil – which means complete proteins, vitamins, omega 3's fiber and antioxidants all make their way into your body. All pure, all natural, sweetened only with coconut sugar and cinnamon.
If you make this Fruit & Feta Cheese Salad, be sure to tag me on Instagram with hashtag #heartbeetkitchen or @heartbeetkitchen!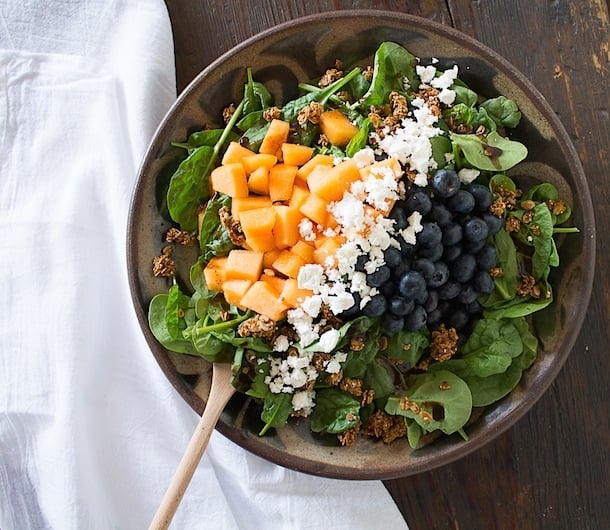 Toss spinach with 2 tablespoons of vinaigrette.

Arrange spinach on a large platter or individual plates.

Add blueberries, cantaloupe and feta on top.

Drizzle with dressing and sprinkle
with granola.