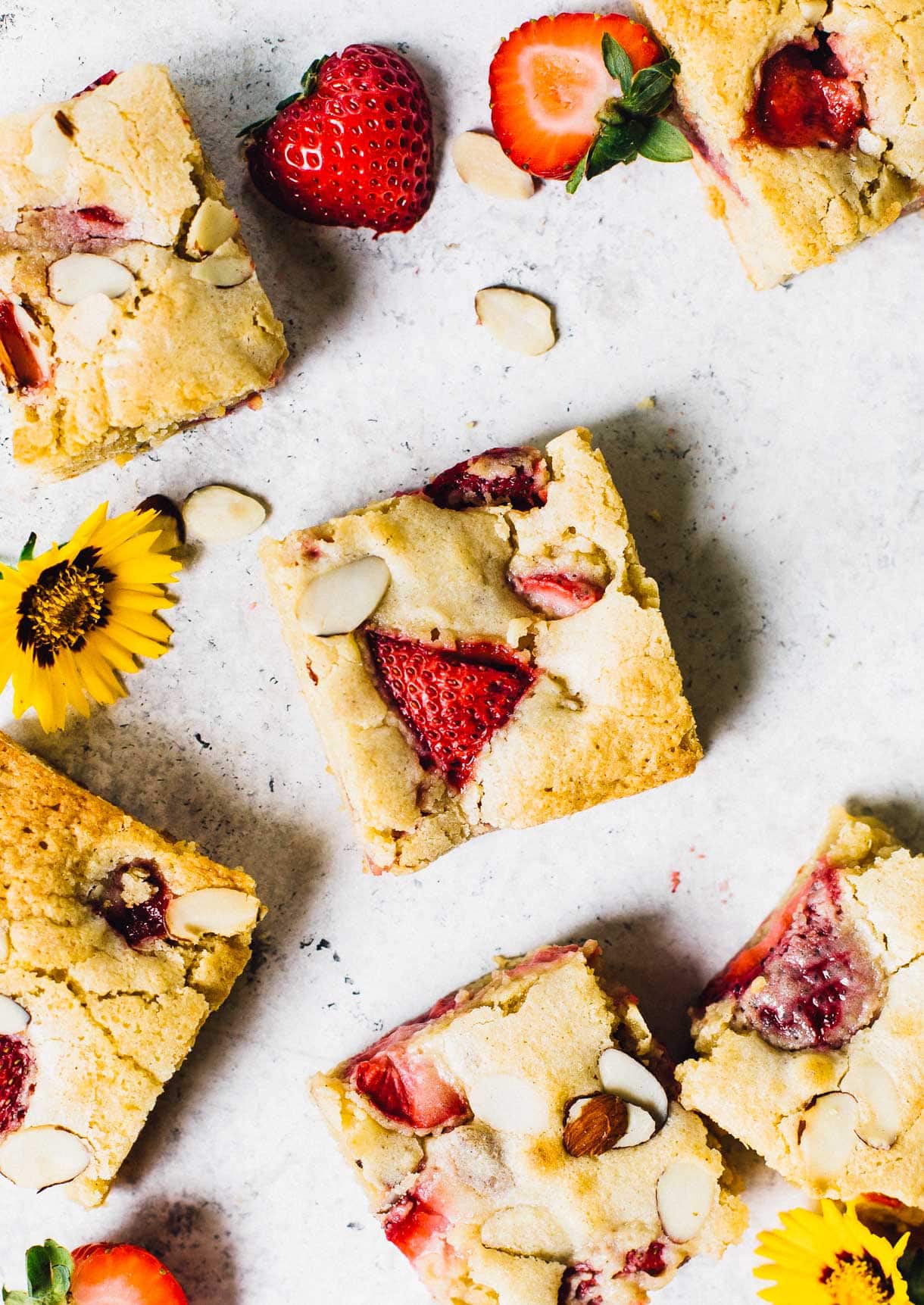 This Gluten-Free Strawberry Blondie Bar recipe is sponsored by a year long partner, Diamond Nuts. I've used their sliced almonds in the batter and baked in on top, for toasted, crunchy finish.
I didn't think I could love a strawberry blondie bar more than one with dark chocolate and coffee. But these berry studded, almond topped, chewy, buttery bars have stole my heart, just in time for peak strawberry season.
Imagine the flavors of strawberry shortcake and a sugar cookie, with a melt-in-your mouth texture, and the signature crackly top of a brownie.
They happen to include an ingredient I don't use often…. but is the answer to the perfectly chewy, gooey, dense bars: melted white chocolate!
Most blondies have a one-note sweetness and typical mix-ins. But with so many ripe strawberries hanging out in my refrigerator, I really wanted to celebrate them in a way that wasn't the typical crisp or pie.
I adapted this recipe from Love and Olive Oil, and starting by testing out less sugar, and most importantly, determining the gluten-free flours I'd use without losing the dense, brownie-ish like texture.
The benefit of tweaking a blondie recipe for a gluten-free transition is the high fat to dry ingredient ratio. Hello butter and melted chocolate, the bulk of the ingredients! ☺️
The best gluten-free flour I've found for the "chew" factor is sweet rice flour, (which actually isn't sweet), made from short grain glutinous rice.
It has a higher starch content than other rices, making it perfect for binding without using xanthan gum. I've also used sorghum and oat flours in this recipe, for balance.
For mix-ins, you'll want to use ripe strawberries, but not overripe, as they do soften further as they bake. Diamond Nuts Sliced Almonds go into the batter, and on top, for a toasty crunch. You can't miss the traditional red bags in the baking aisle! Diamond Nuts are very much a part of my homemade baked goods necessities, and I appreciate the quality I get in every bag.
These are absolutely delicious chilled from fridge, and easiest to slice that way.
Patience is key, even though you'll be taken aback by the strawberry shortcake scent drifting through your halls as the bars bake!
If you make this Blondie Bar Recipe, be sure to tag me on Instagram with hashtag #heartbeetkitchen or @heartbeetkitchen!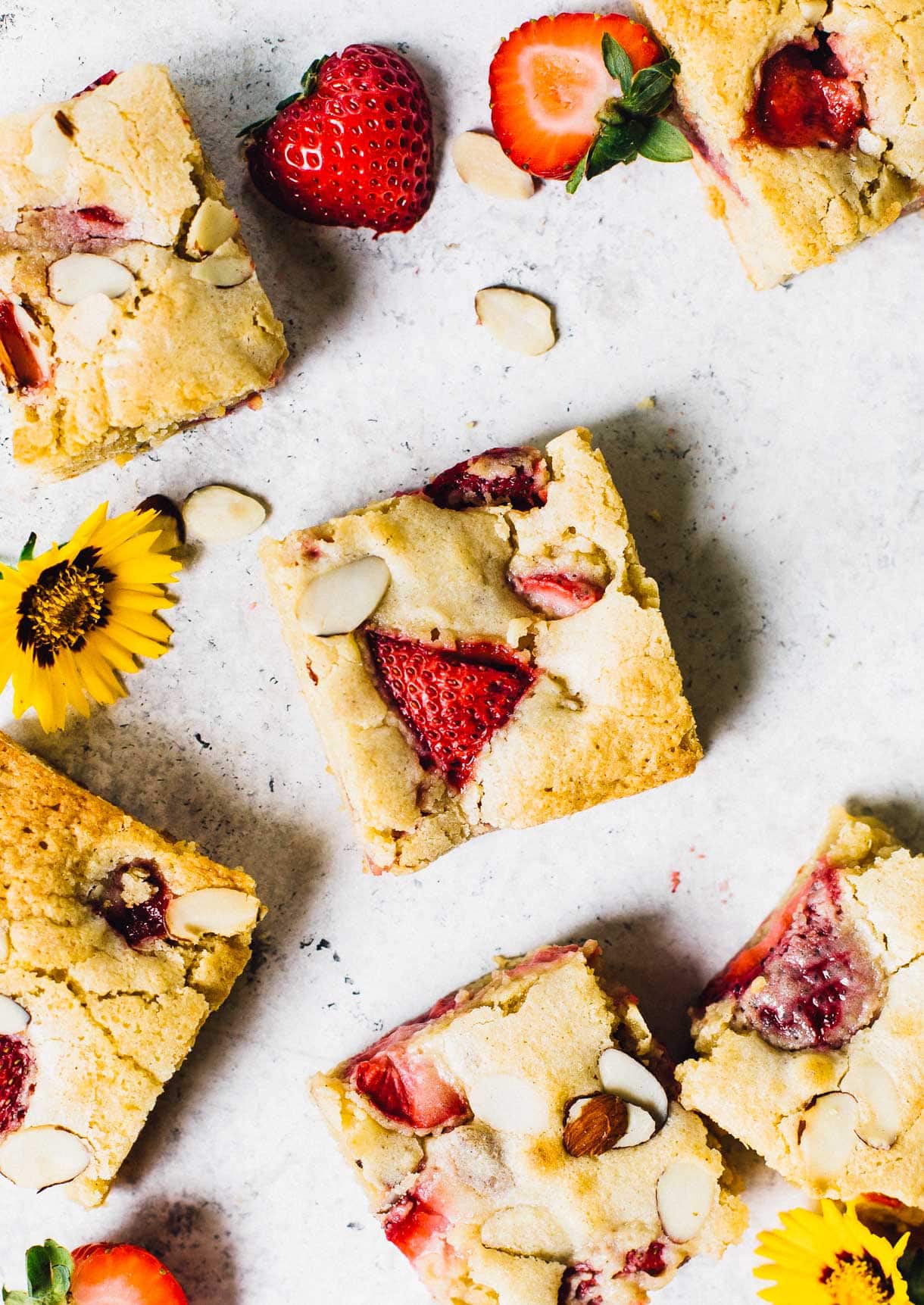 60

grams

sweet rice flour

40

grams

oat flour

35

grams

sorghum flour

1/4

teaspoon

kosher salt

1/4

teaspoon

baking soda

5

tablespoons

unsalted butter

5

ounces

white chocolate chips

1/2

cup

cane sugar

2

large eggs

room temperature

1

teaspoon

vanilla

1

cup

strawberries

stems removed, and halved vertically

1/4

cup

+ 2 tablespoons Diamond Nuts Sliced Almonds

divided
Preheat oven to 375 degree F. Line an 8 inch square pan with parchment paper or spray with non-stick spray.

In a mixing bowl, whisk together flours, salt, and baking soda. Set aside.

In a saucepan over very low heat, melt butter and white chocolate chips, stirring very often, until smooth.

Remove from heat and whisk in sugar. It will be thick. Let sit for a few minutes to cool off.

Then whisk in eggs and vanilla, until smooth.

Stir in one half of the dry ingredients, then the other half.

Fold in 1/4 cup almonds and strawberries.

Spread into pan with a spatula, batter will be thick and clunky. Don't be discouraged.

Top with remaining 2 tablespoons almonds.

Bake for 8 minutes at 375 degrees, then turn heat down to 350 degrees F and bake for 22-24 more minutes, until a toothpick stuck in the middle comes out without raw batter .

Let fully cool, at least an hour, better if longer, until slicing. Store in refrigerator in covered container up to four days.