This naturally sweetened rhubarb jam is made with dried figs and lemon, no water bath canning needed! These lovely spring preserves are fruity and balanced, with floral notes from the honey.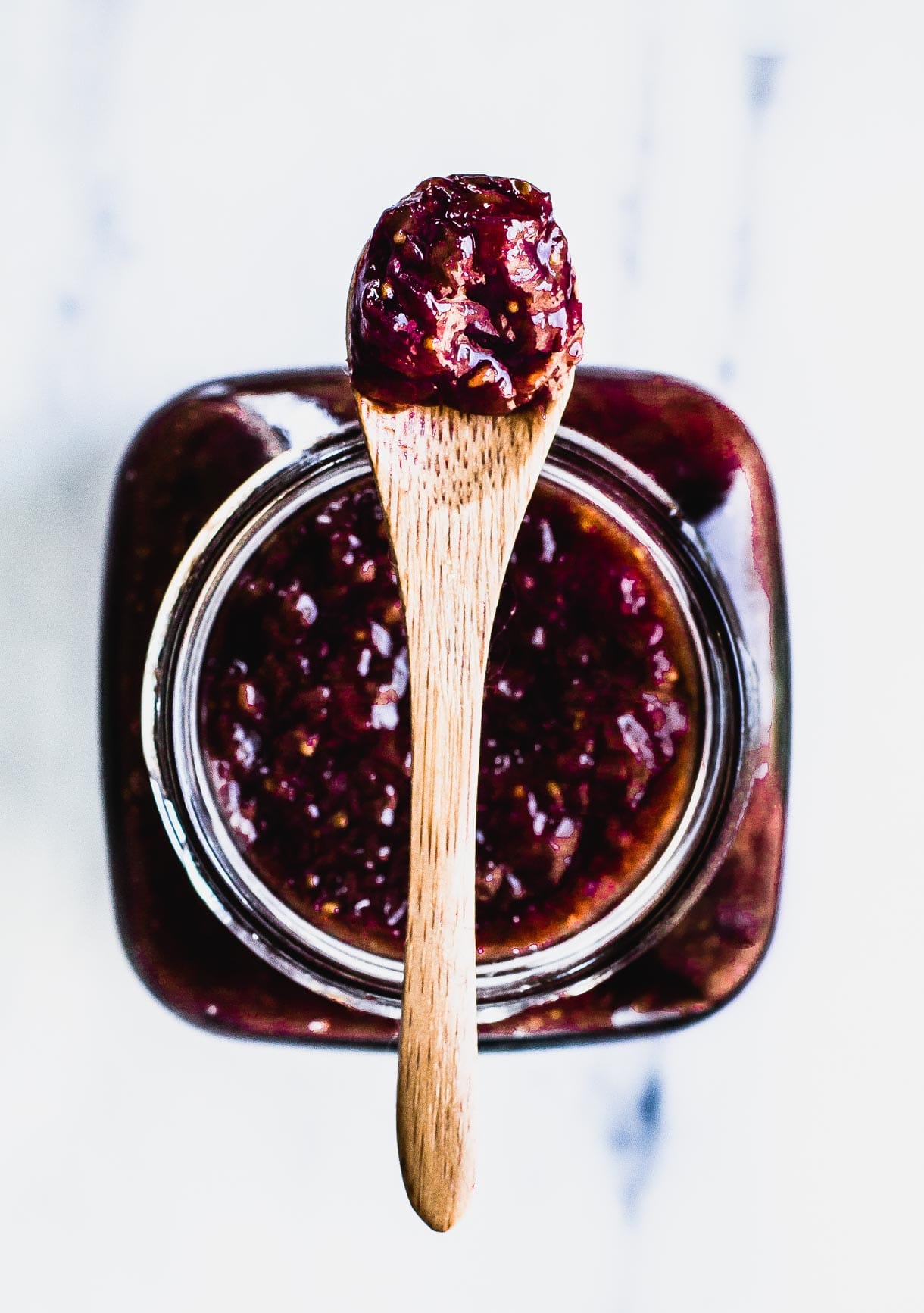 There's something special about preserves. Whether you pick up a unique jar when you're traveling so you can "travel back" while in your own home, a friend gifts you a jar of Vanilla Chai Pear Butter, or maybe it's making your grandmother's Strawberry Jam with berries from your garden…. it's a sweet taste of happiness.
I've had a craving for something sweet to spread on sourdough bread or swirl into oatmeal. With two rhubarb plants growing prolifically, my first project became this dried fig & rhubarb jam.
Fresh figs are hard to come by here in Minnesota (if you're able to get your hands on them, here's a fresh fig jam recipe!), but I stumbled upon a large bag of dried organic Mission Figs at Costco. With plenty of the two fruits to spare, I thought they were worthy of an experiment.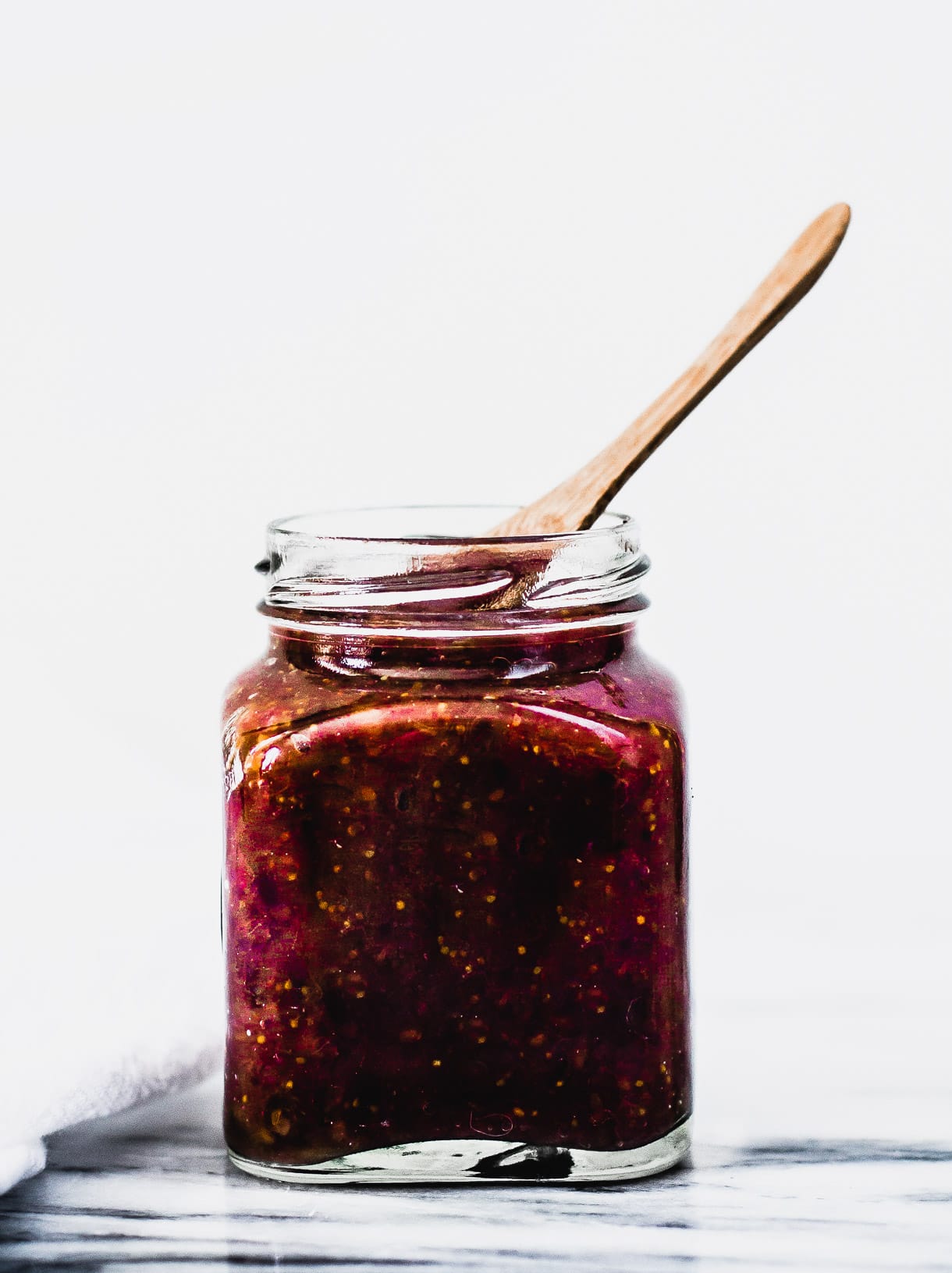 Over the years I've come to love preserving. I find it very relaxing, and there's a satisfaction element that comes from the process. It's a creative way for me to play with different flavor combinations and savor the best fruits of the season a little longer.
One addition I try to avoid when making preserves is artificial pectin, (the powdered kind you find in packets) which requires a mountain of sugar to thicken your jam. Because of this, I feel like the true essence of the fruit is lost, and there's little room to work with your own flavor combinations because the instructions are so rigid.
My goal for this recipe was to use natural pectin already in the fruit, remove the refined sugar, and skip the water bath canning, giving you a less intimidating recipe – all while still achieving a firm set.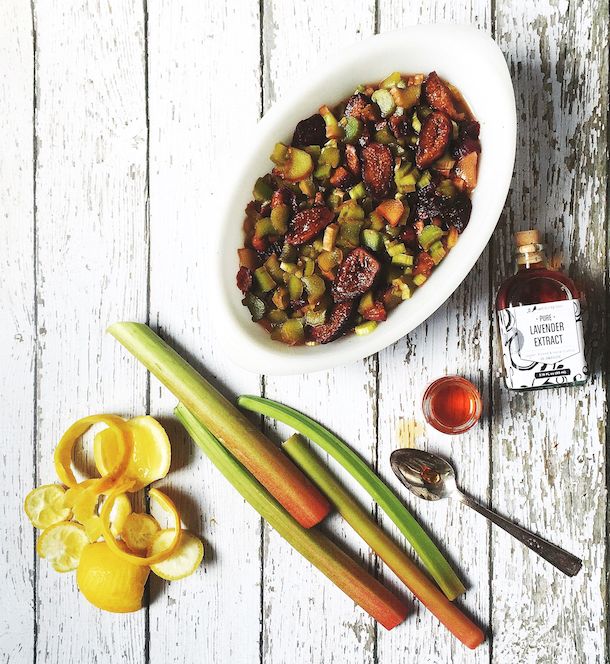 To replace the pectin powder, I used the juice of two lemons for the acidity, plus their peels. I knew both of these would help with the gelling, the white pith of the peels being high in pectin naturally. I typically macerate the fruit in raw cane sugar, but I mixed the rhubarb and figs with honey instead, then let them sit for 2 days. (This allows the fruit to release their water and soak up the sweetness of the honey.)
And the other factor would be a long simmer, to get the consistency I was envisioning.
As it puttered away on the stove, I thought about adding basil, but then I remembered I had lavender extract. It seemed like it would be the perfect floral compliment to the rhubarb, figs and honey.
I swirled it in once all the juices had evaporated, and without hesitation tasted a warm spoonful. "Amen" I said, "now that is a taste of spring." But the real test would be if I could hold a full jar upside down without a cap, no dripping allowed.
And success! A thick, perfectly spreadable set was achieved. Because neither of the fruits are high in acidity, and there isn't a boatload of sweetener, it is meant to be refrigerated instead of water batch canned. However it makes two pints, so one for you to savor and one to freeze or give to a friend.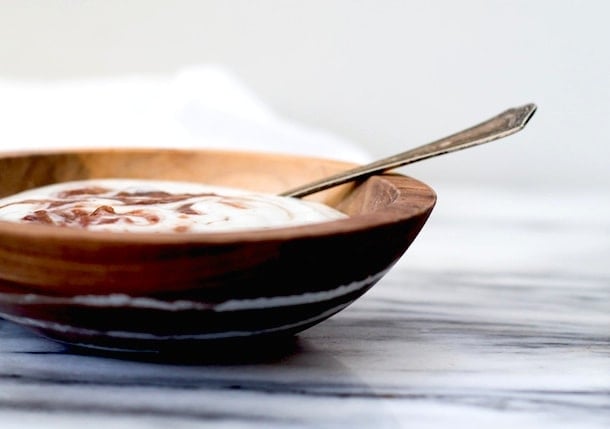 More Rhubarb Recipes: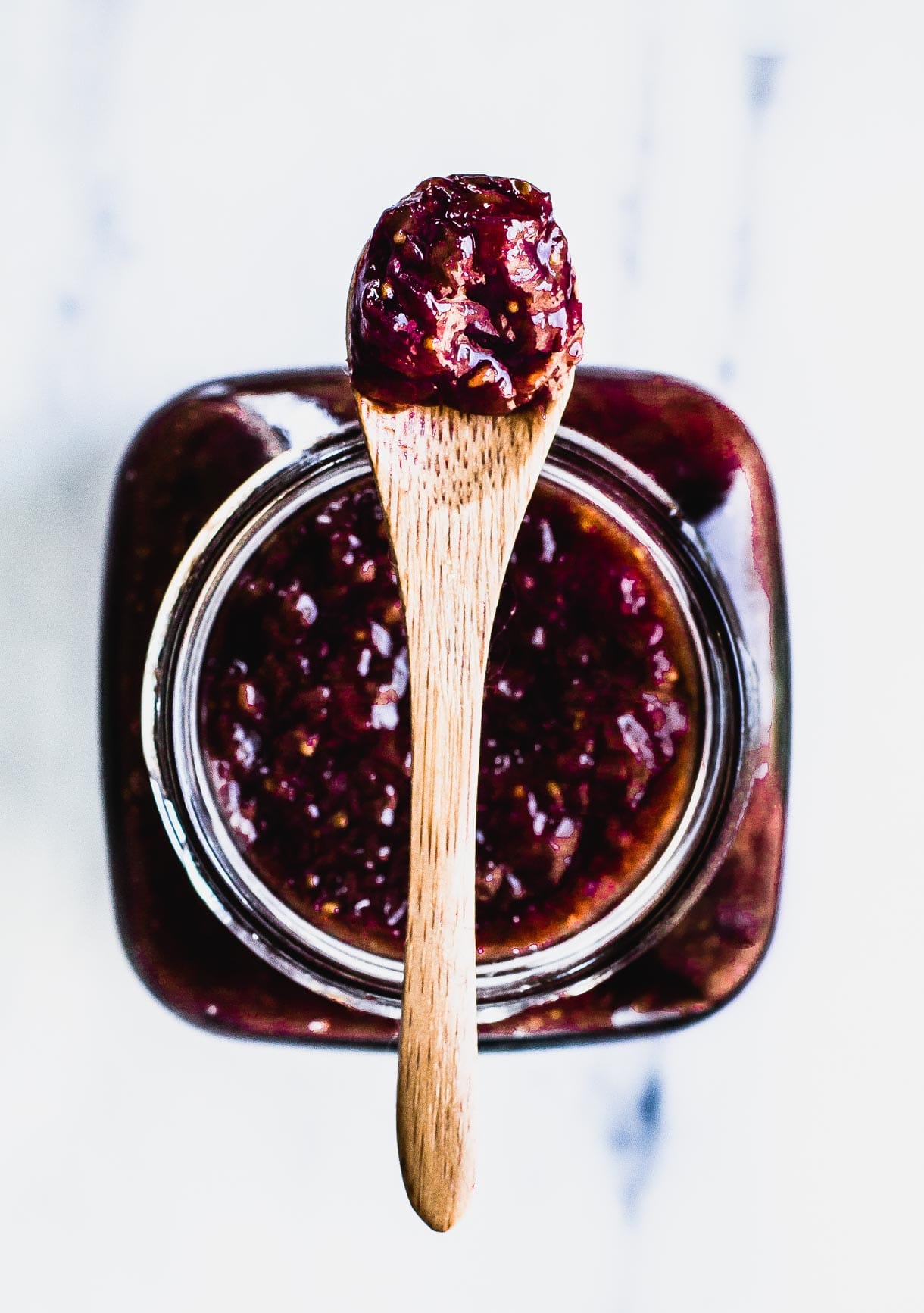 1 1/4

pounds

rhubarb,

cut into a 1/8 inch chunks

15-16

dried figs,

soaked in hot water for 2 hours (or fresh figs, just skip the soaking)

1/2

cup

+ 2 tablespoons honey,

divided

Peels from two lemons

including their white piths

2

tablespoons

fresh lemon juice

1

teaspoon

vanilla extract
Drain the figs and cut in half. Then combine the rhubarb, figs and 1/3 cup honey in a glass or ceramic bowl and stir to coat. Let sit in the refrigerator (called macerating) for 1-2 days.

Add the fruit mixture to a heavy bottom saucepan and stir in the remaining honey, lemon peels and lemon juice. Bring to a boil, then turn down to a simmer for 5 minutes, stirring as you go.

Then turn heat to low so liquid is barely making bubbles that break the surface. Stir every 10 or so minutes to make sure jam is not sticking to the bottom.

Let cook for 2 1/2 to 3 hours, until jam is very thick, all the liquid has dissolved, and fruit has lost much of its texture.

Remove lemon peels and discard. Then stir in vanilla extract.

Spoon into jars and let cool, without the caps on. Then place in refrigerator and let sit for 5-6 hours to achieve full set. Will last for two weeks in the refrigerator.