These naturally fermented beets are infused with cumin and basil, a tangy pickle with a bit of earthiness. They're a great source of probiotics, and and easy to make with literally 5 minutes of hands on time. We like to eat these sour-sweet beet slices as a snack, on sandwiches, or diced and added to a grain bowl.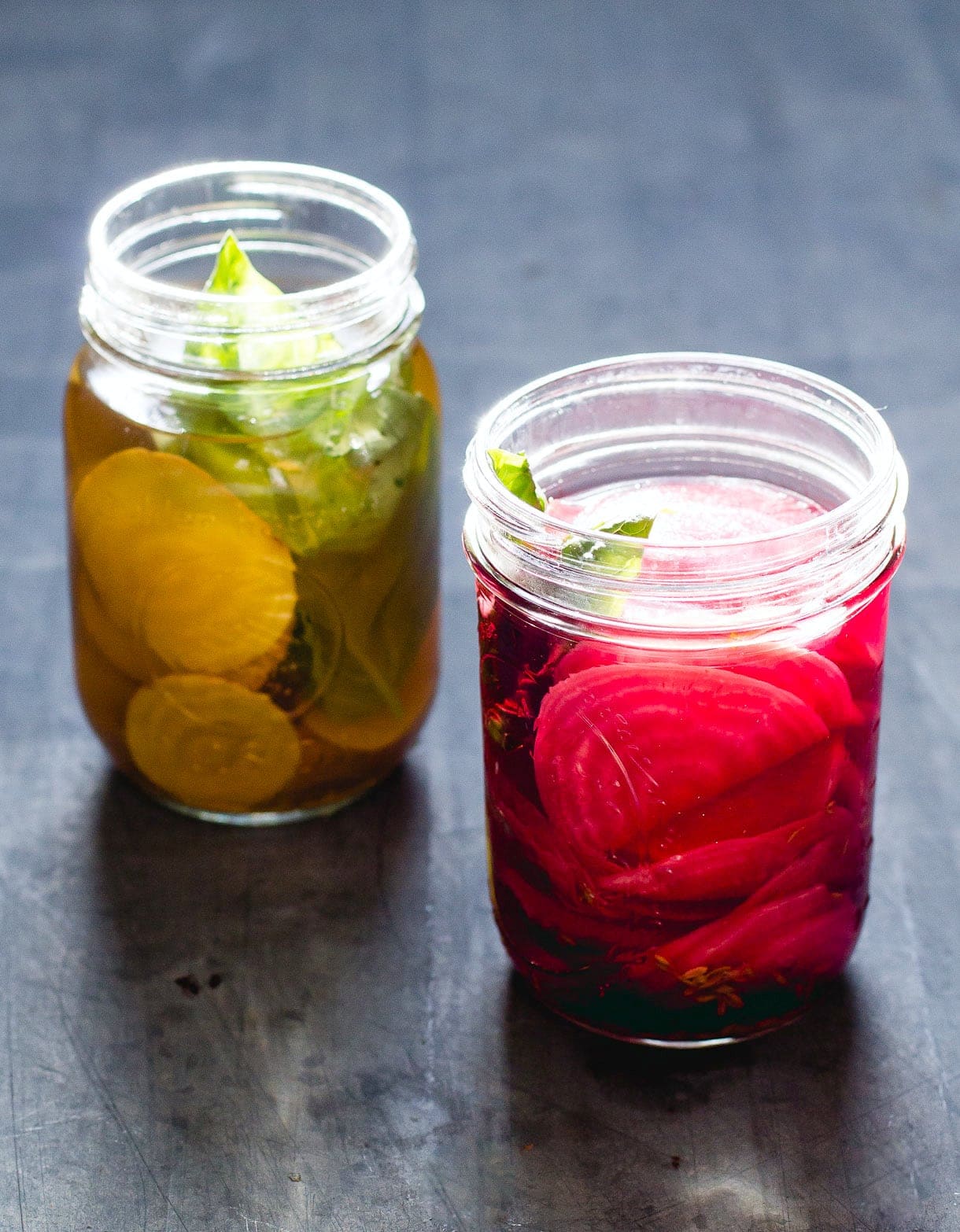 What is Fermentation?
Bubbles, bacteria, probiotics, enzymes & minerals ……
Pickles, sauerkraut, kombucha, kefir, kvass………
Natural fermentation is quite a fascinating process, relying on just salt and water to make things literally come alive, turning your favorite fruits and vegetables into even healthier and delicious bites. One of the ways it's different than what we think of as "pickling" is that hot brine or acid (like vinegar) is never used because that kills all of the powerhouse nutrients, and halts any type of good bacteria (like those in yogurt) from growing.
Fermentation extends the life of foods, as beneficial bacteria consume the natural sugars and produce lactic and acetic acid for preservation. And they keep your tummy happy, producing vitamins, that help to populate the gut with microbes and boost the immune system.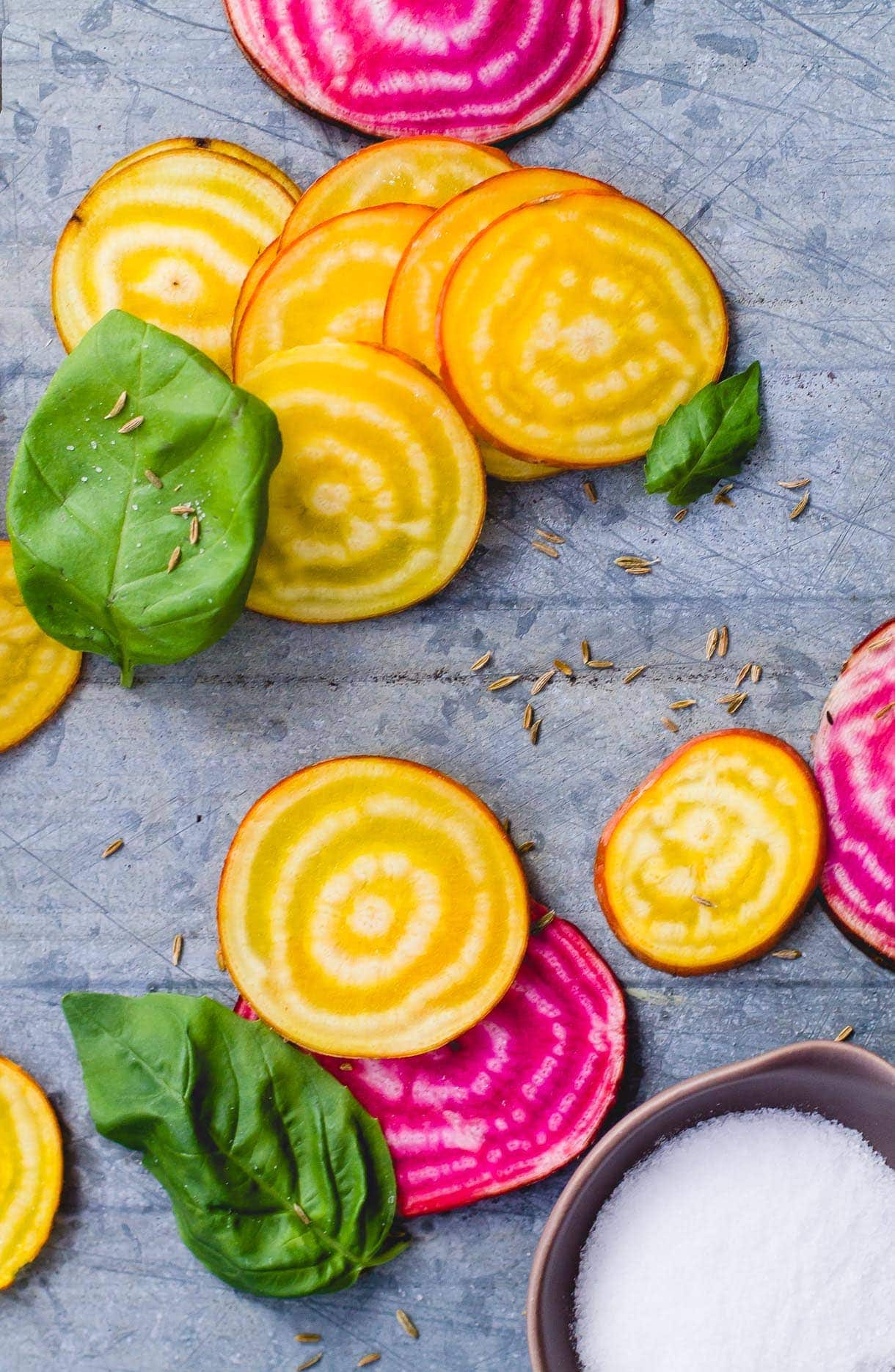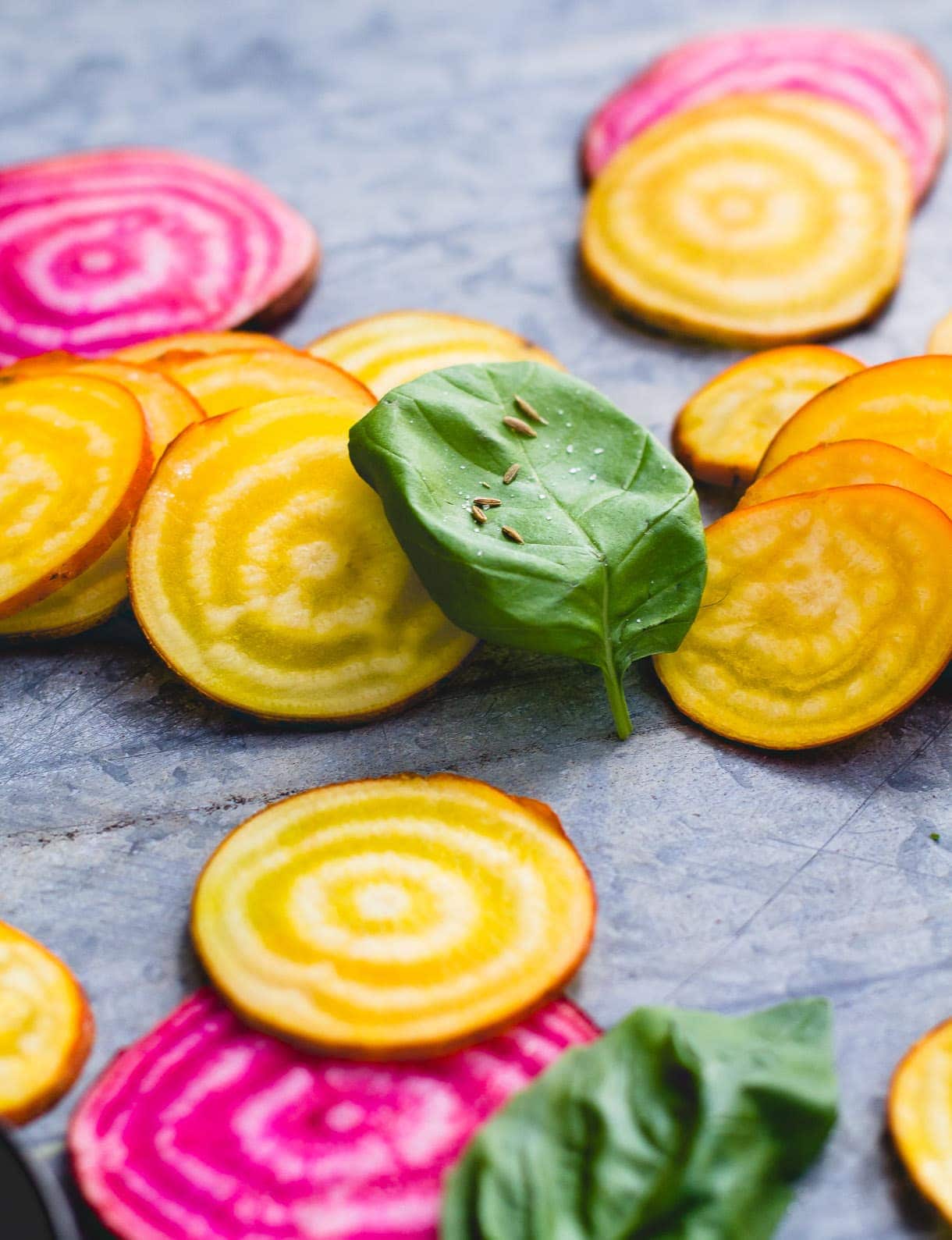 I tried fermenting years ago, starting with kimchi, and then kombucha, figuring it was just like a science experiment and relying on the resources I could find. Thankfully I stumbled upon Amanda's inspiring and helpful blog, Phickle, basically an encyclopedia on everything you ever wanted to know about these crazy microbial adventures. I felt so comfortable following her recipes and tutorials, seriously demystifying the world of fermentation for me.
And now she's written a beautiful book, Ferment Your Vegetables! I got lost in it the days after it landed on my doorstep, between the stunning photos and her practical advice on how to get your own little kitchen bubbling with jars of condiments, kraut, pickles, and even different appetizers (like fermented winter squash hummus!) you can make with the results.
I couldn't help but make these Fermented Beets with Cumin and Basil first, imagining how beautiful they would shine in the jars, and a flavor combination that just spoke to me. I was dying to try this tangy, earthy, version of one of my favorite vegetables.
They turned out incredible. Delicately spiced and a bit sour like a good pickle should be. These colorful babes made me fall in love with beets all over again.
With natural fermentation, the earthiness of the beets turns sweeter and brighter – a true testament of how food can naturally transform into something so different. Another great example is how the fermentation of wild yeast in a sourdough starter naturally leavens sourdough bread.
Tips for Fermenting Vegetables
Make sure you to use washed, very clean glass jars.
Let your ferments (beets in this case) sit for 7-10 days in a warm spot, around 65-78 degrees F. That is the perfect environment for the bacteria and acid to growing..
You'll want to make sure the brine sits above the vegetables, using something that submerges them. I used another jar pushed inside the other. And then you MUST cover the jar with a cloth so that bacteria in the air can't get inside. I learned that the hard way, with one batch that got slimy.
Check on them periodically to make sure if the jar has overflowed, you wipe up the spills. If they're bubbling – that's a good thing! And if the water is turning a little cloudy, that's also good.
Taste every 3 days or so to see how they taste. When they're bright, sour, and salty, they're done. The length of time it takes to get to this stage can differ depending on how warm your environment is.
Not only are they great as snack, but they make a beautiful pickle plate, with goat cheese and a heavy drizzle of olive oil.
I've also been eating them on salads, diced and stirred into scrambled eggs, and as a topping for juicy cuban pork bowls.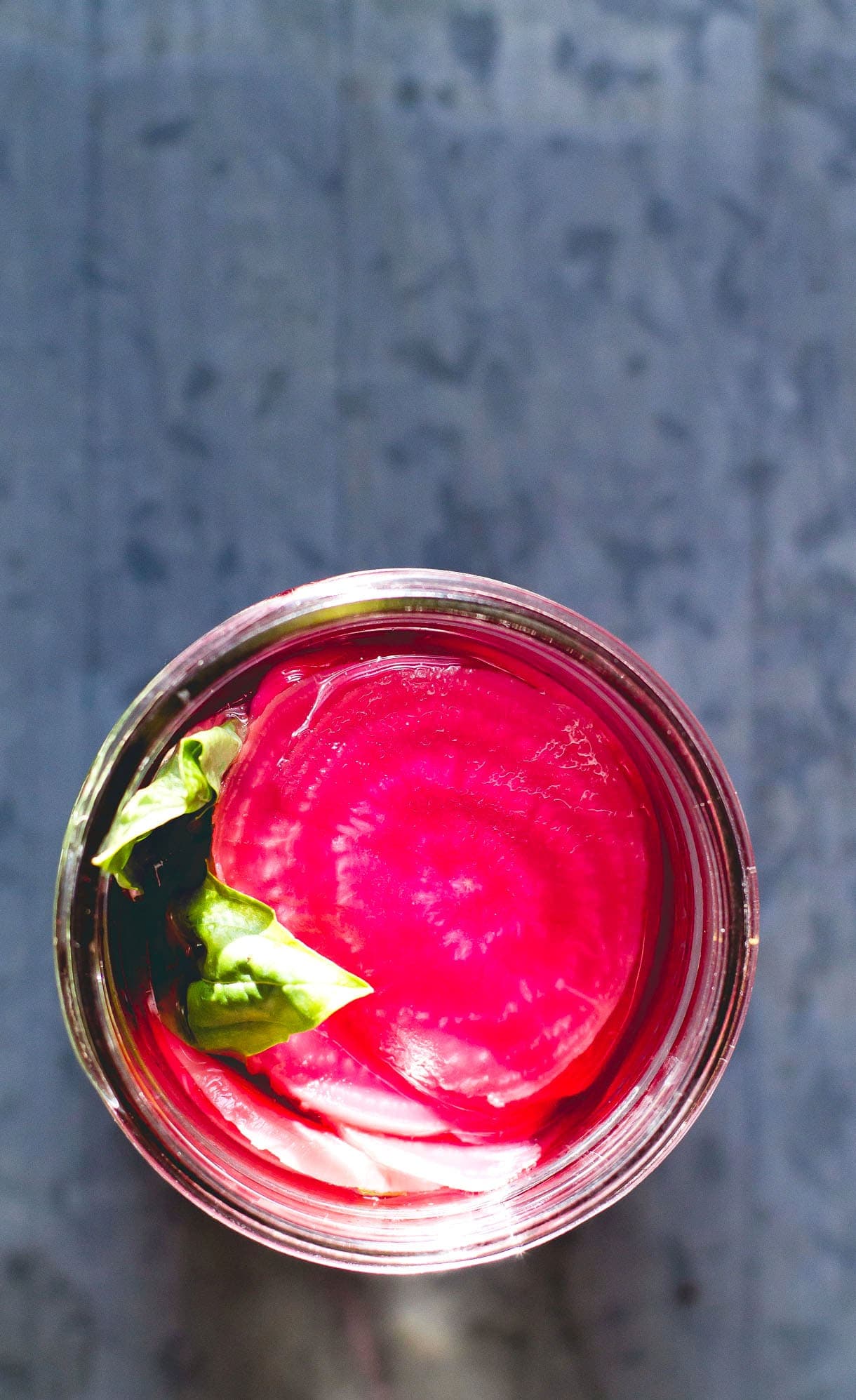 Slices the beets into 1/4 inch slices.

Put the cumin seeds in the bottom of two pint jars and stack the beets on top.

Mix the salt into the water until dissolved, then pour brine into jars until beets are just covered. (If you need to add a little more filtered water, that is okay.)

Submerge your veggies with a vessel, like another jar that fits inside, and cover these.

Place jars on small plate and allow to ferment at room temperature (65-78 degrees F) for 1 to 2 weeks.

Once you're happy with the flavor and acidity, remove the weights and pack basil into each jar. Put lid on and refrigerate. After two days remove the basil (or it will spoil). Enjoy! These will last up to 3 months in the refrigerator.