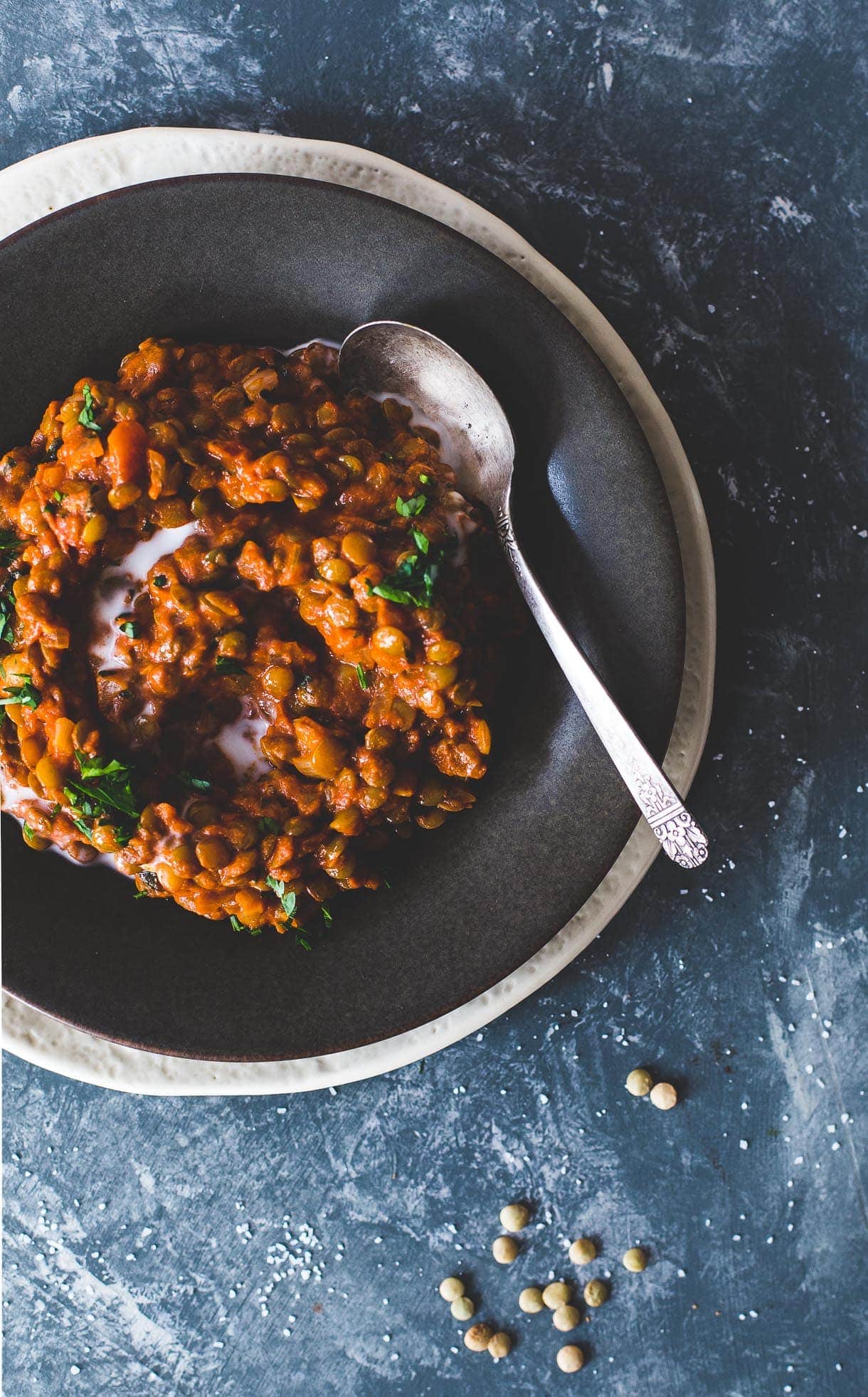 I'm homesick.
We haven't moved, but I've been on the move. To the tune of six times away from home in the last 5 weeks. I tend to tell myself, "You don't have kids, so go and do as many things as you can." I almost feel guilty if I pass up a great opportunity, because I have no excuse to miss it.
But I'm starting to see that ME is not an excuse, nor something I should be guilty about needing.
I mentioned on Instagram when I was flying back from Sacramento (partaking in the olive harvest) last week that I miss the act of baking most when I'm away. But in general, the kitchen altogether. The rituals, the comfort, standing at the stove, creating. It's the thing that runs through my head as, "I can't wait to get home to xxxxxxx." For some that void might be to take a bath, a run around the neighborhood, or seeing family, but cooking is how I fill it.
When I got home, warm, hearty, home-cooked food was calling my name. I'd had some really delicious restaurant meals, and my fair share of airport salads and snacks. But as you probably can relate, I stood with eyes glossed over, looking inside the bare refrigerator. And the last thing I wanted to do was go grocery shopping.
So what I like to call pantry roulette began. I spotted an onion, lonely bag of green lentils, can of coconut milk, and a jar of organic Muir Glen Crushed Tomatoes (they grow arabellas, which are so bright and sweet!).
Initial thoughts went to something like a lentil risotto, using the coconut milk to simmer the lentils and onion, then add crushed tomatoes as the liquid cooked off to thicken. Flavor components? Smoked paprika, garlic, a little lime juice to brighten.
These tomato lentils out to be just the plant-powered comfort I was craving. Creamy, earthy, sweet, savory ….. and a good reminder that I should be using smoked paprika more often.
It's such a star in vegetarian cooking, bringing depth and umami that I would actually compare to a meatless bacon flavor.
And it's quite easy on the pocket books too, less than $6 for the entire meal that feeds 4 (or one, four times ;). That being said if you're entertaining it can be made a day ahead, and reheats well with a little extra liquid added.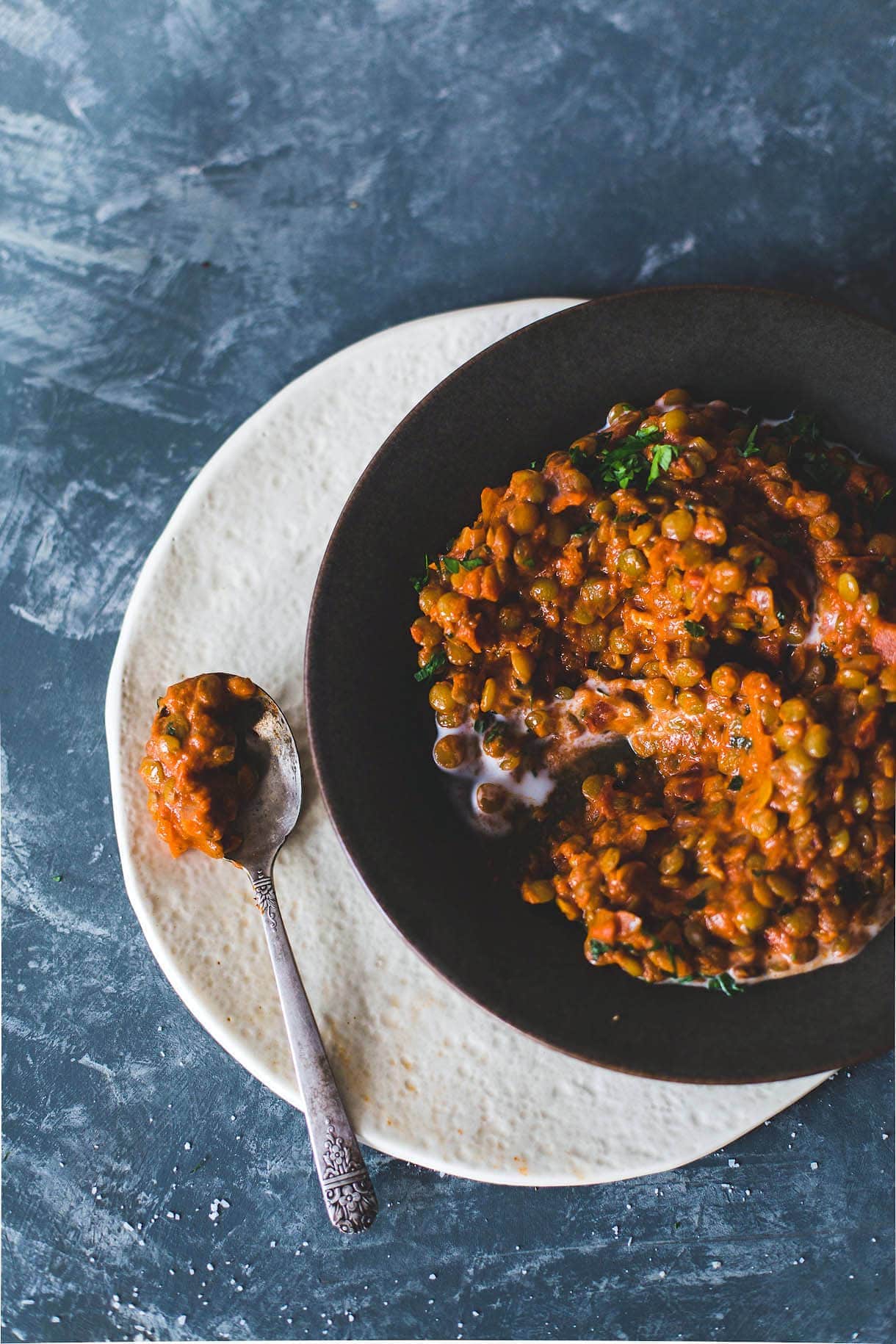 More Vegetarian Dinner Recipes:
In a deep saucepan, about 10 or 12 inches wide, bring olive oil to medium high heat. Stir in onion 1/4 teaspoon salt, and cook for 5 minutes until translucent. Add lentils and stir to coat and combine, cook for 2 minutes.

Add remaining salt, coconut milk, water, and garlic. Bring to a light simmer, then cover and cook for 45 minutes. Remove lid, add smoked paprika, 1/2 cup tomatoes, and bring to a boil.

Let simmer, stirring, with lid off, for 5 minutes, until it starts to thicken. Add remaining 1 cup tomatoes, and continuing simmer, cooking liquid off, another 15 minutes, or until lentils are soft and the dish has thickened to your liking. This level is your preference, cook longer if you'd like thicker.

Stir in lime juice and fresh parsley, serve warm.