These no-bake tart cherry bars are full of superfoods. The crust is made from dates and nuts, while the filling has peanut butter to give them a PB and J flavor. You'll freeze the bars, but they don't have an icy texture to them due to the chia seeds, which helps retain softness.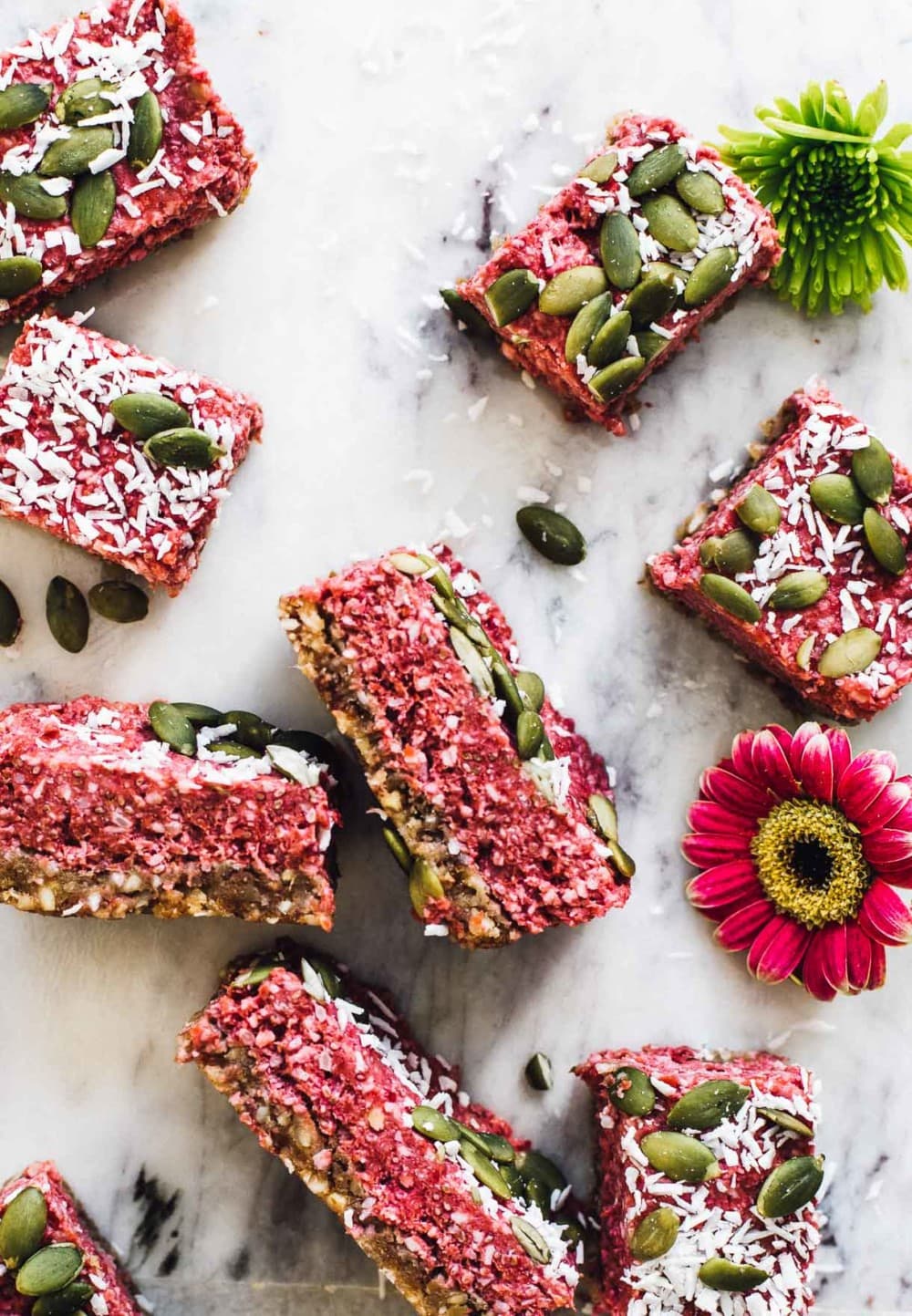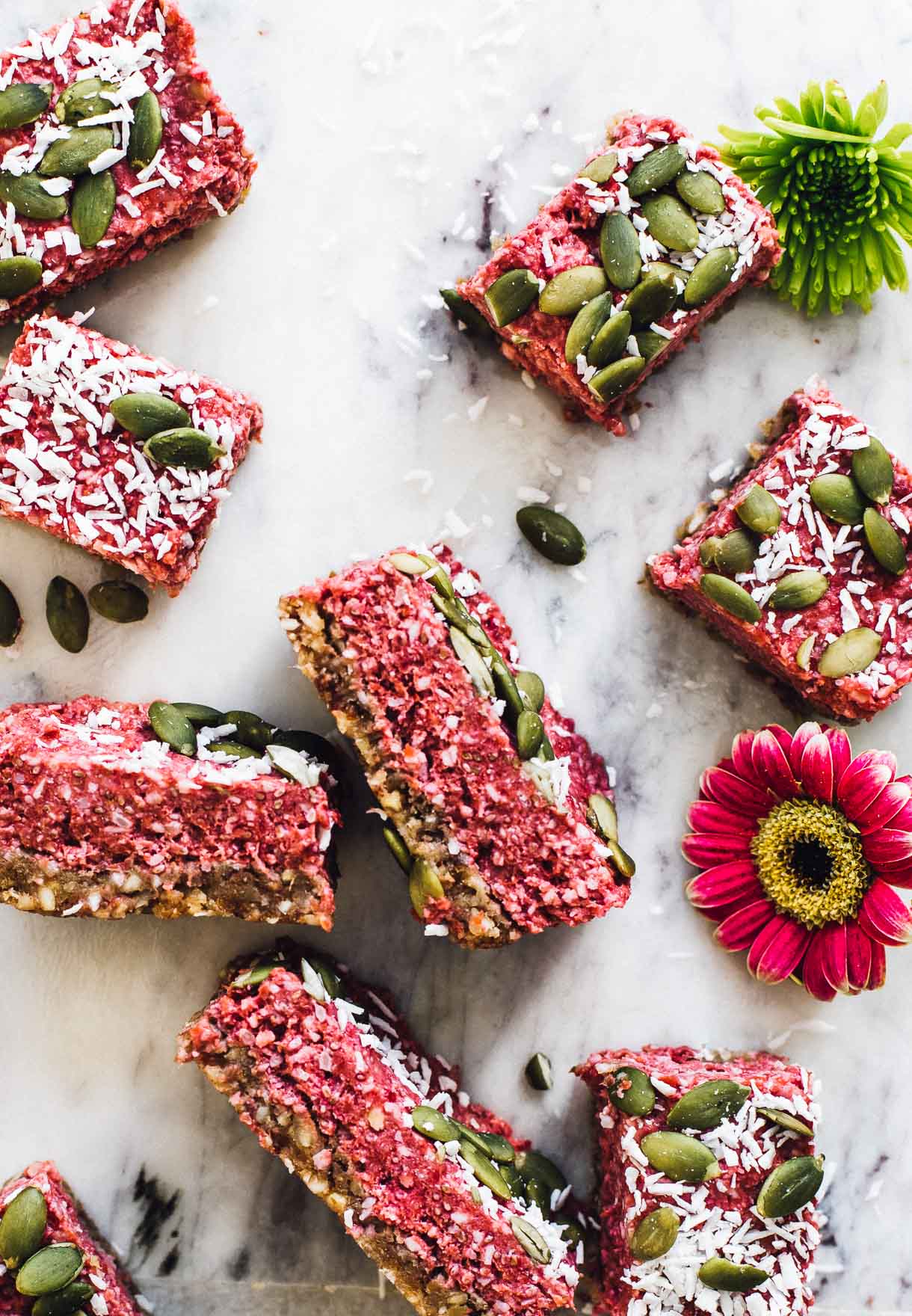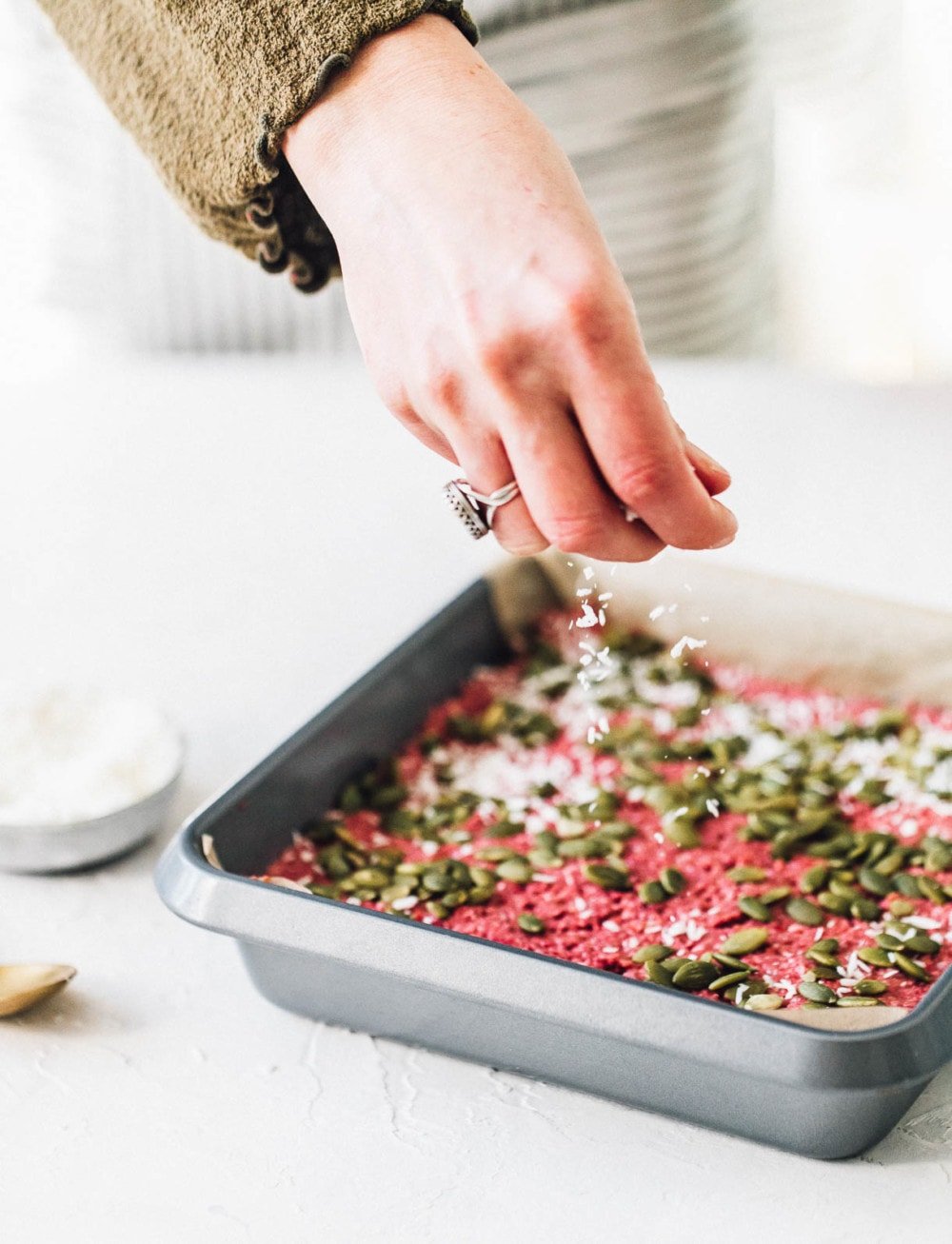 This recipe is sponsored by Montmorency Tart Cherries, a year long partner of Heartbeet Kitchen. For more of my Montmorency Tart Cherry recipes, click here.
Superfood may be a buzzword, but there's truth there! Pretty sure when I eat food loaded with powerful nutrients, I feel on top of my game, armed with energy and positive vibes. The good news is, you don't have to eat spoonfuls of flax, or raw kale salads to get in the good stuff.
Instead, let's make these Tart Cherry Vegan Superfood Bars together. And even better news – they're meant to be stashed in the freezer for a vibrant treat anytime you're looking for a superfood boost.
With a good dose of peanut butter, they hit all sorts of familiar PB & J notes.
Here's a look at the superfoods packed in these delicious, ruby-red squares:
Montmorency Tart Cherries
Unsweetened coconut
Cashews
Walnuts
Chia seeds
Dates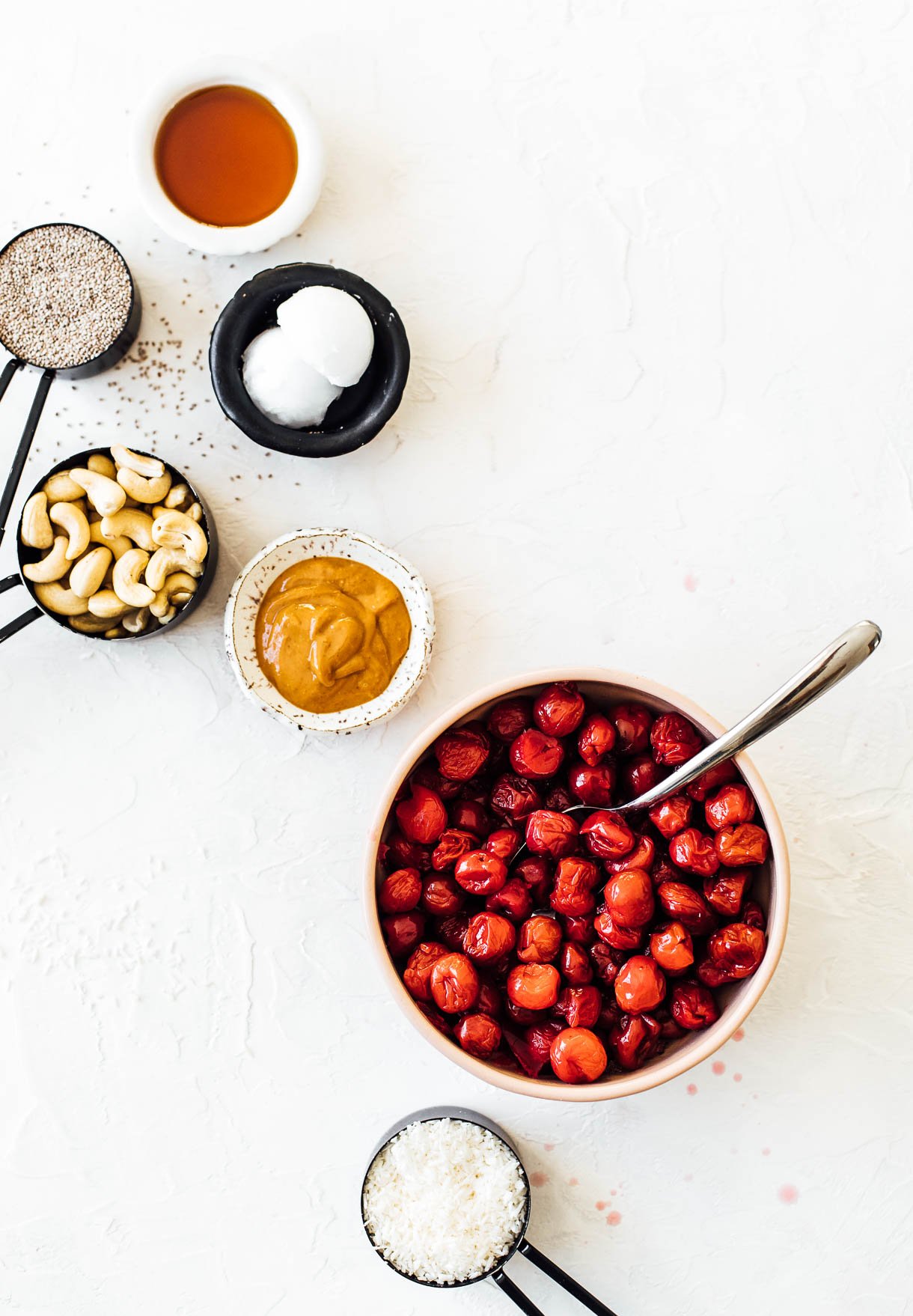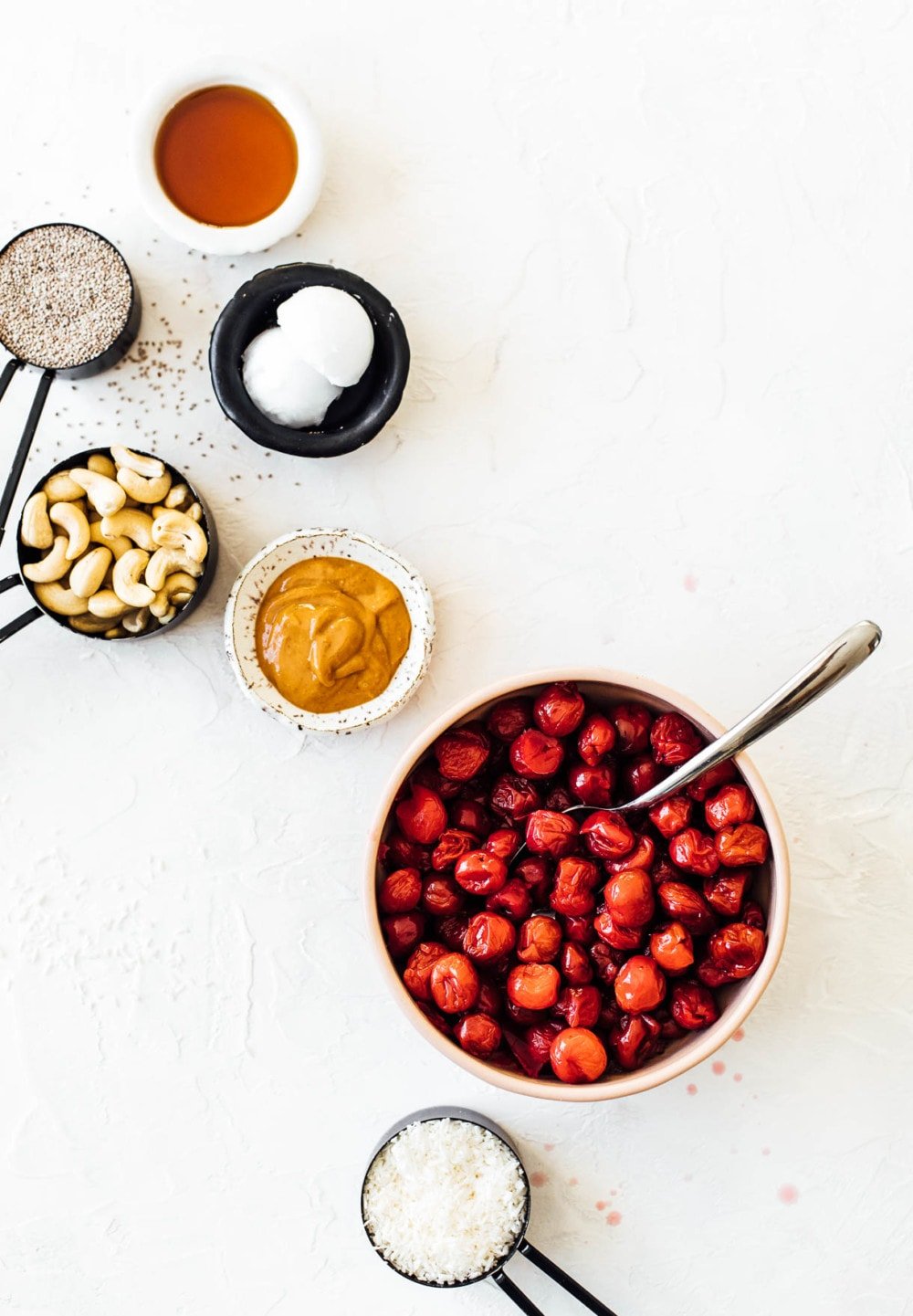 How to Make Montmorency Tart Cherry Bars:
The frozen tart cherries are whizzed in a food processor with several ingredients, but most notably the chia seeds and what gives them a PB&J flavor punch – peanut butter! In essence, the filling is something similar to a nice cream, that's spread atop of raw date crust.
I kept the sweetener in the tart cherry mixture to two tablespoons of maple syrup, which allows for the tart, brightness of the cherries to shine through, and their wonderful fruit flavor.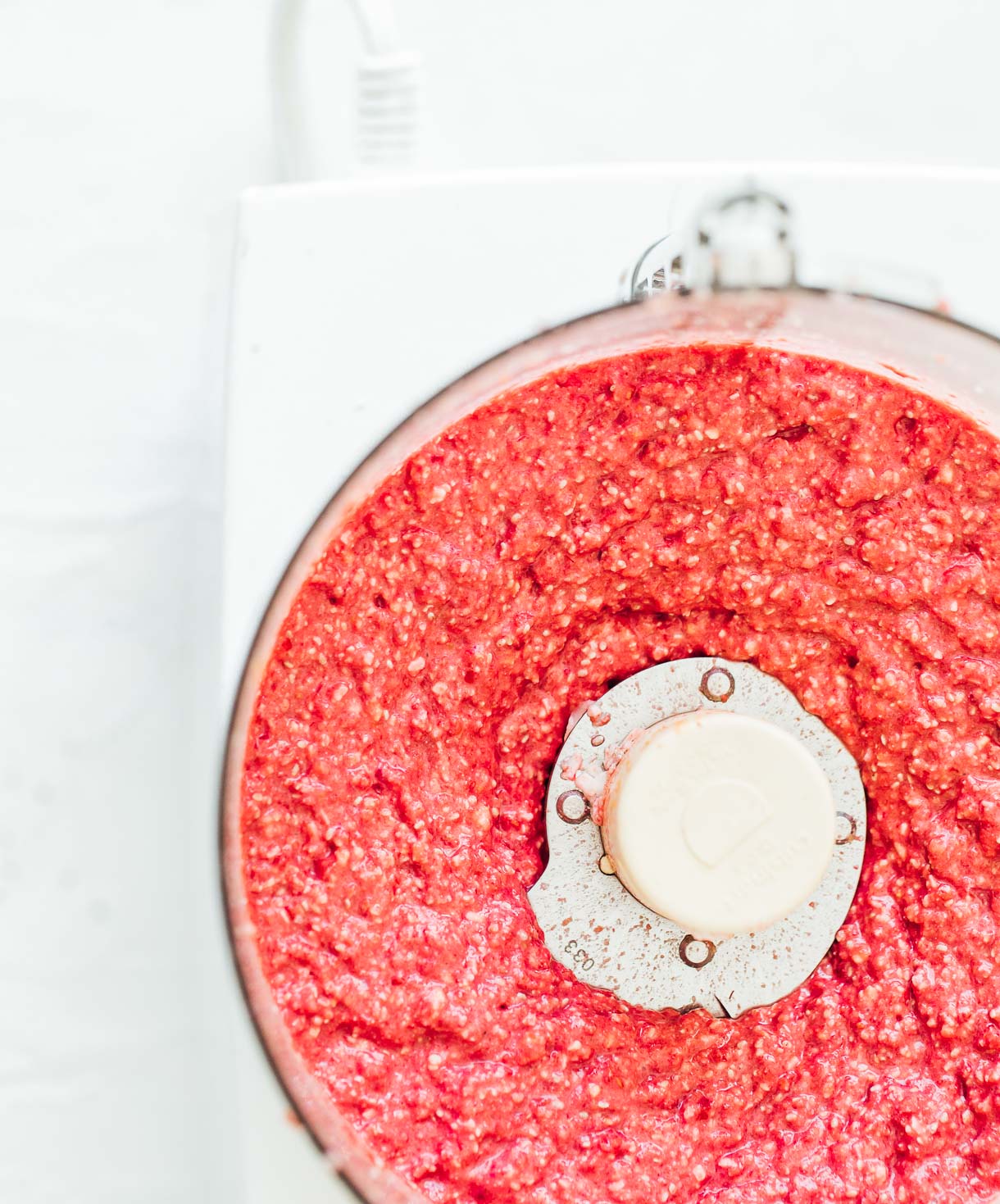 So, what are Montmorency tart cherries?
You may know them as sour cherries! Montmorency tart cherries are the most common variety grown in the U.S. They're available year-round in dried, juice, canned, and frozen, the latter of which I used in this recipe.
Traverse City, Michigan is considered the Cherry Capital of the World, with about 75% of the Montmorency tart cherry crop is grown in that state. Utah, Washington, New York, Wisconsin, Oregon and Pennsylvania are other prominent tart cherry-producing states.
What makes them a superfruit?
The distinctive sour-sweet taste and ruby red color of Montmorency tart cherries are due to the concentration of anthocyanins, a type of polyphenol in the flavonoid family. Studies have explored Montmorency tart cherries and heart health, exercise recovery, sleep, arthritis and gout.
What other things can you make with tart cherries besides pie?
There are so many possibilities! These ruby red orbs have broken out of the pie shell and with their versatility, are finding themselves within many recipes because of their unique flavor profile. Here are a few of my favorite recipes to make with sour cherries:
If you make this recipe, be sure to tag me on Instagram with hashtag #heartbeetkitchen, or @heartbeetkitchen!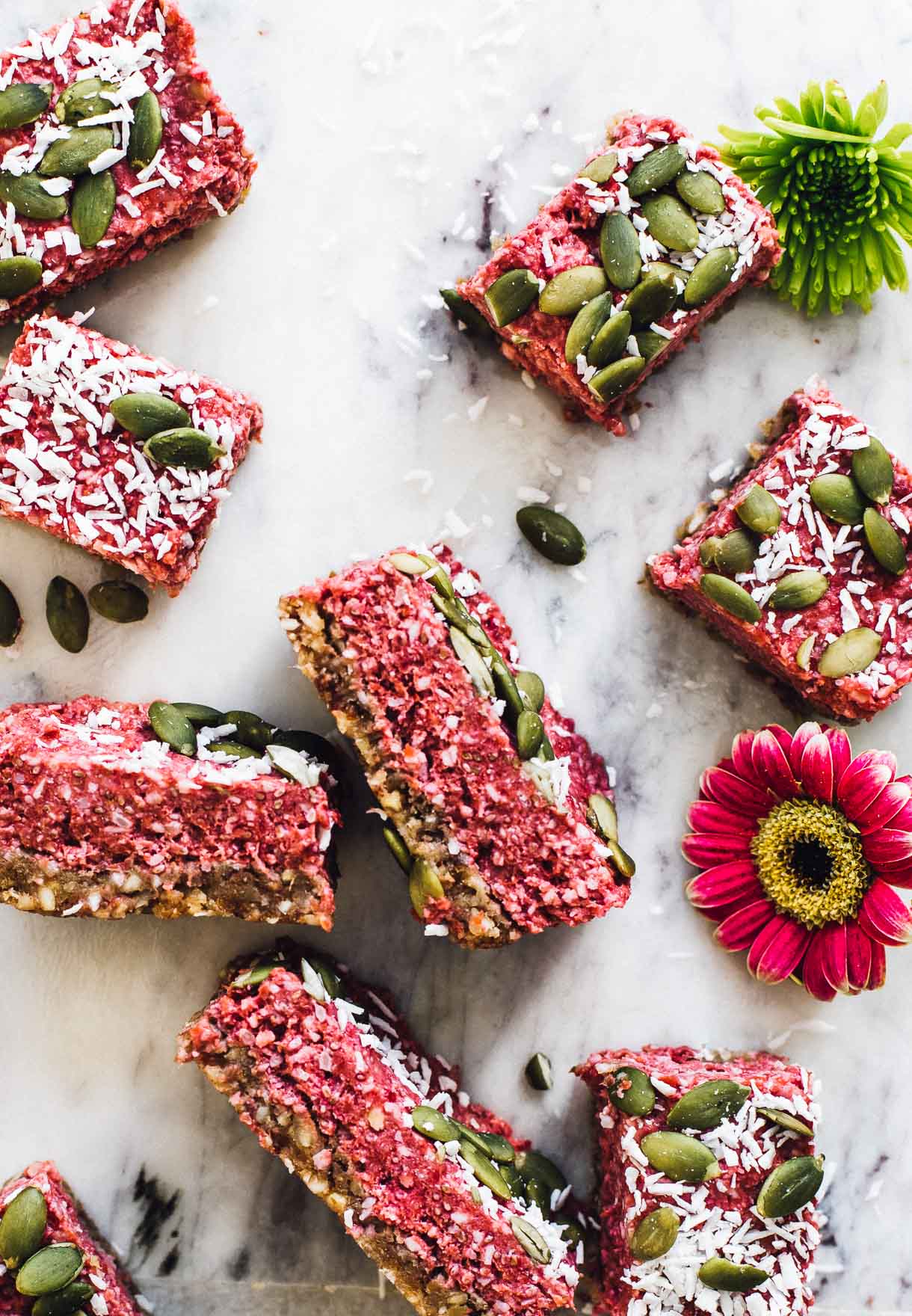 2

cups

frozen Montmorency Tart Cherries

1/3

cup

shredded unsweetened coconut

1/2

cup

raw cashews

1/3

cup

white chia seeds

2

tablespoons

maple syrup

1/4

teaspoon

sea salt

2

tablespoons

natural peanut butter

1

teaspoon

vanilla extract
Line an 8x8 inch pan with parchment paper.

Add date crust ingredients to a food processor, pulse a few times to get the mixture started. Continue processing until nuts and dates are broken down, and the mixture is sticky and starting to ball up.

Put date mixture into the pan and firmly + evenly press the ingredients down and together to make the crust. I use the bottom of a measuring cup to do this. Refrigerate while you make the filling.

Wash food processor container, then add frozen tart cherries, coconut, cashews, and chia seeds. Pulse about 10 times to start breaking down. Add remaining filling ingredients, and process until smooth besides for the little bits of chia you see.

Remove pan from refrigerator and spread tart cherry filling out over the crust. Top with any nuts or seeds, and coconut.

Freeze for at least two hours. Cut when you're ready to enjoy! These bars keep well in the freezer for a month, or in the refrigerator for up to 5 days.