Pure.
It's the word used to describe by many to describe Michigan, but having never been to this state, I wasn't sure what this broad term depicted. I knew a few things from history class – situated on Lake Michigan, miles upon miles of shoreline with trees and wildlife, the brash city of Detroit, and cold winters similar to those I stick out here in Minnesota.
But little did I know how vibrant and diverse the agricultural landscape was, despite its northern climate. The perfect amount of sun, lake wind, rolling hills, and position on the 45th parallel make it just right for growing cherries – the all American fruit, and wine.
Which was how my visit to Traverse City, Michigan the Cherry Capital of the World, came about. Producing more than 75 percent of the world's tart cherries, and a hefty amount of dark sweets, the National Cherry Festival takes place here each July to celebrate the bounty.
I spent four days of summer in Traverse City, making myself at home in this quaint community – full of life and energy, yet quiet and humble. With a food scene that could go to toe to toe with Minneapolis (I ate one of the top 5 meals of my life at Alliance, which I'll share pictures from below), charismatic folk with light Scandinavian accents, and old houses with character..….. small town America. The picturesque main street stretches along the shore, so each morning I'd take a walk and stare out into the Great Lake, which seemed never ending like an ocean. And at night, the sunsets were magical.
Here are the things I loved most, split up into different categories to help you when planning your own trip. I'm already carving out a date to go back and explore the things I didn't get to experience, like Sleeping Bear Dunes, the light houses, golf, farms, hiking trails, and more wineries.
The National Cherry Festival:
To completely immerse yourself in all things cherries, a visit to the National Cherry Festival is a must. I know sometimes events like this can seem overbearing and kitchy, but there is a reason this one is always named one of the top festivals in the country.
Our trip to the cherry farm reminded me of the apple orchards here in Minnesota. Rows and rows of plump trees, with thousands of little red buttons dancing with the breeze. This particular farm is part of the University of Michigan horticultural department, where much of the research is done and a lot of harvesting. Modern day cherry production began in Traverse City, which sits upon Old Mission Peninsula during the 1800's. The French settlers found that the trees flourished because Lake Michigan tempers Arctic winds in winter and cools the orchards in summer. The Montmorency is the primary variety, and not only are they delicious, but they have tremendous anti-inflammatory properties and rich in melatonin, making them a natural sleep aid.
And I quickly learned that tart cherries are the ones that win pie contests, juicy and tart off the vine, baked until sweet and jammy. As you can see, Grand Traverse Pie Company does it best (and they ship anywhere in the US). Plus they make gluten-free pies available, which made my heart sing.
Wineries:
Black Star Farm and Winery: Simply put, this place is my dream experience. Nestled in the hills of the Old Mission Peninsula is Black Star Farm, complete with lots of animals, vegetables, and a plentiful vineyard producing some of the best wine in the region. You can eat at their restaurant, where they use the yield of their farm to cook with seasons, and feature wood fired pizza, including a gluten-free crust. We were able to taste with Lee, their winemaker, who is one brilliant man. Early on, he discovered that classic cool climate grape varieties could be successfully grown here and would produce world class wines.
Shady Lane Cellars: Seriously charming…. this small production winery is out in the country, adorned with the original barn, and beautiful outdoor sitting area with bar and fireplace. And they transformed the 100-year-old fieldstone chicken coop into an elegant tasting room trimmed in copper, Douglas Fir, Italian tile, and granite. Soooo lovely. My favorite wines? The Gruner Veltliner and dry, sparkling Riesling.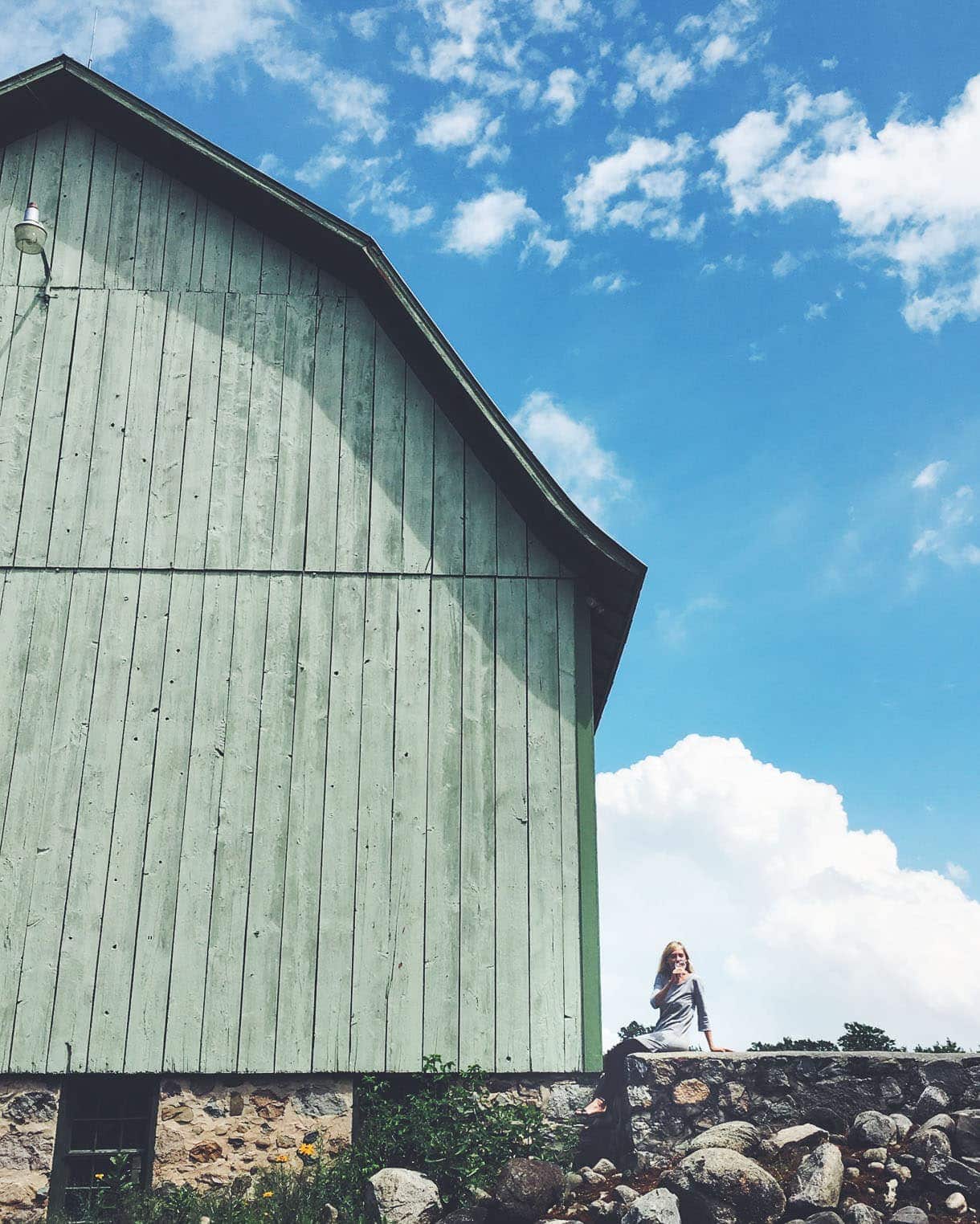 Where to Eat and Drink:
BLK Market: Portland, you better watch out. This coffee shop has to be one of my favorites I've ever stumbled upon. The modern vintage feel is so classy, and the drinks are as pure as it gets. You can sit halfway in, or halfway out, as the front of it has a huge open window. Love. The shop is located in the Warehouse Building, which is also home to Alliance and several other local businesses.
Alliance: This place. You have to go. I say with confidence that the meal we had was one of the top five of my life. Younger than myself,
Chef James Bloomfield
is brilliant. With a menu that changes EVERY single day, his creativity astounds me. Vegetables are the focus, driven by the flourishing farm scene in Michigan. But he puts worldly twists on each dish, that surprise your every bite without being fussy. Everything is meant to be shared, which is my perfect meal experience. The cocktails I top notch as well, and the space is gorgeous. We were fortunate to eat with owner
Pete Peterson, one of the kindest people I met on the trip, and former James Beard-nominated chef himself.
Boathouse: I'm always a little hesitant about fine dining establishments that focus on typical fare of steak and seafood because I feel they sometimes lack in creativity, but I was won over by Boathouse. Nestled on the shores of Bowers Harbor, the view is incredible, making for the best sunset on the peninsula, and the dining cottage is cozy and comfortable. I was impressed with the locally sourced foods, including fruits and vegetables grown on their own Boathouse Farm, and meats, cheeses, and accompaniments coming from farmers, foragers, and artisans in the area. This lobster was just one example of what we had that night that blew us all away, but I liked the Vegetarian Socca with Wild Rice, Butternut Squash, and Kale Pilaf just as much.
The Parlor: The atmosphere feels like a prohibition era bar, a sense of nostalgia with great craft cocktails. You can sit on couches in the main lounge, where it feels warm and cozy, and listen to live music just about any night of the week.
The Little Feet Food Truck Park: Talk about a hip and fun gathering. In the middle of the downtown area sits the "hub" of the vibrant food truck scene with a fleet of farm to table food trucks. Totally family-friendly, yet outdoor bars with beer, wine, and craft cocktails. Out of the nine rotating trucks, I happily grabbed tacos in fresh tortillas from Happy Taco, and a quinoa avocado salad from the Daily Blend.
Transportation and Lodging:
I was happily surprised to find out I could fly direct from Minneapolis to Traverse City. In fact, Newark, LaGuardia, Atlanta, Denver, Detroit, and Chicago all have direct flights to TVC airport, making the commute a breeze. From the minute I got off the plane, I got a sense of how hospitable the entire community was. The airport is small so things move fast, security lines are short, and is kept very clean. Definitely not the norm, but very much welcomed. It's also just minutes from downtown, so getting to and from is a breeze compared to doing so in a big city, as well as less expensive.
We stayed at the brand new Indigo Hotel, and I couldn't have asked for better accomodations. The location is perfect, right across from the water on the front side, and behind is the hip warehouse building with many of the places I listed above. They have the only rootop bar (which overlooks the water) in the whole city, making for the perfect nightcap. The rooms are super modern and cozy, a huge shower, and really made me feel at home.
Without a doubt, I'll be back to Michigan. I have a clear picture in my mind of why it's described as pure, from the beauty of the water to the quaint communities, to the eclectic balance of city and farmland. The warmth of the sun trumps the cold coming off the water. A little sunburn, fresh tomatoes and corn, a game of lawn bowling, smiles all along the cherry festival parade route…. there's something unique here, something you don't want to miss.
THANK YOU to the National Cherry Festival and Cherry Capital Airport for hosting our group: Becky, Erin, Rachel, myself, and Lauren. It meant so much to spend four beautiful days days with these women, who I'm lucky enough to call friends.