Bigger appliances aren't always better for kitchen design! Installing compact appliances saves space and creates a seamless, modern look. Especially if you're a 2 person household or small family, a smaller refrigerator and dishwasher can be a great solution.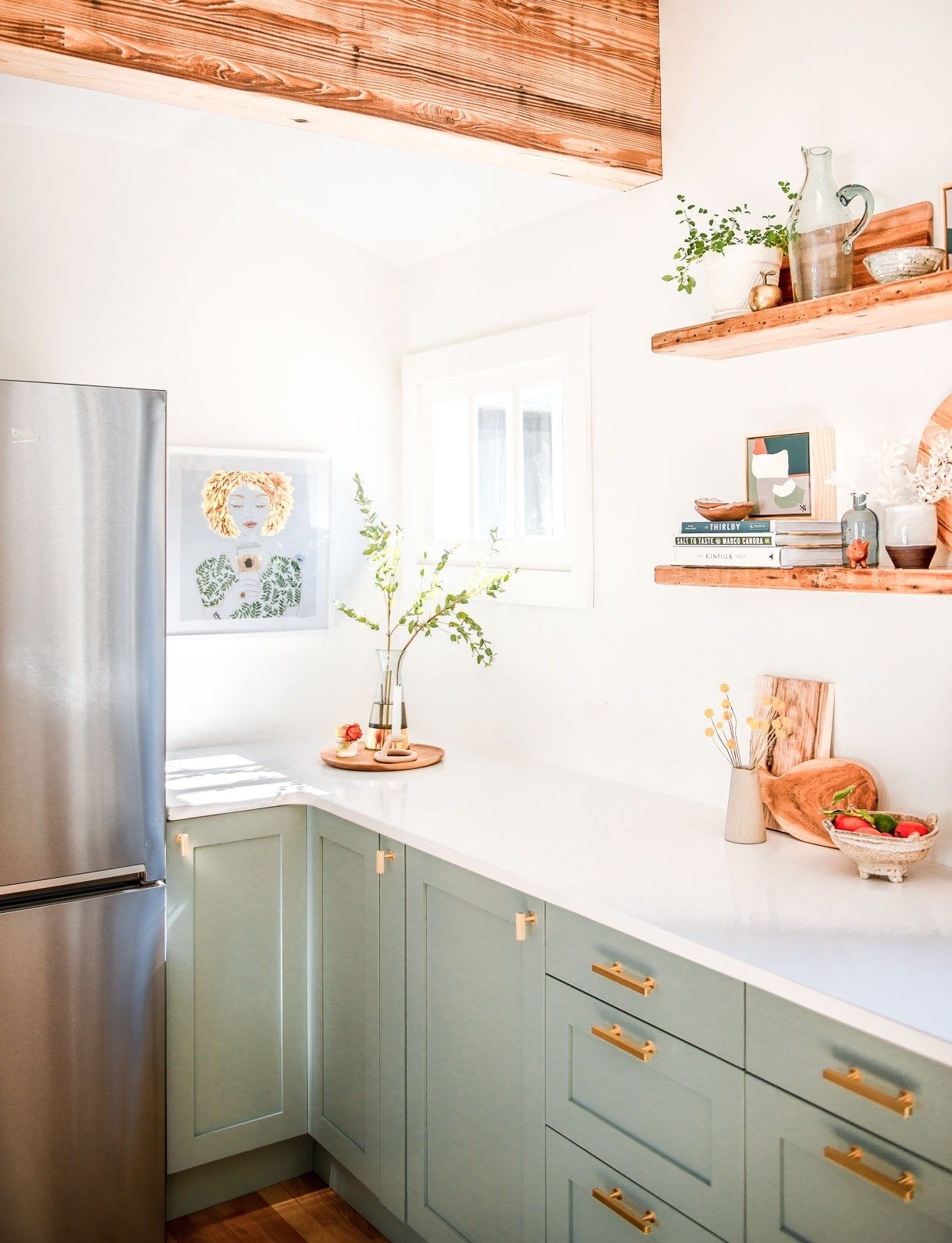 I've had some great inquiries from several of you after posting our u-shaped kitchen renovation, and one that I'm asked most frequently is:
Why would you ever choose such a small dishwasher and refrigerator, when you develop recipes and photograph food for a career?!
A very valid question. Our kitchen is midsize, at 160 square feet. Whereas "small kitchens" are defined as being between 70-100 square feet. So we had room.
But there's more to it than just having the space.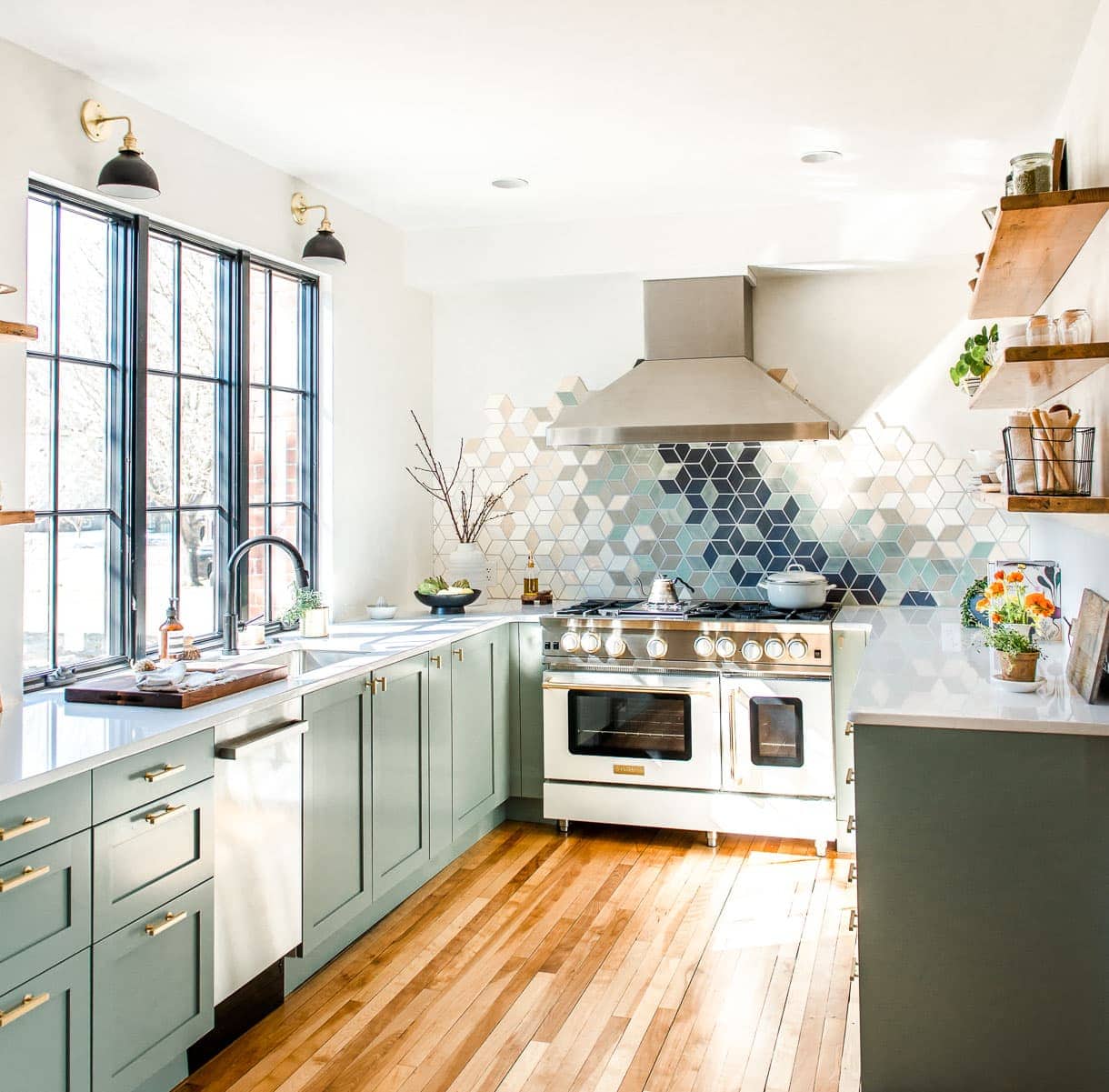 disclosure: We received the refrigerator and dishwasher from Beko and our Twin Cities Warners' Stellian for our kitchen renovation, to share our thoughts and opinions. We installed their refrigerator and dishwasher in our previous kitchen renovation, and we loved them so much, it was a given that we'd put them in this kitchen as well.
First, Let's Look at The Compact Appliances We Installed:
Small dishwashers are defined as smaller than 24 inches wide. Our Beko front loading dishwasher is a slim 18 inches! We built it into the cabinets, right next to the sink for easy cleanup.
And even though it's small, it has a lot of versatility, with three different height adjustment options. Raise the height of the upper basket to wash large plates below or lower it to accommodate tall glasses. It also meets Consortium for Energy Efficiency (CEE) Standards.
Standard refrigerators range from 30-36 inches wide. Our Beko Counter Depth Refrigerator is just 24 inches wide, and has a little over 10 cubic feet inside.
It cools super fast, with it's NeoFrost Dual Cooling Technology and has a reversible door, so if you change the design of your kitchen at some point and need to reverse the way it opens, you can!
This tall refrigerator is also rated as a ENERGY STAR® Most Efficient product.
5 Reasons To Buy A Compact Dishwasher & Refrigerator:
To gain cabinet space.


With no upper cabinets, utilizing as much space as possible for lower cabinets was a top priority. By installing the 18 inch dishwasher, we were able to gain an additional set of cabinets on the left side of the dishwasher, and a wonderful custom vertical storage cabinet to the right. Having that extra storage is invaluable.


There's just two of us in this house.
Although I'm a recipe developer and food photographer, there's still only.two.of.us who live here, and we can only eat so much. We don't buy in bulk, shopping more often solely for what I need the next few days (pre-quarantine, that is).

Having a small refrigerator allows me to see everything, without items getting buried in the back and eeking their way into moldy forgotten soldiers.

When there's extra food from recipe testing, it gets shared with neighbors, so we don't have an overflowing refrigerator.

A two person household also means fewer dishes. And even on days that I'm recipe testing, I can fit most everything into one load. And, I used to have this issue where I'd wait to entirely fill up our dishwasher before running it, years ago when we had a larger one. I'd feel guilty for wasting water if it was half full. Now, it takes less time to fill up, and I run a cycle! No more dishes that sit for multiple days in the dishwasher, creating unwelcome smells.



We wanted a clean, built in look.


While planning this modern kitchen design, we did not want appliances that had a lot of the functionality showing outward. With the Beko models, the control panels are hidden, and the look is seamless. They flow within the space, rather than breaking it up.

We also loved the mix of metals, using brass for hardware, and the stainless steel refrigerator and dishwasher.



Energy efficiency is important to us.


Small space appliances that are energy efficient certified use less energy to run, compared to the same appliances at bigger sizes.



Proportions


With a u-shaped kitchen, the space can feel closed in if you're not careful when designing. For this reason, small-space appliances can make the kitchen appear more spacious than using a full-sized appliance. They make the kitchen feel proportional and leave more room for storage and counter-tops or dining surfaces.
Want to see more of our kitchen renovations and designs?