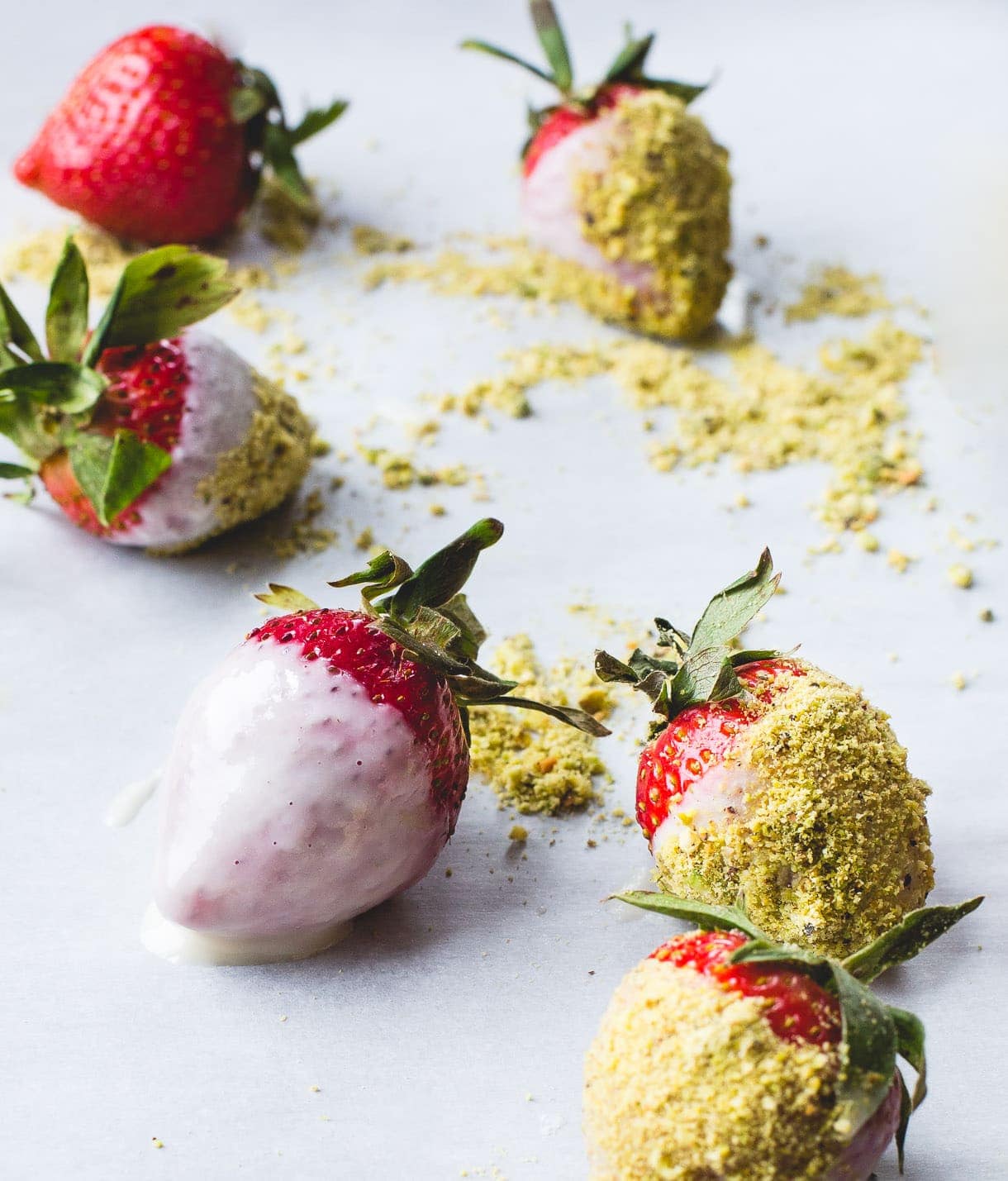 Somewhere in between the person that loves fruit and loves chocolate, but doesn't love them together, is the person who loves Coconut Butter Dipped Strawberries. That person is me, who for years has wanted to love chocolate dipped strawberries just like everyone else.
But time and again, the bitter/sweet combination made me squirm, similar to drinking orange juice after brushing your teeth. And white chocolate dipped strawberries…. well, all I can envision is that chalky "white candy coating" that was used to dip everything in circa 1995.
Coconut butter is not only a delicious ingredient, but has properties similar to chocolate in that it turns to liquid if warm enough, and solidifies as it cools.
It's made from pureeing just one ingredient, dried coconut (I buy it, but you can make your own if you'd like), just like peanuts are pureed to make peanut butter. I fell in love with this creamy spread last year when I discovered that Coconut Butter Stuffed Dates taste like chewy, coconut caramels. Little nuggets with good-for-you benefits.
My inspiration for these non-chocolate dipped strawberries came a few weeks ago, actually by accident. I love to drizzle coconut butter on my oatmeal, which I had just topped with sliced strawberries. The coconut butter hit the cold strawberries and coated them solid, like magic shell does. Bingo. Instead of finishing my breakfast, I took out the carton of strawberries and went on a dipping frenzy to see if it would work.
It worked, amazingly well. And sooooo easy to make, just 3 ingredients – even less than The Friday Five ingredient theme! The coconut butter forms the perfect coat, and doesn't get too hard, giving way to soft, juicy fruit. Not too sweet, and not a hint of bitterness – a lot like strawberries and cream.
Unlike chocolate, there's no tempering, just setting the coconut butter jar in some warm water to melt if it's solid. (In the summer, it will most likely be liquid already if you don't have air conditioning, like me.) At first I wasn't even going to add the pistachio dust (sounds fancy, but is just ground pistachios) because the red berries were gorgeous with that glossy white coat. But as they dry, the coconut butter does take on an uneven texture that doesn't look as pretty. If you're just eating them as a snack, not a big deal.
Not only do the pistachios hide those imperfections, but their bright green color pops with the red and white. And I particularly love the texture it adds. If you can't tolerate nuts, ground pepita seeds would give you a similar green powder.
With strawberry season arriving as I type, I can't wait to have these in my refrigerator all summer long.

More Strawberry Recipes:
Use a spice grinder or food processor to grind the pistachios until they are a fine powder (but no so much that they begin to turn into nut butter).

Dip each strawberry into the coconut butter, holding on to the green stem as you dip. Let excess drip back into jar, scraping the back of the strawberry against the inside lip of the jar to help. Put dipped strawberry onto parchment lined paper and dip 3 more. Then lightly roll/tap them in the pistachio dust.

Repeat.

Eat as is, then refrigerate leftovers. The strawberries need to stay cool so that coconut butter doesn't melt.
If your coconut butter is at a solid state, set the jar (tightly sealed) in a bath of steaming hot water (not completely covering). Stir very well to get the oil to mix in when you open it. This will make it super creamy.