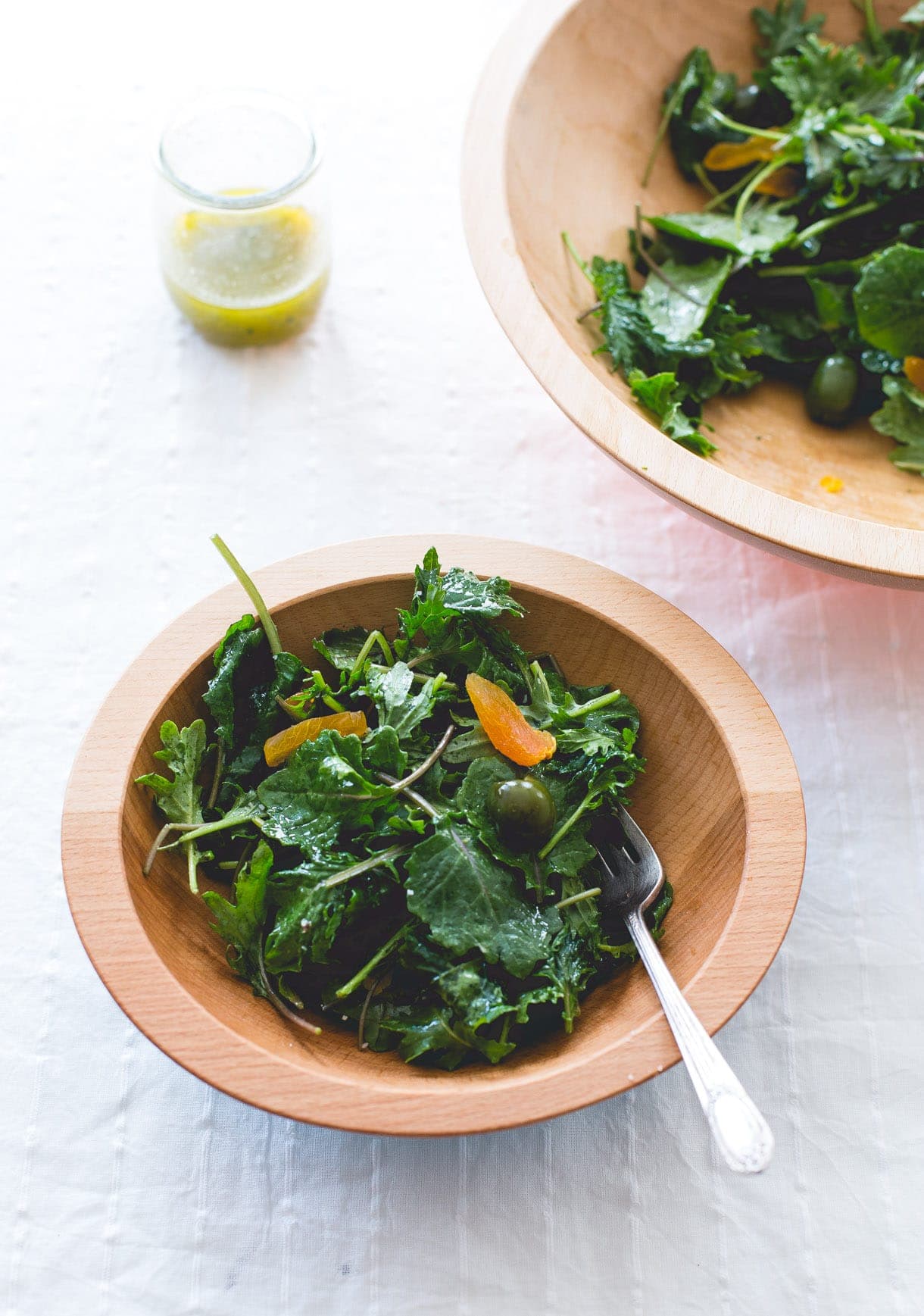 As much as I love sharing a meal with others, I equally enjoy the solo dining experience. And since I typically travel alone, it happens quite often. You'll usually find me seated at the bar, not because I'm a big drinker (one glass of wine is my max when I'm in an unfamiliar area), but because its the best way to snag a spot at a hot restaurant without reservations.
When there isn't a conversation to hold, I get to watch the bartender make cocktails and pick up a few secrets, maybe listen to a little waitress gossip as they pass and back forth, and am able to pay a little closer attention to the food I'm eating. Recently I've had some really amazing salads, not the entree type, but the smaller ones at the top of the menu that have seasonal ties, or the house speciality (that caesar salad at the steakhouse you crumble for). Which has led me down this path of figuring out the composition of an unforgettable salad that leaves you saying, "But that salad was so simple, yet it was so, so good. Like, I want to eat that every day good. Why can't I make an amazing salad like that at home?"
While visiting Brooklyn, I walked a few blocks in the rain and took refuge at Le Barricou, a french inspired restaurant. It was late, 9pm (which is early by their standards), and all I wanted was hot and crispy french fries, but I figured I should get some greens in too. I typically don't order a kale salad, but I saw warm bacon vinaigrette and poached egg in the same description and I was won over.
It looked rather unassuming, wispy pieces of baby kale, softened and glistening from the warm bacon dressing, the egg plopped on top, and a few seared mushroom pieces around peaking out from the mound. From behind the bar, a voice instructed "Make SURE you poke the egg and let the yolk coat the greens. It's part of the magic."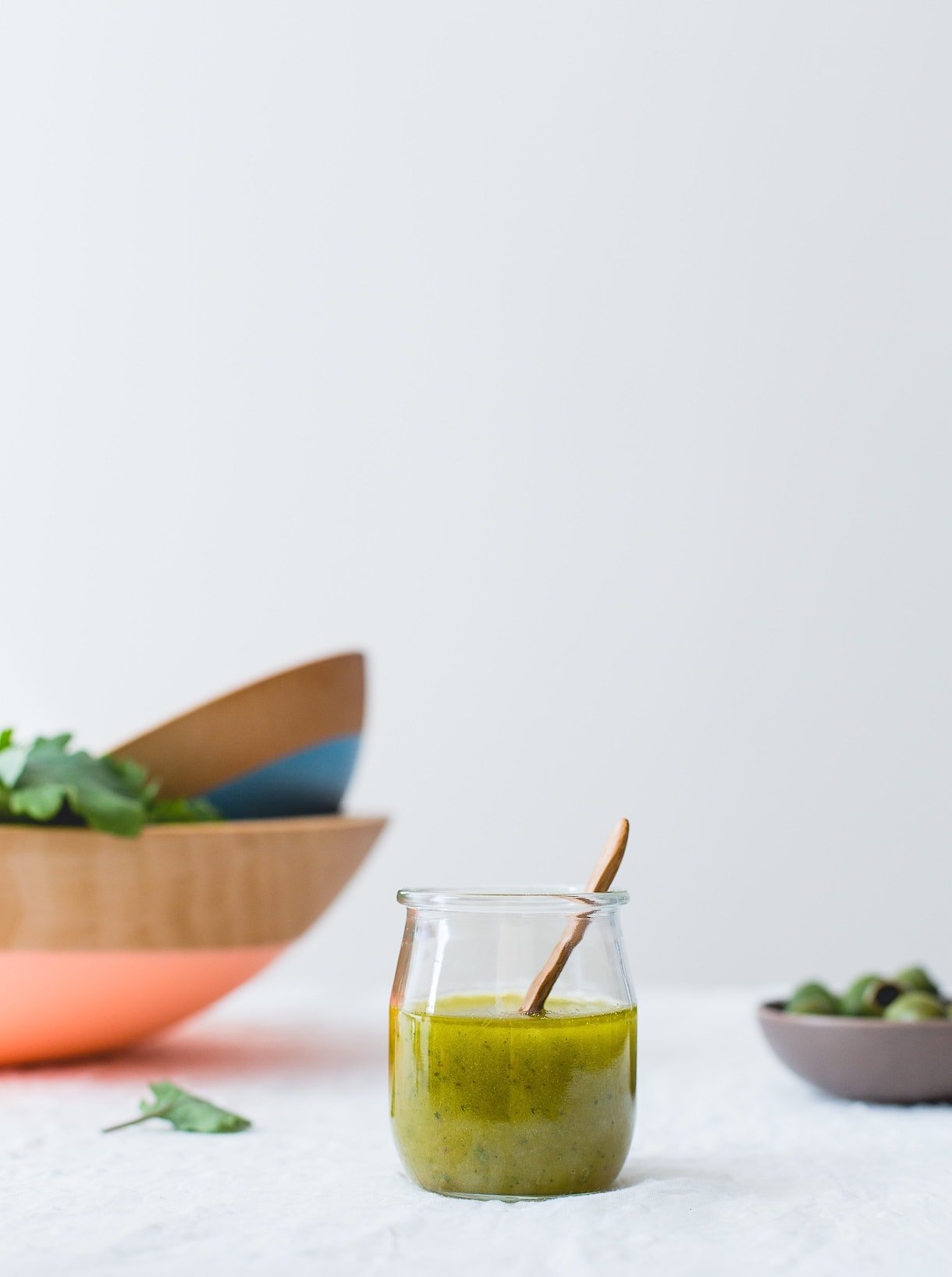 He was right, the chef was right, the combination was right. The yolk blended with the bacon flavors just perfectly, like carbonara, and the kale held up to it, brightening the richness. Little bits of mushroom for umami….. leading to the fork scraping the bowl clean.
At that point it dawned on me — an amazing salad separates itself from an average salad when every ingredient is treated as a main ingredient. Simplicity. SALT (as in a salty ingredient, like olives or bacon, and on the greens themselves). AND what you dress it with is key. Not showy in looks, not built with everything on a buffet line. Like life, it gets messy when too many things try to compete.
I've been on the quest to make my version of a killer salad at home, simple and easy, but classy enough for a dinner party (and they'll all be asking for the recipe). This Unassuming Baby Kale Salad has my heart, with just a few high quality components. Dried apricots, Castelvetrano olives, and a tangy shallot vinaigrette blitzed with fresh oregano. Like the egg was to the salad I had at the restaurant, this dressing is non-negotiable. And because you're using baby kale, there's no need to massage the liquid into the salad.
I think you'll love the recipe I'm sharing, but I'd love for you to experiment with different ways. Here are the key things I've learned so you can make an amazing salad at home too.
Think of combining things that are opposites: sweet/savory, tart/bitter, earthy/herby, light/rich.
Your dressing should make the greens sing.
Move over spinach – try out different varieties of greens and lettuce!
Don't forget the salt.
Dress it in a big bowl, not individually. This way all the leaves get a light coating, not just a heavy douse on a few.
I'd love to hear if you have a house salad, or if you have an "end all, be all" dressing that I need to try, so let me know in the comments below. And if you try mine, tag it on Instagram with #heartbeetkitchen!
The beautiful wooden salad bowls and spoons you see in this post are from Willful Goods, a local Minneapolis maker. Araya uses bare wood (like beech and maple) and organic textures, dipping them in bold colors that are inspired by a number of different things, including season and her surrounding. I love that they are both modern looking and functional! They'd be a great addition to any home, or a lovely gift (I especially love the under $50 section for this). You can check out all the things she makes, including serving boards, bowls and utensils, the cutest little planters, and some amazing pillows.
Unforgettable Baby Kale Salad with Shallot Vinaigrette
Recipe Type
:
paleo, AIP, vegan
Author:
Prep time:
Cook time:
Total time:
I also love to add fresh feta or parmesan to this salad!
5 ounces baby kale
10 dried apricots, each sliced vertically in about 4 pieces
15 castelvetrano olives, some left whole, some sliced
1 tablespoon minced shallot
Shallot Vinaigrette:
1 1/2 tablespoons apple cider vinegar
1 tablespoon fresh oregano leaves
1 1/2 tablespoons minced shallot
2 teaspoons maple syrup
1/4 teaspoon kosher salt
2 apricots, chopped
1/3 cup really good olive oil
Add kale, all but 2 apricots (will be used for dressing), olives, and 1/4 teaspoon kosher salt to a large bowl.
In a blender, add shallot and cover with apple cider vinegar. Let sit for 5 minutes. Add remaining ingredients including the 2 cut apricots you left out. up to olive oil, and with the motor running, slowly add in the olive oil. You'll be drizzling it in, not pouring. Taste, and adjust salt as needed.
Start with 1/4 cup of the dressing, and toss to coat. If you need a little more, add. You want the leaves to be coated, but not drenched.