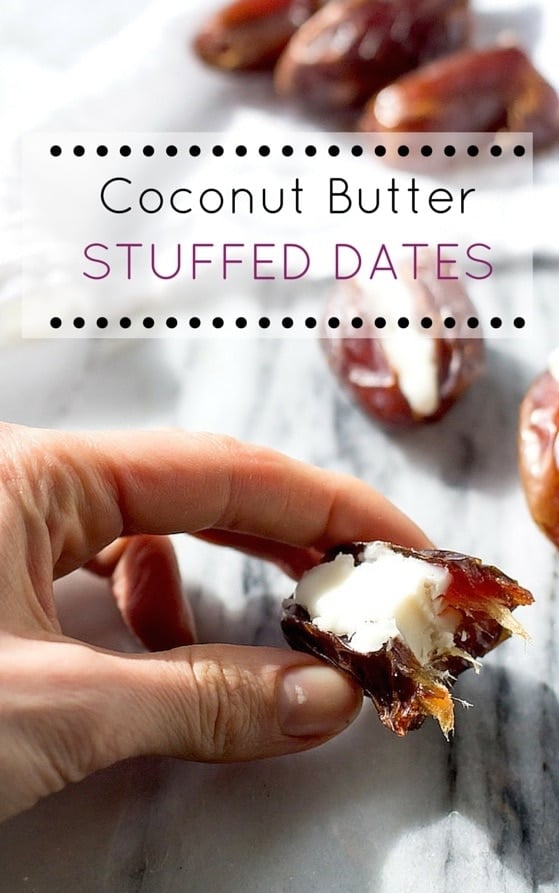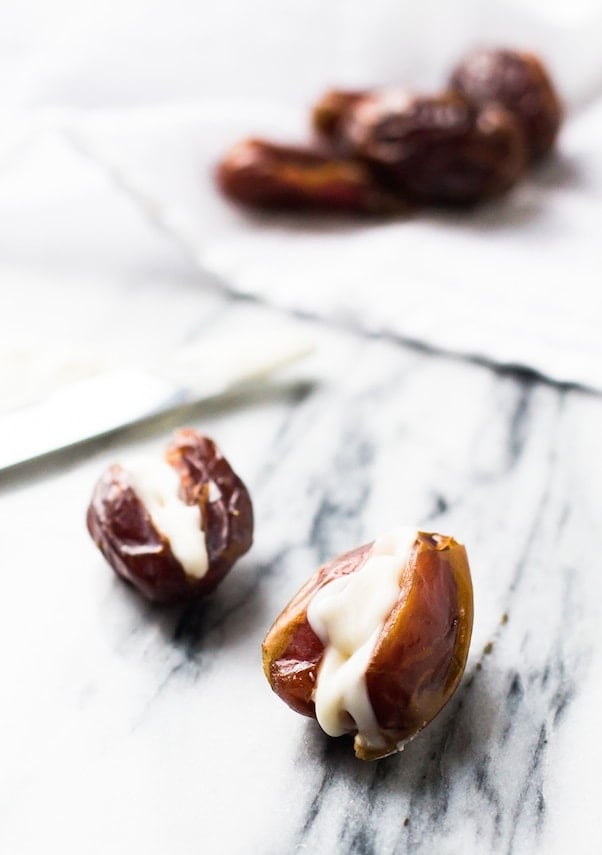 Whether you're looking for an AIP treat or something easy to satisfy your sweet tooth, Coconut Butter Stuffed Dates are THE answer. They are truly "real food" decadence. Imagine a chewy coconut caramel that melts in your mouth, yet its made from just two ingredients that are literally the salt of the earth.
These little gems have been my saving grace, along with avocados, squash, garlic and sweet potatoes during my Autoimmune Protocol healing journey.
Have you tried coconut butter? It's kind of like nut butter, and you can buy it at Whole Foods/natural grocery stores or make your own. It's made from 1 thing: dried coconut flesh that's pureed until silky smooth, so you're getting the meat and healthy fats (whereas coconut oil is just the fat). Coconut is an extremely power healing ingredient, boosting the immune system and acting as an antibiotic, antiviral, antibacterial, antifungal and antimicrobial.
As I was enjoying dates stuffed with coconut butter for dessert, it reminded me that it's been 21 days since I had my last bite of refined sugar. (I can have honey & maple syrup, which are unrefined, but in small amounts because any type of sugar will feed bacteria. It also needs to be metabolized by my liver, which isn't working correctly right now.) It was a piece of Dove dark chocolate, and I nearly cried throwing the wrapper away, but I swore instead.
If you would have told me that I was going to be able to survive without chocolate (and coffee), I would have said there's no way. Plus, baking and sharing my best GF Chocolate Chip Cookies with others is one of my nurturing traits.
But I'm okay you guys, really. And this isn't a "sugar is evil" talk like those you're seeing in the media – our bodies need it to live. I'm also not saying that I will never eat refined sugar again. (Paleo Mom does a great job explaining that all sugars/sweeteners are basically half fructose and half glucose, so they have nearly identical effects on your body chemistry.)
It's given me such incredible insight to the effect sugar has on our brain – our thoughts, emotions and sense of taste.
For the first few days of AIP, my brain was totally preoccupied fighting the horrible sickness of the bad bacteria dying off, no longer being fed by sugar and starches. That was fascinating in itself. I couldn't even think about a sugar craving.
After I recovered, my brain knew something was off. I walked through the skyway and all I could think about were the smells of what I wanted — caramel popcorn, fresh baked cookies, donuts, you name it. Things I eat so seldom, yet my brain was telling me I needed them more than anything. But maybe if I just snuck a bit of chocolate everything would be better…. And in that moment I realized the incredible psychological power that sugar has. I also realized that our brains love the sugar in things that are whole foods too, like gluten-free grains or other sources of carbohydrates.
The crazy thing was that only lasted about two days, thank god. Another lesson there – our body listens and reacts faster than I imagined. The cravings decreased, and I fell in love with my coconut butter stuffed dates, and this pumpkin version. And something else happened – I started to taste the natural sweetness in all foods, not just the ones that we traditionally think of like sweet potatoes, parsnips and oats.
I'll never forget standing in the kitchen, hungry as all get out and taking a bite of plain celery. It tasted sweet and grassy. The same thing happened when I ate a piece of butter lettuce. Or the richness of homemade chicken bone broth. Those are characteristics I had totally missed, mostly because our palates have become muted.
Talk about another blessing in disguise from this journey to heal my gut. That, along with discovering new foods and ways to achieve delicious flavor are giving me so much enjoyment. They're what cheer me on when I have a sick day and I want to let go.
Thanks for listening, and if you have any thoughts on your experiences, I'd love to hear them.
How to Make Coconut Butter Stuffed Dates
Know that coconut butter is like coconut oil in that it will solidify at cooler temperatures.
To make: Warm up the coconut butter so it's more spreadable and pour it into the cavity of the dates, or just scoop some of it out and press into the dates.
Then let sit and lightly set.
Make sure you use fresh dates, and at room temperature, when their texture is best.
My favorite brand of coconut butter is Nutiva, which you can buy at Whole Foods or any coop/natural foods store. Or you can make your own with Charlotte's recipe!