Creamy burrata cheese, the dreamy combination of mozzarella and cream, is served with sweet, jammy, roasted tomatoes and fresh basil. Yum! This easy recipe is a great appetizer, melt-in-your-mouth delicious. Serve it with crackers or a sliced baguette.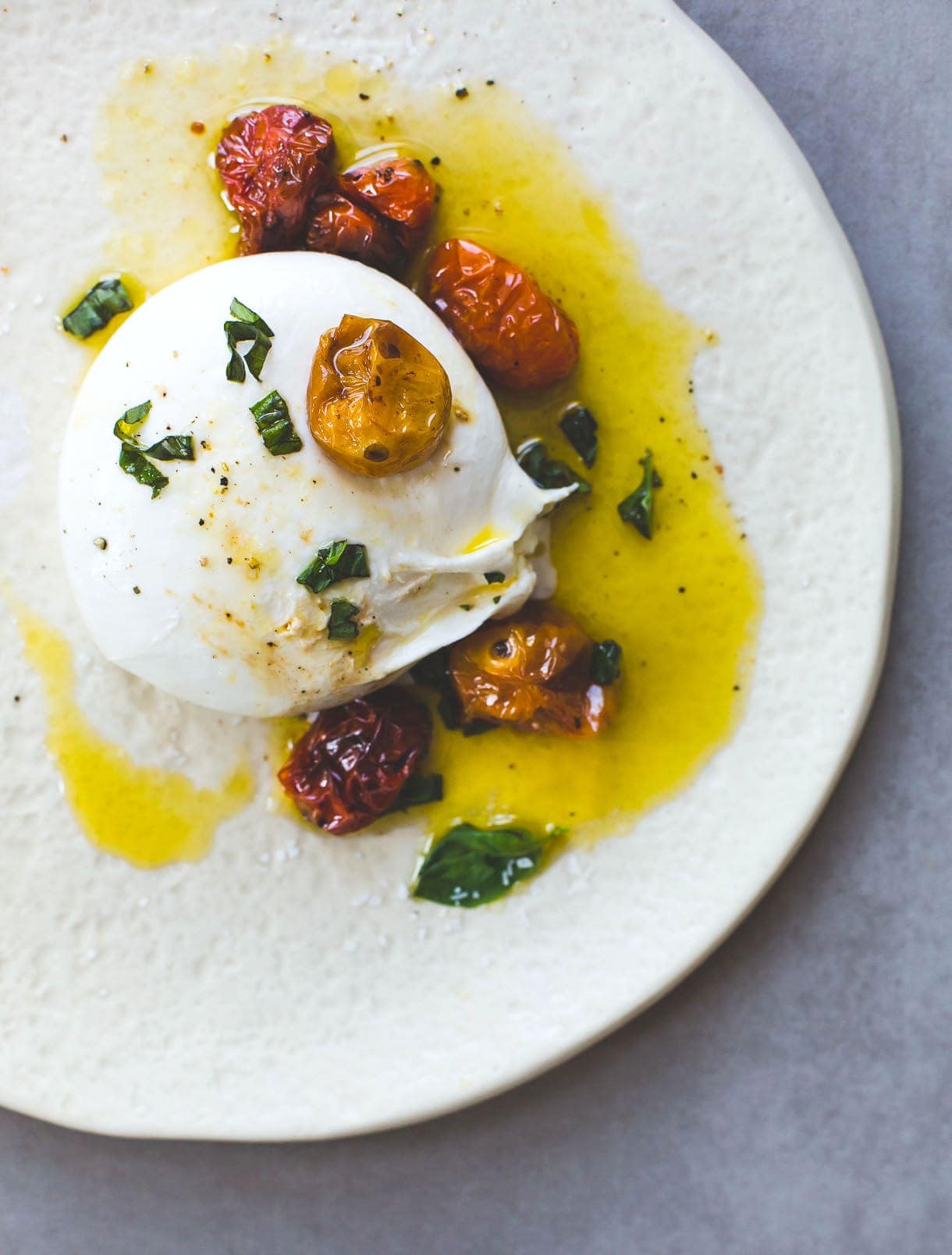 The Best Way to Eat Burrata Cheese
Remember those Slow-Roasted Cherry Tomatoes and Garlic Preserved in Olive Oil? I've heard from so many of you who've made a batch, savoring summer a little longer. As simple as they are to make, they look and taste like something that comes out of a fancy Italian eatery. And if you don't have a jar of these on hand, you can simply roast a sheet pan of them now, with a good amount of olive oil, salt, and pepper!
My absolute favorite way to eat a soft and creamy ball of burrata cheese is with these sweet, jammy roasted tomatoes and ribbons of fresh basil. Topped with olive oil drizzling down the side and into each swipe of the knife…. sweeping up a sweet, blistered tomato for the perfect bite.
What is burrata?
Burrata is a fresh Italian cow milk cheese made from mozzarella and cream. YUM. The outer shell is solid mozzarella, while the inside contains the cream, giving it the most unique center.
As you break through the outer skin, you're gifted with the decadent, milky cream.
Make sure to let burrata come to room temperature before serving. This allows for optimal flavor of both, and ensures the cheese is spreadable and gooey in the center when you break into it.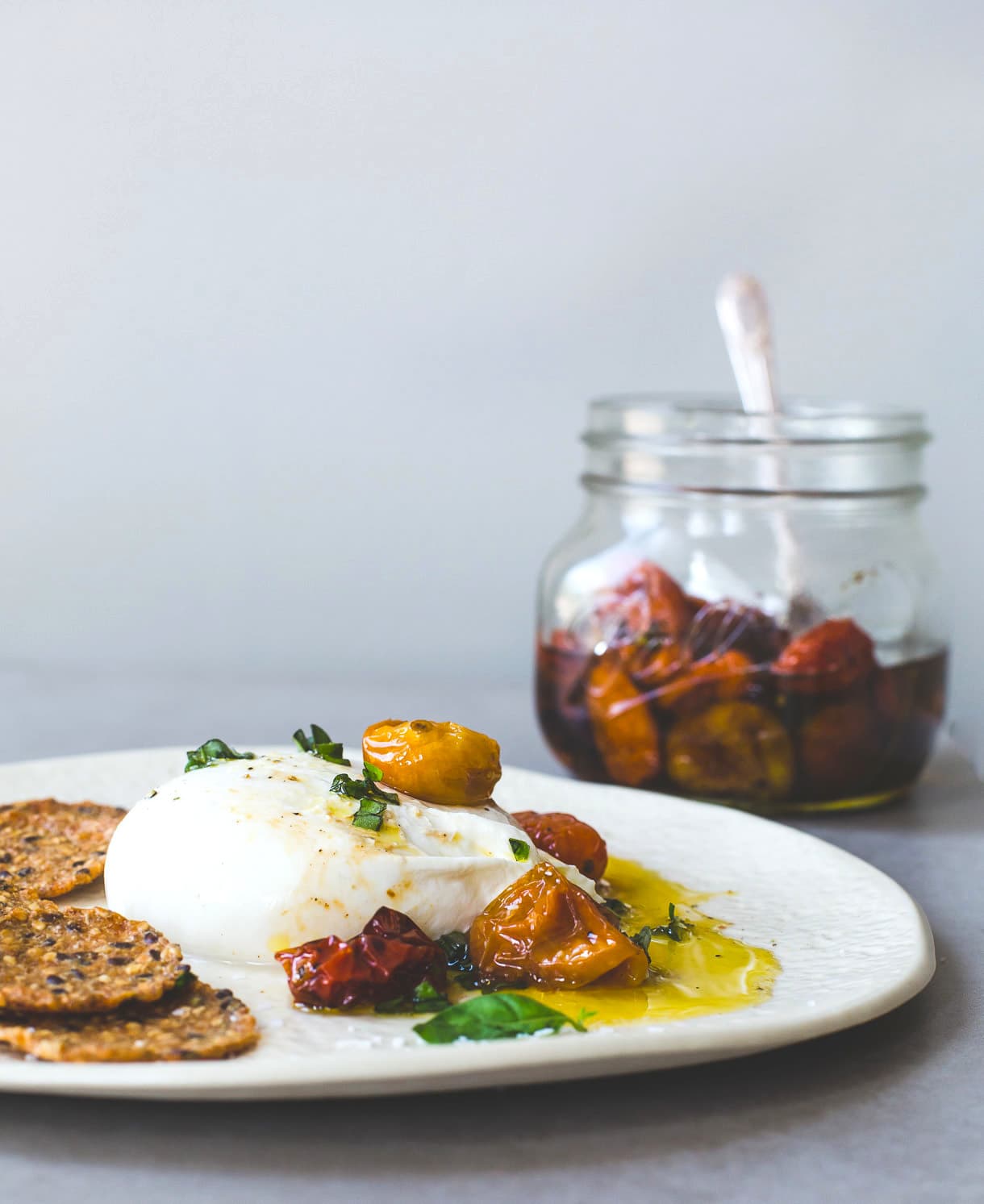 What if I can't find this specific cheese?
If you can't find burrata cheese in your grocery store, fresh mozzarella, or buffalo mozzarella are great substitutes. They're also fresh milk cheeses, and incredibly delicious and decadent.
The biggest difference between them is that burrata cheese is filled with cream, whereas fresh mozzarella is simply semi-soft Italian cheese, usually in a log, ball, or sliced form. Since burrata is filled with cream, it cannot be sliced into individual pieces.
Where to Buy Burrata Cheese:
Look for burrata cheese in the specialty cheese section of most grocery stores, usually next to the mozzarella. Trader Joe's has a very affordable one. And if you stop at an Italian market, they will surely have burrata.
More cheese appetizer recipes: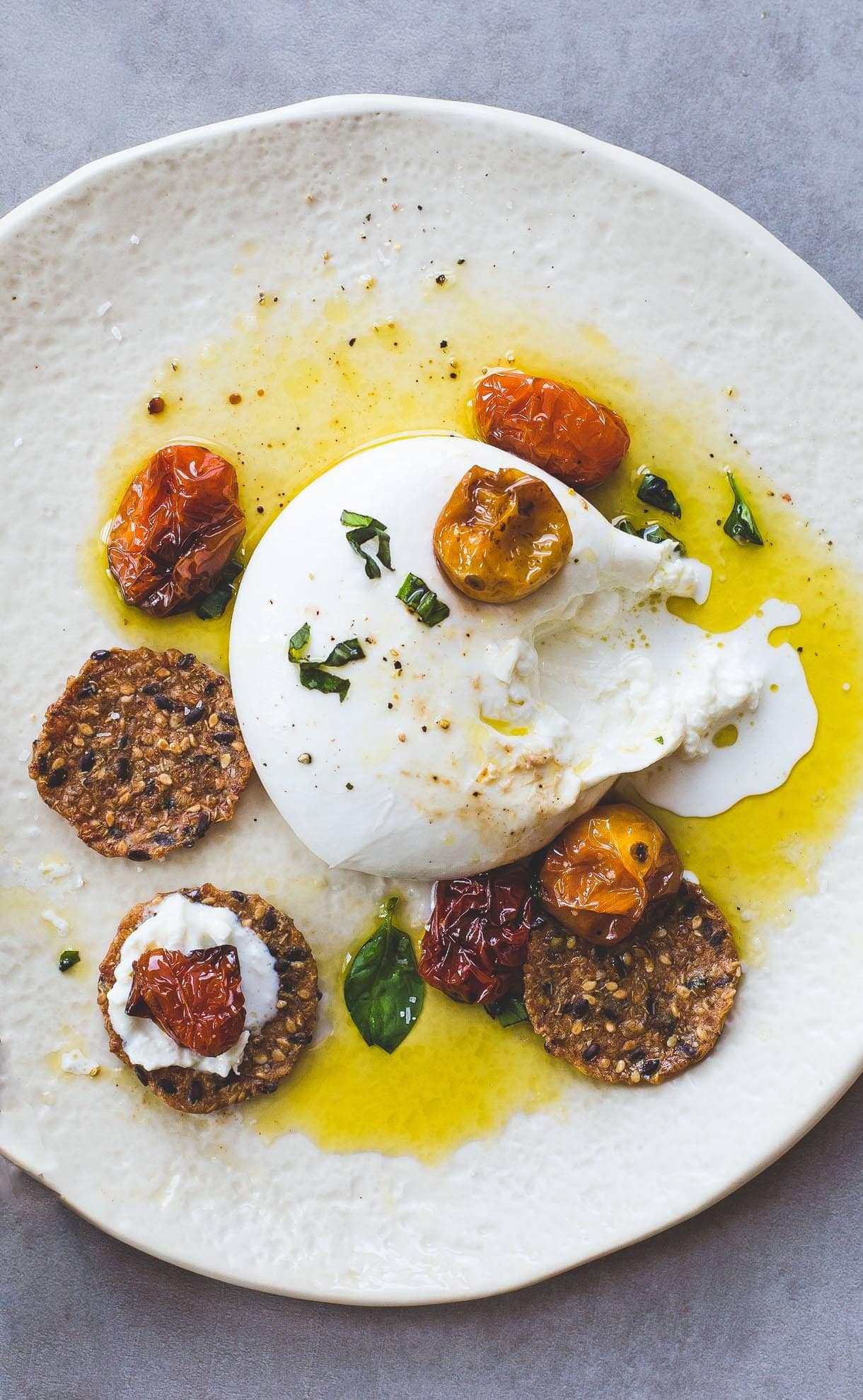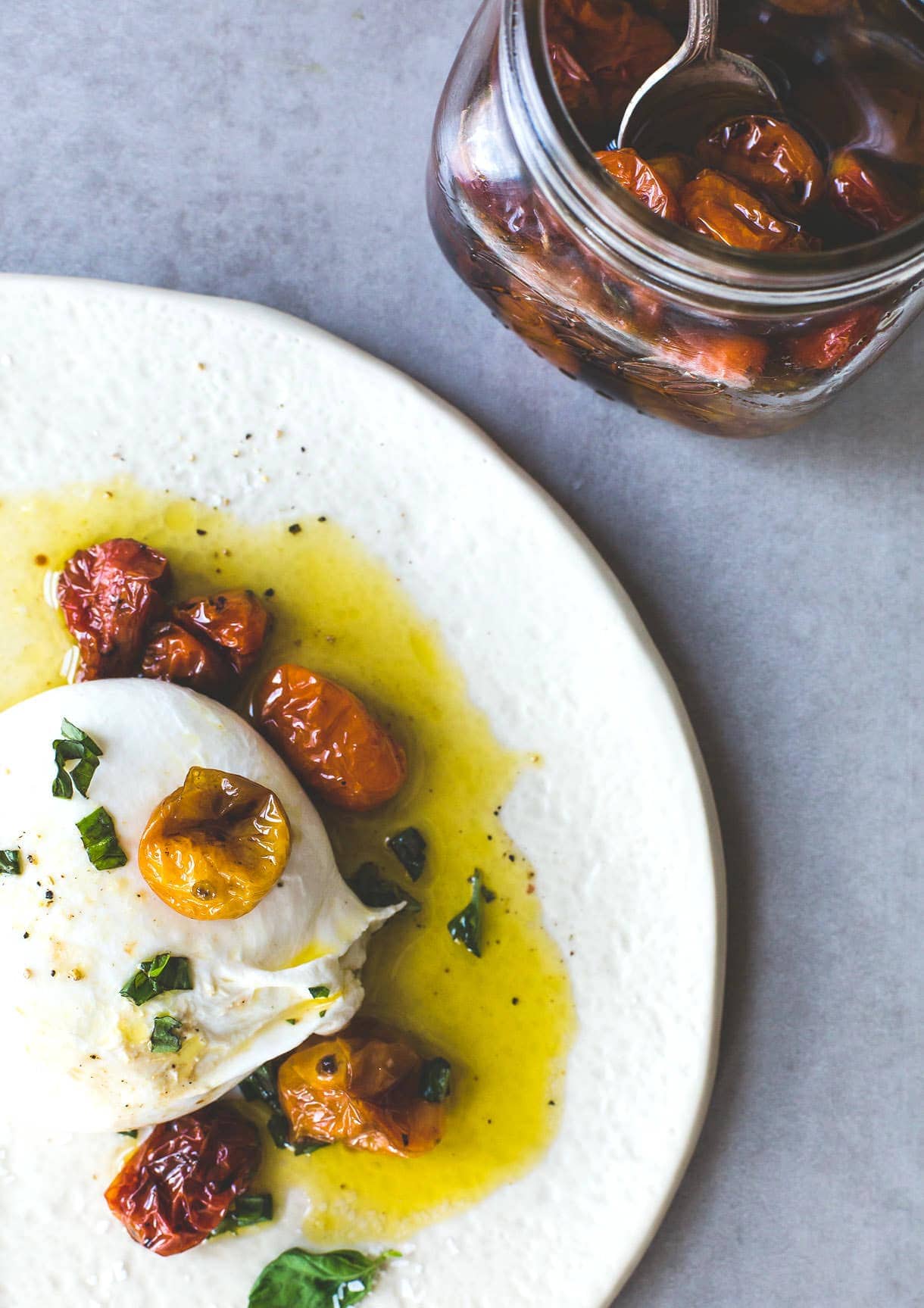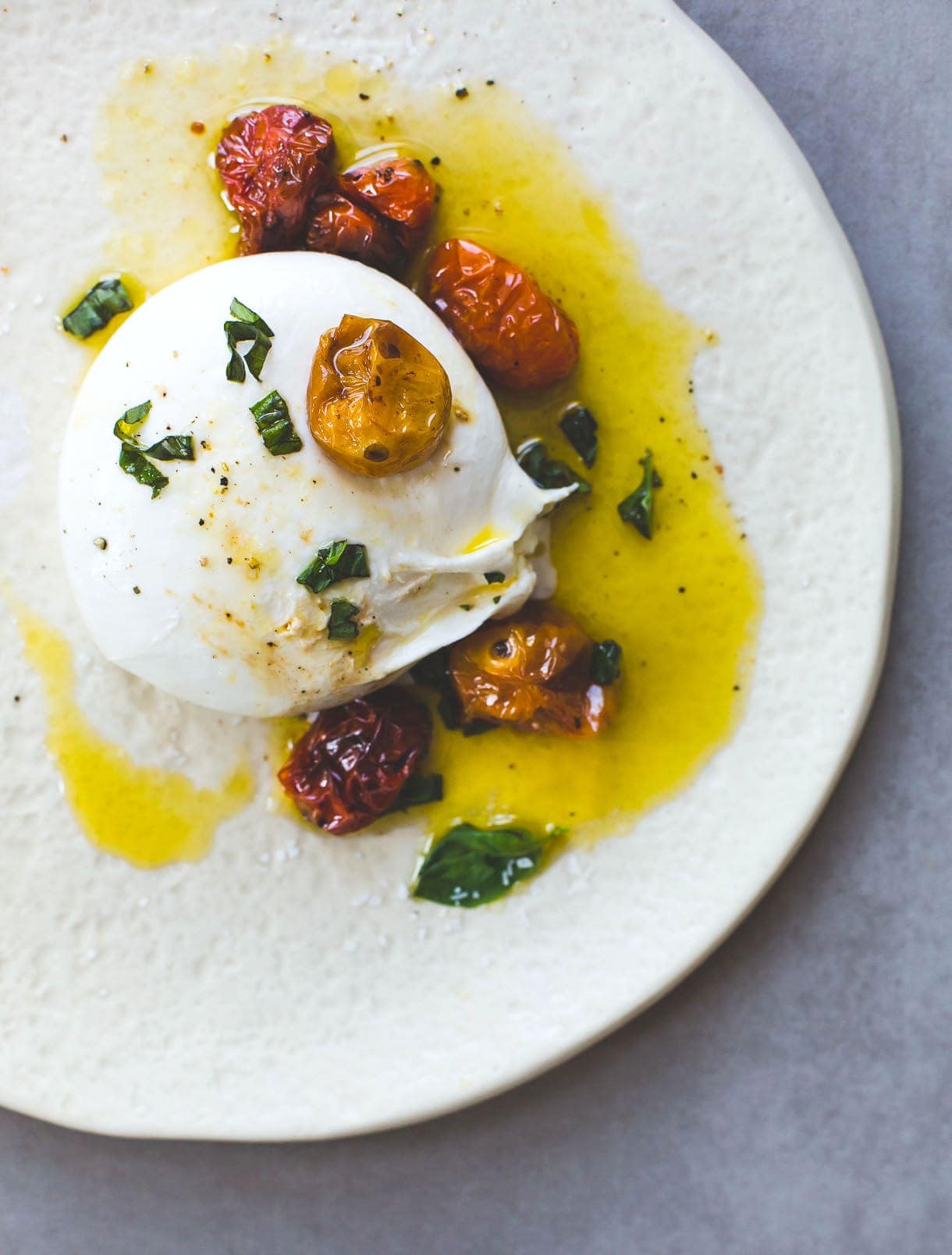 Pull tomato jar out of the refrigerator, along with ball of burrata, and let both come to room temperature.

Sprinkle with salt and freshly ground pepper, then spoon tomatoes and olive oil over the top, as many as you'd like.

Sprinkle with fresh basil. Serve.
Make sure to let the burrata and tomatoes come to room temperature. This allows for optimal flavor of both, and ensures the cheese is spreadable and gooey in the center when you break into it.