Brussels sprouts – you love or you hate 'em. If you're in the hater category, I am 98.9% confident that I can change your mind with these. Roasted brussels sprouts are toasted in a hot oven until they're irresistibly crispy, then drizzled with a tahini sauce that's now a staple in our refrigerator.
I wanted to show you a before and after of the roasting to show you just how a technique can really bring out the beauty of food. The brussels sprouts look bright and crunchy before going into the oven, but then they transform.
The caramelized edges they acquire are a sign they're ready to be gobbled up. I love how a few of their tender leaves fall off and cook, a brussels sprouts "chip" if you will, better than any kale chip I've had.
I could have stopped there, but I wanted to give these veggies a toss in something special, which is where the lemon tahini sauce comes in. Have you ever cooked with tahini? It's made from just two ingredients, sesame seed and salt – like a savory peanut butter.
You'll find it in hummus and lots of middle eastern dishes. I found this Lemon Tahini Sauce recipe in the Joy of Cooking and simply decreased the proportions to make a small batch. It's the perfect accompaniment for lots of things, for instance these Quinoa Patties from one of my favorite blogs, 101 Cookbooks.
These paleo roasted brussels sprouts are best right out of the oven, but are perfectly fine rewarmed or eaten at room temperature. Enjoy. xo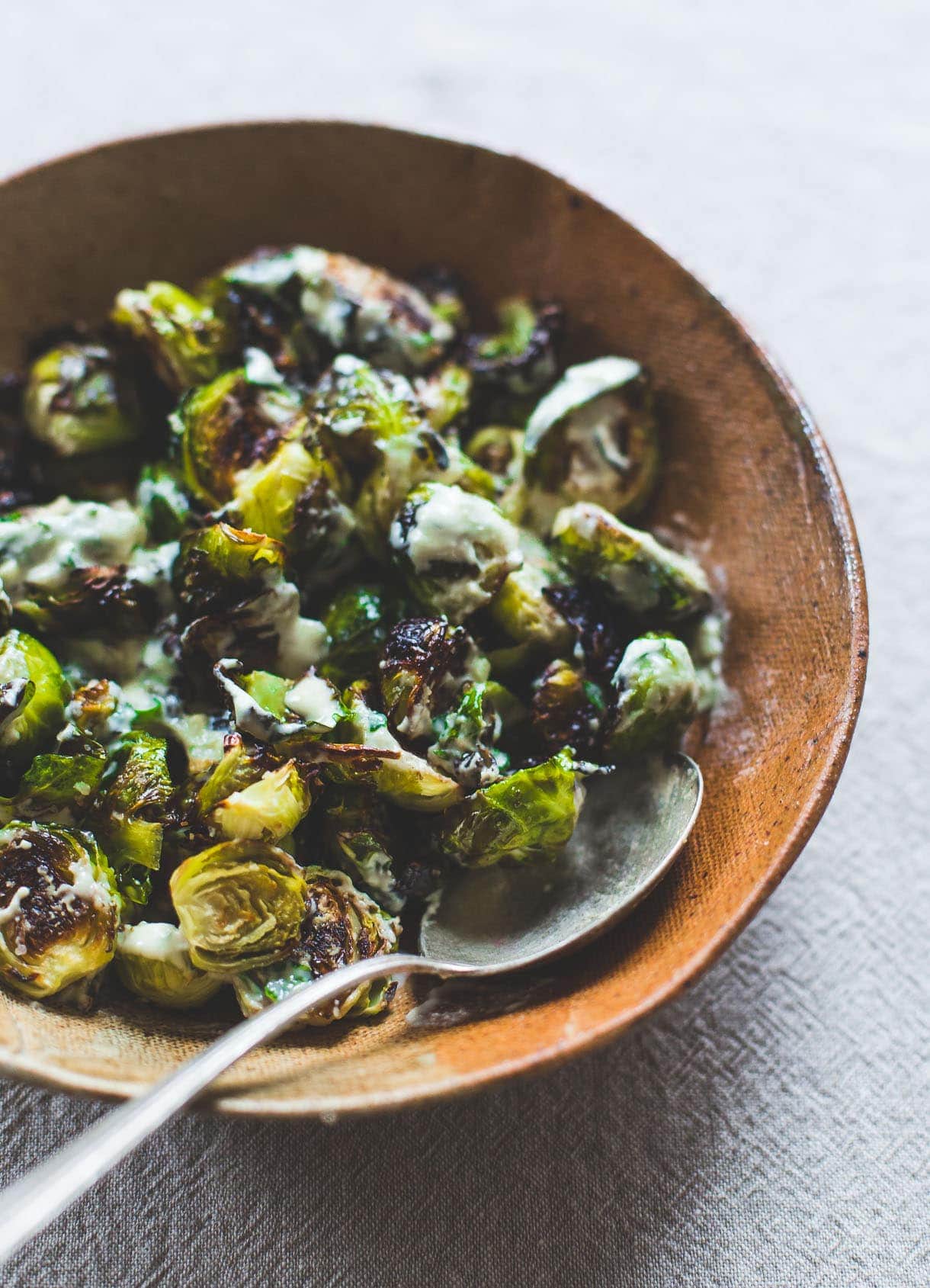 Click play below to learn how to make this Roasted Paleo Brussels Sprouts recipe!
1

pound

brussels sprouts

halved

2

tablespoons

olive oil

1/2

teaspoon

salt
For sauce: Whisk all ingredients in a bowl, adding water as needed to achieve desired consistency.

Preheat oven to 400 degrees. Arrange vegetables on large baking sheet, (try to keep them from touching each other so they get crispier) and drizzle with olive oil, salt.

Stir to distribute, then put into oven for 20 minutes, until crispy and browned. Remove from oven, arrange on a plate, and drizzle with the tahini sauce and a little extra chopped parsley.