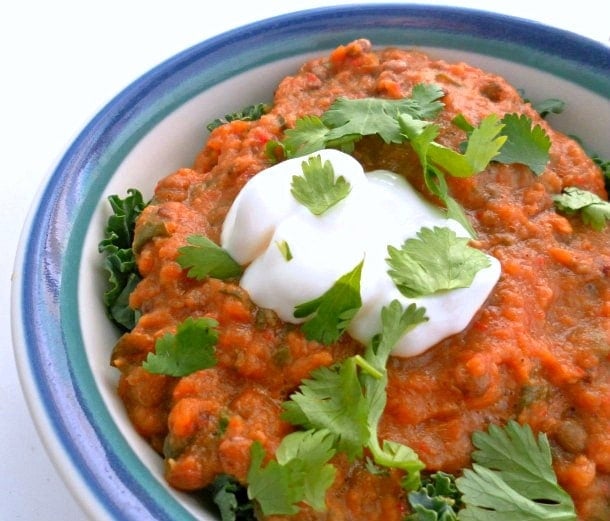 This warm, hearty stew is packed with zesty spices and gets a twist from balsamic vinegar and cocoa. On chilly days where the sun just doesn't want to shine it's comforting all while being vegan and gluten free. Leftovers make a quick, filling lunch for the rest of the week too!
To celebrate National Vegetarian Awareness month during October, I pledged here to forgo meat for one week through an event sponsored by the North American Vegetarian Society. Honestly, it was not as difficult as I thought it was going to be and next year I think I will pledge a whole month. I realized that I eat meatless quite often. Many of my meals are focused on seasonal fruits and vegetables that I gather from the Minneapolis and St. Paul Farmer's Market, with my protein coming from different grains, legumes, and cheese. Even when I am eating out at a restaurant, I choose a vegetarian option without even thinking about it being vegetarian, it just sounds the best!
When I feed my body with whole, natural foods I just feel better all around – body, mind, and soul. That being said, I am not a complete vegetarian, but more of a "Flexitarian." Probably 65% of my meals and snacks are vegetarian, however I do enjoy this killer Grilled Pork Tenderloin with Apple Chutney and have to confess that while teaching my Harvest Desserts class this September at Local D'Lish I won the class over with my Candied Bacon Apple Crisp.
Make this soul warming soup and I guarantee you will have a happy tummy. And feel free to use any combination of root vegetables you have, there are no limits! Also, check out my friend Nicole's blog, Pepperoni is Not a Vegetable, where I also did a guest post for her in October featuring my Southwestern Stuffed Acorn Squash with Cilantro Cream. She has great meatless ideas and conducts a weekly twitter chat to talk veggies!
Zesty Lentil & Root Vegetable Stew
1 c onion, chopped
3/4 c celery, chopped
4 cloves garlic, minced
1 c rutabaga
1 c parsnip, diced
1 c sweet potatoes, diced
1 hot pepper of your choice, diced
2 T olive oil
1 c dry French green lentils, rinsed
1/4 c balsamic vinegar
1 T unsweetened cocoa powder
6-7 c water
1 vegetable bouillon cube
1/4 c cilantro
1 1/2 c kale, chopped
1 t crushed fennel seed
2 to 3 tsp sea salt
1 T curry powder
2 T cumin
sour cream (garnish)
Heat olive oil on medium heat in stock pot. Add onion, celery, garlic, cumin, and a bit of salt. Cook until tender, then add water and bouillon cube. Stir to dissolve. Add in rutabaga, parsnips, hot pepper, and sweet potatoes. Cook until tender (time will depend on the size of how small you diced your veggies. I like to pulse mine in food processor to save on time!), then puree with immersion blender. Add in lentils and balsamic vinegar. Cook for 20 minutes, then add in cocoa powder and curry powder. Cook another 25 minutes until lentils are tender, but not mushy. Stir in salt, fennel seed, kale, and cilantro. Cook another five minutes. Serve with a dollop of sour cream and sprig of cilantro!
What are you favorite meatless meals? How often do you eat vegetarian?