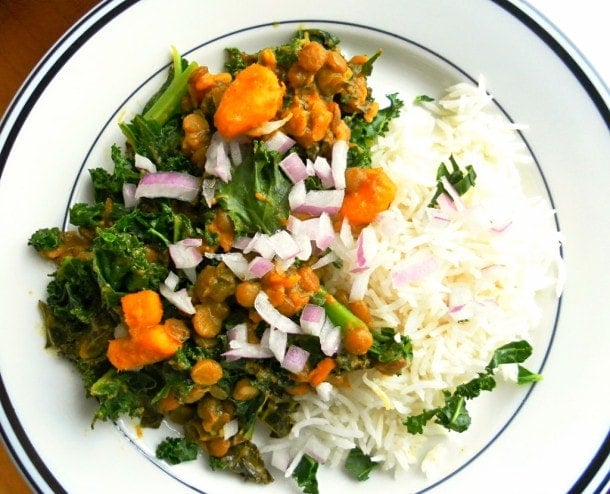 On cold Minnesota nights when there is not a bone in your body that wants to head outdoors, what better thing to do than spend an evening with great friends, lots of wine, and a curry themed dinner. With that amazing combination, I knew I would warm up in a heartbeat.
Not only was this gathering special because of the wonderful food made with the hands and hearts of those close to me, but it was also a time for great reflection.
Over the past year I have been blessed with meeting several new people who have become my dearest friends. And the amazing part of that – it was all because of this blog and the rest of social media that I engage in.
Food brought us together again on Tuesday night and to be honest, it was a little emotional for me. As I looked around the table, I felt unbelievably happy to be blessed with such wonderful and unique people in my life.
So blessed with the food I am fortunate to have access to.
So blessed to be with an inspiring man who supports me in every venture of my life.
So blessed to have found a job that I enjoy every day.
These are the things life is made of.
This curry dish is filled with protein from the dainty lentils and beautiful to the eye, with the bright orange pop of the sweet potatoes. The kale becomes soft as it is braised and provides hearty nutrients for our immune systems.
Feel free to increase the heat as much as you would like by adding more cayenne or a few hot peppers. And guess what else – the leftovers are great!
Curried Lentils with Sweet Potatoes and Kale
1 1/2 cups dry green lentils, rinsed
1 medium red onion, diced
1 1/2 lbs. sweet potatoes, peeled and cut into 1/2 in cubes
1 bunch of kale, destemmed and chopped
3 c vegetable broth
2 T olive oil
2 t curry powder
2 t garam masala
1 t turmeric
2 T fresh ginger root, minced
3 garlic cloves, minced
cayenne to taste
1/2 t pepper
1 1/2 t sea salt (or more as needed)
1/2 c coconut milk
juice of 1/2 lime
1/4 cup chopped cilantro
crushed peanuts for garnish
Heat oil over medium heat in large saucepan. Add onion and cook until softened (about 5 minutes). Stir in garlic, ginger, turmeric, curry powder, and garam masala and cook for another 2 minutes, stirring to make sure it doesn't burn. Remove from heat, add 1 cup of the vegetable broth to the pan to deglaze, then empty into a large pot. Add 2 cups more of broth, lentils, and sweet potatoes and bring to a boil. Cook on a low simmer partially covered, for about 25 minutes. (If you need to add a little more broth because too much has evaporated, that is fine.)
Stir in kale, salt, pepper, and a little cayenne. Continue to cook for another 20 minutes, or until lentils and sweet potatoes are softened. Finally stir in coconut milk, cilantro, and lime juice. Add more cayenne if you would like. Serve over rice, garnished with crushed peanuts.
Adapted from Smitten Kitchen