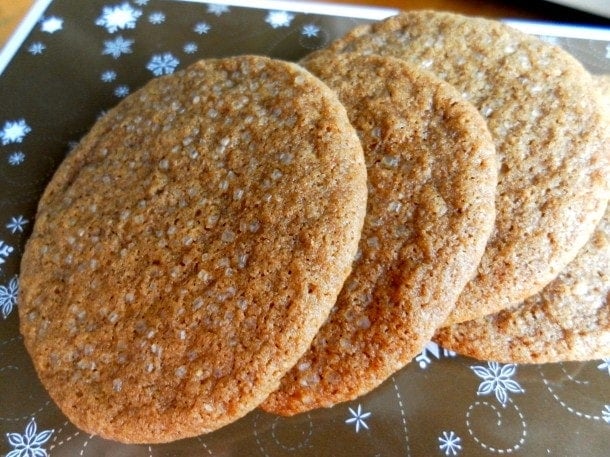 Ever since sampling some of my friend Amy's amazing ginger cookies, I have had visions of creating a gluten free version so I could indulge in a dozen rather than a tiny nibble. Smells of ginger, spice, and everything nice waft throughout the house as these chewy cookies bake up.
What I find too often when people make gingersnaps is that they are light handed on all the wonderful flavors that make the cookie so sensory provoking, especially the deep, butterscotch flavor you get from the molasses. I also wanted to include lots of ginger, cloves, and cinnamon that I could imagine wafting through the hallways. I buy my spices from Penzey's because as I've mentioned before, their selection and freshness can't be matched. The other factor in making these treats successful – good quality butter.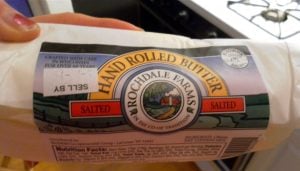 On a quick trip to Mississippi Market one Saturday afternoon, I got sidetracked when I saw the feature of the day – Rochdale Farms (from Cashton, WI) butter and a few of their cheeses. I can't say I was sad there were no crackers to try the butter on…I took a small spoonful of the butter alone and I swear magic happened. Seriously rich, creamy, silky goodness.
Make these cookies any time of year – but they are must during the winter season. Enjoy with a hot cup of coffee, a morning newspaper, and some light jazz. Oh, and maybe thoughts of sugar plum fairies too.
Chewy Gluten Free Gingersnaps
3/4 cup butter, softened
1/2 cup raw cane sugar
1/2 cup brown sugar
1 egg
1/4 cup full strength molasses
1 cup brown rice flour
1/2 cup sorghum flour
1/2 cup potato starch
1/4 cup tapioca starch
1 tsp xanthan gum
1 tsp baking soda
3 tsp ground ginger
2 tsp ground cinnamon
1 tsp ground cloves
1/4 tsp salt
Preheat oven to 350 degrees F. Line baking sheets with parchment paper. Beat the butter and sugar until light and fluffy in a mixer. Add in the egg and molasses. Mix until blended. In a mixing bowl, whisk together the brown rice flour, sorghum flour, potato starch, tapioca starch, xanthan gum, baking soda, ginger, cinnamon, cloves and salt. In small additions, add the dry ingredients to the butter mixture, mixing on high speed until well blended. Roll the dough into 1″ balls, and roll in the additional sugar. Bake for 10-12 minutes or until puffy and lightly browned. You may think they look a little undercooked but that is okay! They will be done. Remove to wire racks to cool. While cookies are baking, place dough in fridge to keep cool. (otherwise you cookies will spread too much) Store in an air-tight container once completely cool.
*Adapted from
The Baking Beauties