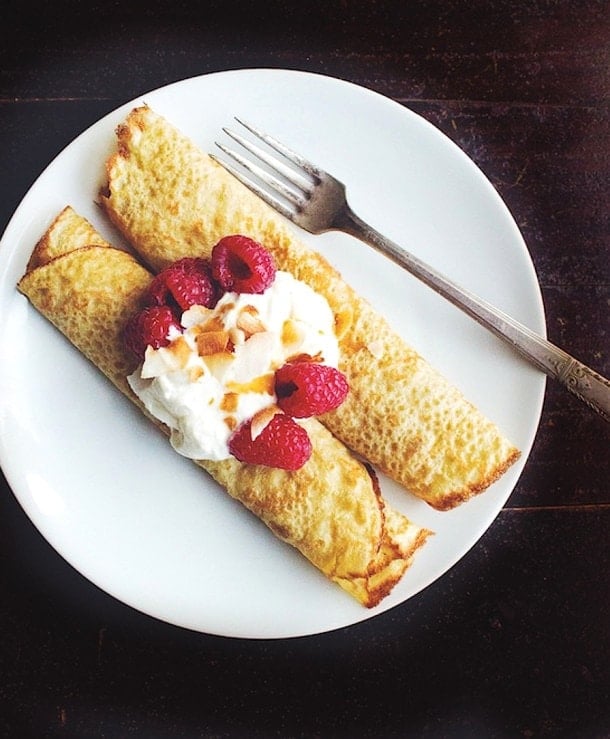 I've been eager to share a few recipes with you since a trial run with my new grain mill that Wondermill so graciously sent to me as part of a fun collaboration. These soft and delicate Gluten Free Oat Crepes are the first in a series of three recipes I've developed for them that anyone can make, with or without a mill.
Grinding flour at home can actually be done several ways, like with a nut grinder, food processor, or high powered blender. I find that playing with grains, legumes, nuts, and seeds in different ways can be really fun, a chance for me bring new creativity to recipes.
Curiosity about grinding my own flour was spurred by taking a peek at The Homemade Flour Cookbook written by fellow blogger Erin of Naturally Ella. It is such a beautiful book, and I was really drawn in by what she had to say about many store bought flours often being stripped of their nutrients.
Not only that, but organic gluten free flour can be difficult to find and very expensive. Now I'm able to buy organic whole grains and beans from the bulk bin and save lots of of money, plus make super fresh flour in literally one minute.
Grain mills are not cheap, but its an investment that will pay itself off fairly quickly if you think about how often you $8-$10 for a bag of gluten free flour. Besides that, like any just picked fruit or vegetable, you can notice a difference with freshly ground flour. And because you can grind it on the spot, you won't end up letting flour spoil. (Yes, that does happen!)
These oat and millet crepes are slightly different than traditional crepes, but truthfully (and the French may disagree) I love the nuttier flavor from the millet even better. The oat flour keeps them soft and delicate, waiting for you to roll them up them up with freshly whipped cream, toasted coconut and whatever fresh berries you have on hand.
And what could be easier than adding all the ingredients to a blender for a quick blitz? From there it just takes a little patience, the key to this healthy whole-grain crepe being a half hour rest in the refrigerator. Don't have those exact flours on hand? Go ahead and substitute those by weight for the ones called for in this recipe.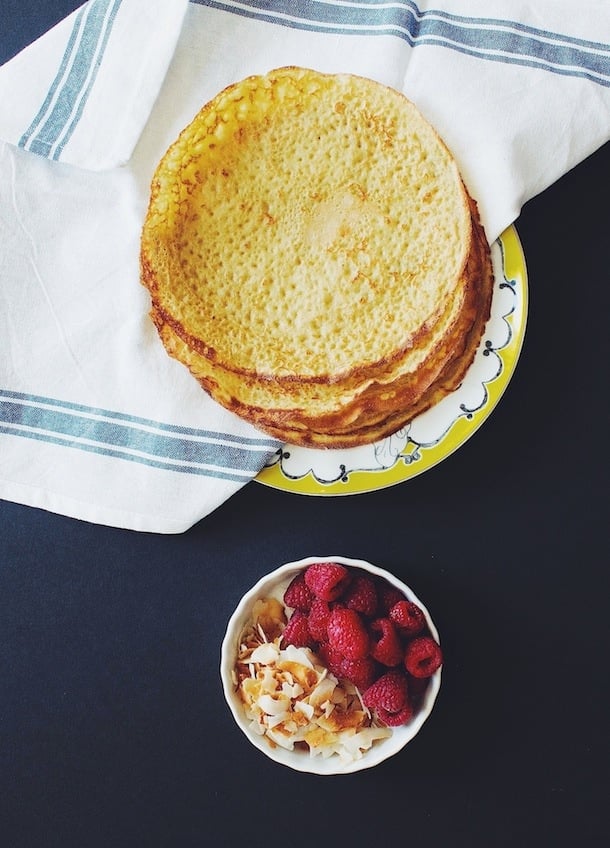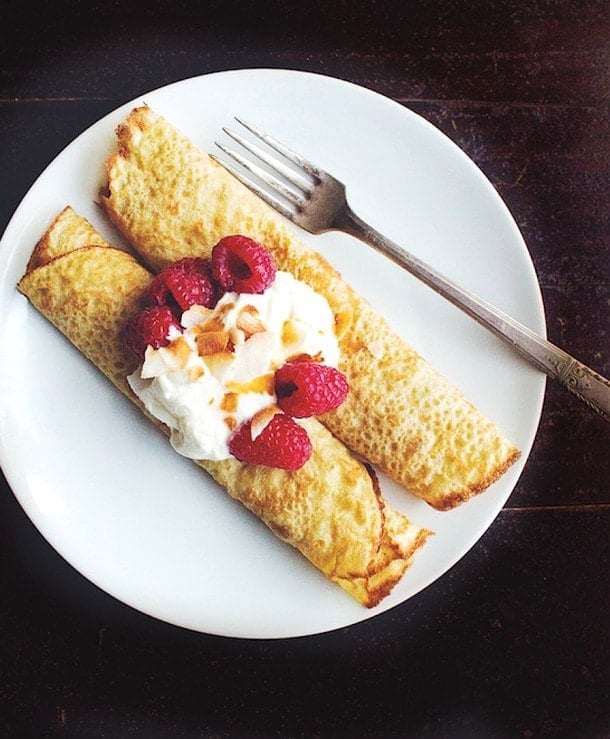 ½

cup

oat flour

30 grams

½

cup

millet flour

60 grams

2

tablespoons

cornstarch

2

tablespoons

sugar

¾

cup

milk

2

large eggs

pinch

of salt

2

cups

fresh raspberries

½

cup

toasted coconut flakes

whipped cream
Add all ingredients to a blender.

Blend on medium speed for 30 seconds until batter is completely smooth.

Refrigerate batter for 30 minutes.

Heat a nonstick frying pan, preferably 10 inches, over medium heat.

Spray with nonstick baking spray and add ¼ cup of batter, swirling to coat the bottom.

Cook for 1 to 2 minutes on medium to high heat. Once it starts bubbling and the batter looks cooked through, flip the crêpe and cook for one extra minute on the other side, or until golden brown.

Repeat until you run out of batter, adding a little spray between each crepe. Keep the crepes warm on a plate as you work by covering them with a towel.

Serve with raspberries, toasted coconut and whipped cream.