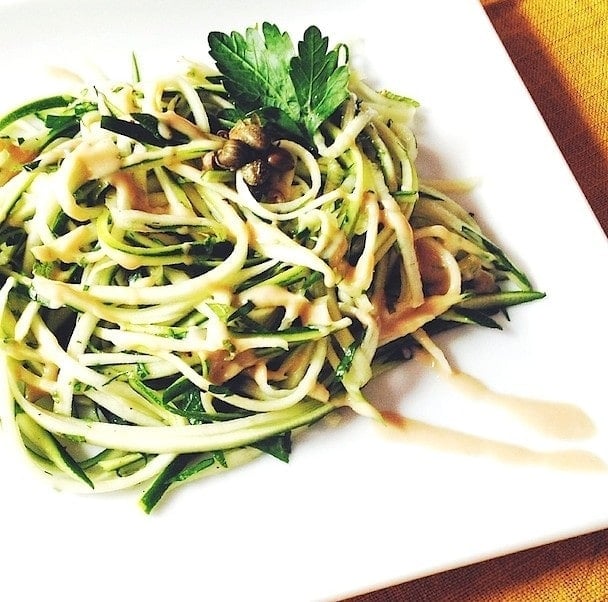 Over the last month, this whole writing a book thing has became real in many ways. I still feel a little weird when people ask me what the book is about and I respond bashfully with "Squash, both summer and winter varieties. You know, endless ways of turning them into delicious eats and how to figure out what is what at the market." Some look at me like I'm a little crazy, some talk about how they're totally not a squash person, yet I still feel support and encouragement from them all.
Humbly I admit that seeing Smitten with Squash in an actual store was something I had dreamed of since I began testing & writing. Knowing that it was supposed to be shipped out last week, I called a local shop to see if they had received it. Not revealing that I was the author when I asked, the gal said "Why yes we do. In fact I just bought one yesterday. It's wonderful. Do you want me to set one aside for you?"
My heart skipped a few beats. There's a bit of doubting that goes along with anything you do like this….. Will people like the book? Will the recipes turn out when they make them at home? Is my writing good enough? What if nobody buys it? So when I heard the praise from the woman on the other end of the phone, I felt some of the anxiety leave.
And to top that off, six fabulous ladies whom I am so thankful to have met through this beautiful online world are helping me celebrate by sharing a summer recipe from Smitten with Squash. (I'll share some of the winter recipes a little later this fall.) One of these gals will be posting each day this week, so stayed tuned as I'll add the links to their posts throughout the week.
PLUS, each of us is giving away a copy of Smitten with Squash (enter below) so you can win one for your own kitchen! Be sure to hop around and see all these beautiful blogs and find some new recipes for your bumper crop of summer squash and zucchini. Oh, and if you're on Twitter or Instagram, we're using the #SquashLove to spread the word.
Monday: Brenda from a Farmgirls Dabbles – Spicy Summer Squash Refrigerator Pickles
Tuesday: Stephanie from Fresh Tart – Chimichurri Chicken and Veggie Kabobs
Wednesday: Robin from Robin Writes – Garam Masala Dusted Pattypans & Crispy Chickpeas with Tahini Sauce
Thursday: Lindsey from Dolly & Oatmeal – Banana Oat Streusel Summer Squash Muffins
Friday: Laurie from Relishing It – Cauliflower Zucchini Summer Gratin
Saturday: Winnie from Healthy Green Kitchen – Cherry Tomato & Summer Squash Cobbler with Rosemary Biscuits
Zucchini Noodles for One with Fresh Herbs & Tahini
This recipe is a foundation for so many possibilities of zucchini noodle goodness. There are two recipes for this type of dish in the book, and I'm sharing this extra one today to tell you that you don't need a fancy spiralizer to make squash noodles. A $10 julienne peeler and watching this quick video is all you need to create strands and tangles of vegetable delight.
1 medium zucchini or summer squash, julienned into noodles using method above
handful of minced fresh parsley and mint
big squeeze of fresh lemon juice
2 teaspoons olive oil
1/4 teaspoon salt & a few cracks of black pepper
1 tablespoon tahini
In a bowl combine zucchini noodles, herbs, lemon juice, olive oil and salt/pepper. Toss to coat and taste. Add more salt or lemon juice as needed. Mound onto a plate and drizzle with tahini.