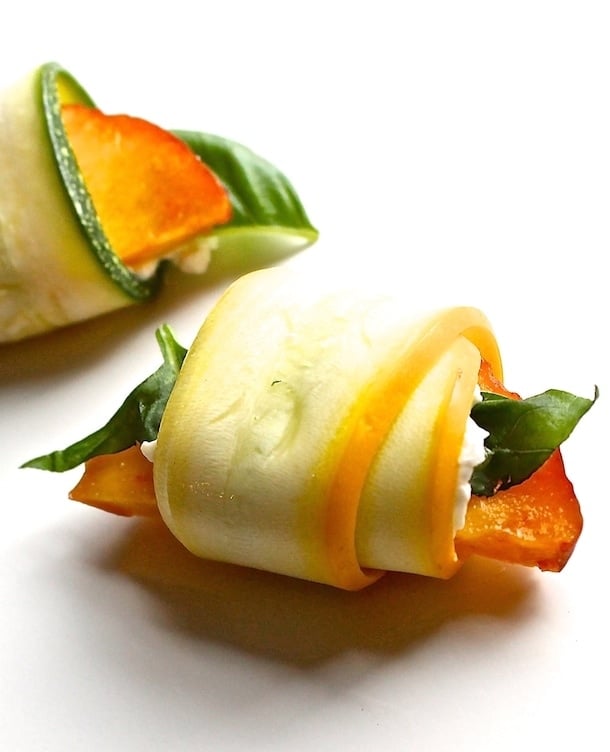 Just wanted to pop in with the segment from Twin Cities Live today and give you a chance to WIN a copy of Smitten with Squash as part of my Summer Squash Celebration Week! As always, I had a wonderful time with Elizabeth and new co-host Steve making delicious recipes with the zucchini and summer squash that might be taking over your garden right now.
Take a peek at the segment and learn how easy it is to make squash ribbons for the Summer Squash Peach Kisses (recipe below), as well as noodles for this Refreshing Summer Squash & Watermelon Tangle Salad. Although a spiralizer is the most popular thing for making vegetable noodles right now, save your moola and the kitchen space. Instead, a julienne peeler and y-peeler will get you the same results.
You can purchase the book online at Amazon. Happy cooking!
Summer Squash & Peach Kisses
makes about 18 kisses
2–3 medium zucchini or yellow squash
5 ounces ricotta cheese (or goat cheese)
zest and juice of 1/2 lemon
1/2 teaspoon olive oil
kosher salt
black pepper
2 peaches, peeled and thinly sliced
20–30 leaves fresh basil
Rinse zucchini, then slice off top and bottom so you have flat surfaces. Use a mandoline slicer or very sharp knife to cut zucchini lengthwise into thin slices, about 1/16 of an inch if possible. Pat dry with paper towels. Combine ricotta, lemon zest and juice, olive oil, and salt and pepper to taste, mixing well. Spoon a heaping teaspoon of ricotta mixture into the center of each zucchini slice and spread it out evenly. Leave a little space at the narrowest end, as the mixture will spread a bit when you roll it up. At one end of the strip, place a slice of peach and 1 to 2 basil leaves; the basil should stick out a little. Roll up zucchini strips and place seam side down on a platter. Serve chilled.