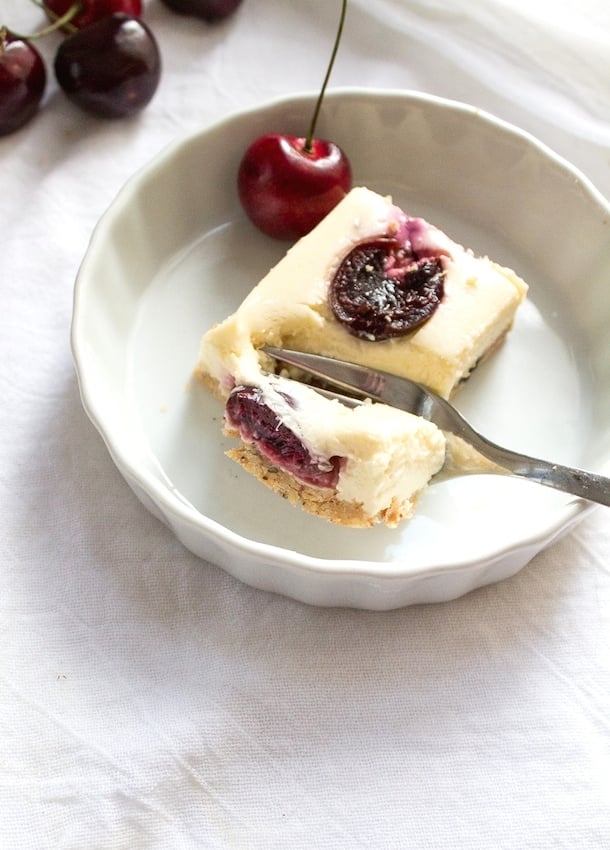 I have to admit these dreamy Cherry Cheesecake Bars are a welcomed departure from squash. With the book finally being available in stores, last week was quite busy. It included a little TV appearance, radio interview, cooking class, a blog celebration and my first book signing. Whew. It was one of the most joyful weeks of my life, with so many thanks to all of you and your support. You are the ones who made it so memorable.
I planned on having a quiet little celebration, just Brian and I, once the book signing commenced on Friday. Nothing sounded better than staying at home with fancy bubbles I'd been saving and a special dessert to pair. The sweet cherries have been downright amazing this year and I had yet to do anything more than eat them by the handful. One day I couldn't even wait until I got home from the store to dig in, which classically ended with a crimson red stain on my white cardigan. Well worth it.
In the summer I'm a big fan of chilled desserts. I know pies are the favorite of many – they definitely showcase the beautiful berries, rhubarb, peaches, plums and nectarines, but it's true – pies still intimidate me a little bit. I tend to lean towards something that's cool, creamy and easy to make.
Something like these cheesecake bars, studded with sweet cherries that look like jewels and a rockin' coconutty shortbread crust.
I'm excited to be teaming up with Sahale Snacks to bring you a few recipes that incorporate their new Fruit and Nut mixes, so when I was aiming to give this dessert something different than a traditional graham cracker crust, the Berry Macaroon Almond blend became just the answer.
It's a combination of lightly toasted coconut flakes, crunchy almonds and cashews, with dried blueberries and a touch of lemon for a little sweetness. Ummm…. YUM! I love that they're just simple, real ingredients. Not only did they really make this recipe special, I'm finding them to be a great, pure and natural snack when I need some mid afternoon fuel.
I've had success adding ground nuts to cookie crusts before, so I decided to try grinding up about a cup of this blend with gluten free flour, melted butter, and a little brown sugar. As it was baking, the toasty, nutty smell of macaroons started to dance around the kitchen. And then I did too.

Half of the juicy cherries are folded into the cheesecake batter, then the other half are dropped on top to create the cute-as-a-button polka dot pattern. In the oven they go for about 30 minutes and out comes a dessert that's definitely too good to have just one piece. The cherries are a fantastic complement to the the creamy tang of the cheesecake, and they retain their lovely shape as they roast in the filling.
I really should have made an extra batch for all of you because I definitely owe you for your support. But….. I didn't, so go ahead and make a pan of these tasty treats before cherry season passes. I think you'll fall in love with them just as much as I did.
Cherry Cheesecake Bars with Coconutty Shortbread Crust
Make 16-18 bars
Crust:
1 cup (140 grams) all purpose gluten free flour (I used Cup4Cup)
3/4 cup Sahale Snacks Berry Macaroon Almond Blend
5 Tablespoons butter, melted
1/4 cup brown sugar
1/4 teaspoon salt
Cheesecake Layer:
1 (8 ounce) package full fat cream cheese
1 (8 ounce) package 1/3 less fat cream cheese
2 large eggs
1/2 cup sugar
1/2 teaspoon vanilla extract
20 cherries, pitted and cut in half
In a food processor, blend berry macaroon blend, flour, brown sugar, salt, and melted butter. Press into the bottom of a 9-inch square baking pan. Bake crust for 12-15 minutes, until lightly browned. Cool on wire rack while making filling.
Halve cherries and remove pits. In the bowl of a food processor, process cream cheese until it becomes smooth, then add eggs, sugar and vanilla. Pour into a bowl, then gently stir in half of they cherry halves, reserving 20 cherry halves for the top. Pour filling onto cooled crust. Arrange remaining 20 cherry halves, cut side up, on top.
Bake at 325°F for 35-40 minutes, until the center just barely jiggles, or a thermometer inserted in the middle of the pan reads 155-160°F. Cool to room temperature on a wire rack, then transfer to the refrigerator to chill for at least 3 hours. Cut into 16 squares and serve. Can be made 2 days ahead. Store in the refrigerator, covered, for up to 4 days.
This post is sponsored by Sahale Snacks, a brand whose mission of seeking out and delivering the highest quality snacks from pure ingredients that are sourced with integrity and care. They're committed to the community and strive to improve the environment and lives of the suppliers they work with. All opinions are 100% my own, as always. Thank you for supporting the brands that help make this site possible!