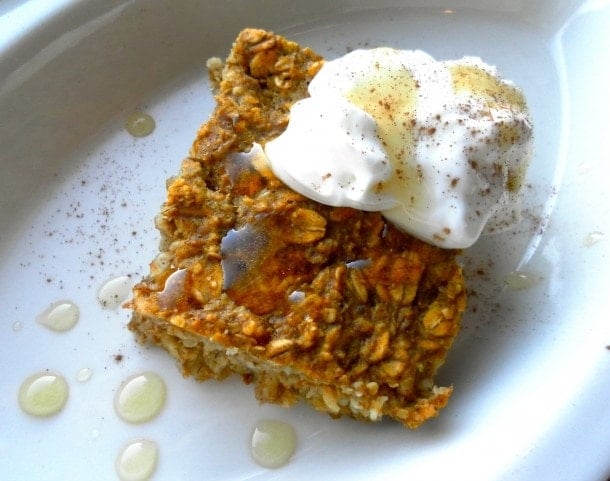 Pumpkin pie – one of my absolute favorite desserts. There's just something about the smell of cinnamon and nutmeg wafting through the house while your baking it that sing fall. When fall blows its way in, apples, pumpkins, pears, make their way into my kitchen. I couldn't wait to recreate pumpkin pie into a form of breakfast that was healthy and reminiscent of the dessert I so love!
With my mom visiting this weekend, I wanted to make sure we had a nice warm breakfast before we headed down to the Minneapolis Farmer's Market. This oatmeal bake is quick and easy to make. I used pure maple syrup as a sweetener instead of refined sugar and topped it with a spoonful of Greek yogurt for some added protein. Drizzled with some raw honey, this oatmeal is a healthy treat that will stick with you through the morning!
And on a side note: The pumpkin pie spice I use is from The Golden Fig in St. Paul and I can't tell you how unbelievable it is. If you live locally, make sure to stop by their cute store and grab some to heighten the flavor of all your fall desserts!
Pumpkin Pie Baked Oatmeal
makes 12 slices of oatmeal (a 9×9 inch pan)
1/3 cup pure maple syrup
2 eggs, beaten
1 1/4 cup soy milk
2/3 cup pumpkin puree
3/4 teaspoon vanilla
2 teaspoons pumpkin pie spice
1/4 teaspoon salt
1 3/4 cup old fashioned oats
1/2 cup oat bran (if you don't have oat bran on hand you could use another 1/4 c oats)
greek yogurt
honey
Preheat oven to 375 degrees. Whisk first 5 ingredients (through vanilla) together in mixing bowl. In separate bowl combine pumpkin pie spice, salt, oats and oat bran. Pour liquid ingredients into dry and stir until well combined. Pour into 9×9 inch greased baking pan and bake for 20-25 minutes. Top with a spoonful of greek yogurt and drizzle with raw honey. Best served warm!