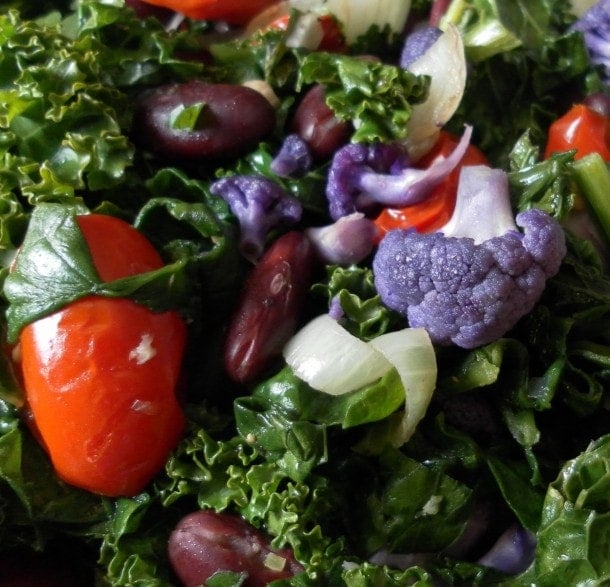 A few emotions came over me when I spotted a few heads of gorgeous purple cauliflower at the Minneapolis Farmer's Market early Saturday morning:
1. I got the chills thinking about how blessed we are to have such amazing and beautiful food readily available to us
2. Excitement about the numerous ways I could prepare these beauties: roasted, steamed, or raw – in soups, salads, dips, etc….
3. And laughter when Prince's "Purple Rain" became my internal anthem as I strolled the aisles of the market
Compared to the standard white cauliflower, this variety is a touch sweeter in its raw form. However, when I sauteed it in the dish you see above, I felt that it had the same taste as the white. For lunch I prepared this fresh and warm salad, combining several items I picked up that morning.
The dressing is light and simple because most of the flavor comes from the vegetables themselves. The polenta rounds add structure to this salad and compliment the leafy kale. I also added some kidney beans to make sure it had a protein component, making it a perfect lunchtime salad!


Warm Kale and Purple Cauliflower Salad
Several cups of kale, thinly sliced with ribs removed
1/2 c cherry tomatoes, halved
1/2 c kidney beans (any beans will work)
1/2 c sweet onion, thinly sliced
1/2 cup cauliflower
2 cloves garlic
Slices of polenta (I used the Trader Joe's version that comes pre-made in a log)
Olive oil
1/4 c white wine (water or vegetable broth would work too)
Splash of water
Salt and pepper
Fresh basil and parsley
Preheat skillet over medium heat with 1 T olive oil. Add garlic first and saute until fragrant, being careful not to burn it. Then add in cherry tomatoes, onion, and cauliflower. Sprinkle with salt and saute for about 6 minutes, stirring frequently. Onions should be sweating and juices releasing from tomatoes. Then add in kale, beans, white wine, and splash of water. Sprinkle with salt and pepper, cook for 3-4 minutes until kale is wilted. If you need to add a bit more liquid, feel free. Remove from heat and set aside. In same pan, and heat 1 1/2 T olive oil over medium to high heat. Add polenta and cook, flipping once, until both sides are crispy. Arrange on plate with warm salad in the middle and rounds of polenta scattered around edges. Top with fresh basil and parsley.
What was the coolest vegetable you tried this year?