This post coincides with my appearance on the Fresh and Local Show, tomorrow, November 12th at 8:00 am central time on 950 AM! I will be talking to food advocates and hosts of the show, Susan Berkson and Bonnie Dehn about adorning your Thanksgiving table with a local farm raised turkey and the benefits of eating these birds. Stop by and visit Blue Gentian Farm at the Minneapolis Farmer's Market on Thursday, Saturday, or Sunday to order yours for Thanksgiving 2011!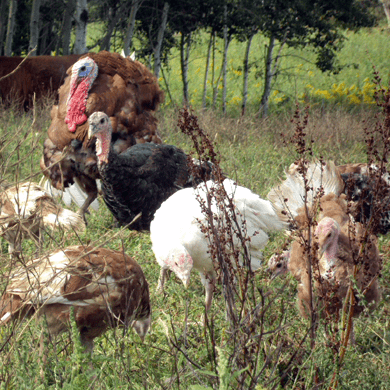 Growing up, my family always had a wonderful and hearty Thanksgiving meal. It was, and still is one of my Mom's favorite meals to host. The house hustling and bustling with young and old, scents of cinnamon, sage, and garlic dancing throughout the halls, and the mighty gobbler in the oven. Our turkey was the same as what is on most American's tables for Thanksgiving, the broad-breasted white breed that you find frozen rock solid in grocery store freezers, which account for 99% of birds raised here.
I think this year will be different though. In talking with local farmer, Darryle Powers of Blue Gentian Farm this fall season at the Minneapolis Farmer's Market, I was truly moved by his integrity and passion for sustainable farming. His story is one of heart and dedication to the preservation of many different animals, including heritage turkeys using a free range method.
Darryle and Renee began their farming experience in 2000 with just cattle, purchasing a total of 395 acres of land near New Richmond, WI. About 100 acres of it are restored tall grass prairie, large cool season grass pastures, low lying wetlands, and majestic oak savannas. Since this amount of land is relatively small to raise lots of animals on, they choose their breeds wisely. As Darryl stated, "We utilize sustainable farming practices and return more to the land than we take. The heritage breeds we raise here are selected for their unique qualities that make them a perfect fit for our operations. They are never injected with any growth hormones or steroids." They are fed legumes and proteins, then left to peruse the acreage for natural vegetation. Wandering the farm all day long, these birds develop a strong, muscular physique that results in a leaner, meatier bird for you to nosh on.
What exactly does Heritage Breed mean?
"According to the American Livestock Breeds Conservancy, heritage turkeys are defined by the historic, range-based production system in which they are raised. Turkeys must meet all of the following criteria to qualify:

Naturally mating: the Heritage Turkey must be reproduced and genetically maintained through natural mating, with expected fertility rates of 70-80%.

I was shocked and concerned when Darryle informed me that the commercial White Broad-Breasted turkeys are raised for one purpose only – their meat. The artificial growth hormones they are injected with help them growth extremely fast and big, which in turn weighs them down to the point that they can't even walk. None of these animals are able to mate with one another, they have to be artificially inseminated. Hearing this truly makes me sad.

Long productive lifespan: the Heritage Turkey must have a long productive lifespan. Breeding hens are commonly productive for 5-7 years and breeding toms for 3-5 years.

Slow growth rate: the Heritage Turkey must have a slow to moderate rate of growth. Today's heritage turkeys reach marketable weight in 26 – 28 weeks, giving them time to develop a strong skeletal structure and healthy organs prior to building muscle mass."

The Powers mainly raise two heritage breeds of turkeys, the Bourbon Red and the Spanish Black. The Bourbon Red was developed in the 1800s in Kentucky. It has a richly flavored meat and a broad breast that is perfect for table use. They are good foragers and do well on pasture with a little supplemental feed. The Spanish Black turkey is more rare than the Bourbon Red. However, there has been a renewed interest in the biological fitness and survivability which has increased with the number of conservation focused farmers like Darryle raising this breed.
Why Buy a Locally Raised Turkey This Year
Freshness -I was so amazed when Darryle told me that his turkeys are taken to the the butcher on the Tuesday or Wednesday before Thanksgiving. They are simply slaughtered and cleaned, then flash frozen. Ready for a shock? Commercial turkeys are typically slaughtered in July or August……I don't know about you, but freezer burn is not very tasty….
Humanely Raised – Listening to Darryle talk about his turkeys was like listening to a parent talk about their children. I could see just how important it was to him to provide consumers with a healthy product that was raised to live and breed on its own. The last thing he wants is for them to be cooped up in a shed, with no room to walk or forage.
Flavor – Farm raised turkeys simply taste better. Being allowed to roam the pastures, these gobblers develop stronger muscles, leading to a meatier bird. They also have a more even dark to white meat ratio, which allows for a deeper flavor. Additionally there are no no chemicals or preservatives to interfere with the true taste of the turkey. Remember, would you inject those chemicals into your own body??
Support Local Farmers – Without our farmers, we would be in quite a food predicament. What they raise is their livelihood, and the reason they do it is for us. Help support agricultural biodiversity so that many generations to come will also be able to have these experiences.
My Wish
I know that not everyone will buy a locally raised turkey this year, but my hope is that I brought you closer to farmers who truly care about what they do and are here to support our environment and health. There are many reasons we do not always buy local products, but I challenge you to start small. Maybe start out by incorporating one local product into one meal a week, then three times a week, etc. I think you will find that much of the food tastes better, is healthier, and the satisfaction you get from supporting the community is awesome.
Additionally, the Powers also wanted me to invite all my readers out for a farm tour to see all of their livestock and beautiful land! Can you tell how much they love what they do??
Blue Gentian Farm
1900 Highway 46
New Richmond, WI 54017
Telephone: 715-781-8169
E-mail: info@bluegentianfarm.com
Website: www.bluegentianfarm.com
With Thanksgiving upon us, what is your favorite way to prepare your bird? Or if you are vegetarian, what is the star of your table?