Farmers markets are in full bloom right now, bursting with fresh veggies, fruits, and other local food. I have two favorites here in the Twin Cities – The downtown St. Paul Farmers Market and the Mill City Farmers Market. Earlier this spring I signed up to volunteer at Mill City Cooks, which is the market kitchen at Mill City featuring a weekly demo taught by Spoonriver Chefs Heather Hartman and Nick Schneider.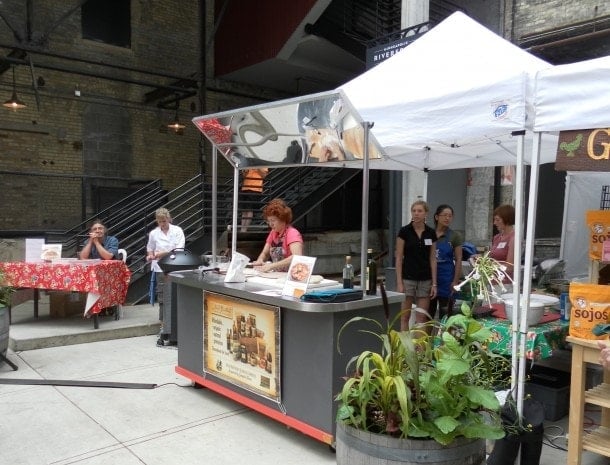 The thing I love most about the demos is that they use ingredients picked up right from the market that week and give great tips on cooking seasonally. This week the focus was on grilling veggies and how to incorporate them into easy meals. Chef Heather cooked up a delicious Smashed Grilled Potato Salad and visiting chef Robin Asbell showed how to create a pizza dough that could be grilled and then topped with loads of fresh pesto and grilled veggies. Once I snuck a taste of the potato salad my mind was spinning about creating a meal with that as the side dish, along with a watermelon, feta, and mint salad. I had never thought of grilling potatoes for a potato salad, but what a super idea. Grilling them gives a nice crisp texture, and when mashed with all the other ingredients like the garlic pepper jam and roasted onions, the flavors absorb perfectly. And how awesome that the meal dancing in my head was naturally gluten free!
I remembered I had just picked up a pork loan roast at Trader Joe's the day before without a recipe in mind, but I had been wanted to try my hand at grilling one for some time. Grilling meat can be intimidating sometimes…how long to cook it, will it be too dry, if I keep poking it its going to lose all its juice, its raw in the middle but charred on the outside….etc! I referenced several different sources online and came up with a plan – brine, season, grill, chutney! My plan turned out perfect! The roast came out very moist and evenly cooked. It had a juicy, savoury flavor that was accented with the apple chutney. What a wonderful combination!

I decided to brine the meat because I really wanted to keep it moist and help retain all flavors. Brining is a cooking technique with osmosis behind it. Here's the deal: Meat already contains some salt water, but by immersing into a liquid with a higher concentration of salt, the liquid will be absorbed by the meat. Any other flavors you add to the brine will also be carried into the meat. Plus, you have now loaded it with extra moisture to help prevent it from drying out!
Grilled Pork Loin Roast with Curried Apple Chutney

-2 to 3 pound pork loin roast
-1 head of garlic cut lengthwise
-2 1/2 cups water
-1/8 cup + 1 T. cup kosher salt
-1/8 t. cayenne pepper
-2 T. honey or pure maple syrup
-1 T. olive oil
-2 T. chopped fresh herbs (whatever you have on hand!)
-apple chutney*
In small pot bring garlic, water, salt, cayenne and honey to a boil. Let simmer for 15 minutes. Remove from heat and let cool. While brine is cooling, trim fat from roast and the silver lining (tough, fibrous skin that sometimes the butchers do not remove). Tie roast with butchers string to keep it compact and ensure even cooking. Once brine is cool, place roast in bowl or container so that loin is fully submerged, cover. Refrigerate for 8-12 hours. About one hour before grilling, remove roast from brine, pat dry, and allow to come to room temperature. Combine olive oil and fresh herbs, rub onto pork and top with freshly cracked pepper and a pinch of salt. Preheat grill, keeping it at medium high for the beginning sear. Sear all sides of roast for about 30 seconds. (This also helps keep the juices in.) Move pork away from direct heat and turn heat down so that grill stays at 375 degrees. Cook roast for about 1 hour and 10 minutes, checking internal temperature every 20 minutes. Remove from heat when internal temperature reaches 150 degrees. If you let it go longer you will be left with dried out pork! Let stand for 10 minutes, then slice thinly and top with apple chutney.
*The apple chutney I used was one that I recently got at the ever growing Minneapolis Food Swap! More to come on that later……