A tequila infused Plum Habanero Salsa, preserved using the water bath canning method. The ripe plums mellow the heat of the habanero peppers to create a unique and delicious salsa. Step by step water bath canning tips included!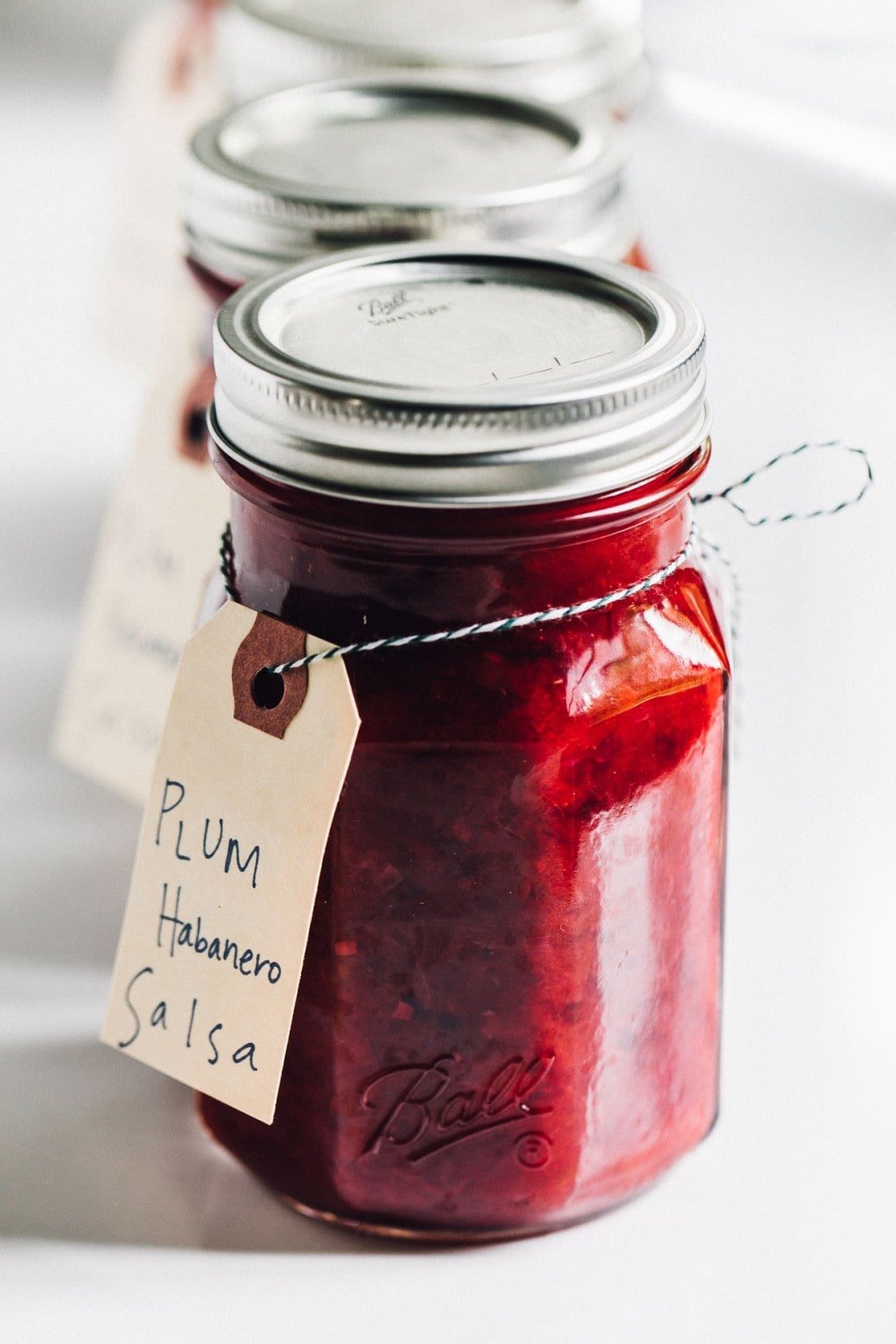 I'm very into preserving summer fruit bounties at home right now, in the form of salsa. I canned Roasted Tomato Peach Salsa last month, and followed that up with this tequila infused Plum Habanero Salsa.
So habaneros….. yes, theses little orange peppers are spicy and quite high on the Scoville scale. But the fresh, sweet plums and heirloom tomatoes absorb some of the habanero's heat. They have such great flavor that you're actually able to enjoy in this plum salsa by mellowing their bite.
This recipe from my friends at Ball® Canning is simple to make – the biggest time commitment is simply chopping the ingredients! The ingredient list is short, and includes:
plums
tomatoes
habanero peppers
garlic
red onion
lime juice
There's a surprising ingredient too – TEQUILA!
You probably like to drink tequila with chips and salsa, but have you ever added it into your favorite recipe? It isn't overpowering – just the right amount of interesting to keep you coming back for more. It really sets this salsa apart!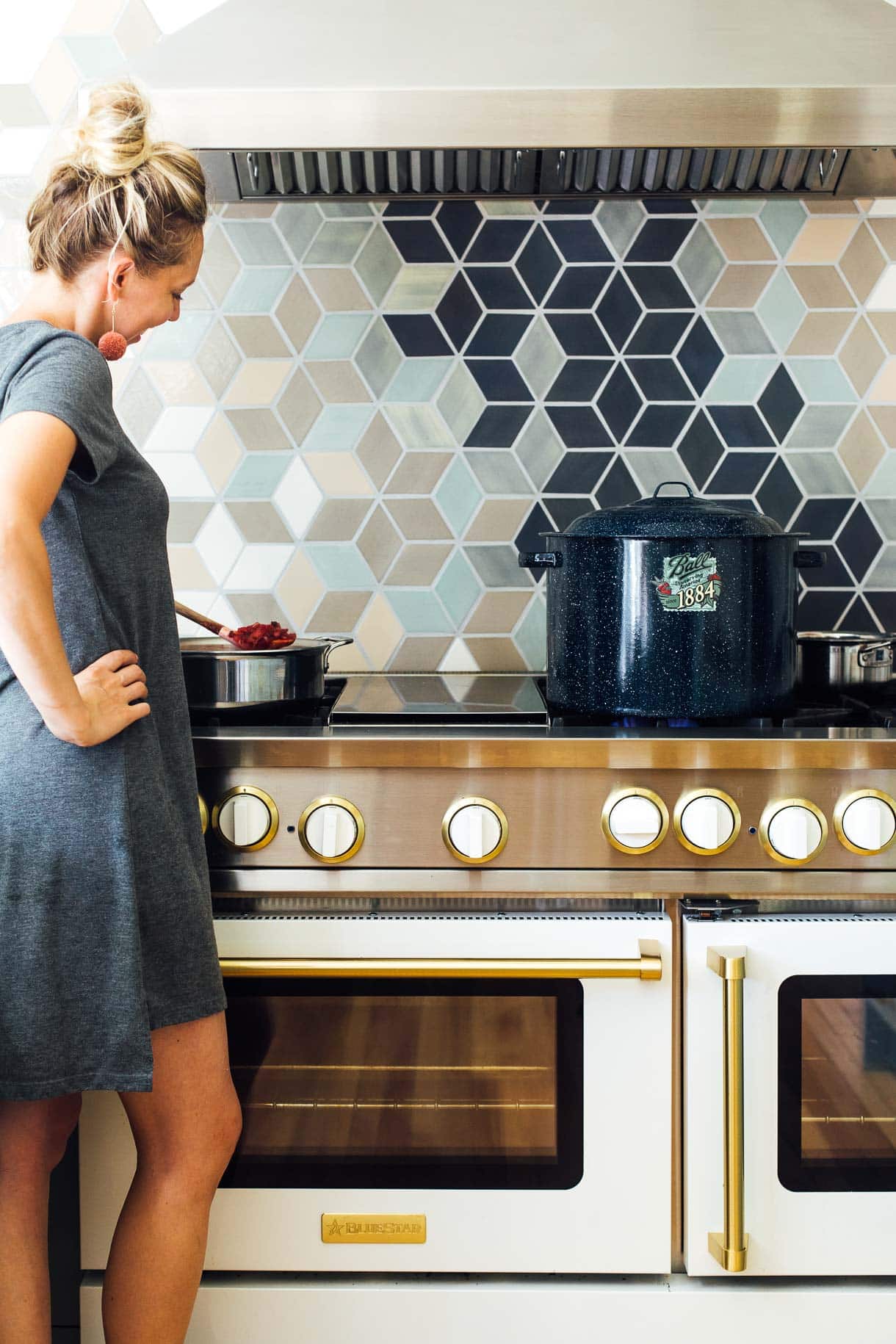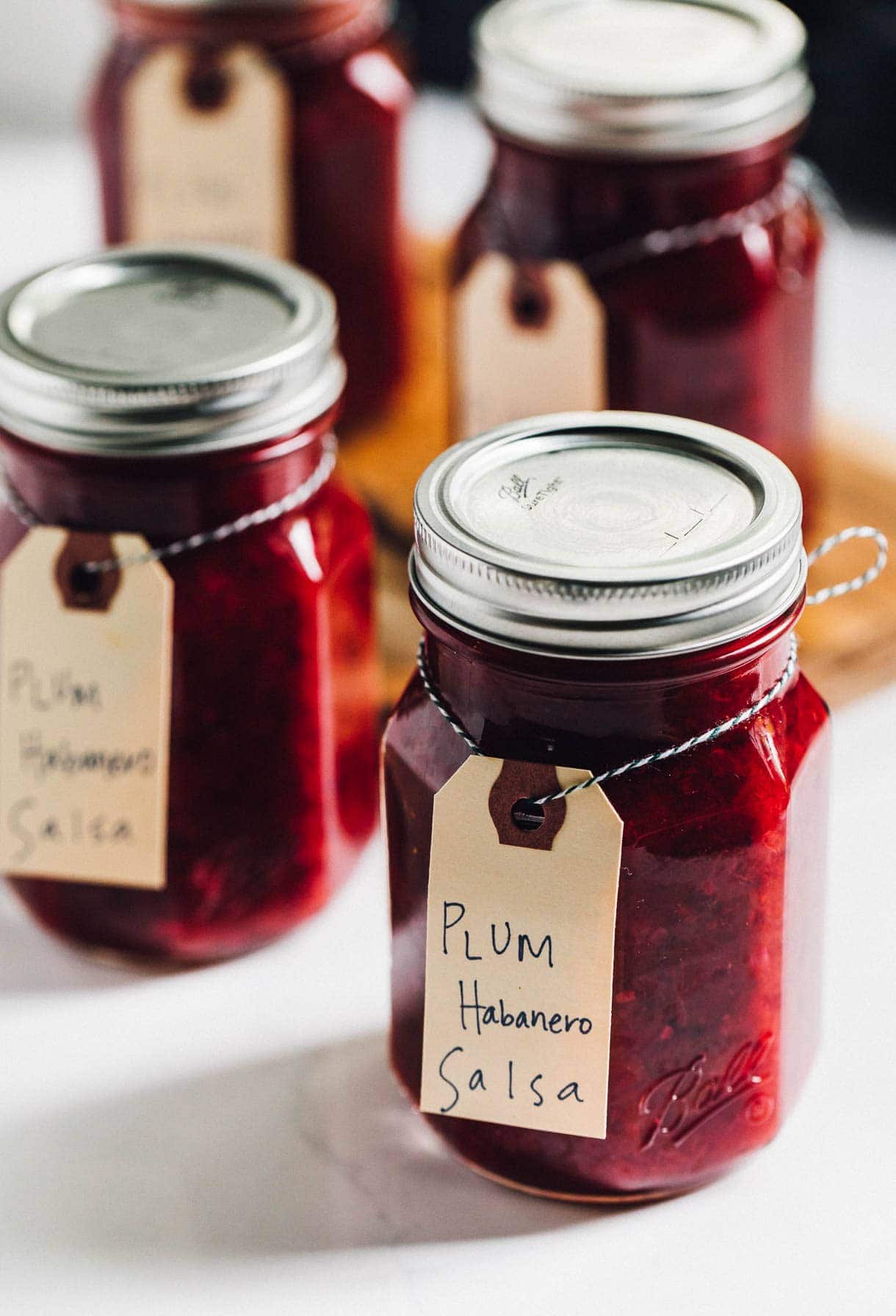 How to water-bath can habanero salsa:
Chop all of the vegetables, besides tomatoes.
Core and cut tomatoes in half, then roast for 30 minutes.
Combine all ingredients and simmer on stovetop for 20 minutes.
Heat your sterilized Ball® Pint Jars in your Ball Canner with rack, and keep them in there until ready to jar the salsa.
Once salsa is ready, fill jars leaving 1/2 inch headspace.
Attach lids and bands, and process in water bath canner.
You'll have 4 pints of Plum Habanero Salsa to enjoy any time of year. Or gift a jar to someone special!
I especially love the Ball® Elite Sharing Jars because the longer neck allows you to easily add a tag or ribbon for personalizing it.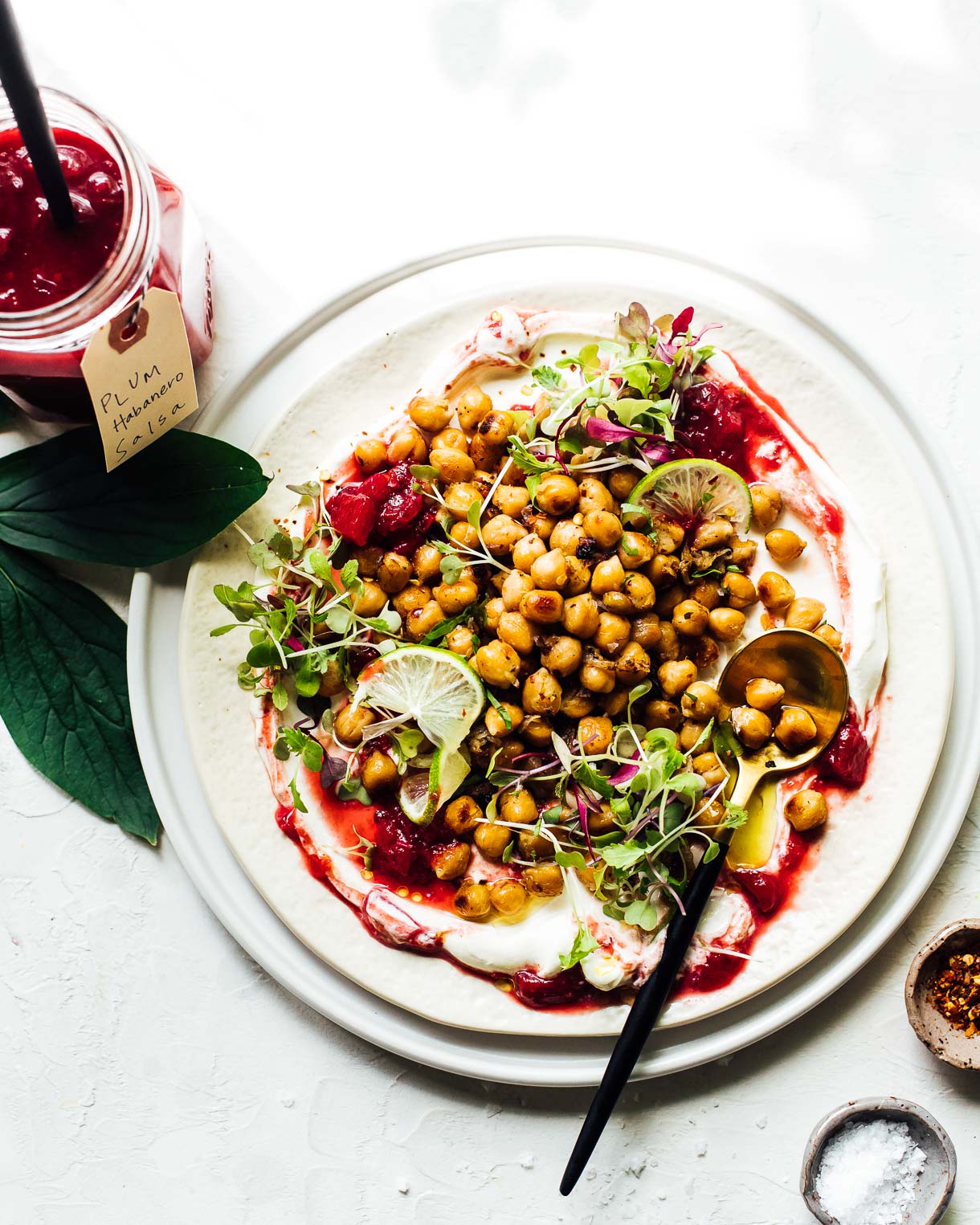 My favorite way to eat this salsa!

Besides mixing it with a batch of guacamole, I love to swirl it into greek yogurt (full fat) or sour cream, then top with frizzled chickpeas, fresh herbs, and lots of lime. It's cooling, refreshing, and satisfying. It's also super delicious on pork tacos.
More Salsa Canning Recipes:
Preheat oven to 350° F. Halve tomatoes and place on a baking sheet cut side down. Roast 20 minutes then turn tomatoes over and roast an additional 10 minutes. Let cool. Slip skins off, then roughly chop.

Prepare boiling water canner. Heat jars in simmering water until ready to use, do not boil. Wash lids in warm soapy water and set aside with bands.

Combine tomatoes with all remaining ingredients except tequila, in a stainless steel pot. Bring to a boil, then lower heat to simmer, cook stirring frequently until plums soften and salsa thickens, about 20 minutes. Take off heat and stir in tequila.

Ladle hot salsa into a hot jar leaving a ½ inch headspace. Remove air bubbles. Wipe jar rim. Center lid on jar and apply band, adjust to fingertip tight. Place jar in boiling water canner. Repeat until all jars are filled.

Process jars 20 minutes, adjusting for altitude. Turn off heat, remove lid, let jars stand 5 minutes. Remove jars and cool 12-24 hours. Check lids for seal, they should not flex when center is pressed.