An easy canning recipe for making tomato peach salsa at home, a delicious way to preserve fresh peaches! Using the water bath canning method, the salsa lasts up to 12 months on your shelf. This salsa is a great topping for chicken or fish, and many vegetarian applications.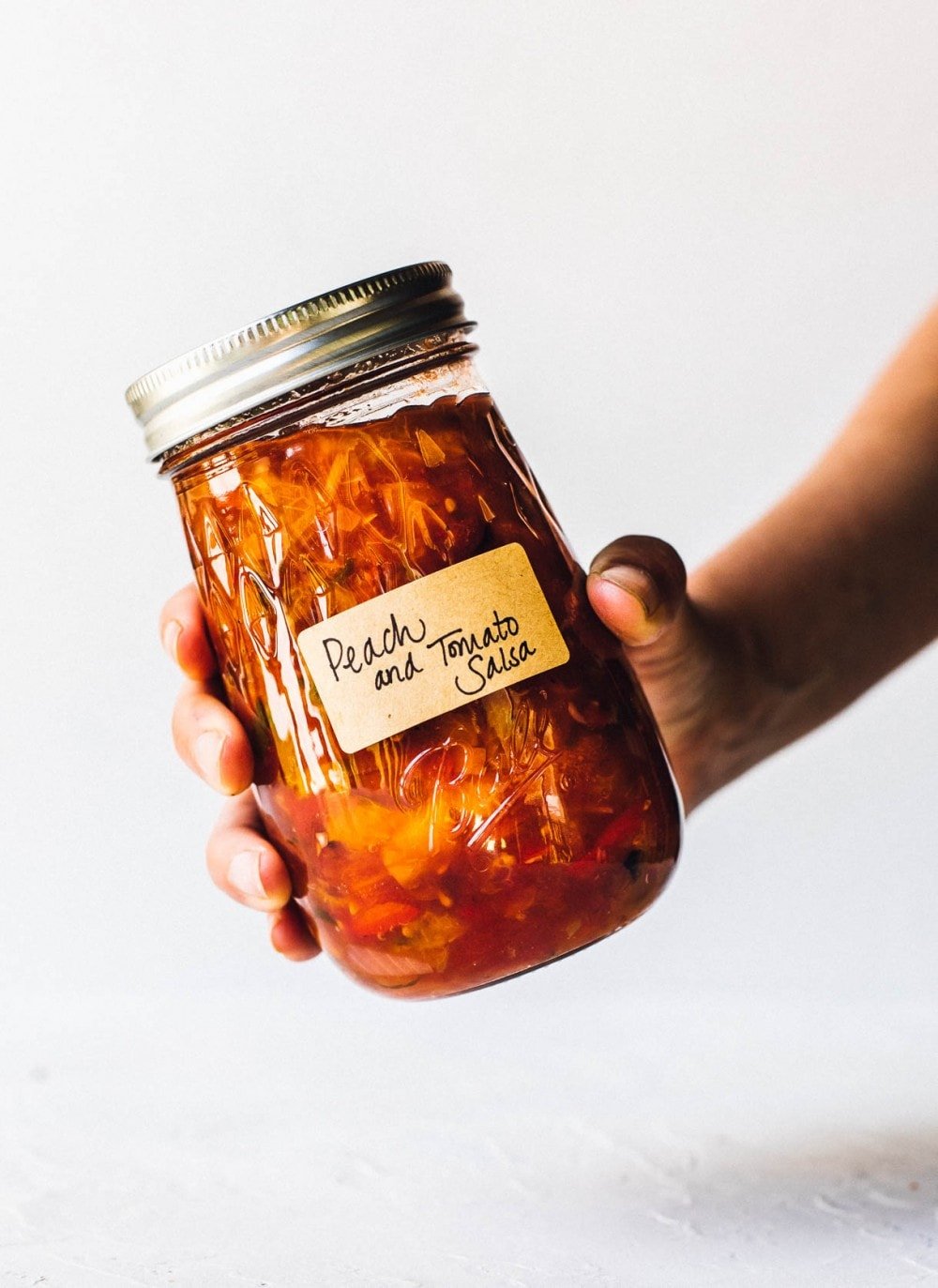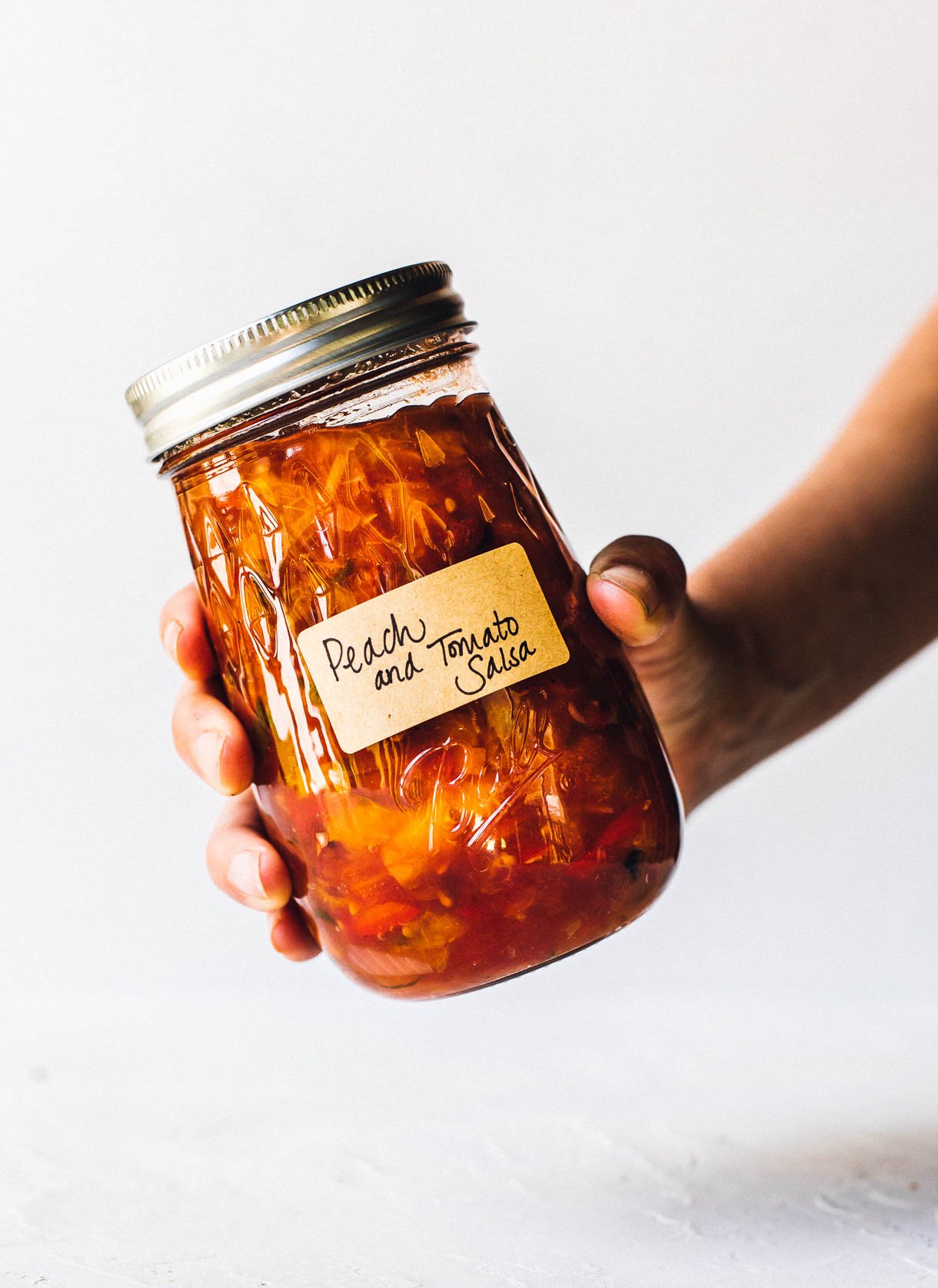 We go through a jar of salsa a week. I mean, there's nothing wrong with a chips and salsa dinner in summer, am I right?
My mom taught me how to can when I was young, and we always used Ball jars for the salsa and rhubarb jam we'd make together. And her mother did the same.
In a quest to use a crate of peaches I recently bought, this Fire Roasted Tomato Peach Salsa was the perfect solution to bottling up all that sweet, juicy goodness. Peach salsa boasts a sweet heat that works incredibly well with chicken and pork, and I love it on a veggie burrito bowl too. Pretty much the perfect condiment that you can make at home!
I absolutely love the smoky flavor that comes from roasting the tomatoes, red onion, and peaches together. It gives them an even deeper flavor than they already have! The charred bits of the skin go right into the salsa, no peeling required! Plus, everything softens from the heat of the broiler, making for easier and quicker chopping.
Have you ever canned salsa? It's not as intimidating as it might seem after you do it once or twice.
The salsa is simmered on the stovetop for about 10 minutes. While this is happening, you'll simmer your clean Ball® Canning jars (I'm using their new Flute jars) in the large stock pot you have for canning, to get them hot.
Once the salsa has cooked, you'll use your jar lifter to grab a jar out of the water, pouring the water out, then setting on a towel.
Ladle the salsa into the funnel, and fill each jar, leaving 1/2 inch headspace.
Wipe the rim of the jar clean with a paper towel, and place the lid on top, then the screw cap. Tighten until it just sticks.
Continue with all jars.
Place Ball® Canning jars into wire rack, and submerge jars into water. Place cover on stock pot. Boil gently for 20 minutes.
Use your jar lifter to remove each jar, keeping the jar upright the whole time, and set on a kitchen towel.
Let jars sit undisturbed for 12-24 hours. You do not want to disturb the sealing process.
How do I know if my canning jars sealed?
When you inspect lids for seals after the 24 hours, there should be no flex when the center is pressed. Remove the bands and attempt to lift lids off gently with your fingertips. Properly sealed lids will remain attached. If a lid fails to seal within 24 hours, immediately refrigerate the product.
Helpful canning equipment to have: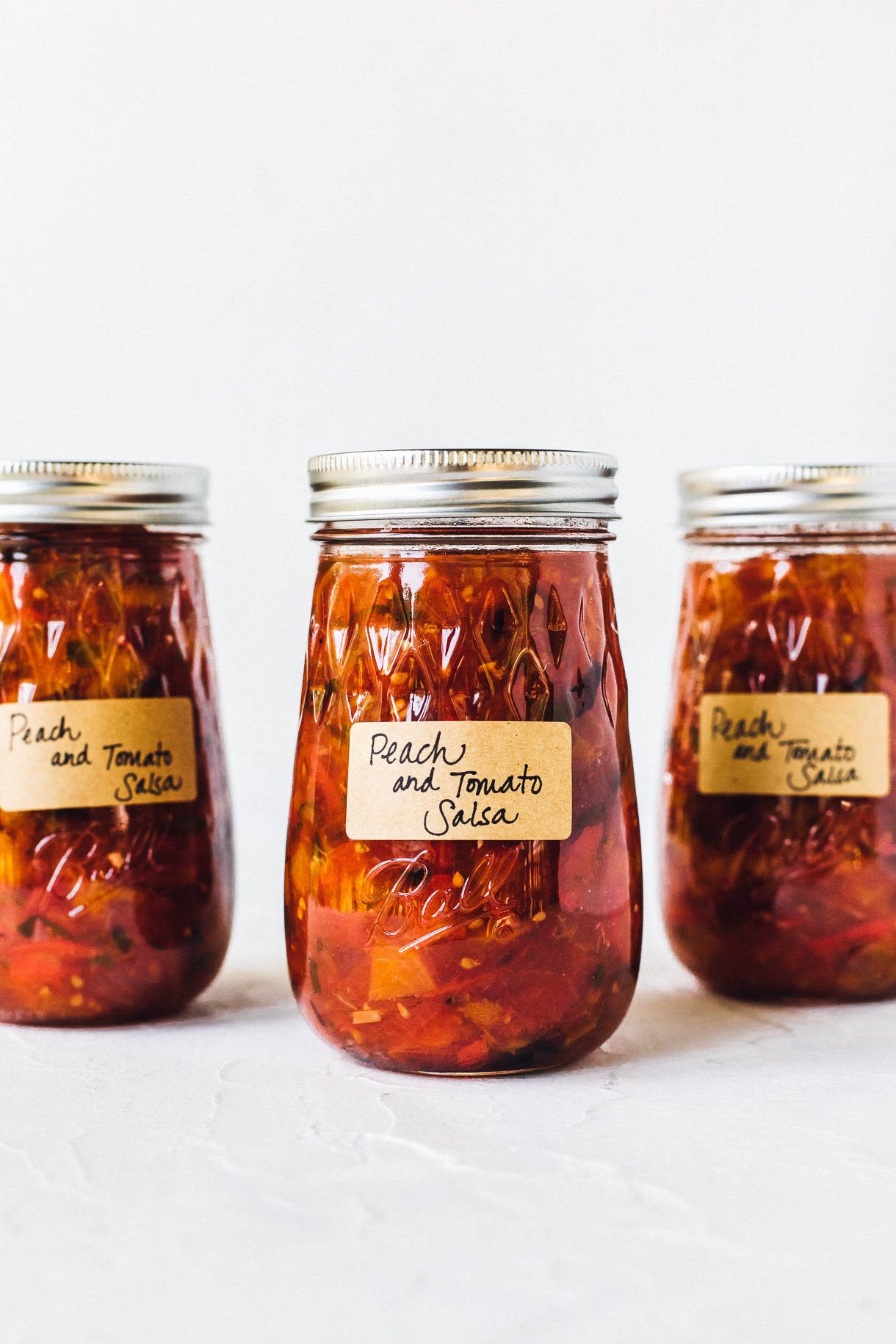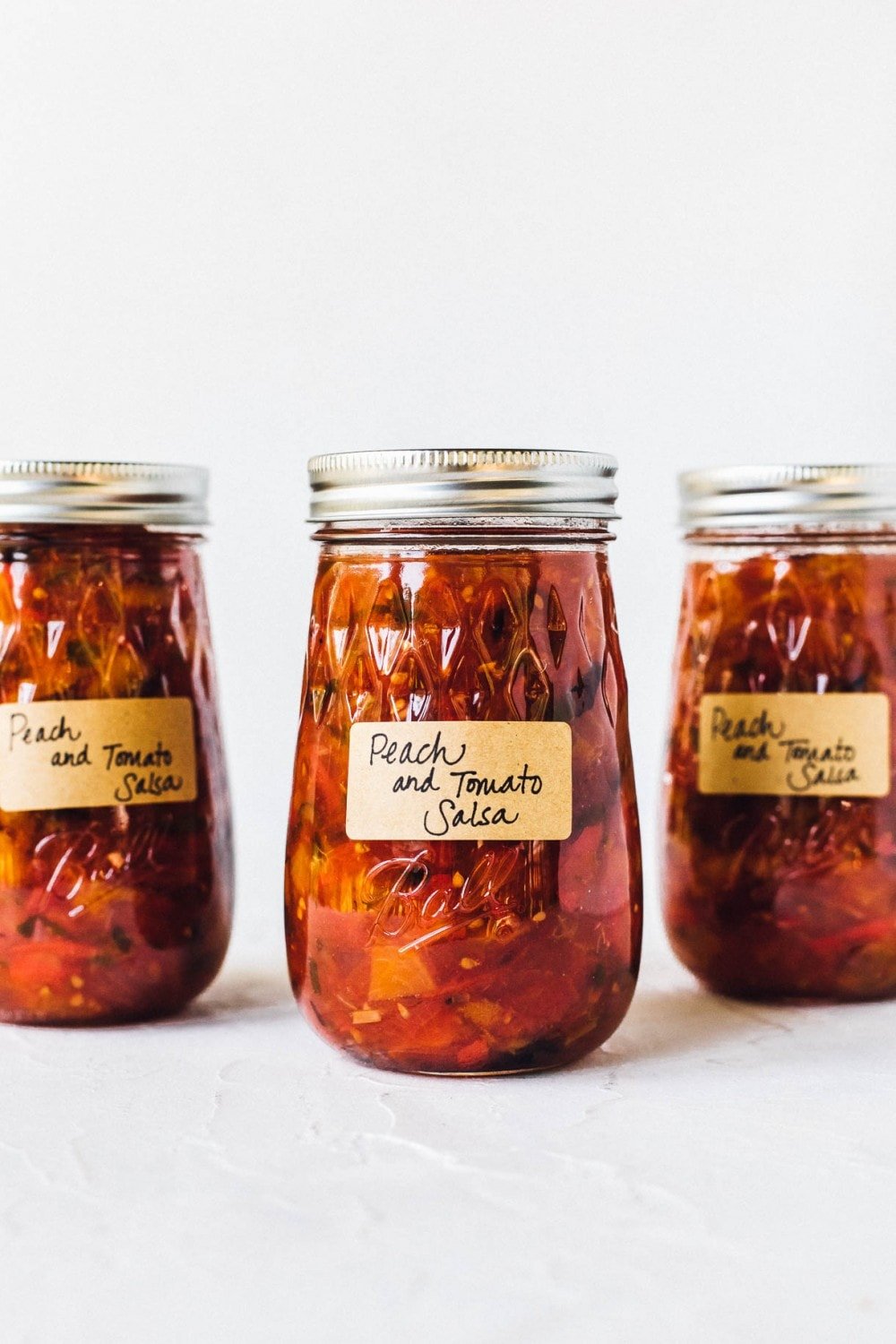 What variety of peaches are best for a peach salsa canning recipe?
I like to use Colorado or Georgia peaches if they're available at my local co-op. And you'll actually want to use slightly underripe peaches in this recipe, to withstand the canning process. By the time the jars are opened, the peaches will have submitted to the sitting time, turning soft and absorbing the great flavors in the jar.
More canning recipes: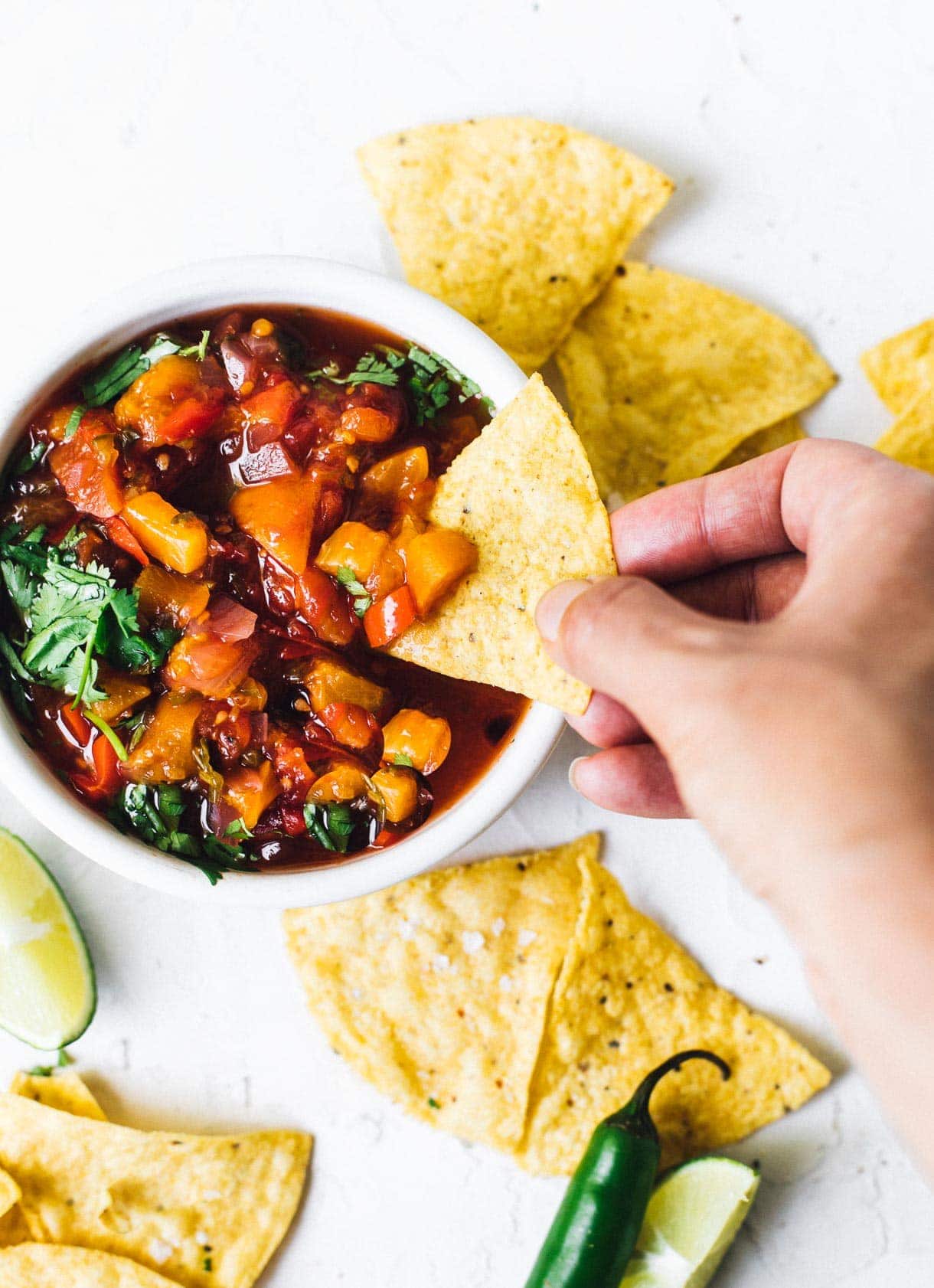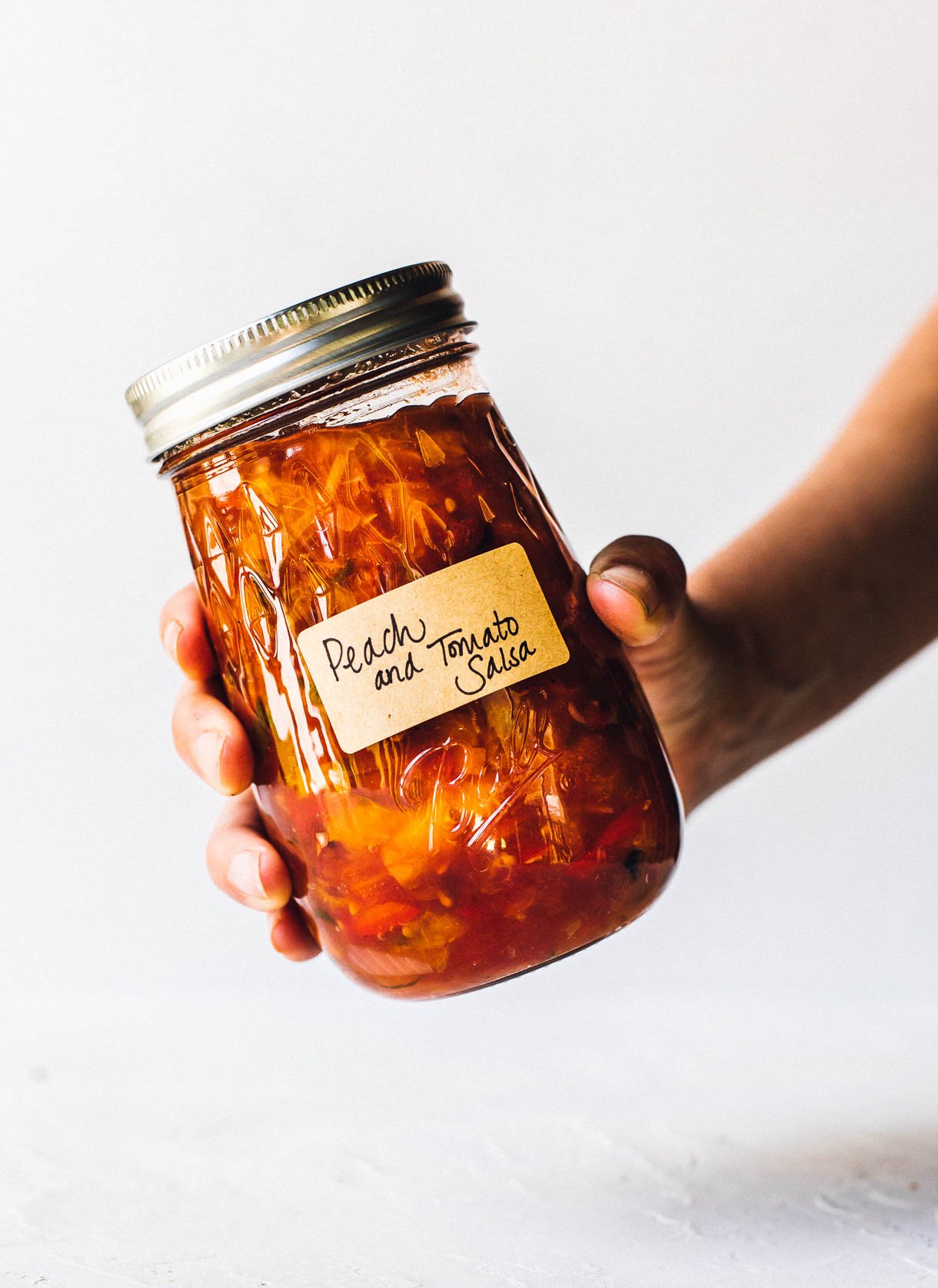 Pre-heat broiler in your oven to high.

Place peaches, tomatoes, red pepper and onion halves skin side down on a sheet pan and place in oven until slightly charred, about 7-10 minutes. Remove from heat and let cool.

Prepare boiling water canner. Heat jars in simmering water until ready to use, do not boil. Wash lids in warm soapy water and set aside with bands.

Dice peaches and tomatoes, leaving charred skin on. Dice red onion halves and red pepper. Combine everything up to the cilantro in a 4 quart saucepan. Bring to a simmer over medium heat, stirring frequently. Simmer until peaches have softened slightly and flavors have combined, about 10 minutes. Stir in cilantro.

Ladle hot salsa into a hot jar leaving a ½ inch headspace. Remove air bubbles. Wipe jar rim. Center lid on jar and apply band, adjust to fingertip tight. Place jar in boiling water canner. Repeat until all jars are filled.

Process jars 20 minutes, (adjusting for altitude if above 1,000 feet). Turn off heat, remove lid, let jars stand 5 minutes. Remove jars and cool 12-24 hours. Check lids for seal, they should not flex when center is pressed.
This is a certified BALL® Canning recipe, that has been tested and approved. It was originally posted here.