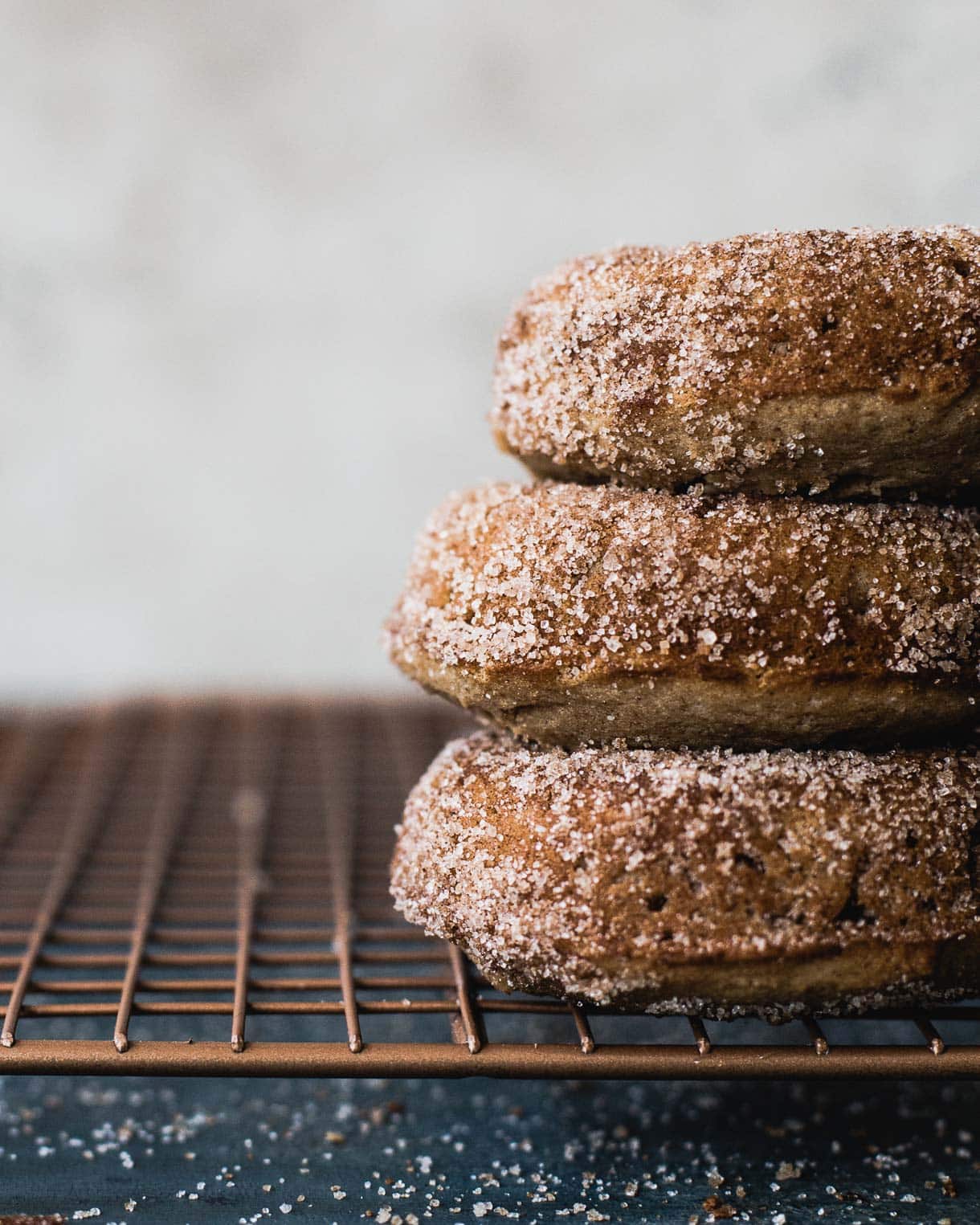 Let me count the ways I love pumpkin, pumpkin spice, and all things related. It's programmed in my genes, and not so quietly emerges with the return of turtlenecks and decorative gourd season.
I've baked these gluten free pumpkin donuts no less than four times already, and the calendar just hit October.
I say they're the best because they really are the best gluten-free baked donuts I've ever made. Their texture is exactly the same as a regular cake donut! And they make a donut pan 100% worth it. (Here's the inexpensive one I use.)
Soft and tender.
Moist and fluffy.
Sweet and spiced.
So what makes this gluten-free donut recipe mimic a regular baked donut?
I developed these donuts, using the FauxMartha's recipe for vanilla bean baked donuts as a starting point. To make them gluten-free, I tried several different flour combinations, sweeteners, and oven temperatures.
Sweet rice flour is magical, and should be a staple in your kitchen if you're gluten-free. This naturally gluten-free flour is not sweet, like it sounds, but instead is ground from short grain white rice, also known as sticky rice.
Sweet rice is a sticky and higher starch rice, which works great in gluten free baking because it helps bind things together. It gives baked good the "stretch" and softness of what regular gluten typically does.
I combined the sweet rice flour with teff flour (has a natural malty flavor that works so well in a donut!), and a small amount of millet flour to balance things out. These two flours provide a good foundation and structure.
From there, I found that a lower oven temperature than what you'd bake a regular donut at helped keep them from over-browning and becoming too dense.
Don't try to cut out any of the sugar or honey in these – they aren't cloyingly sweet as many American donuts are. They're just right, in my humble opinion.
This recipe makes six donuts, which is helpful when you're a house of two like Brian and I. And really great news — they're still good on day 2, with little loss in texture, and the flavors even deepen a bit.
If you make these Gluten Free Pumpkin Donuts, be sure to tag me on instagram with hashtag #heartbeetkitchen or @heartbeetkitchen!
Donut Base
60

grams

ivory teff flour

55

grams

sweet rice flour

30

grams

millet flour

1/4

cup

organic cane sugar

1 1/4

teaspoon

pumpkin pie spice

1/4

teaspoon

sea salt

1

teaspoon

baking powder

1/2

teaspoon

vinegar

1/3

cup

+ 1 tablespoon milk

3

tablespoons

butter

melted

1

large egg

1/2

teaspoon

vanilla extract

2

tablespoons

maple syrup
Coating
1

tablespoon

butter

melted

1/4

cup

organic cane sugar

1

teaspoon

cinnamon
Mix flours, sugar, salt, pumpkin pie spice, baking powder in a bowl. Set aside.


Whisk together milk and vinegar. Let sit for 5 minutes. Whisk in egg and vanilla, maple syrup, then melted (and cooled) butter.


Pour wet ingredients into dry and stir until no flour streaks are left.


Grease a 6 count donut pan, then spoon in batter. It will be thicker than normal batter. Level off with a spoon. Bake for 11 minutes at 350 degrees, or until a toothpick comes out clean.

Remove each from pan once cooled. Running a knife around the edges is helpful to get them out gently.


Brush melted butter onto donut, then dip into the sugar mixed with cinnamon.