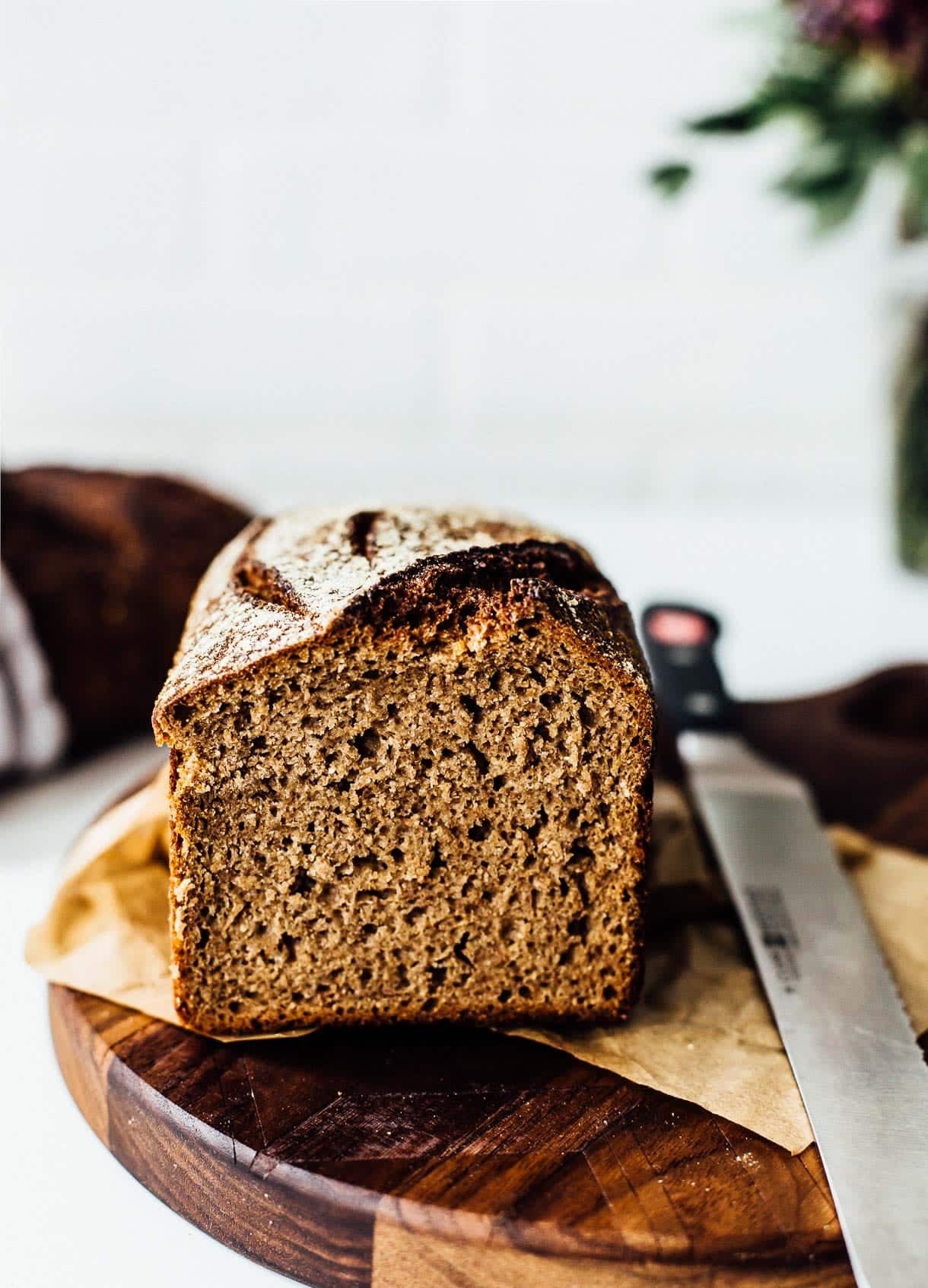 This post is sponsored by FoodSaver, a partner of Heartbeet Kitchen.
Everyone knows a slice of sourdough bread is the very best on the day it has been baked. Days 2 and 3 are still good and fresh, the crust just loses a bit of its crunch. And day 4 is toast day — avocado, peanut butter, butter and jam, whatever you fancy. But then it's time to get creative.
First, what's the best way to preserve sourdough bread?
I've experimented with a few different ways to stop time and preserve the bread, and the most successful way to do this has been my FoodSaver (I have this model). It vacuum seals the bread and allows me to freeze it without degrading the freshness any further.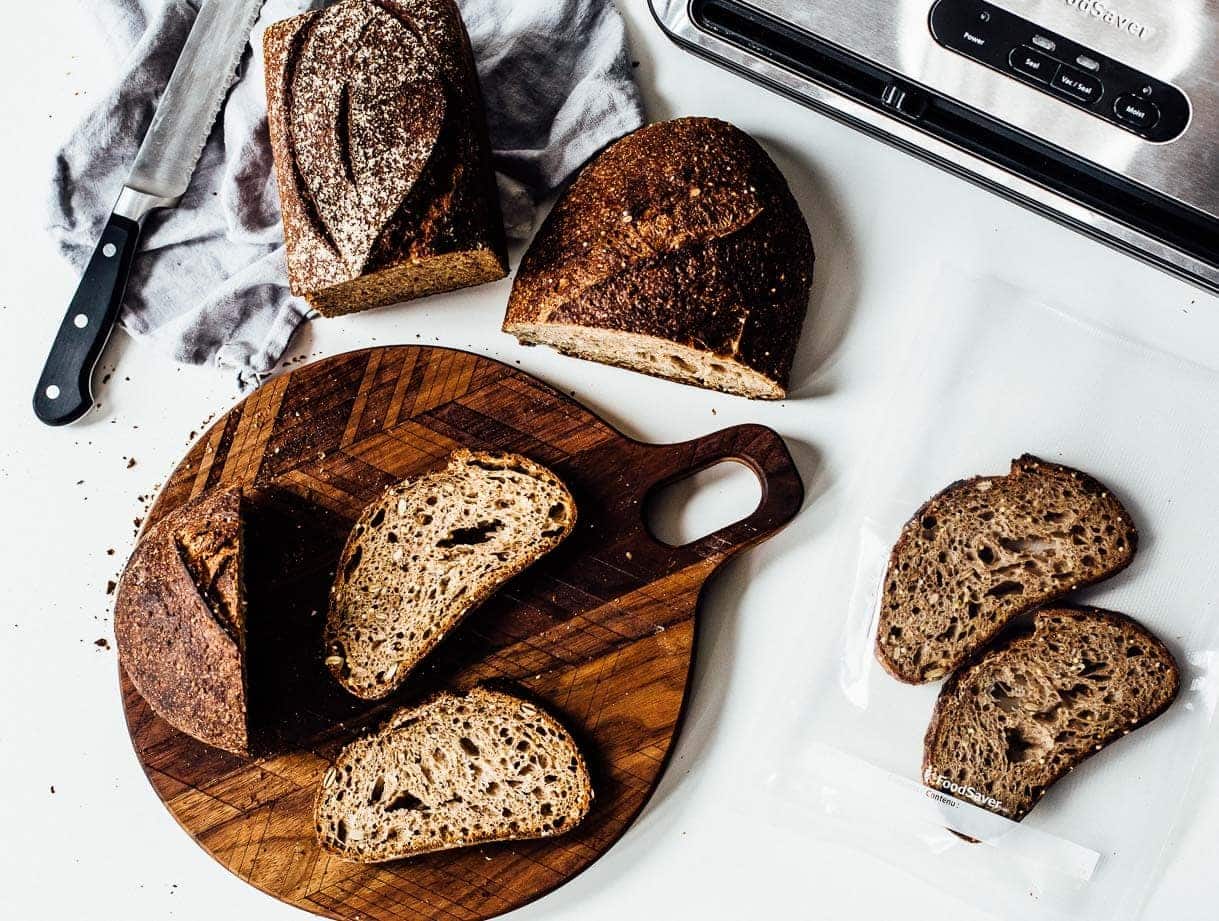 I've been giving my sourdough bread an extended lease on life in 3 different ways with the FoodSaver. Let's walk through them.
Note, most importantly — when you are using the FoodSaver system to save your bread, make sure you stop the vacuum seal just after you see it has taken the air out. If it goes too far, it will squish the bread too much.
Saving and freezing via the FoodSaver in packs of two or three slices for toast in the morning.
*Brian usually eats 2 pieces and 1 for myself, so it works out great. I pull the package out the night before and de-thaw in the refrigerator and give it a quick toast in the morning. These slices of bread are also excellent for making grilled cheese with.
2. Croutons! Simply cut the leftover bread into cubes, toss with a good amount of olive oil and salt, and bake for 8 minutes at 400 degrees F. Let cool, then put into a FoodSaver bag and vacuum seal. Freeze, and take out when you want to make a delicious panzanella or caesar salad!
3. Breadcrumbs! How often do you want to make a recipe and realize it calls for breadcrumbs, which you don't have on hand. Used to happen to me all the time, but now I just take the last few pieces of bread, let them dry out in the oven at 275 degrees, cool, and blitz in a food processor. I freeze 1 cup of breadcrumbs in a small FoodSaver bag and take out as needed. So convenient!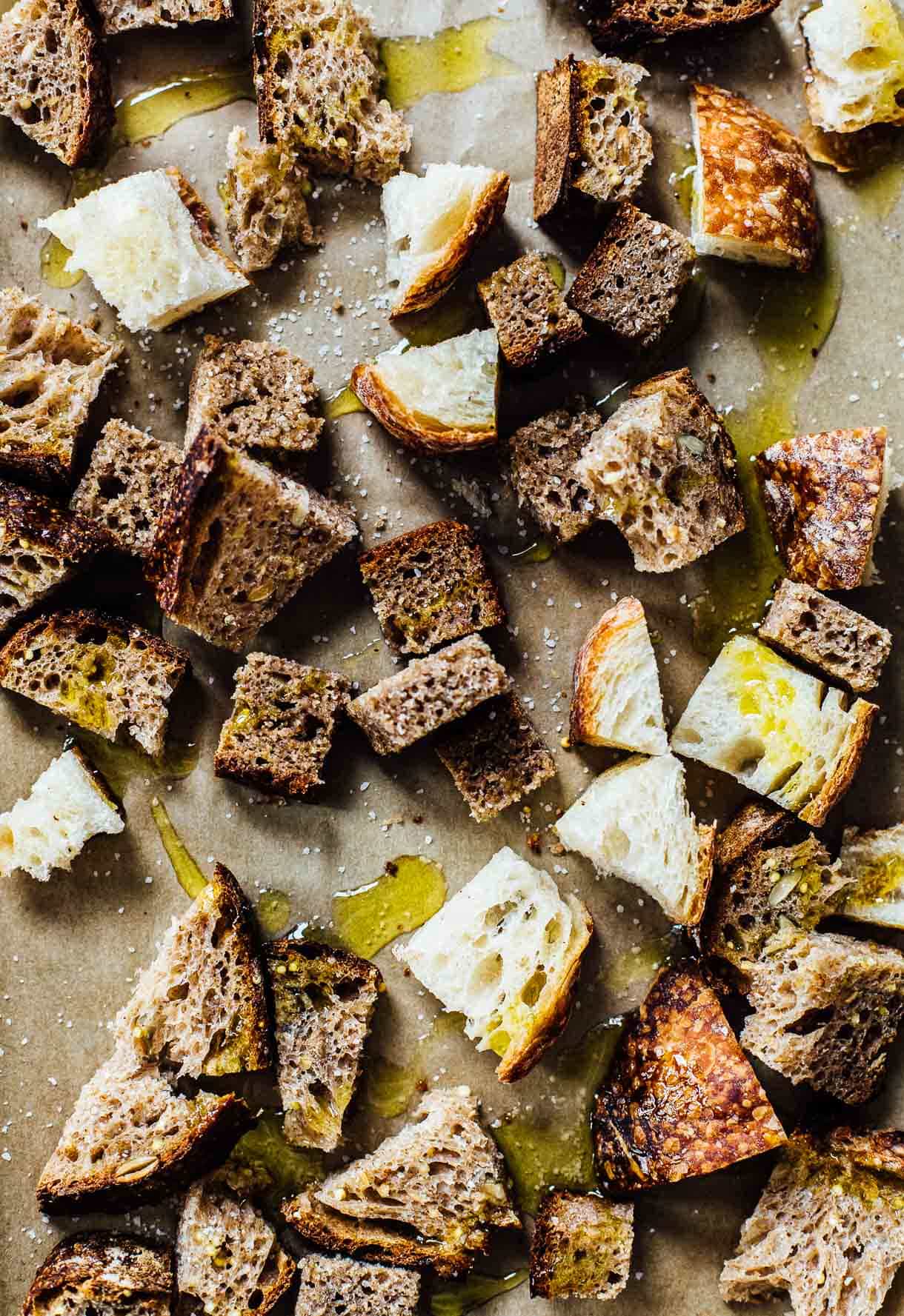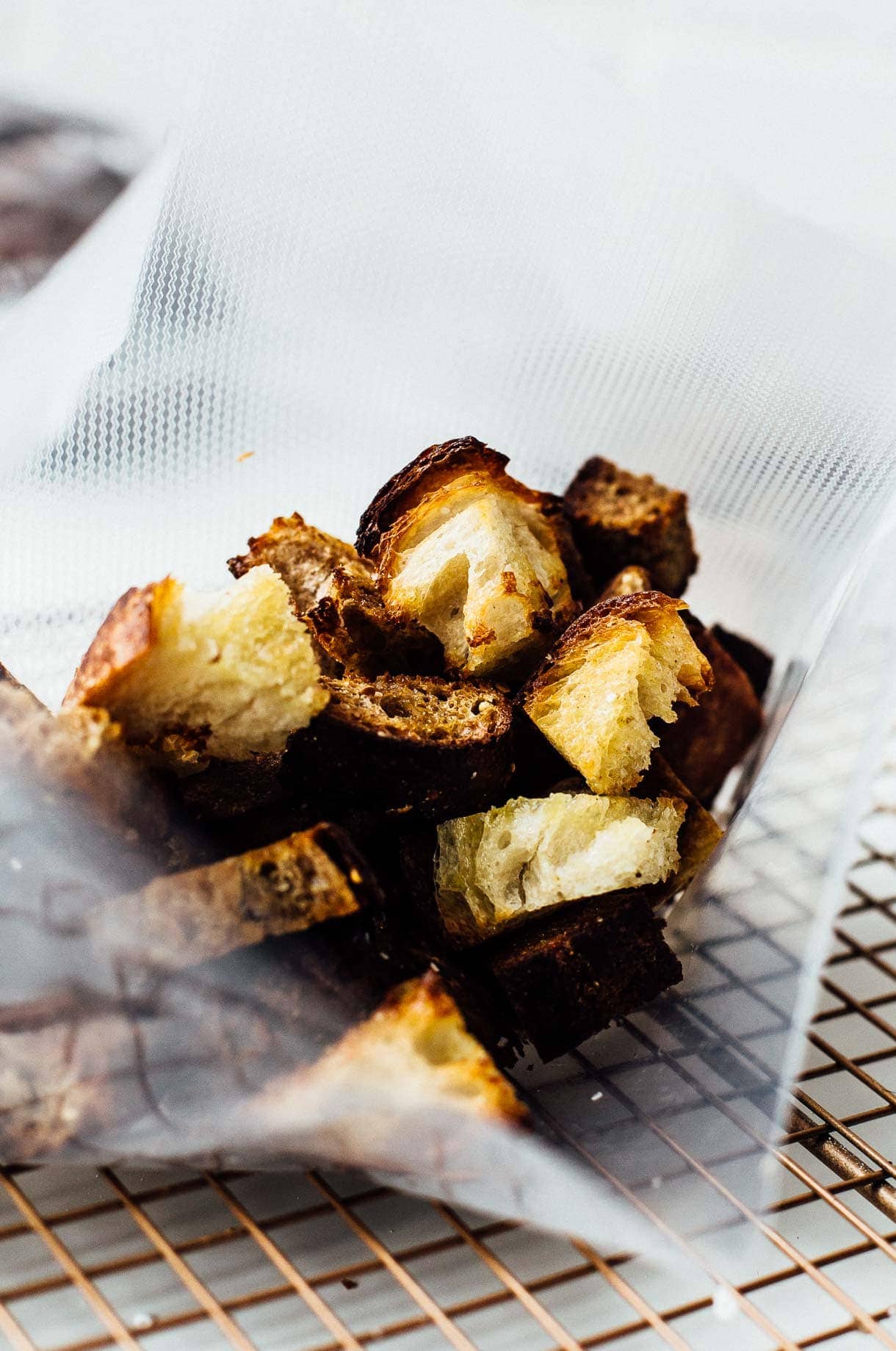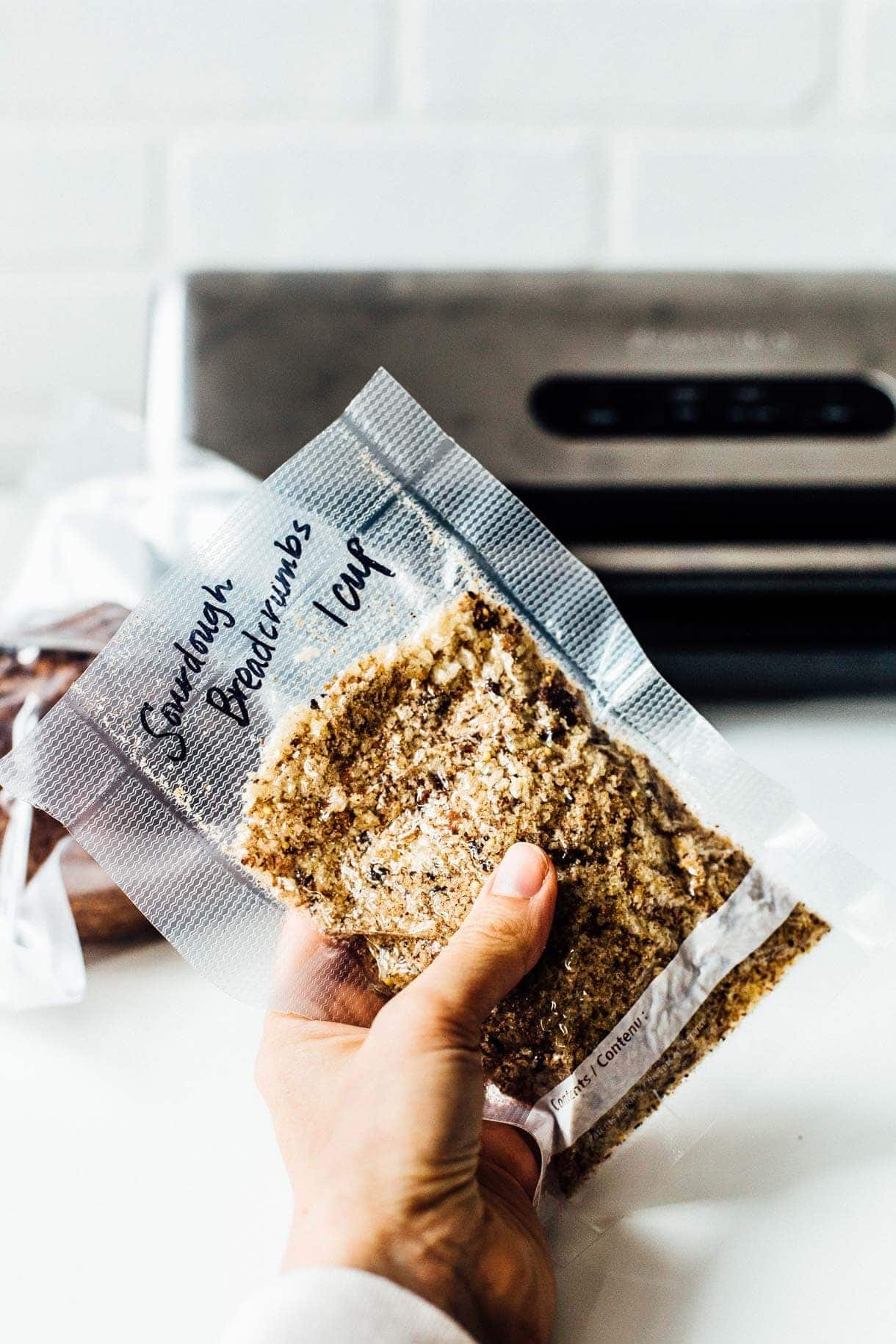 Using the FoodSaver is very easy. Just pop in the bag, close the lid, and press the button to vacuum the air out and seal. You can either buy already sized bags, or use a roll of the material and create your own bag using the "seal" function on the FoodSaver.
This model has built-in roll storage and a roll cutter on the lid to create bags of any size, which makes it very versatile.
I'm not immune to food waste. It's part of life, but I'm doing my best to cut down on that by not overbuying, and extending the life of food that I've already made. Saving sourdough bread is just one way that I've been working on managing food waste around our house. I also use my FoodSaver for things like avocados, meat, nuts, and leftovers. I'm saving money, and keeping food out of the trash. That makes me happy!
Do you have any food saving tips? Share them with me below!