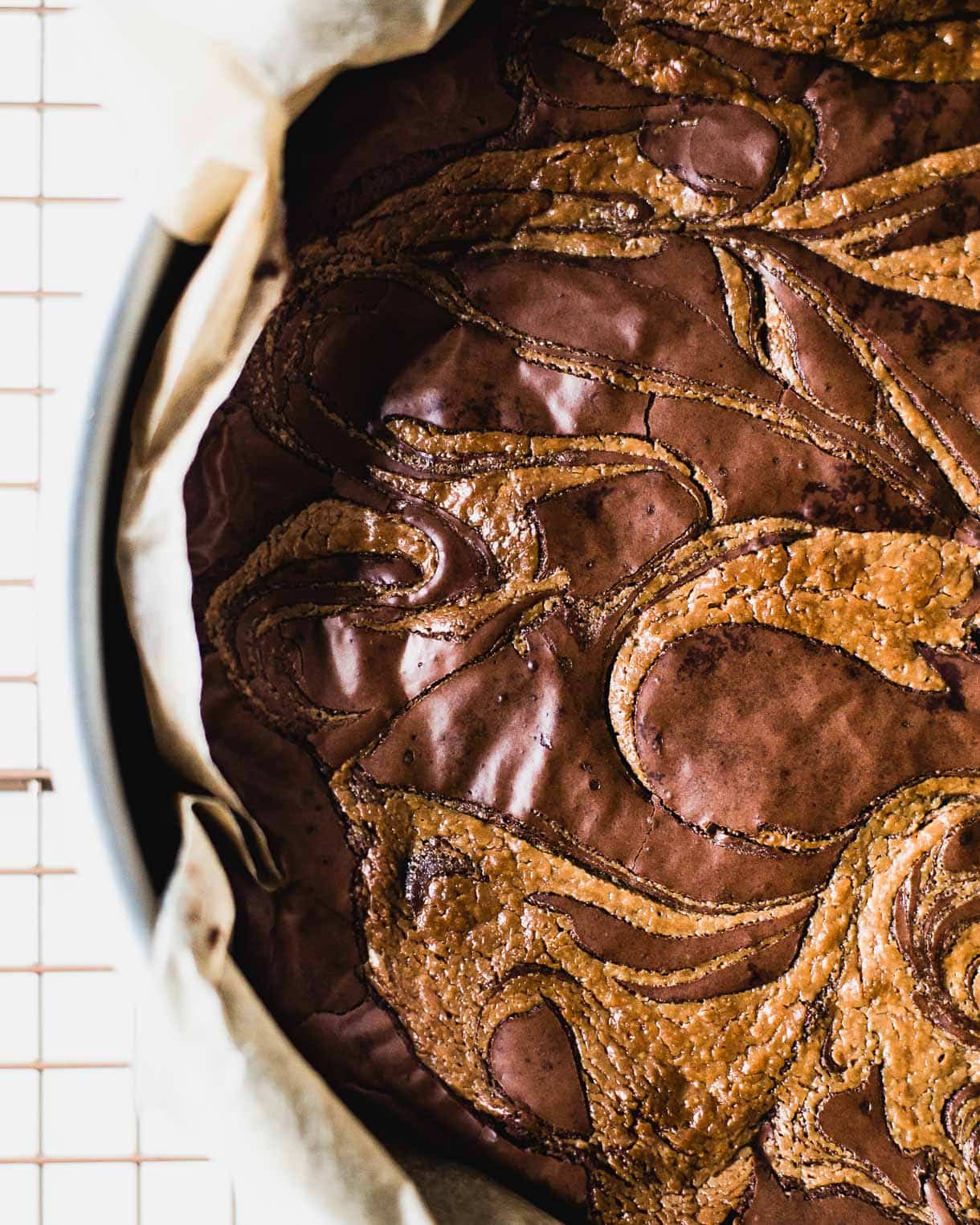 It's not often I find a recipe so good I need to gush about it to you in writing (this homemade butterscotch pudding was the last), and suggest you waste zero time making the aforementioned recipe.
These Tahini Brownies from Bon Appetit are that kind of recipe.
I'm obsessed. The very best brownies I've ever eaten.
And if you bring these to work, I'm 98% sure you'll be named "Best Coworker".
Think fudgy, rich, crackly top, deep chocolate goodness.
And then an agave sweetened tahini swirl that bakes into the chocolate base, offsetting the chocolate with creaminess and nutty flavors of sesame.
They're naturally gluten-free, and you don't even need a special flour blend, just cornstarch.
The perfectly chewy texture structure comes from a very specific technique, having you beat the eggs, granulated sugar, and brown sugar in a large bowl until light, smooth, and doubled in volume, 3–4 minutes.
Don't cut that timing short, even if you're tempted.
So what is tahini?
Tahini is simply ground toasted sesame seeds into a spread, just like any other nut butter would be made. You may be familiar it with this ingredient if you've made hummus, a classic addition. You can buy it at most regular grocery stores now, or you can make your own tahini, like I did here.
Wondering what size baking pan to use?
Brownies are traditionally made in square pans, but I like to use this round one. Either will work though, as long as they are 8-inch baking pans. If you use a 9-inch pan, your brownies will be thinner, which is a negative in my opinion, so I wouldn't suggest unless you are in a bind.
How should I store the brownies?
When they are cooled, you can store in a covered glass container, or in a ziploc bag. Store them at room temperature, not in the refrigerator, as they will lose some of their moistness.
HERE'S the link to the recipe again, in case you missed it.
Have you ever made tahini brownies? Share with me the other recipes out there you love.