This sourdough bread has chopped dill pickles, pickle brine, and dill mixed into the dough for incredible flavor! It has a custardy, soft crumb and golden crust. It makes the best sandwiches and avocado toast. This loaf is made with active sourdough starter, and the final rise can be done in the fridge overnight to make things easy.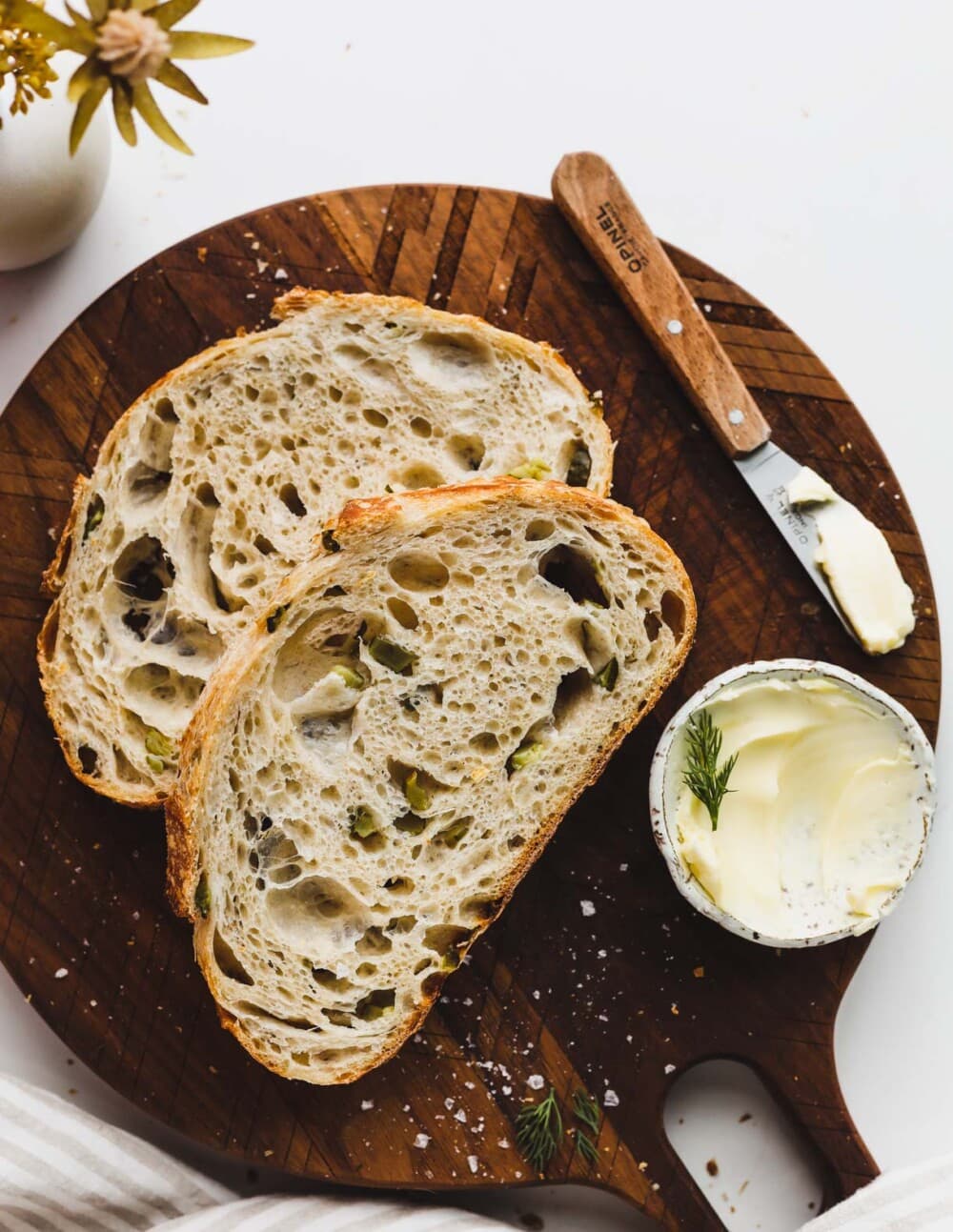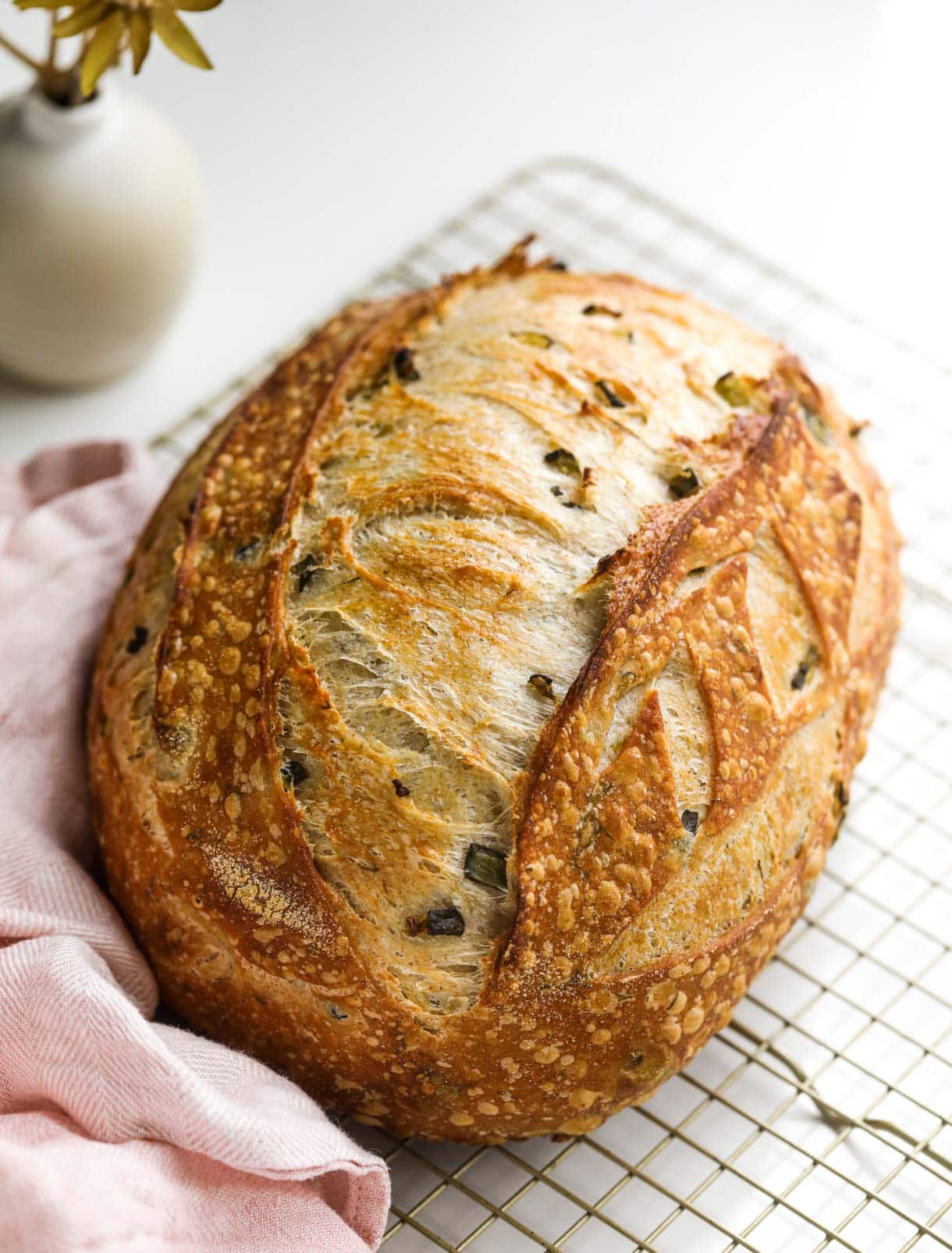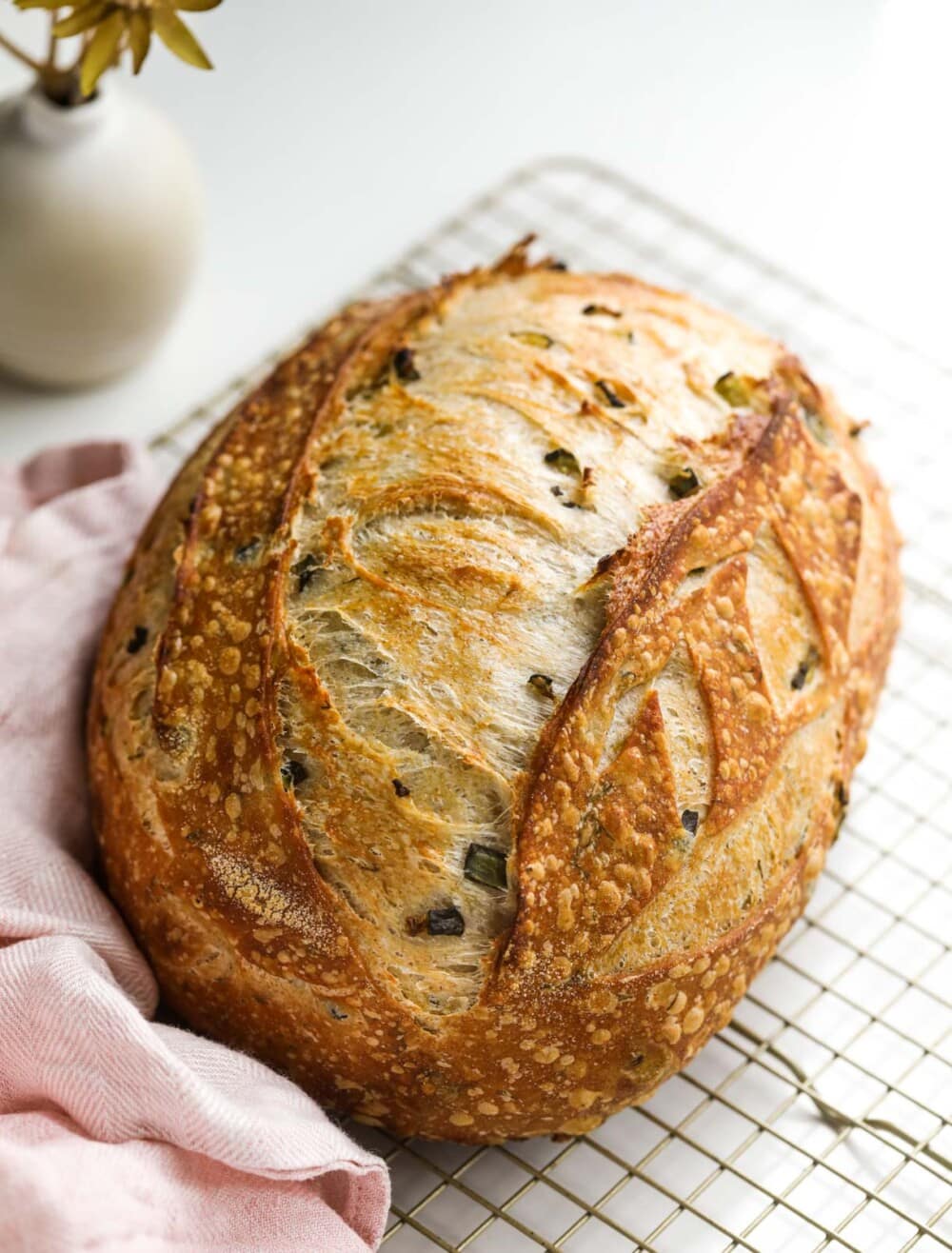 Pickles are one of my favorite things to eat (and drink, cue this Dill Pickle Martini!). I love their salty, crunchy, briny, savory deliciousness and find myself using them in all kinds of recipes from deviled eggs to potato salad, cheese boards, and my latest obsession – folded into sourdough bread with fresh dill.
Yes, this Dill Pickle Sourdough is ready for all of your sandwich making, bread and buttering, toasting, and broiling with cheese. It really is one of the best breads I have ever eaten! A loaf is lucky if it lasts two days in this house, and there's only 2 of us.
There is both chopped dill pickles folded into the dough AND pickle brine that takes the place of the some of the water. The crumb of this bread is soft and custardy, airy and chewy. The crust is blistered and golden brown, with a few pops of pickles showing themselves.
Ingredients For Dill Pickle Sourdough Bread:
active sourdough starter: what makes the dough rise and adds flavor!
bread flour: its high protein percentage gives the dough its strength and deliciously chewy crumb
whole wheat flour: this adds a bit more flavor and depth to the loaf
salt
water
dill pickles: you'll use both chopped pickles and the brine
fresh dill: adds classic pickle flavor
When to Mix Pickles and Dill into the Dough:
After you do your initial mix of the dough and first set of stretch and folds, you'll let the bread rest for the typical 30 minutes. When that 30 minutes is up, you're ready to add the inclusions and do your 2nd of stretch and folds. Scatter the chopped pickles and dill evenly over the top of the dough, tucking some down the edges of the dough where it meets bowl.
Use lightly damp hands to grab one side of the dough and lift up and over to the other side, in effect, trapping the pickles. Rotate the bowl 180 degrees and repeat. You'll dough this with each of the 4 "sides" of the dough, stretching gently upwards while lifting, and finishing by folding the dough up neatly.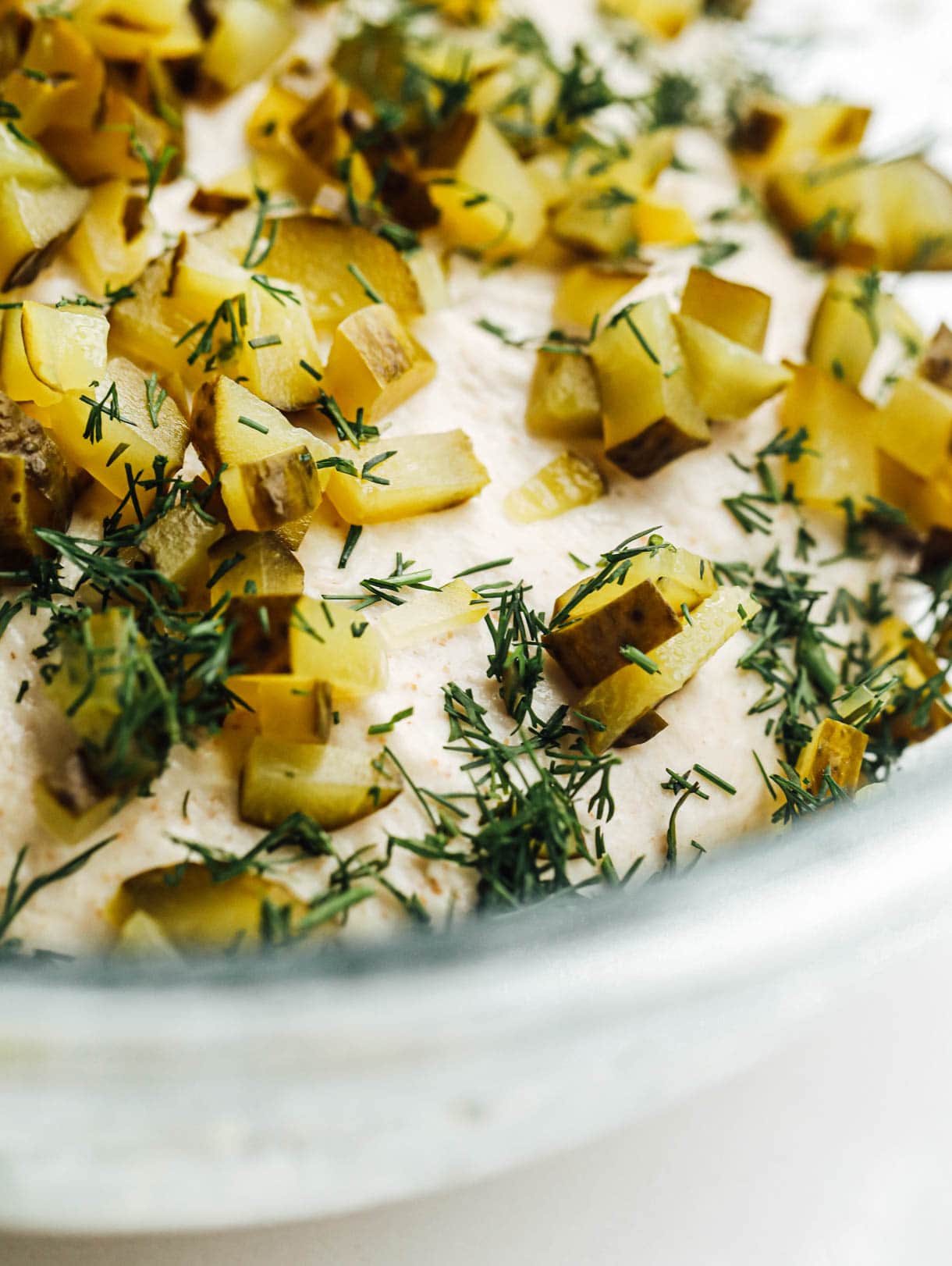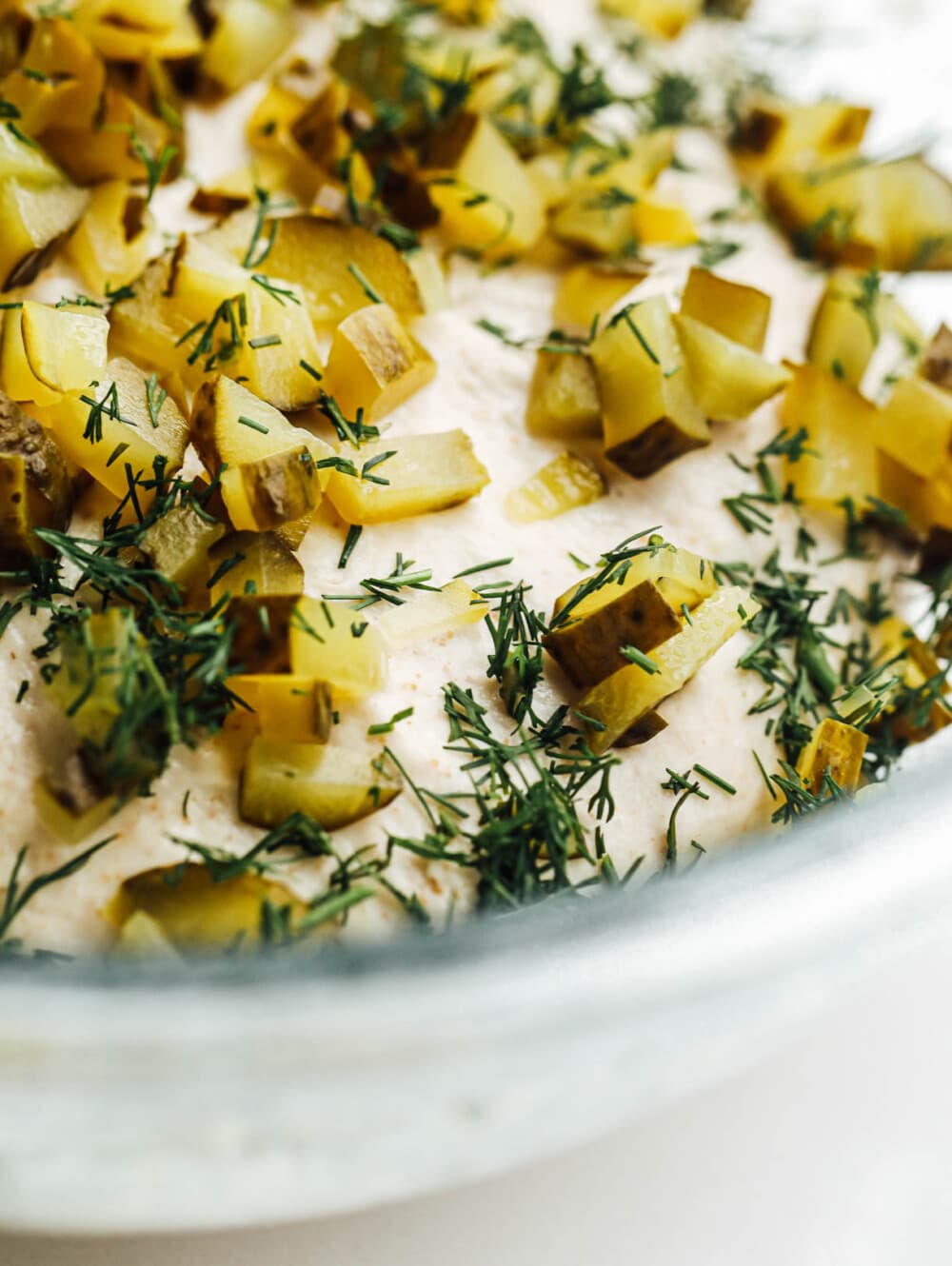 Baker's Schedule for Dill Pickle Sourdough Bread:
I typically do the final rise overnight in the refrigerator to make things easy. So if you'd like to do that too, here's a rough timeline to follow:
Feed your sourdough starter around 8 or 9am
Mixing your dough between 1 and 3pm
Do your mixing and stretch and folds throughout late afternoon
Bulk fermentation will finish in the evening sometime. You will know bulk fermentation is complete when the dough has risen about 75%, just short of doubling, has a slightly domed topped, and maybe a few bubbles on the top edges of the dough. (The exact time will depend on how fast your dough is rising, while taking into consideration the temperature in your home.)
That evening, shape the dough once the bulk fermentation. Cover the banneton with a plastic bag or shower cap to keep it from drying out. Refrigerate overnight.
Score and bake your loaf the next morning, as dough can be in the fridge up to 12 hours.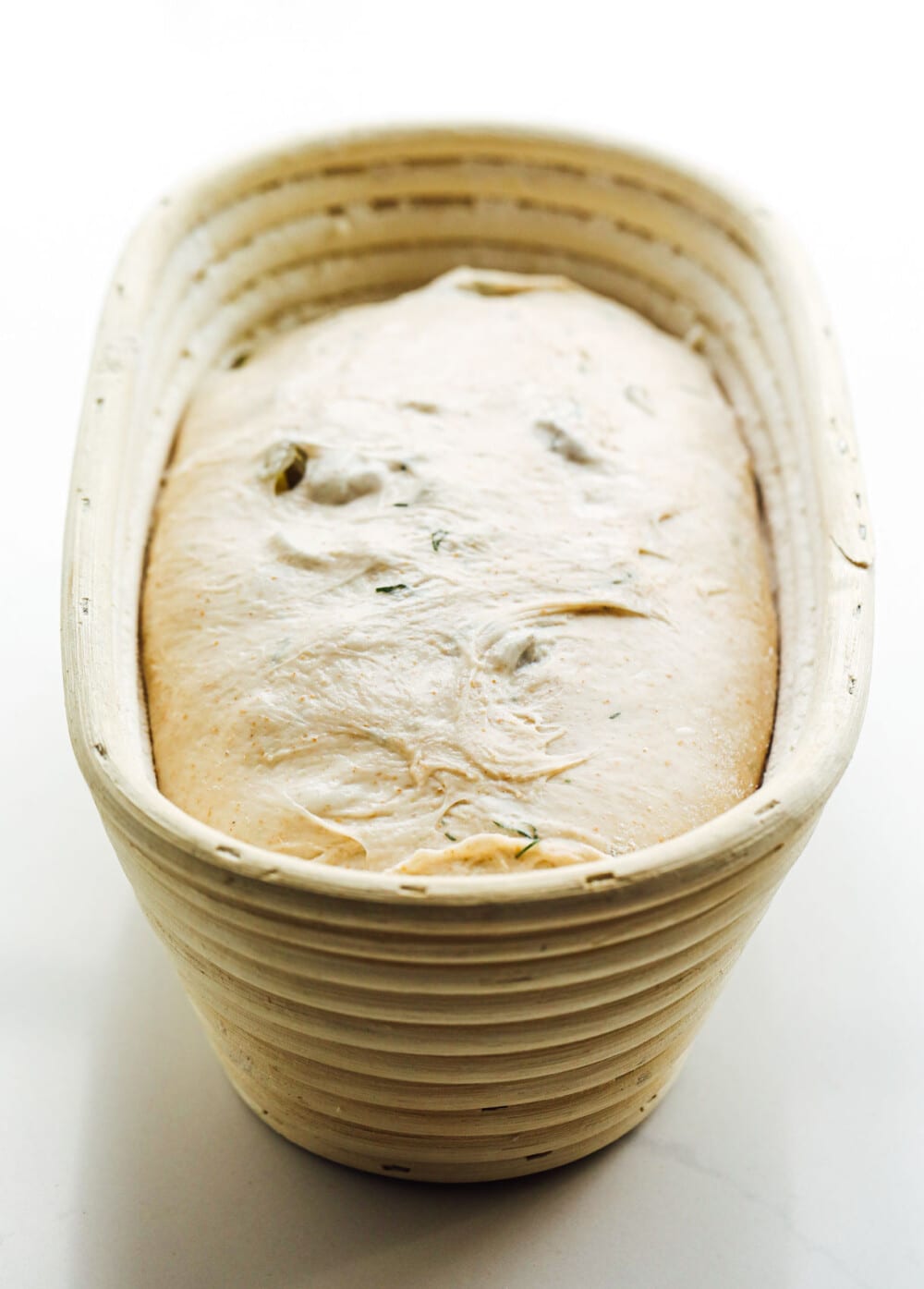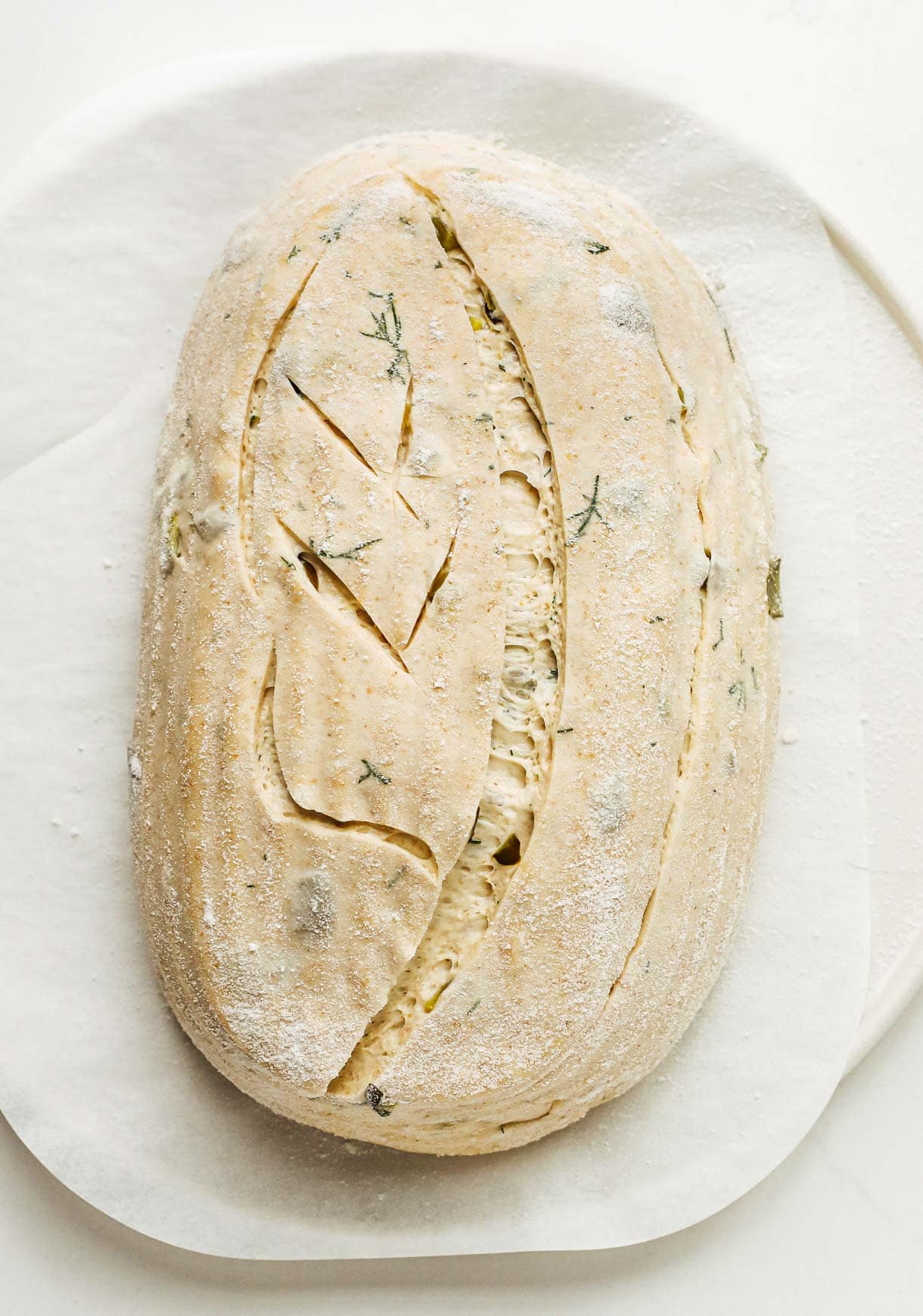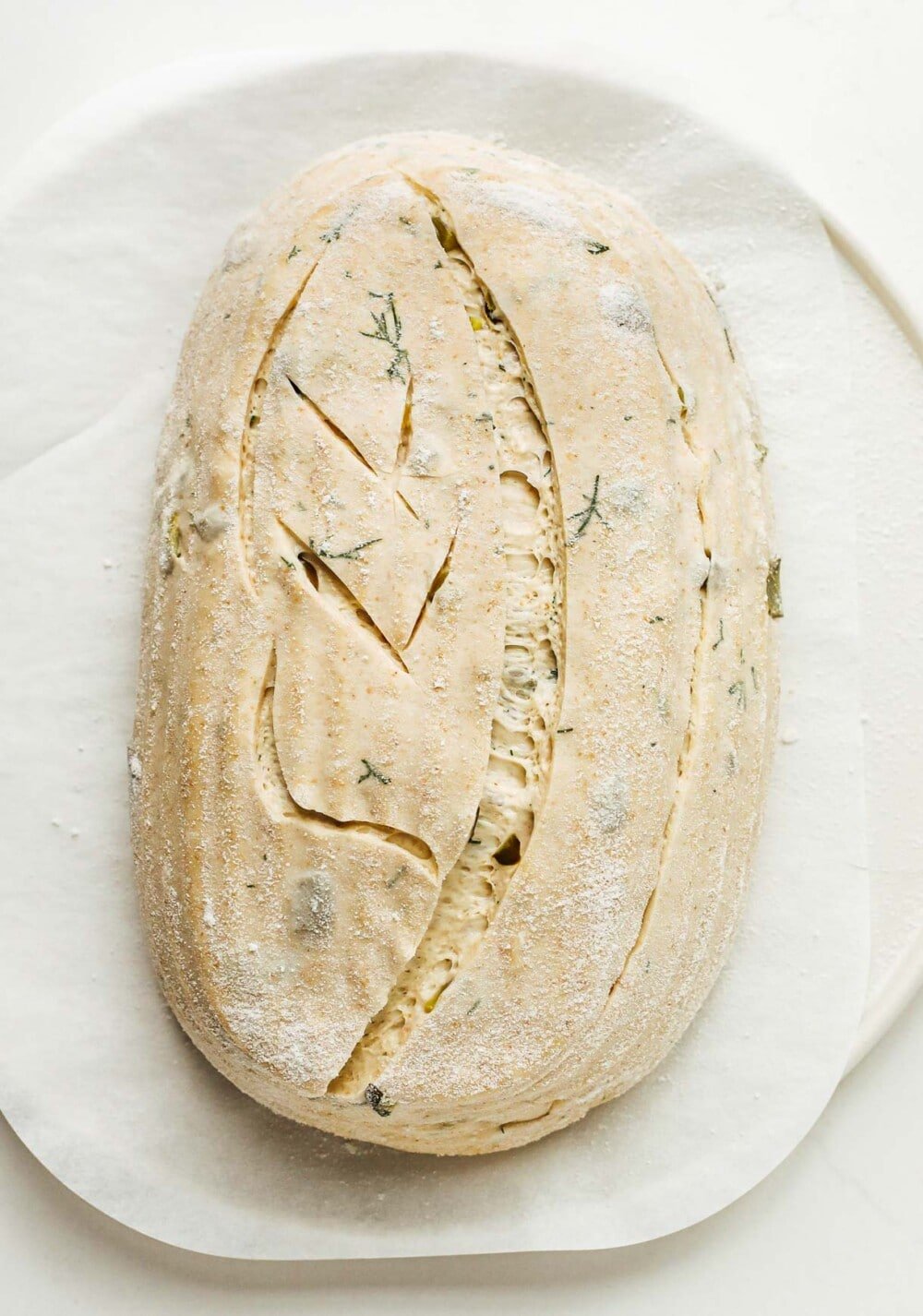 Favorite Vessel for Baking Sourdough Bread
After using it for 5 years, I am still in love with the Challenger Bread Pan, which has a unique shape that allows you to bake any shape of bread in it! The best part is that it has a shallow base pan, so no more burning yourself trying to get your dough into a deep dutch oven.
You can bâtards, boules, demi-baguettes, and other loaves of almost any size. Because of how it's made, the perfect amount of steam is created inside the pan. I've never had better oven spring or thinner crusts.This pan is magical. If you love baking sourdough, it is 100% worth having in your kitchen. You can learn more and purchase here.
What it means if your dough is sticky during shaping:
If your dough has finished its bulk fermentation and you notice it kind of flattens out on your surface like a blog, is sticky to work with it, and doesn't have much strength, that means you likely overproofed the dough.
There isn't a complete remedy for this, but you can use a bit of extra flour to help you work with the dough and shape it before putting in a banneton. Most importantly get your banneton into the fridge as to halt the fermentation as soon as possible. Score the dough cold straight from the fridge, and do one big slit down the middle rather than something artistic because the overproofed dough will start to spread again when scored.
When baked, your loaf will not have the same rise as one with proper proofing, however it will still taste delicious.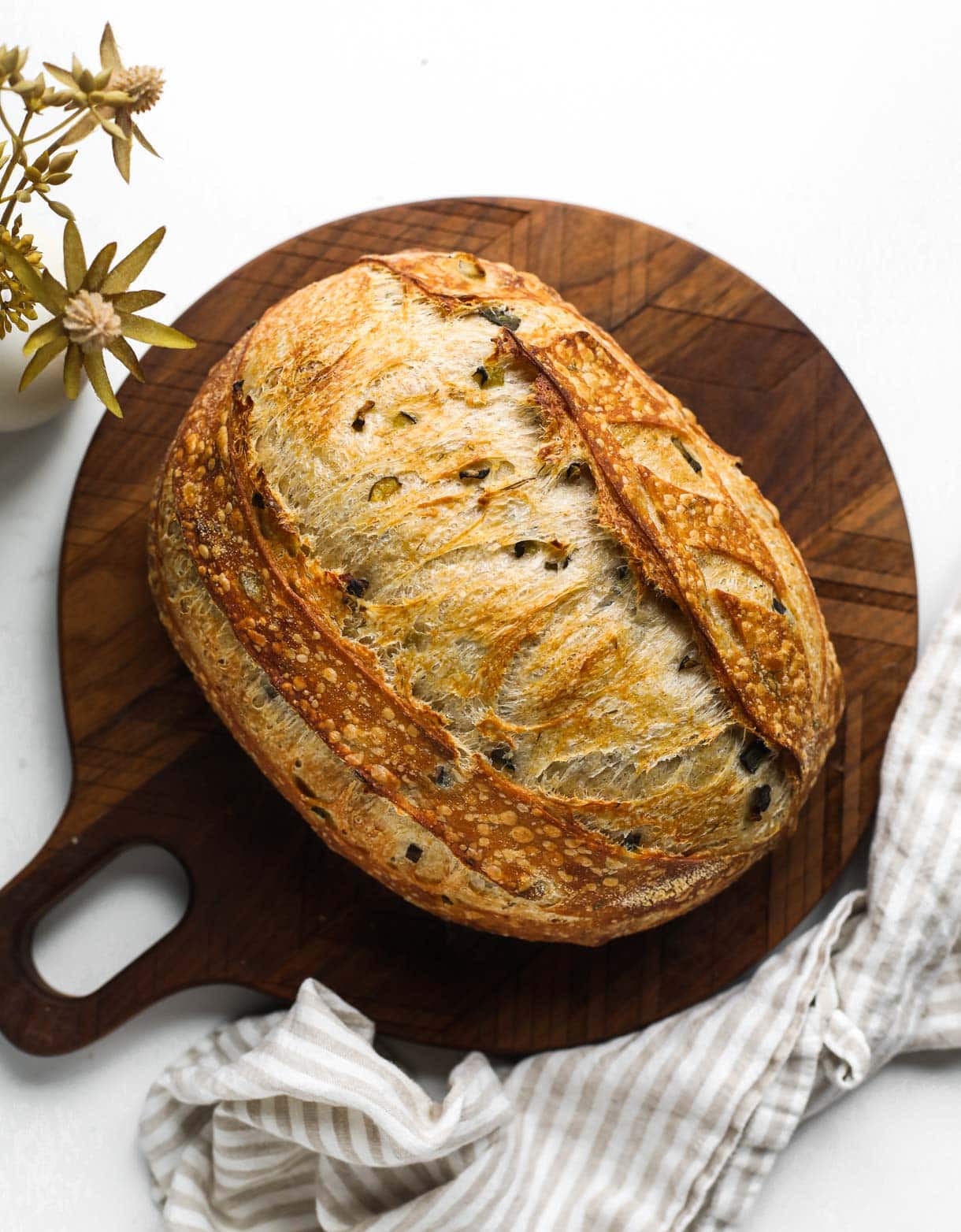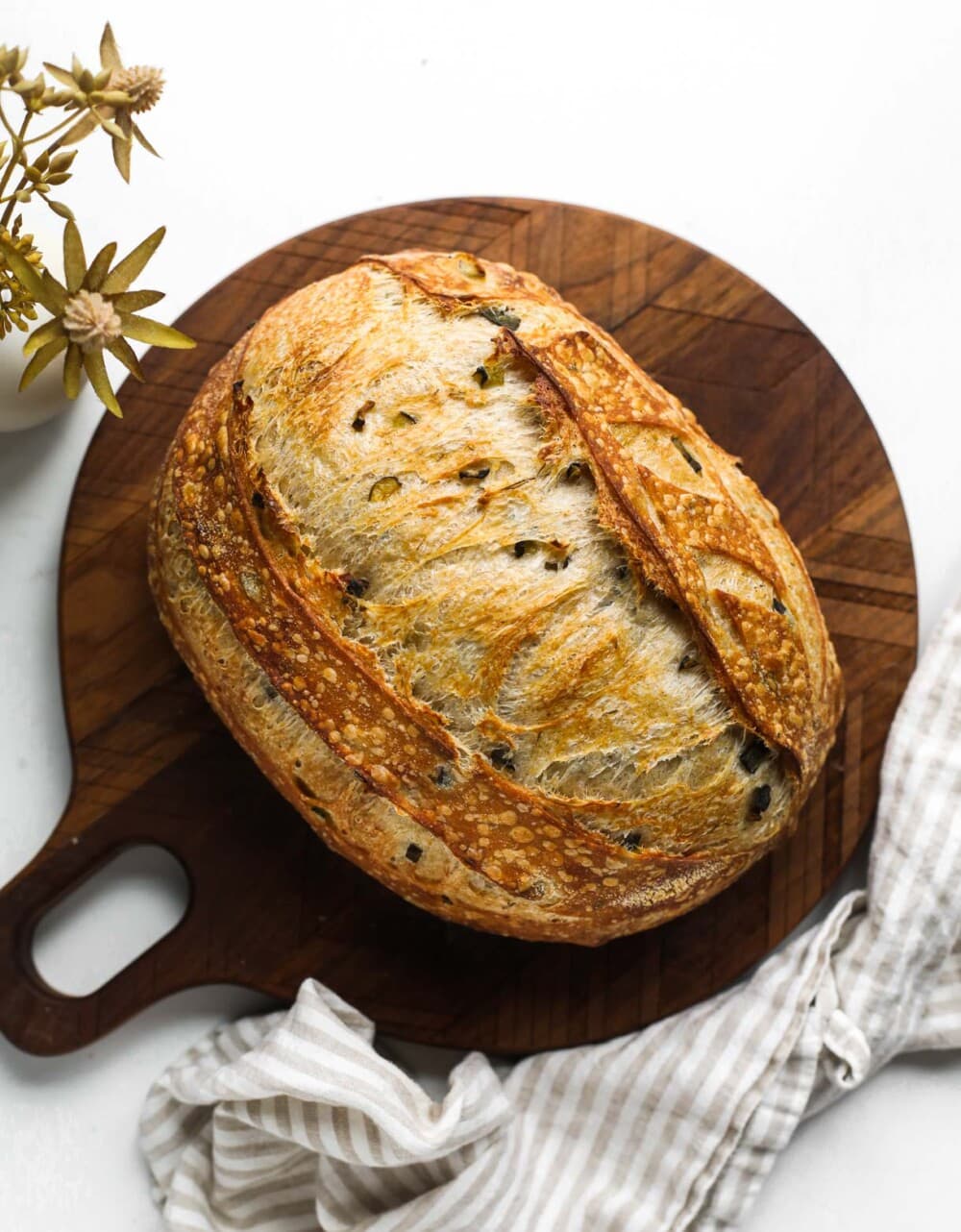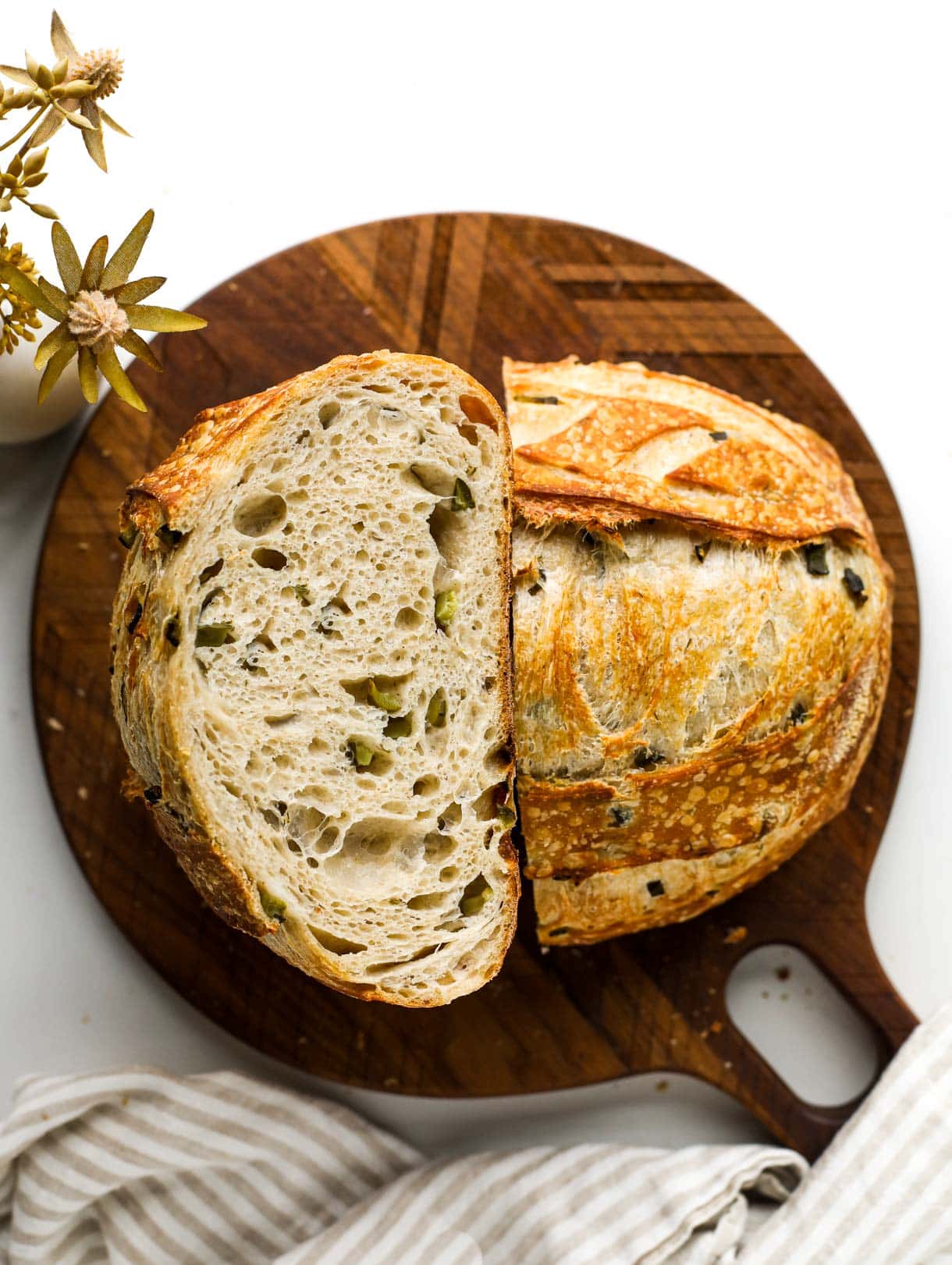 More Sourdough Recipes: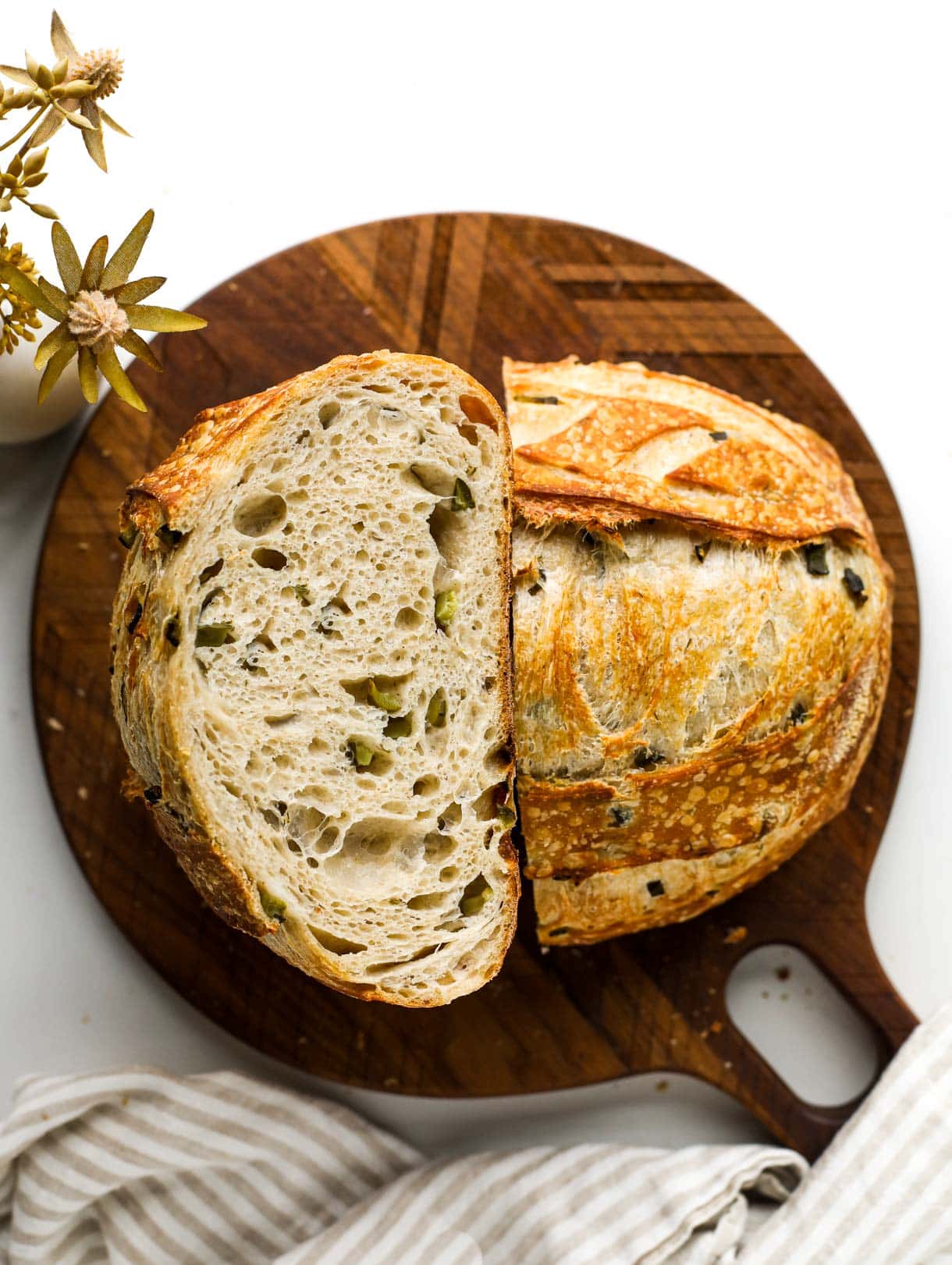 50

grams

active sourdough starter

280

grams

filtered water,

around 85 degrees F

20

grams

dill pickle brine

375

grams

organic bread flour

35

grams

whole wheat flour

7

grams

fine sea salt

90

grams

chopped dill pickles

(for the size see video below), patted with paper towel after chopping to remove excess moisture

1 1/2

tablespoons

finely chopped fresh dill
In a large bowl, mix starter, water, and brine with a fork until starter is dispersed. Add flours, mixing with a spatula first, then switching to mixing with your hand until a shaggy dough is formed, so that flour is not visible.

Sprinkle salt on top of dough. Cover bowl with a damp cloth and let sit for 40 minutes.

Now work the salt into the dough, kneading the dough stongly with your hands for two minutes. Then perform your 1st set of stretch and folds. Let dough rest for 30 minutes, covered..

After the 30 minute rest, sprinkle the pickles and fresh dill evenly on top of the dough, all the way to the sides of the bowl. Perform a set of stretch and folds, encasing the mix-ins into the dough.

Perform 2 more sets of rests and stretch and fold, waiting the 30 minutes in between for each, for a total of 4 stretch and fold sequences.

When that is finished let the dough (covered with a damp cloth) bulk ferment on your counter until just short of doubling, a rise of about 75%. If you home is around 74 degrees, this will take about 4 hours. It will take more time if it is cooler, or less time if it warmer.

When your dough is a little short of doubling in size, has a glossy top and has a few bubbles peaking through the top, it is ready for shaping.

Gently move the dough out of the bowl onto a floured work surface. Let the dough rest there for 10-15 minutes. Then, shape the dough. Once shaped, use a bench scraper to put the dough into a flour dusted, linen lined banneton (proofing basket), seam side of the dough facing up.

Cover with a shower cap or damp cloth and let rise for a final time. The final rise can happen in the fridge overnight (which I prefer), or on the countertop, which will take about 1 1/2 hours. The dough can be in the refrigerator for up to 12 hours at this stage. (If you do the final rise in the fridge, score and bake straight from the fridge. This makes it easier to score and hold its shape.)

Once your dough has gone through its final rise and has risen slightly, about 20% and is puffy on top, you're ready to bake. You can also do this test if you did the final rise on the counter to know if it's ready. If need mores more time do, so in half hour increments.

Preheat oven with dutch oven inside of it to 450 degrees F. Wait until oven is preheated, then place parchment over the top of your dough and flip over, so that the seam side is now on the parchment paper and you are able to score the top of the dough. Score the dough with a bread lame, making sure to go at least 1/2 inch deep in a few spots so that dough can release gases. Otherwise your bread will not rise.

Place dough on parchment paper into dutch oven, and put cover on it. Bake for 25 minutes, covered at 450 degrees F. Then remove cover, turn oven down to 435 degrees F and bake for 20 more minutes, until bread is golden brown and crackly. Wait ONE HOUR before slicing, or the bread will be gummy because of the steam inside.