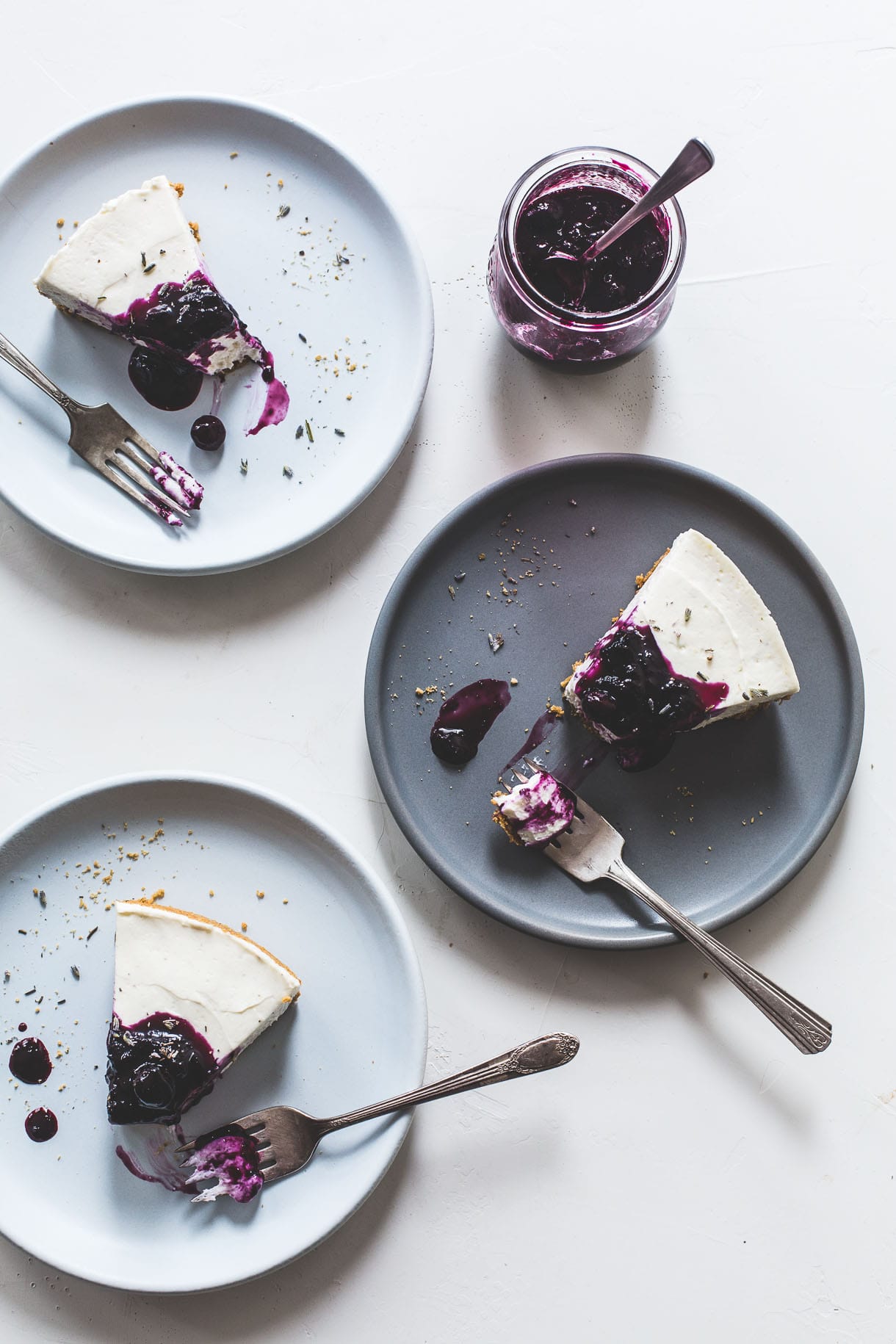 This cheesecake……..
is as smooth and refreshing as they come — softly sweet and tangy, followed by hints of lavender and juicy, jammy blueberries.
Besides being much easier to make (impossible for it to crack!), I prefer lighter, fluffier forkfuls of no-bake cheesecakes compared to the denser, baked versions. The idea behind a no-bake is using cream cheese + softly whipped cream to create an airy, but stable texture that requires no eggs or baking to set.
The crust is a simple press-in, just crushed gluten-free graham crackers and butter, popped into the freezer before the filling is poured in.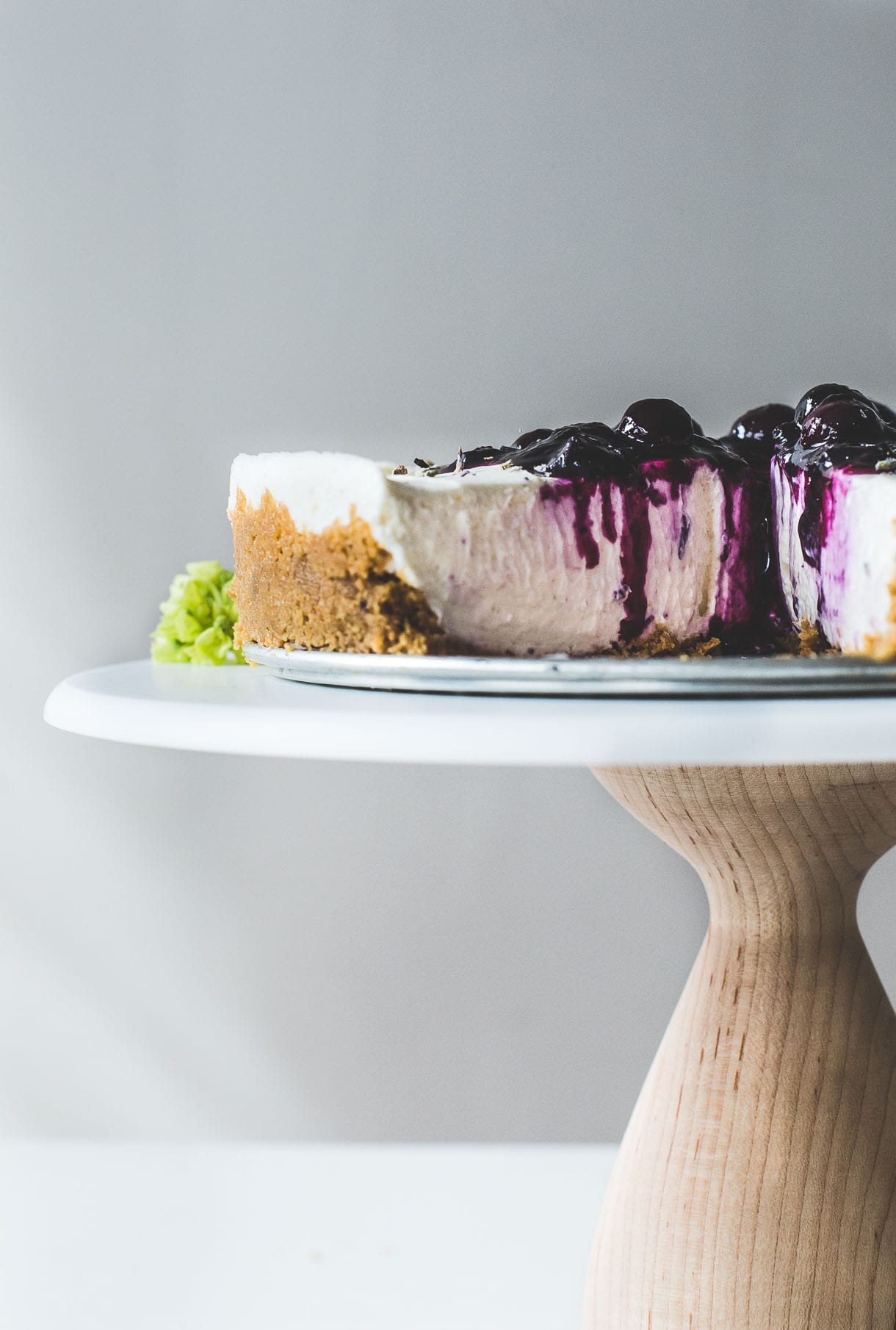 This no bake blueberry cheesecake recipe is lightly adapted from my friend Lily's new cookbook, Kale and Caramel: Recipes for the Body, Heart, and Table. It has me thinking about what aromatic components can add to cooking, and life, more than ever before.
As Lily mentions, "Aromatherapists have used the scents of plants and flowers for their healing properties for centuries. Lavender soothes anxiety. Rose mends a broken heart. Peppermint eases nausea.
All of these aromatics can be used in both their fresh or their extracted form to beautiful, potent effect." Think food for all five senses. With that, she's created fabulous recipes to go along with eight different herbs and four flowers, everything from edible face masks, rosemary room spray, jasmine ice cream, and oregano pasta.
I chose to make this lavender cheesecake, wanting to explore the culinary side of this fragrant flower, which I typically shy away from, having had a few desserts where the flavor was quite overpowering. But to no surprise, Lily created the perfect balance in this cheesecake.
The key is pairing it with other assertive ingredients, like the tang of the cheese, and leveling its low notes with the brightness of lemon zest. Additionally, a little goes a long way. Precisely why you steep the lavender like tea in the blueberries, so the flavor subtly extracts.
We loved it. To the tune of all eight slices eaten over a few days between the two of us. I made it in a seven inch springform pan, so it's relatively small batch.
The original recipe has you make them into cheesecake pots, so if you prefer to do that instead of making it into a cake, simply press a little of the crust into jars and follow the recipe as is. Blueberries not your favorite? You could top it with this rhubarb sauce, or raspberry sauce instead.
A few tips for successful no-bake cheesecakes:
Don't overmix the filling, otherwise it will end up too soft. You'll want to gently fold the whipped cream into the cream cheese/goat cheese/sugar mixture.
Slice it right after removing from the refrigerator, when it's coldest. If it sits out too long, it will be softer and cutting it will not go as smoothly.
Be patient and let the cheesecake set for a minimum of four hours, preferably overnight. Which means this is the perfect make-ahead for dessert for a dinner party.
More Gluten-Free Dessert Recipes:
Crust
110

grams

gluten-free graham crackers

finely crushed (about 1 cup)

1/2

teaspoon

dried edible lavender buds

coarsely ground

4

tablespoons

butter

melted
Put the graham crackers into a food processor. Process until they're a fine, sandy texture. Transfer to a medium bowl. Add lavender, salt, and butter. Mix well with a fork to incorporate butter into all of the crumbs. Put a round piece of parchment in the bottom of your springform pan. Press crumbs with a spoon and hands, into the bottom and a little less than 1/2 up the sides. Be sure to press firmly. Place in the freezer.

Place 1 cup of the blueberries and the water in a food processor and blend until they're chopped into small pieces. Empty the mixture into a small saucepan. Add the sugar, lemon zest, vanilla, and salt. Bring to a simmer over medium heat, stirring continuously.

Add the remaining half of blueberries. Place the lavender in a reusable tea bag or cheesecloth pouch, seal, and add to the sauce. Reduce the heat and continue to stir as the lavender steeps. When the sauce has thickened, about 10 minutes, remove from the heat.

Continue to steep the lavender for another 15 to 20 minutes. Then remove the tea bag or pouch. Let the sauce cool completely.

In a large bowl, whip the heavy cream with an electric mixer until soft peaks form. In a second large bowl, use the mixer to whip the cream cheese, goat cheese, sugar, lemon zest, and lavender. Once the mixture is fully combined, use a spatula to gently fold in the whipped cream.

Take the crust out of the freezer and pour the filling in. Smooth with a large spoon. Refrigerate for a minimum of four hours best overnight. When ready to serve, remove from refrigerator and release from springform.

Spoon a liberal amount of blueberry sauce on top, and cut immediately. Cheesecake will last for 4 days in the refrigerator.
I use this 7 inch springform pan, which is important for the filling amounts and crust. You could also do a 6 inch if you'd like, the resulting cheesecake will be thicker.