Juicy, fresh mango.
Refreshing cucumber.
Creamy mozzarella.
Cool mint.
These cute little numbers take all of 15 minutes to put together and can totally be prepped ahead and dressed last minute!
Super fresh. Super delicious. All nestled together to make a fruit kabob, drizzled with a white balsamic reduction. They're 100% the answer to the question I'm always asking myself…. "what should I bring?" to the pool party or backyard bbq.
Stunningly bright colors add to the appeal, and they're incredibly easy to make ahead and transport. WINNING.
I find that friend/family gatherings often lack in fresh fruits and vegetables, so I try to make sure my appetizer or side dish includes one of those. And these mango cucumber salad skewers happen to include both.
My favorite part? How well the mango compliments everything on the skewer! Its tropical taste and smooth texture compliment the crunchy, earthy cucumber and cooling mint.
While we do grow mangos in the U.S., most of what you'll find in the grocery store has been imported from another country. Depending on the country, peak season is either in the spring and summer, or fall and winter.
Yes, that means you can eat delicious, in-season mangos all year round! For this recipe, I used honey mangos, also known as Ataulfo.
How to know if a mango is ripe:
Focus on feel rather than color, since every variety is a different color when ripe. Be sure to give a mango a gentle squeeze to see if it gives slightly when pressed. A ripe mango will give a little and feel slightly soft, indicating ripe flesh inside.

To ripen at home, store at room temperature (like an avocado), or speed up the process by storing in a brown paper bag at room temperature for two days.
How to cut a mango for fruit kabobs:
I like to use the hedgehog method for cutting mangos into cubes. This means cutting off the two halves of the mango, around the pit. Then cutting through the flesh in a grid like pattern, and scooping out the cubes. And remember, the cubes don't have to be perfect!
You can see a visual tutorial of that method, HERE.
Can you prepare these fruit kabobs the night before?
Yes, mostly! Put everything on the skewers except the cucumber, which releases water as it sits, which will make the other ingredients soggy. Instead, when you're ready to serve, thread the cucumbers onto the open end of the skewer.
What size of skewer works best for fruit kabobs?
A six inch skewer is ideal for this recipe. I like to use these bamboo skewers, with the cute little tie at the end. They're inexpensive and didn't break while threading the ingredients onto them.
More Mango Recipes: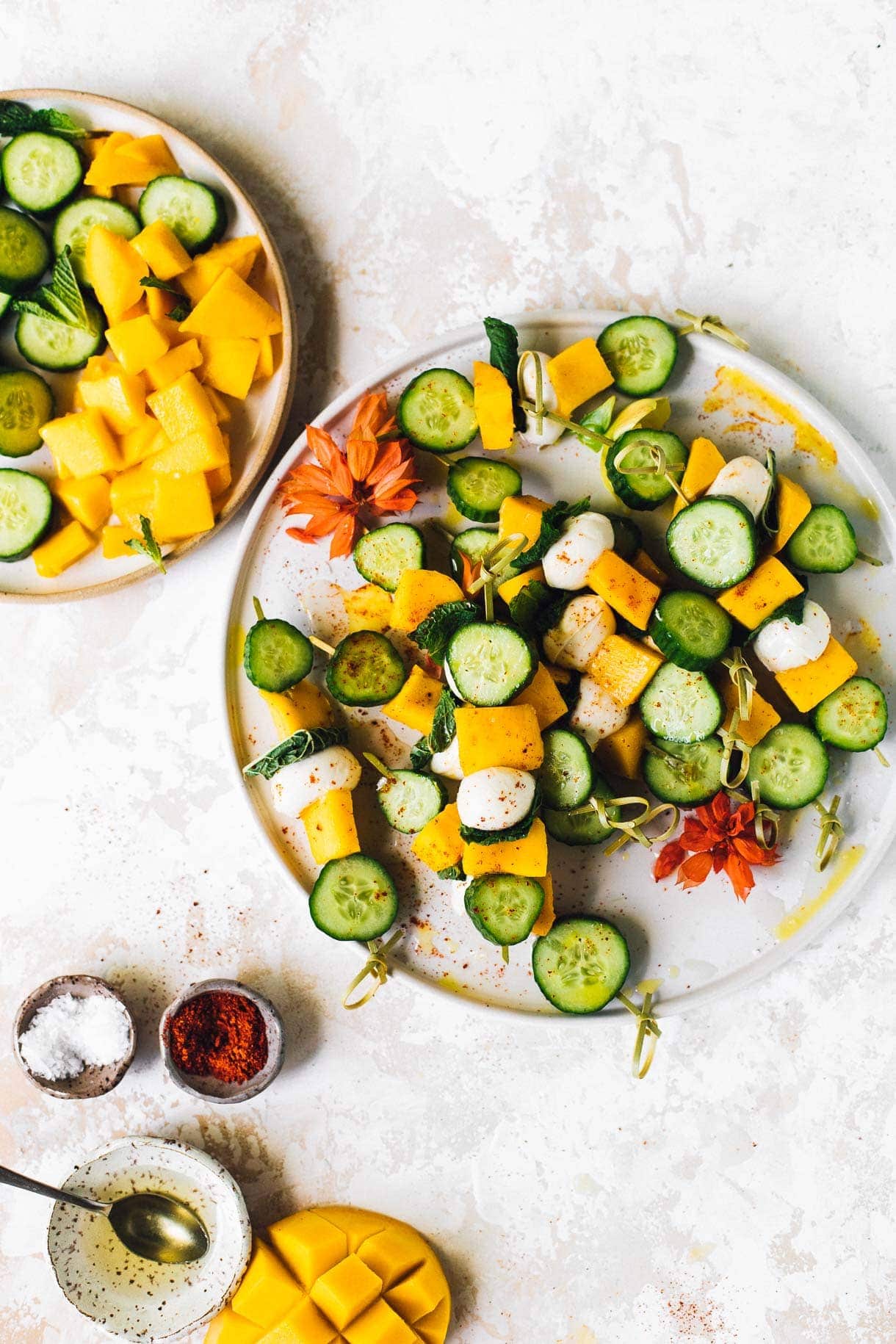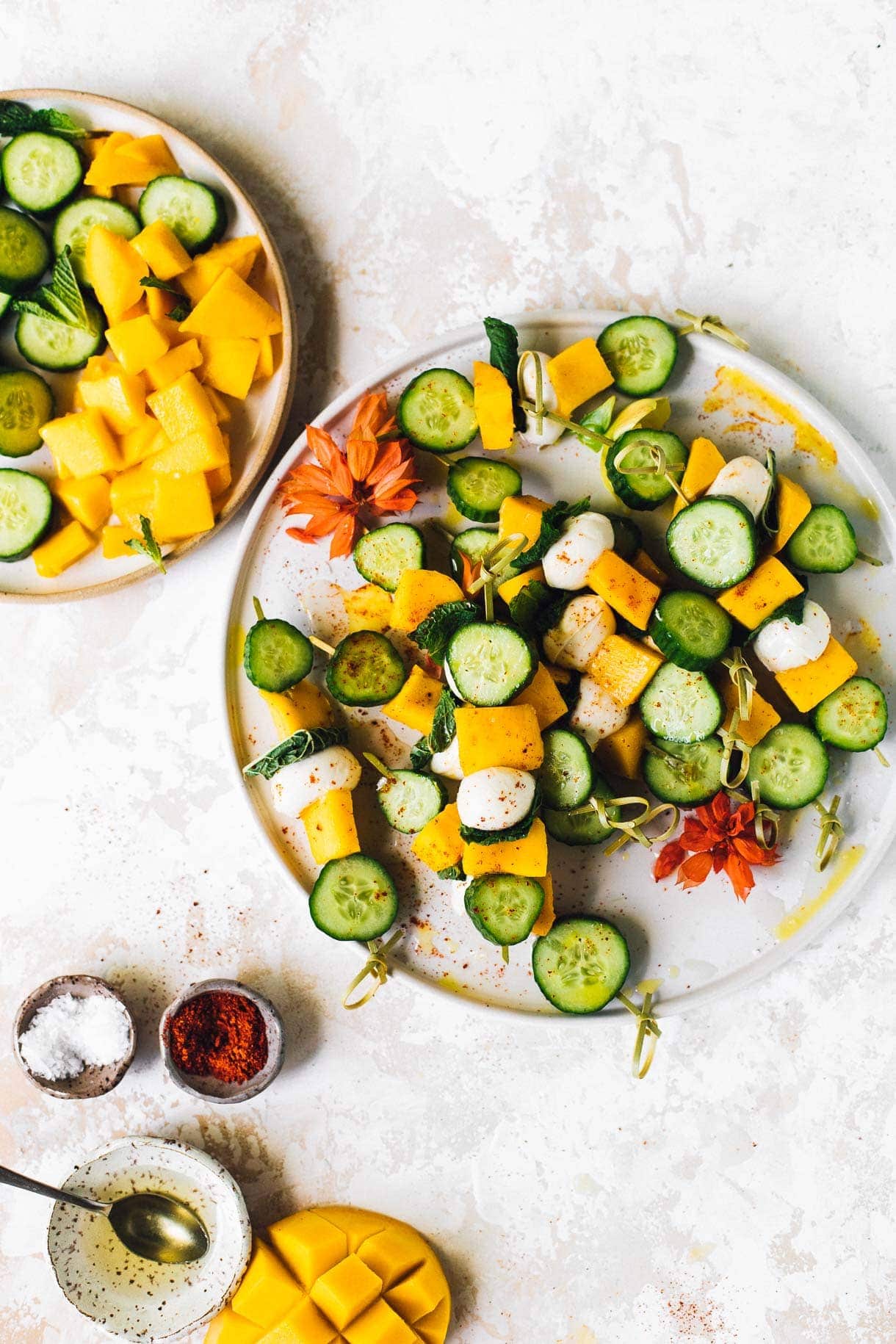 1/2

cup

white balsamic vinegar

2

ripe mangos

diced into 1/2 inch cubes

3

mini cucumbers

sliced into 1/2 inch rounds

1

container small mozzarella balls

called bocconcino, pearls, or Ciliegine

30

mint leaves

flaky salt

chili powder

optional
Pour vinegar into a small saucepan, and gently simmer for 8-10 minutes, until reduced by half, to syrup consistency.

Pat mozzarella balls and cucumber dry with paper towel.

Using this order, thread onto skewers: cucumber, mango, mozzarella ball, mint, mango, cucumber.

Put onto a plate, and drizzle with white balsamic. Sprinkle with flaky salt and chili powder.
If you have leftover little bits of the skewers, throw over fresh greens, add chicken, and a simple dressing. Dinner.